Abheek Saha graduated from M.S. Ramaiah College of Law, Bangalore (2007-2012). With a passion towards investment, he started investing at the age of 16 in the Indian stock market. Later, after the RBI rules were liberalized, started investing in the currency market. With a special interest in Investment laws, during the college days,he concentrated on the various changes – developments of Indian and foreign investment laws, arbitration, investment arbitration, Consumers Protection, Competition laws, etc.
 In this interview, he talks to us about
His experience at M.S. Ramaiah College of Law.
How did he develop a special interest in Investment Law.
His experience as a fresh graduate.
Important factors students should keep in mind while building their potential career graphs.
How would you introduce yourself? Can you please share a little bit of what motivated you to pursue law as a career?
Law was never a second choice for me. It was always first. The decision to pursue law may be because of both my personal interest and having already seen my father practice for many years.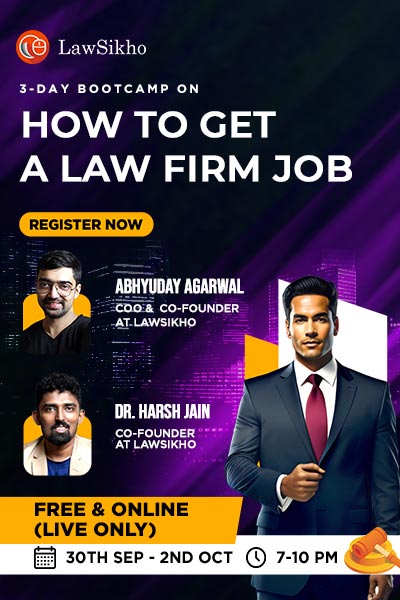 Like all 11th – 12th standard school students deciding on a career in law, I too searched for all the various places a law graduate can work after passing out of law college, and the search results the law firm, companies, or in the field of litigation broadly. The prospects looked good and that validated further my interest in law.
Kindly acquaint us with your college life. What activities you were involved in apart from regular academic curriculum?
I was in M.S. Ramaiah College of Law, Bangalore, and mostly stayed in hostel all through the 5 years and really lived the hostel life. Among all, the Ramaiah hostel was little exception with limited restriction on movement in the night and thus could explore Bangalore during those hours.
Sports were quite limited and I only used to go for early morning basketball with hostelites near the Ramaiah Degree college and sometimes for the table tennis after classes in the old college building. Our college building shifted to a new one when we were in final year.
Moot court was never part of our curriculum except during practical- the final two years. But I took special interest in them and in my second year participated in the Manfred Lachs Space Law Moot court competition – the ISRO funding round (NLSIU, Bangalore) and was really happy to see my Speaker score there. This was indeed my first moot court outside college. I also participated in Justice B R Sawhney Moot Court competition at NALSAR Hyderabad. I believe participating in these competition have broadened by research skills and also how to read, interpret and understand law during early days of law college. Apart from these two I have also participated in various intra and inter college competitions. We were Runners-up in 'Mooting for Success' organized by Law Department, Garden City College in 2010. My friend Satabish Ajjarapu who is presently a lawyer in Vizag was my Co-Speaker.
How did you develop a special interest in Investment Laws? Did you have other areas of law that interested you? How did you ultimately choose your field of work?

Investment related field was always my interest not only during law college days but from my school days. I used to do trading in stock market, later in currency market. So during law college there was a natural affinity towards investment laws. I have also completed a Diploma in Securities & Investment Laws from IIL, Bangalore.
Presently through our law firm Amrit Lal Saha& Associates, we are advising lot of start-up companies, venture with really beautiful ideas through their conceptual stage to their growth stage. And Bengaluru being one of the best Start-up hub in the world, we get lot of such venture as our client. Sometimes we also cut down on our professional fees to help venture on their legal requirements and to see them in existence and thus enabling these companies and venture grow. As these companies are not all pursuing the same idea, dream and thus their requirements are quite different and these provides us the challenges and the drive to keep going.
How can I learn to invest in the Indian stock market?
I may not be the best person to answer this question. I don't do it any more though. But on a general note I believe everyone can learn doing it.
Is it a general assumption that the fresher graduates have to struggle a lot during the initial years, what was your experience?
Struggle is an inevitable part of this profession and during initial years the struggle is definitely more. I believe the decision to pursue law as a career should not be driven by news, knowledge about how much a person is earning after passing out of law school and law colleges but by real passion in this field. I have seen Times of India publishing news about how good the placement was in NLSIU, Bangalore and then students taking decision to study law. At no cost this should be driving the decision to study law as it is not just another profession. Because long hours and focused determination and a desire to move on in the face of adversity, criticism shall bring success in this field.A famous saying of Justice Joseph Story which my father keeps reiterating "Law is a jealous mistress, and requires a long and constant courtship. It is not to be won by trifling favours, but by a lavish homage". I believe the saying still holds goods but yes now we have lot more resources and a better faster way to search save them which helps the lawyer a lot in the profession.
I started my career with working at Bhasin & Co., New Delhi. I was very excited then as I had my first interaction in that office with Mr Lalit Bhasin himself who had directed his Partner to conduct interview for me. It was rare to get through the firm without any reference and thus having got an offer to work there without any such references I was more happy. Eventually I have quit the firm due to personal obligations and have started on my own, firstly as a Co-Founder and Legal Counsel of a company and then as a part of Amrit Lal Saha& Associates. Now we have a good client base and things look good from here. But we had our share of struggle and our effort still continues to make things better.
Tell us about your approach towards the long term and the short term goals you had set during the academic period and how were you able to manage it?
Our priorities change with changing circumstances and thus I would say not all short term goals were met but slowly working towards accomplishing the long term goals. And it is those long term goals which ultimately decides our working and engaging strategies.
Considering the nature and importance of this profession what according to you should be the focus of the law students at the law schools? What are the important factors which students should keep in mind while building their potential career graphs?
I would say students should not be very specific during early college days about corporate or litigation or any other field but should intern and gain understanding of each such field and thus explore. 5 years college time which is a long time and the last 2 years can be spent focusing on the specific sector where they would start working.
You have several publications to your credit! How do you choose when to write about what? Do you think research and publishing is very important for a law student?
I have always written only in my areas of interest and choosing a topic I believe becomes easy when a person is keeping track of the changing laws and how it is evolving.
I won't say it is very important to write but definitely when a law student writes it helps somewhere and he can also keep track of how the law is evolving.
Where do you see yourself ten years from now?
Everyone sets goal and even I have done for myself. In brief I would like to see the firm grow and we are able to address larger issues and clientele.
What is your parting advice to our readers?
For law students I will advise not to have a frozen goal for yourself but a dynamic one because we are social engineers and the law changes as the society changes and so should we.