Aditya Gupta is an intellectual property litigator and currently works as a Senior Associate at Anand and Anand. He graduated from NLU, Jodhpur in 2010 and is a gold medallist. He has been a recipient of the prestigious Microsoft Intellectual Property Rights Scholarship, 2009.
Soon after graduation, he started working as an Associate at Anand and Anand and after three years of works, he joined Harvard Law School to pursue Masters in Intellectual Property Rights.
While at Harvard, he worked as a Research Associate to Professor William W. Fisher III for a period of six months. After coming back to India, he again joined Anand and Anand but this time as a Senior Associate. He has also been a Visiting Faculty at National Law University, Delhi for a semester and taught a seminar course on Practicing IP law' to students pursuing undergraduate degree in law.
In this interview, he talks about:
His decision to chose NLU, Jodhpur
His experience of working with Anand and Anand
His days at Harvard Law School and LL.M experience in IPR
The skills of an Intellectual Property lawyer
How would you like to introduce yourself to our readers who are mainly law students and lawyers?
I am a litigator with a keen interest in intellectual property law and new ventures. I am currently working as a Senior Associate at Anand and Anand.
When and how did you decide to study law? How did you settle for NLU, Jodhpur?
My decision to study law was not a planned one. I was preparing for pre-medical examinations till late into my XII standard when I suddenly realized that I did not want to be a doctor. For one, I did not have the patience to study for twelve years! Anyhow, purely on instinct and gut feeling, I decided to pursue legal studies. It was decision fraught with risk, especially since I am a first – generation lawyer. As I was quite late into the application process, I only applied for NLU, Jodhpur, NALSAR, NLS and Amity Law School. NLU, Jodhpur was the highest ranked law school that I could get through and that's why I settled for it!
After graduating from NLUJ, you joined Anand and Anand as an Associate. How did the appointment take place? What comprised your work at Anand and Anand?
I had interned twice at Anand and Anand during my third year and had received positive feedback. In my fifth year, I applied for a job at the firm through the HR department. I was called for a personal interview with the Head of Department and a few days later I was told that I had been selected. Since I was in the litigation department, during my first two – three years, a lot of my work comprised of drafting court documents, research work and assisting seniors within the firm and Senior Advocates during arguments in Court. I was particularly lucky to work on some high-profile cases with very high stakes which exposed me nascent and as yet undeveloped areas of law.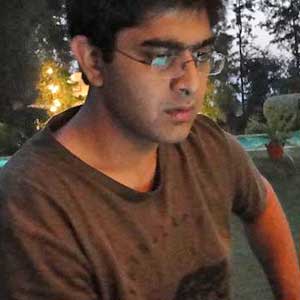 How difficult were the first few months of Anand and Anand given that it focuses mainly on a specific field of law?
I did not find the initiation period very difficult since I had taken a keen interest in IPR ever since third year of college and had interned at IP firms, took courses related to IP at NLUJ and written papers on intellectual property. The quantum leap that one takes after joining the profession is not on substantive law but the way the Courts function and the realization that substantive law is a tiny (though of course important) part of legal practice. Thus while I felt reasonably confident of my ability to handle areas of substantive IP law, I did find that the practice in Courts requires skills in addition to reading and understanding the law, which students are not exposed during law school.
You have specialized in IPR. What made you interested in the same?
Innovation and creativity are, in my view, the two most awe–inspiring facets of human life. While intellectual property litigation may appear to be a battle between large corporations it is, at its heart, about protection of the innovative/ creative genius of an individual. That intellectual property law endeavours to foster this genius generated my interest in the subject and practicing this field of law for the past three years has only fuelled my passion for it.
Thereafter you went on to pursue Masters in Intellectual Property law from Harvard Law School. Was it a professional requirement to enhance more in your career?
I had decided that I will pursue a master's degree in law during my undergraduate studies itself. I wanted to be exposed to the pedagogic methodologies in foreign universities and always dreamed of being taught by the top professors in the world. Once I chose IPR as my career choice, it made even more sense for me to pursue a master's degree since IPR in India borrows several concepts from IPR across the world.
The experience at Harvard was everything that I had imagined and much more – libraries providing access to nearly every book in the world, the opportunity to interact with world-class professors who know their subject (and much more) inside out and forming bonds with students from over 60 countries – I think it helped me broaden my horizons both as an individual and a professional.
While at Harvard, you worked as a Research Associate to Professor William W. Fisher III. What kind of work you were entrusted with?
I worked with Professor Fisher on a specific project that pertained to a multi-jurisdictional analysis on the role that intellectual property law plays in the fashion industry from a policy perspective. Since the project is ongoing, I would not like to discuss much about its details.
After coming back to India, you  rejoined Anand and Anand, and this time as a Senior Associate. What does it take to be appointed as a Senior Associate?
The firm pre-defines the expectations from members at a particular designation level and consistent performance across various metrics is assessed by the management before taking the decision on whether to promote an 'Associate' to a 'Senior Associate'. Unlike many other firms, the number of years in the firm is not the only criteria and other factors such as interpersonal skills and ability to handle pressure are equally important in determining one's progress in the firm.
What are the primary essentials of an IPR lawyer? How do you say a fresh graduate can work on building these skills?
I think keeping abreast with the latest case-law is absolutely critical for practicing IPR. Unlike many other areas of the law, IPR is fast-developing and Courts are exploring new doctrinal areas on a very frequent basis. An Intellectual Property lawyer must also understand the space IP enjoys within a particular company – for instance, IP may form the core of the business for a music production company but it may not be so for an e-commerce company (though of course most e-commerce companies also rely heavily on their brand valuation). It is becoming increasingly important for lawyers to appreciate the business of their clients and clients appreciate lawyers who act as facilitators of their business rather than merely providing a legal opinion.
Since IPR is a technical subject, it is also important for fresh graduates to understand the basics so that they are able to communicate with their clients in a language which they can understand – without legalese.
Tell us a bit about work culture at Anand and Anand and the life of a Senior Associate. What is your current work profile like? Please tell us about the responsibilities you are entrusted with.
The work culture at Anand and Anand is very excellent – it not only fosters free and independent thinking but in fact rewards people with fresh and creative ideas. The firm is ambitious and one is driven by this constant desire to deliver a world-class work product. Though the learning curve is very steep, the senior members of the firm are supportive and they help you grow as a lawyer.
My current work profile involves developing litigation strategy, interacting with clients on a daily basis, arguing matters in Court and assisting others in arguing matters and client management and development.
What has been your strategy to deal with errors and mistakes? How would you suggest a young associate to deal with them?
I believe that errors and mistakes are a part and parcel of providing any service. Mistakes happen and while one should not keep moping about them, it is important not to have a lackadaisical approach. It is absolutely critical that you learn from each error/ mistake and not to repeat them.
People often complain about the highly skewed work-life balance at the top law firms. What is your usual workday like?
I am still figuring this one out! For me, I enjoy my work a lot and I do not recall the last time I woke up in the morning and did not want to go to work.