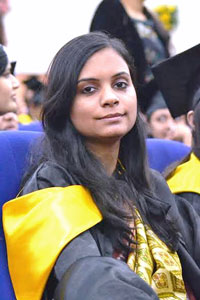 Anamika Ahir graduated from NLIU in 2013. She was an avid mooter during her law school years and has multiple publications to her name. Presently, she is working with the Securities and Exchange Board of India. We asked her to share her experiences with us.
She tells us about:
Recruitment process at SEBI
Importance of Internships
Writing for journals and publications
Tell us a bit about yourself – your childhood, life before your career in the field of law and educational background.
I remember myself to be a little reserved as a child. I took academics seriously but I was also inclined towards extra-curricular activities. I actively participated in creative activities like writing poems, singing, and dramatics in school. I enjoyed camping and outdoor adventures and ended up attending two years of NCC (National Cadet Corps) during school days. Lately, I have developed a fondness towards learning languages and I have already cleared first proficiency level in French.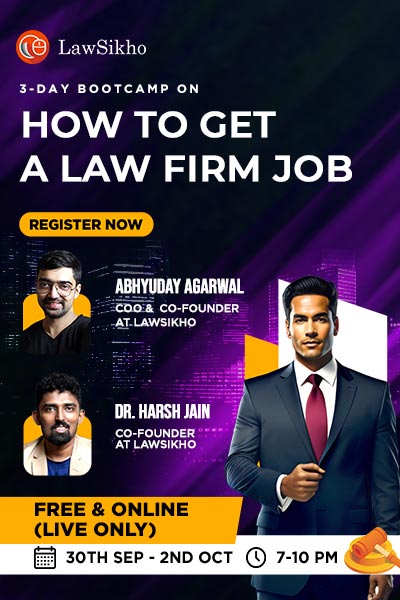 How did you choose the field of law as a career?
I never seriously thought of pursuing law as a career. The idea was suggested to me by my parents, although no one in my family is from legal background. At first I was a bit unsure about it but after giving it a thought I decided to "give it a try". Fortunately, I managed to get through NLIU, Bhopal and decided to pursue law at once. Since then it has been an awesome journey and there was no looking back.
How would you describe your time at NLIU? What kind of co-curricular activities did you participate in?
Law School was a remarkable experience for me. It was more like a roller coaster ride than a cruise. I have had numerous ups and downs, but somehow I've been able to land on my feet. All the thrill and fear during the ride has made my persona more resilient than ever. I think that the dearest reward I received from my law school education is the skill to appreciate a particular issue from various perspectives. This, I believe, is the most valuable asset of a lawyer.
While pursuing law, amongst a host of activities I chose to participate in moot court competitions and presenting papers in seminars. I considered both these activities to be indispensable if I wanted to make the most of my legal education. Personally, I enjoyed mooting the most. I had the opportunity to represent my university at moot court competitions organised by the Bar Council of India and Chandigarh Judicial Academy. Presenting a case before a bench comprising of high court and district court judges was an elating experience for me.
Which is the most important co-curricular activity in law school considering its relevance to the field of law?
Honestly, one cannot classify any one co-curricular activity as "most important" based on its relevance to the field of law. The diversity in the field of law forbids any such general classifications. For example, a student interested in legal journalism might find debating and writing papers more useful than mooting.
However, having said that, I would still recommend students to try their hand at mooting just for the experience. Moot courts are a unique attribute of law schools and this itself makes it worth giving it a try. Mooting develops all critical skills such as legal writing, researching and speaking simultaneously. These skills are more or less relevant for most fields of law.
You published legal articles in multiple journals when you were in law school. Do you feel this activity just contributes to building a polished CV or does it have relevance beyond that?
Publishing articles definitely has its relevance way beyond polishing your CV and bragging about it. The main benefit of publishing articles is reaped while writing the article even before it gets published. That's right! The reason why publishing articles is held in high regard is because it is the best evidence of a student's researching & writing skills. The process of research and analysis followed while writing a paper ensures the overall development of critical legal skills. It not only builds confidence but also reflects on your academic orientation. Keeping in mind the numerous benefits of publishing a paper, trying your hand at writing is worth the effort and the success in getting your work published is irrelevant.
How should one get started about publication? How much time is required to write an article?
The best and the easy way will be to work sincerely on the projects you submit as a part of your curriculum. If you have a well written project half of your job is done. Now, all you need to do is convert your project work into an article by adding the desired research and structure as per the requirement. This is ideal for students who have not yet ventured in the field of writing. For those who have already tried and tested their writing skills, they may identify topics of their interest which have legal relevance and then pursue it to its logical end.
The time frame within which an article can be written depends on the subject of the article. In my case, I have always written on legal issues highlighted in current affairs. Therefore, it was imperative for me to finish writing within a week or less keeping in mind the ever changing position of law.
You have worked at ELP, NDA as an intern. Tell us about your experience at these internships. Now that you look back, how do you think these internships influenced your career?
I managed to score an internship at NDA through the Placement Committee of my university. The selection process involved screening of your CV followed by a telephonic interview. My work profile while interning at NDA majorly involved due diligence of companies and research work related to FEMA and Companies Bill. This was my first internship with a big law firm and I left no stone unturned to ensure that I make the most of it. Unfortunately, I fell very ill during the internship and was not able to put in extra hours of work when required. Nevertheless, I ensured that I did not miss work on any day and was always ready to push myself as much as I could during the office hours. Even after this I was lucky enough to secure a second round of internship at NDA.
My second internship was at ELP. I applied to the HR of the firm personally and secured an internship. My work profile at ELP was similar to that of NDA as far as the due diligence and research work is concerned. This time I also got to draft and review agreements and affidavits in addition to the research work.
The whole experience of working within the corporate structure helped me in gauging my potential of working and growing in such organisations at a very early stage. This helped me in making crucial decisions during my placements.
Did you plan out your internships throughout law school or did it all just happen by chance? Any advice for the young law students as to how they should choose and plan their internships?
By the end of my second year of law I had decided to pursue a career in corporate law. Since then, all my internships were planned in advance. Luckily for me everything worked out well and I was able to score some good internships.
According to me following factors should be considered before choosing an internship:
Firstly, decide on what type of law you want to pursue, the earlier you figure out which area of law is crafted for you the better. The first two years of law can be dedicated to discover which area of law you desire to pursue. It is a good idea to intern with an organisation which specializes in the field of law of your choice. For instance, if you pick family law or labour law you might consider an internship with either a boutique law firm or a practising Advocate focussing on the area of your interest.
Secondly, the timing of the internship must be considered while making a decision. Any internship after your second year of law should be well planned and must be associated with the field of law you want to pursue after graduation. All the experimentation and testing must ideally be over by that time. Also keep in mind the part of the year in which you want to intern. If you plan to intern during the summers, don't forget that courts are closed in June for summer vacation, therefore, interning under a practising Advocate will not give you the expected court room exposure.
Thirdly, the length of your internship must be considered before making any decision. Most internships last for a summer. Such internships allow you to focus on your law school studies during the academic year. You can opt for longer internships provided that your law school attendance and examination rules permit you to do so.
Fourthly, I would advise students to refrain from interning at big law firms in the first two years of their law school. It's a well known fact that most big law firms do not accept interns from first, second or sometimes even third year of law. Any internship with such organisations in your initial years of law is a giveaway of the fact that the internship was obtained through personal contacts. This will reflect poorly in your resume at a later stage. The other reason to avoid interning with big law firms initially lies in the fact that law students at entry level are not well equipped to deliver the work expected from interns in such organisations.
How do you think one can make most out of internships?
There are mainly three things a law student gains out of internships:
Practical knowledge: Internships are a device of bridging the gap between pedantic orientation of a law student and the pragmatic approach of a professional. In order to maximise this, interns should develop a mindset to let go of the idealistic academic approach towards work and focus more on the ultimate goal of "How to accomplish work effectively". For example, if you are asked to research any topic, it is imperative for the intern not to begin with an academic approach. It is always a good idea to "ASK QUESTIONS" and to know the background in which a specific research work is given before you start your full-fledged research. Most of the time the person giving instructions may not mention why he needs a particular information or what is going to materialise out of the given research exercise. Asking questions will not only give you clarity but also display that your aim is not to mechanically get done with the work but highlight your genuine interest in your work.
Networking: One of the most important advantages of interning is NETWORKING. Building a good rapport within the organisation and also amongst other interns will reward you throughout your career. Starting this as early as possible is a smart move. Networking will open your mind to new opportunities and keep you abreast with the dynamic legal industry.
Building work ethic: Internships are the only occasions during which a law student gets the feel of work culture in the legal industry. One should use this opportunity to build work ethics. Later, this exercise will make your transition from a student to a professional very smooth.
How relevant did you find your law school education with the kind of work you were required to do during internships?
Quite relevant, I must say. While interning at law firms, I found myself already equipped with necessary skills of legal research, legal writing and drafting of documents. The law school curriculum ensures that these skills are developed in students to a certain level. All you have to do is put them to use in order to hone them to perfection.
Right after your graduation, you're working with SEBI. What is this experience like? What were the obstacles and challenges you faced during this job?
Working with SEBI is a unique experience. SEBI is a comparatively new regulatory organisation (it was established in the year 1988) with a challenging role assigned to it. Indian securities market is changing with lightning speed. Understandably, the regulator is also making sincere efforts in keeping itself abreast with the dynamic securities market. Being a part of the legal front of SEBI, my role in the organisation is equally challenging.
The experience of working with SEBI is enjoyable and at the same time full of responsibilities. The biggest challenge while working with SEBI was to understand the fundamentals of the complex functioning of securities markets. When I joined the organisation I had sound theoretical knowledge of laws relating to securities market. But it wasn't long before it dawned upon me that this wasn't enough. It took me quite some time to figure out the structural and functional aspects of the securities market. I am still learning the interplay of most of the sophisticated mechanisms of the market.
What would you suggest a law student should do in order to land a job in SEBI?
SEBI follows a two tier selection mechanism for recruiting officers.  I would advise all students who are interested in working with SEBI to keep a track of announcements made in this respect. Information regarding the examination is available on the SEBI website. The first tier of the selection process involves Multiple Choice Question (MCQ) based examination. The said examination is conducted for the following subjects:
English
Quantitative Aptitude
Reasoning Ability
General Awareness
Based on the score of this examination, candidates are shortlisted for the final round of personal interview for recruitment of officers at Grade- A level. Law students must be well versed with the latest developments in laws relating to securities market. In addition to this brushing up constitutional law and procedural law before appearing for the interview will be helpful.
Lastly, what would be your parting message for our readers?
I have made a sincere effort to share my insights candidly with the readers. I would advise all the readers to always strive for better and never let the sense of complacency overshadow the urge to grow and excel. To compete with oneself is the best way to push your limits. Remember, the toughest competition is always the one which you have with yourself. Follow this and you will find yourself self-motivated far from envy and unhealthy competition.