Anish Jaipuriar graduated from NLUO, Cuttack, in 2014, as part of their inaugural batch. During this time he has interned with the Food Corporation of India, Khaitan & Co., Indus Legal, Zeus Law Associate, and AMSS. He has also managed the moot court committee, represented NLUO at various moots, and has also attended one of the best summer school programmes at the London School of Economics.
Anish has received a pre-placement offer from Khaitan & Co.
In this interview we speak to him about :
His mooting experience
Attending London School of Economics
Receiving a PPO from Khaitan
How would you like to introduce yourself to our readers?
Apart from law, I love watching movies, visiting new places. I am also very passionate about mooting.
My childhood was mostly spent in Bokaro Steel City, Jharkhand. I completed my schooling from Delhi Public School. After having completed my Xth from there, my family shifted to New Delhi where I completed my XI and XII and finally appeared for the law entrance tests and got selected at NLUO. My parents were my inspirational sources which became the driving factor to get to where I am today and to where I want to go. I am a first generation lawyer, my father is a Chartered Accountant and has his private practice so, choosing law was something new for the entire family.
What motivated you to choose law as a career?
My ending up in law was more an accident than a well thought plan. I was all set to join Manchester University to pursue Economics (Hons.) and International Business, but due to various personal reasons I decided to pursue Economics (Hons.) from Delhi University, but the course did not suit me at all, so I decided to appear for law entrances and finally ended up in NLUO. Fortunately it turned out to be a life changer and I am happy it turned out the way it did.
What co-curricular activities did you engage yourself in?
Well, I was also a member of various student committees such Literary and Debating and for a brief period I was also associated with the Mess and Hostel committee. I spearheaded the 1st Intra-University Debating Competition for selection of a pool of debaters who would represent NLUO in different debating competition held nationally and internationally. I was also the member of editorial board of the 1st NLUO Law Review.
You were the convener of The Moot Society. What skills do you get to hone while managing such a responsibility?
In the five years of my law school life, I have regularly been associated with The Moot Society (TMS) in several capacities: as a member for one academic session, a convener for three academic sessions and as an expert advisor in my final year. Mooting is one of the most important activities that take place in a law school apart from academics. Given that my University was in its early years of establishment, as a convener you have the biggest responsibility of developing mooting culture in a law school, and with our current Mooting Premier League (MPL) ranking I feel very happy.
These years of my association with TMS has helped me improve on my inter-personal skills, organizational skills and has made me more responsible. It helped me develop and polish my multi-tasking skills.
How important is mooting?
(Anish has participated in various moot court competitions like ELSA, Price Law Media, NLUD Corp, and GH Raisoni.)
In the first few weeks of law school I decided to do four moots: two as speaker and two as researcher. When I took this decision I had no clue how it would help my CV, but sure as anything I wanted to add good content to my CV and make it long. It was only in time that I learnt it is not the number of pages in CVs that help you but the quality that you carry in it. In the four moots that I have done, one got me a Best Memorandum award and in the other one I was adjudged the Best Mooter and my team qualified into the semi-finals.
Mooting helps you identify and improve your legal skills, the answer to the question whether it helps your CV is an absolute YES!!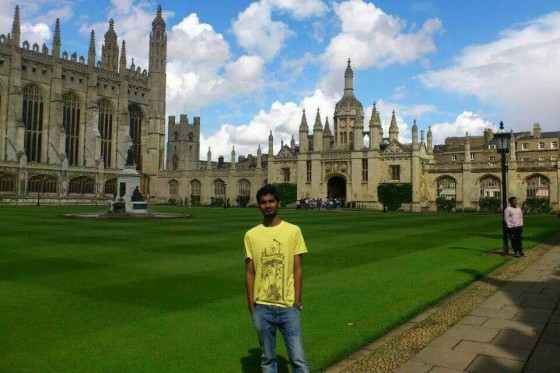 Can you tell us about your experience at LSE?
(Anish attended a summer school course at the prestigious London School of Economics and Political Science on Introduction to International Financial Law and Regulation.)
LSE is one of the top schools in the world and to have its name in my CV was a big for me. The experience of being part of LSE history and to study there and walk around the campus is just something you can't compare. No matter how great you think it is going to be, the LSE feel is just beyond imagination. Though it was a short course of three weeks, you have so many things to be done; if you intend to pass the exams and submit the essays for evaluation in time you will soon realize that this trip is not a holiday. Right from the welcome party to boat party to weekends' trip to Oxford and Cambridge, the entire course is filled with events like opera, drama and sightseeing, LSE leaves you wanting for more.
LSE summer school takes place in two sessions, you can select a course from each session and attend both session or you can attend just one session. The application process is online, fill in the application within deadline submit the same along with supporting documents with the application fee (request for waiver may be made), and wait for them to reply. You can check the status of your application online. For more info you can visit this webpage.
Tell us what all places you interned at and how did you procure your internships?
When it comes to internship, I find myself quite lucky, because I am sure even with the right merits and grades one may not land up a good internship. I started my first Corporate Law internship at Hemant Sahai Associates, thereafter I interned with Khaitan & Co in its Delhi, Mumbai and Bangalore offices. I also had the opportunity to intern with Zeus Law Associates with its corporate team. I have also done an internship with Amarchand & Mangaldas & Suresh A Shroff & Co, Mumbai office.
I got through HSA, KCo. and AMS internships trough e-mail and interview process and Zeus and litigation internship through Internship committee in place at NLUO.
What kind of work did you come across during your internships?
At KCo. I was associated with the corporate team, I was also asked to accompany a team to another city for a due-diligence work. At AMSS, I was interning in the tax team and was given mostly research work.
Give us some tips on framing a CV?
Preparing your CV is more like a balancing act; you must balance both the curriculum side, extra-curricular and co-curricular side. But again there is no straight rule for preparing your CV. To a certain extent it depends for which place the CV is meant for.
You secured a PPO from Khaitan & Co. Did you have an interview before you were offered the PPO? Tell us about the interview process and how did you prepare for it?
Yes, after completing my third and last internship at KCO, I applied for a position and was shortlisted for interview. After clearing the first round of interview, I was shortlisted for second round and after clearing the same I was then offered a PPO.
I mostly read the basics of Company Law, and prepared my CV; one needs to know everything that has been mentioned in the CV. Companies Act 2013 was another important area of questioning.
What do you think an intern should do to get the "call-back"?
The first week of any internship is the most crucial, because they start to entrust you with work and the quicker you get the associates to give you meaningful work, the faster you can rely on them to give you good feedback which plays a crucial role for a call-back. Also, you need to give your best; seriousness and punctuality goes a long way in making an impression. No matter how small the work is, do it well and you will be noticed.
Where do you see yourself five years from now?
In five years I see myself as a senior associate. LL.M is definitely a plan, but for now I want to concentrate on what I have right now.
You being from the first batch of NLUO, do you think that being from a relatively new law college made any difference?
Being the first batch of a law school we did not have any alumni to look up to for help and support, so we had to do everything from the start. This really helped us as it made us more independent and allowed us to witness and build a law school from the scratch.
Yes, as a new law school we didn't have a well functioning internship or placement committee in place, so we did face a lot of trouble getting the attention of the law firms and lawyers. Even when it comes to mooting it took us a lot of time to make our mark, we learnt from our mistakes and improved upon them. As a first batch we did realise our geographical disadvantage but we have worked really hard to reduce the affect of the same, right from hosting Stetson, to organising international and national seminar and conferences.
What message would you like to give to our readers?
I will convey it in the famous words of Walt Disney: "If you can DREAM it, you can DO it." Obstacles will come in life; no matter where and what you are just work hard, just keep in mind that every time you have to make a choice about anything, always ask yourself whether this goes toward or away from what you want? Always choose what goes towards what you want.