Ankit Rajgarhia graduated from Symbiosis Law School, Pune, in 2012. He joined Induslaw after his graduation and worked there for three years, he then moved to Karanjawala & Co.,New Delhi, where he works in the capacity of Senior Associate. His primary practice area is dispute resolution-litigation and arbitration.
In this interview he talks about:
His experience at Symbiosis Law College
His experience in dispute resolution
Difference between working in a firm and with an independent counsel
His experience at Karanjawala & Co
HOW WOULD YOU LIKE INTRODUCE YOURSELF TO OUR READERS WHO ARE MOSTLY LAW ASPIRANTS, LAW STUDENTS AND YOUNG LAWYERS.
I'm currently associated with Karanjawala & Co., a leading litigation & dispute resolution law firm as a Senior Associate in the Civil and Commercial litigation, Arbitration and Disputes Resolution team, headed by Ms. Meghna Mishra- Partner.
Prior to joining Karanjawala & Co., I worked under Mr. Amit Kumar, Managing Partner of Indus Law Associates & under Mr. Ranjit Kumar, Senior Advocate (former Solicitor General of India) assisting them in Hon'ble Supreme Court of India and Hon'ble High Court of Delhi. I have also authored articles on 'Anti Dilution Protection' and 'LML-PIAGGIO dispute' which got published on various online legal portals like JurisOnline.in, Legal Articles Directory, Lawyers Club India. My latest article on 'Financial Creditor and Operational Creditor' was published on the Viewpoint section of Bar and Bench.
I got my B.A. LL.B degree from Symbiosis Law School, Pune in the year 2012 and have since then represented domestic and international clients in many complex commercial litigations and arbitrations.
Apart from an active litigation practice I have been a cricket enthusiast representing Karanjawala & Co., Supreme Court Bar Association etc. in major cricket tournaments.
TELL OUR READERS A BIT ABOUT YOUR CHILDHOOD AND PRE-COLLEGE LIFE AS WELL AS EDUCATIONAL BACKGROUND. DO YOU HAVE LAWYERS IN YOUR FAMILY WHO MOTIVATED YOU TO PURSUE A CAREER IN LEGAL FIELD?
I was born and brought up in Patna. To be honest, I was predisposed to pursue Law since childhood. I hail from a family of lawyers including my grandfather, father and brother. My father was a Tax Lawyer and one of the youngest lawyer in Patna to become a Senior Advocate in his times. I have grown up spending most of my post-school hours in his office full of law books.
Honestly, I was a very average student throughout my school and college life. However, I took deep interest in sports, debates and social events. Even though I wish I had put in more hours of hard work in studies, I am glad to have honed my skills of communication and networking, which have equal importance in the field of law.
WHAT WERE YOUR AREAS OF INTEREST DURING YOUR GRADUATION? HOW DID YOU GO ABOUT DEVELOPING EXPERTISE AND KNOWLEDGE IN THESE AREAS?
During my college days apart from academics I had the opportunity to intern at various organisations, to name a few such as Hon'ble Justice Pradeep Nandrajog, High Court of Delhi; Senior Advocate Jayant Bhushan, Supreme Court of India; Former Additional Solicitor General of India, Mr. Amarjit Singh Chandhiok, High Court of Delhi; Former Additional Solicitor General of India, Mr. P.P. Malhotra, Supreme Court of India; Jyoti Sagar Associates; NGO Pragya etc. While interning at these places the primary responsibilities were working on cases relating to Civil Law, Arbitration, Dispute Resolution, Criminal Law, Administrative Law, Constitution Law and Disputes relating to property apart from visits to Hon'ble Supreme Court of India, High Courts of various Jurisdiction and District Court of Delhi.
These internship experiences not only groomed my practical legal knowledge but also motivated me towards litigation in India. While interning at above mentioned places I had the privilege to work along with Senior Advocates, Managing Partners and other legal personalities which not only taught me the art of drafting but also groomed my drafting and research skills. In my present employment I have realised that to excel in litigation you need to have a good foundation in drafting and court craft and not only be limited to good command in English language.
An aspect of Law that has always been of interest to me is that, Law influences almost every facet of our life, and is constantly evolving to keep up with the dynamic changes to which we constantly try to adapt. In particular, I am always drawn towards Dispute Resolution mainly because it consists of constructive legal argument and an analogy of legal reasoning more often than in many other careers. I strongly believe in following one's passion and a career in Law has always been my calling.
YOU GRADUATED FROM SYMBIOSIS, LAW SCHOOL IN THE YEAR 2012. HOW WOULD YOU DESCRIBE YOUR EXPERIENCE AS A STUDENT ASPIRING TO BE A PROFESSIONAL THERE? HOW INSTRUMENTAL WAS SYMBIOSIS IN SHAPING UP YOUR LEGAL CAREER? TELL US ABOUT ORGANIZING AND CONCEPTUALISING AND PLANNING THE FIRST EVER SYMBIOSIS PUNE FEST (SYMBHAV IN THE YEAR 2008).
My life at Symbiosis Law School, Pune was blissful not only in terms of academics but also extra-curricular activities. While I was a mediocre student at college, I also made it a point to focus on mooting, articles and extra-curricular activities such as sports or organising university level events.
I would give my college full credit for expanding my mental horizon and for encouraging lateral thinking in me through free discussions and healthy debates in classrooms. Apart from having a great faculty structure in college, we have also had the honour of closely interacting with guest faculties such as Mr. Ram Jethmalani, Senior Advocate & HMJ Pradeep Nandrajog. I learnt that more than securing good marks in legal education, it is important to learn and stay updated about latest developments through interactions and discussions with peers and stalwarts in the field of law.
I was fortunate to be part of organising committee of first ever Symbhav [Symbiosis First ever legal fest, 2008]. In the very first year of college, taking cue from the pattern of other major legal fest in the country, we conceptiualised the idea of Symbhav. My role was to spread awareness about Symbhav. Now in its 10th year, Symbhav is one of the major legal events across Indian Law Colleges. Now in its 10th year Symbhav continues to be a major legal event across Indian Law Colleges not limited to Law Students but other branches of stream in India.
AS A MEMBER OF THE CIVIL AND COMMERCIAL LITIGATION, ARBITRATION AND DISPUTES RESOLUTION TEAM, TELL US ABOUT YOUR ROLE AND RESPONSIBILITY. WHAT IS A TYPICAL DAY LIKE?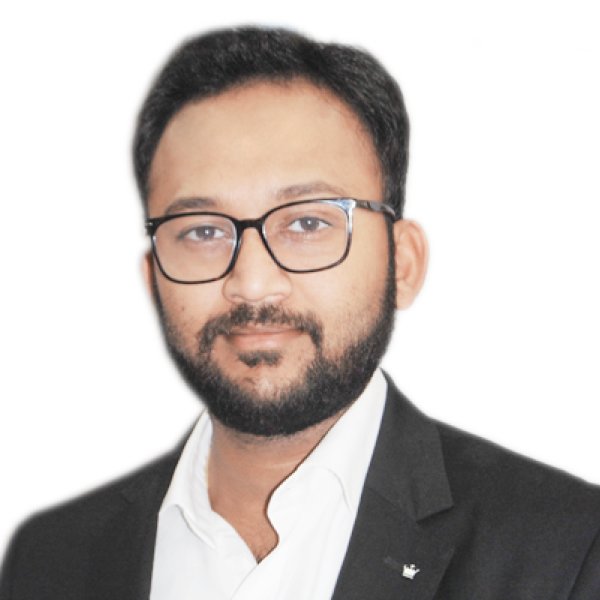 I had the privilege to join Civil and Commercial litigation, Arbitration and Disputes Resolution at Karanjawala and Company in the year 2015. Over the two years, I have carved out a niche practice for myself at Karanjawala and Company by providing clients with prompt legal assistance and delivering results. I credit my growth over the last two years to my boss and mentor, Ms. Meghna Mishra- Partner, who is a leading name in Dispute Resolution.
I am an early starter. I have long travel hours between Gurugram (my home) and Delhi. I use this time to plan and coordinate court visits and client meetings. I strongly stand by my principle of doing thorough preparation before entering the the court. Latter part of the day is spent in briefing senior counsels, attending conferences with Senior Advocates, Advocates and General Counsels followed by preparation for upcoming matters including drafting and research. It is very important to stay up to date with the amended laws as well as recent Judgments passed by the Hon'ble Judges of different tribunals. This helps in carving out strategies for the upcoming matters and communicating the same to the clients. According to my father, majority cases are won by thoughtful and out of the box strategies.
YOU JOINED KARANJAWALA & CO. IN 2015 AND WERE PROMOTED TO SENIOR ASSOCIATE IN 2017. WHAT LEAD TO THIS ALLEVIATION? HOW CAN ONE/ WHAT SHOULD ONE DO TO ACQUIRE THIS POSITION IN A SHORT SPAN OF TIME?
I was elevated to the position of Senior Associate within two years of working in Karanajawala & Co. and overall of five years in legal practice. I have worked very hard at every step towards this position. Legal practice demands dedication, sincerity and perseverance. Moreover, building a strong foundation of the simplest of legal concepts has kept me on the right track. I have always made sure that the firm and the client are always on the same page and that the client gets full satisfaction from our services. At the same time, time management is quite crucial and I would credit my mother for imbibing this in me at a very early age.
TELL US THE DIFFERENCE BETWEEN SMALL SCALE BRIEFS AND HIGH STAKE BRIEFS IN INDIA? WHAT IS THE INITIAL ART OF BRIEFING SENIOR COUNSELS?
According to me no brief is small stake or high stake ; only the quantum mentioned in the brief is high or small. We enter the profession to learn each and every day and learning is a never ending process for lawyers. In the initial years of profession it is very important to work on all kinds of matters and briefs, to be able to learn from all aspects of Law. Having said that it is also very important to work in different Tribunal/District Courts/ High Courts to be familiar with different working culture of different forums.
The initial art of briefing Senior Counsels is to be thoroughly prepared with the matter as if you have to argue in the court. It is also important to know the latest Judgments or case laws along with respective paragraph numbers, pertaining to the issues involved in your briefs. In order to optimise on the briefing time, it is important to have case note ready to enable you to give quick answers to the queries put forth by Senior Counsels. It is important to be aware of particular styles of working of different Senior Counsels (for example some would start with prayer of the brief and the others would start with brief facts of the case).
While it is important to assist Senior Counsels through the matter, it is equally necessary to be able to put forth your suggestion with reasoned logic before the Senior Counsel. I personally feel that no reasonable suggestion given is a wrong suggestion.
YOU HAVE PENNED DOWN QUITE A FEW ARTICLES PUBLISHED BY REPUTABLE WEBSITES IN THE LEGAL WORLD. HOW DO YOU FIND TIME TO WRITE? WERE YOU ALWAYS PASSIONATE ABOUT WRITING?
Since my college days, more than class room studying I have been more driven towards the practical aspect of law, be it reading the Judgments thoroughly or penning down my opinions either for or against the Judgment. Soon after my third year of my college I started penning down my views in the form of Articles, some of which got published in leading legal websites and journals. Expressing my reasoned views helped me in having a clarity on my research studies.
PRIOR TO JOINING THE KARANJAWALA, DESCRIBE YOUR TIME AT INDUSLAW. WHAT WAS YOUR WORK PROFILE?
I was with IndusLaw for a valuable period of three years wherein Mr. Amit Kumar- Managing Partner was like a mentor to me. In Indus Mr. Kumar not only gave me an opportunity to draft for various clients but also gave me an opportunity to brief Senior Counsels as well as appear before different forums. The different things which I learnt at Indus are:
Learning professionalism
Experiencing Criticism
Determining your future
Building relationships
At Indus under the guidance of Mr. Amit Kumar I worked for a number of prominent clients such as- CCIC, Medical Council of India, Pawan Hans, Handlooms And Handicrafts, Ranbaxy, Rail Land Development Authority. Mr. Kumar, not only helped me in drafting but also gave me opportunities to appear before various forums. I have appeared in matters before the Hon'ble Supreme Court of India, Hon'ble Delhi High Court, Hon'ble District Courts, Hon'ble Green Tribunal, Hon'ble Consumer Forum, Hon'ble DRT/DRAT, Hon'ble NCLT, Hon'ble BIFR/AAFIR And Labour Commission and Tribunals such as the National Company Law Tribunal, the National Company Law Appellate Tribunal, National Green Tribunal and Telecom Disputes Settlement and Appellate Tribunal.
HOW WOULD YOU TELL OUR READERS ABOUT THE DIFFERENCE BETWEEN WORKING IN A FIRM AND WITH AN INDEPENDENT COUNSEL?
Being an independent litigator or founder of a firm, in the bubble of the bar, is a pretty big deal. Most who start in litigation, often only on nominal remuneration (if any) doled out by well-paid senior lawyers, dream of the day they can finally set up their own shop.
While it might seem to outsiders like all it may take to become a successful advocate is talent and passion, the skills required lie in the business realm more often than in legal.
"There's no way to study this rationally as a business. A business consultant would lose his mind trying to study what the independent (law) practice looks like. It makes no sense financially. It is a completely messy, uncertain area; no two people have anything going on which is alike,". "(A business consultant) will ask, 'Where's the cash flow?', and you'll say, 'Cash flow was there yesterday but then my clerk used it all up on photocopying."
Indeed, going independent is often less about business rationale than something more intangible.
"It's only about passion "If you love wearing black and white and if you love appearing in courts, you can start up from anything to go up to any level for appearing in courts. I can't sit one day at home, I want to go to court every day."
Yet, despite the passion, not every independent litigator stays the course.
LASTLY, WHAT BE YOUR MESSAGE TO OUR READERS WHO WANT TO CREATE A NICHE FOR THEMSELVES?
Plan before you act.
Read a lot but do not just read; understand the law as well and implement it accordingly.
There must be clarity in your thought process and the same must be reflected in your drafts and correspondence.
Be confident and professional in your approach!
Do not be shy or hesitant in seeking help from seniors when in need.
Be ready to fail, learn from failures and keep moving forward. If you lose a case, take it as an opportunity to learn and move on.
Hard work! [I am a firm believer that hard work pays one day and there is no substitute for hard work]
Lastly, Lawyers are made by the society, whatever a person is today is because of society therefore, one must give it back to the society [Always help others, in whatever way you can].
Take no short cuts in litigation. Progress to higher level could be slow, but remember to never jump steps.
Litigation demands confidence to be able to argue in front of the judge. So work on building confidence by interacting and networking.