Anshuman Nayak graduated from NLIU, Bhopal in 2013. He had always planned to pursue a career in litigation since his days in law school and therefore, started litigation practice before Delhi High Court right after graduation. We asked him to share his experiences and strategies he used over the years.
Please introduce yourself to our readers. Tell us a little bit about your childhood and your background?
I am Anshuman Nayak, one of you, till the year 2013. I will be as sincere and earnest as possible.  As a child I have always been into reading even though I never neglected outdoor activities.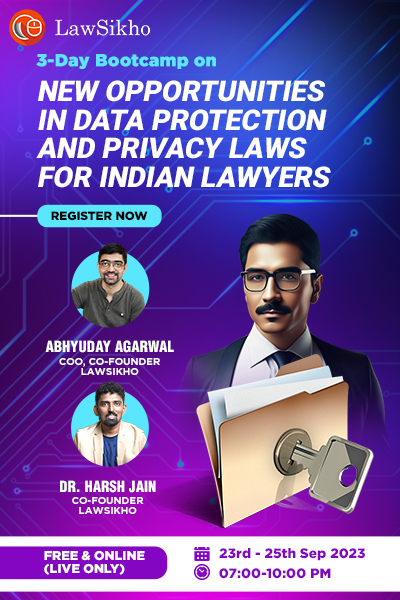 How did law happen? Were you sure about pursuing a career in the legal field from the beginning? Did you ever think of alternate career options?
I don't know where my inclination towards the law began. It probably started when I first lay my hands on a newspaper. You get to know so many things and some things do catch your eye. I learnt so many things about the system of governance and polity. And somewhere deep down I knew I could contribute. So here I am.
Pursuing law for me was not a very conscious decision then. And no, it wasn't peer or parental pressure. I can tell you that it was one of my best decisions in life to do this.
I won't say that "I'm here to get justice delivered" and "that it pains me to see how people can be so deceitful". No. I am not to give here lofty and impractical ideas to the readers. However, whenever I do see justice being done (the instances of which, are few and far between), it does feel good.
Tell us about your years in law school. What made your journey with NLIU worth it? What are the co-curricular activities you took part at NLIU?
There aren't any single instances which make the NLIU journey worthwhile. Bhopal as a city is so full of greenery that anyone will fall in love with it and by extension, the University. I guess everyone has their own outlook about the place and everyone has their own versions of their University life. Personally, I don't know if I could have a better experience. It was enriching and enlightening. I dabbled in everything mostly, particularly mooting and quizzing.
What are the tips and strategies you would like to share with our readers who are currently law students?
I would ask them to learn the law, particularly the Constitution, Jurisprudence and a little bit of Procedural laws and not neglect the daunting task of reading judgments that have shaped law in our country.
Tell us about the trimester system at NLIU. Do you feel it is a model that gives students enough freedom to develop themselves in a manner desired by them? Any improvements you feel it could do with?
See, I'm not an expert in administrating things. But, I feel that the current system has served the University well from its very inception till now. Unless, there is a glaring error, I don't feel they should discontinue it or even tamper it. If they come up with an alternative that truly addresses the problems, if there are any, with the trimester system, then I'm sure the concerned authorities would take a note of it and do the needful.
What kind of internships did you do while you were a student? Any remarkable experiences during your internships that shaped your career choices later?
I mostly interned in the High Courts of Orissa and Delhi and of course, the Supreme Court of India. I have had the opportunity of witnessing great counsels in action in the Courtroom. And those experiences have been very inspiring in the sense that they have reaffirmed my faith to be a part of the entire system.
You currently practice at Delhi High Court. Did you ever consider a career in the corporate sector? What influenced your decision to work in the litigation sector?
Law school life doesn't exactly teach you the nitty-gritties of the real world. It is much different. For example, you wouldn't grasp procedural law especially Civil Procedure unless you start working.
But, to an extent, the people you come across in your time as a law student are a microcosm to the kind of people you'll meet in your professional life.
A lot of law students prefer corporate jobs over a career in litigation. What is your take on this? Is it better to work in the corporate sector for a few years before starting litigation?
The point of the entire system of National Law Schools was to improve the standard of the Bar and consequently the Bench. An attempt was made through the first National Law School in Bangalore in 1986. However, it is lamentable that young, brilliant minds are lost in 'lucrative' jobs in the Corporate sector. It is largely attributed to the fact that in the Indian Society, a lawyer is not paid or revered as they should be. Even though, a large chunk of our statesmen were professionally lawyers.
Do you think top notch grades have given you an advantage over others in your arena of litigation? How useful would you say would be being a topper for people who want to practice?
I don't think grades have anything to do with success in litigation, although many will disagree. The fact remains that there are so many laws that aren't taught in the usual law school curriculum and you come across the very same legislations for the first time. Again, you being a top ranker is contingent upon you being studying or showing interest in a particular area of law.
I don't know about any mantra for success but the little I've seen, perseverance and a teeny tiny bit of common sense do go a long way in this field. And of course, patience, which is a mandatory and rare trait. But I guess, that is true for most of the professions.
How has your mooting experience been? How helpful has been mooting in litigation?
Mooting, in isolation and not comparing it with litigation, is a very enriching experience. It's the closest that you can ever come to a real courtroom in law school. Personally, my mooting experience was what can be termed as average. However, litigation is easier than mooting because it is not always that the Judge isn't willing to listen to you if you've the requisite law in your way and are stating the facts in a very cogent manner. Statistically speaking, mooting or not mooting doesn't make a difference.
What is your workday like? Are there new challenges every day or did work fall into a predictable pattern?
Morning hours are for Court and later on after your cases are over, you come back to the office and prepare for the next day. Research and Drafting take up most of your time. And the work is predictable to the extent that you apply the same techniques to address a specific area of law.
How necessary is it to have a mentor/guide to handhold a young lawyer while still in the formative years of the profession?
The practical experience that is required in the beginning can only be given by a seasoned and competent lawyer. Plus, you've to understand that it isn't easy and quick to get clients. You need a certain bit of maturity to be able to handle clients and advise them about the nuances of the law. Say, someone comes to you about registration of a Company. Now, you need to be well-versed with the law as well as any changes that have come through amendments or interpretations, by say, a constitutional bench judgment.
What were the difficulties you faced in the early days of your practice? How difficult would you say it is to build a reputed practice? How many years of hard work does it require to build a firm clientele?
The hardships that anyone will first feel after graduating is getting acclimatized with the place that you practice in. Read up necessary laws such as High Court Rules, Supreme Court Rules etc.
What would be your parting message to law students who want to litigate just after graduation?
It's no rocket science. Just keep your eyes and ears open.