Anujaya Krishna is one of the most diligent scholars of the 2013 batch of NLIU, Bhopal. Anujaya has been the Co-Convenor of the Moot Court Association, editor of the IP Law Journal and has also authored a book on Sports Law. She is the DAAD Scholar for 2014-15 and is currently pursuing her masters in European Law.
In this interview, Anujaya talks about:
Applying for scholarships and choosing the right field of specialization
Publications in law school
Balancing time for other pursuits while in law school
When did you decide to take up law as a career? Tell us something about your college life.
Frankly, coming into law was a matter of chance. More than me choosing law, I'd put it this way (at the risk of sounding archaic) – Law chose me. I was giving engineering examinations and took CLAT along with those. When I secured a good rank in the exam, I decided to take a leap of faith!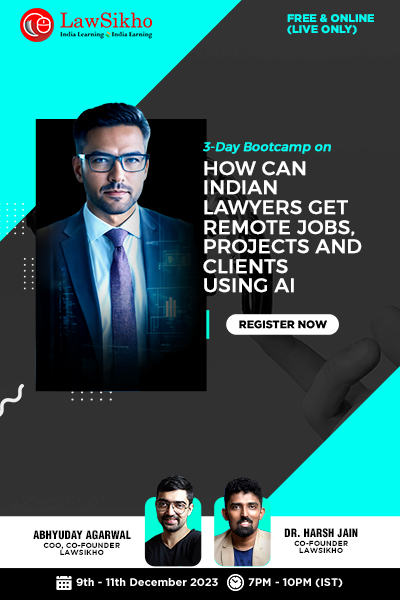 College life cannot be described, but I'll try. It was splendid- taught me a lot and helped me grow as a person as well as develop a deeper understanding of the profession I was taking up.
What sort of internships did you do while in law school? How instrumental were these internships in helping you decide what field of law you wished to specialize in?
I mostly interned with advocates in my hometown, Lucknow. I also interned with UNICEF and the State Legal Services Authority in Lucknow. The only law firm internship I did was with Amarchand & Mangaldas & Suresh A. Shroff & Sons.
Given that I chose Sports Law as my field of specialization, it was not easy to find work in that field. But I made up for that by doing research on it for my dissertation and projects in the university. In my internships, I got the opportunity to work on cases of mediation, company law, corruption, labour issues, and I also learnt how to go about due diligence and drafting.
I believe that one should take up an opportunity when it presents itself, because nothing you learn or work on goes in vain, ever.
You were Co-Convenor of the Moot Court Association. How much emphasis would you place on mooting in law school? How do you think it helps in developing argumentation and analytical skills?
Mooting is an activity that hones your skills in myriad areas and I strongly recommend that students give it a try in law school. It goes a long way in making one versatile and grow from being a law student to a lawyer as it were.
Mooting, to my understanding, has something for everyone- whether you are more comfortable speaking or drafting and doing research. Mooting helps gain a better understanding of the law because it enables you to apply what you have learnt and create arguments. Not only that, it also helps you think like a lawyer- focusing not only on your arguments but also on the possible arguments from the other side.
You have been editor of the NLIU Law Review as well as the IP Law Journal and have several research publications to your credit. What made you develop such a keen interest in writing research papers? How did you develop on them?
I have been fortunate to get a chance to work on several aspects relating to research and publication. While I was on the content review and editing board for the NLIU Law Review, for the IP Law Journal, I worked on the Management Board. My main motivation for writing research papers has been my interest in exploring and developing Sports Law as a field. If you notice, most of the papers I have written are based on the same.
As for how I went about developing and writing them, I referred to books in the library and articles available online. Also, I tried conducting surveys or gaining some practical insight into the topics as well. The key point to remember when writing a research paper is to choose a topic that really interests you, so that you are constantly motivated to write about it- irrespective of dearth of resources, time etc.
Congratulations on your book 'Sports Law'. Why did you choose sports law to be the subject of your book? What motivated you to take up a field of law that isn't that well known? What resources did you have at your disposal?
Thank you! Like I said, Sports Law is a field that has not been explored much and we need more scholarship in that area, especially in India. Whenever I used to mention that I want to specialize in Sports Law, most people were either unaware of the subject or said that I should not set my heart on such an 'obscure' topic. It was exactly the fact that this field of law "isn't that well known" that prompted me to write about it.
I referred to some books on the subject available in the university library, all by foreign authors but I was fortunate to find one book by an Indian author as well. Case laws from the official website of the Court of Arbitration for Sport (CAS) and other sources also helped. Apart from research papers and newspaper articles on issues revolving around sports law, for instance the (Draft) National Sports Development Bill, there were autobiographies and memoirs of sportspersons that gave me an insight into the status of sports in India and elsewhere.
I also got a chance to interact with some players and coaches in Lucknow to know their views on the idea of law intervening in sports. Also, I had the guidance of my parents (who are both teachers), brother (who is a budding tennis player) and professors, encouraging me to work on this topic.
When did you decide to start writing the book? Share with us your experience in getting it published and what was the reception to the book?
The book is actually based on the dissertation I made in the final year of law school. It was my mother's idea to get it published.
I am thankful to Universal Law Publishers who gave a positive response to my proposal to get the book on Sports Law published and it was a smooth process. As regards the reception of the book, apart from positive reviews from my family and friends, I was glad to see that students from other law schools also read and liked the work. As a matter of fact, I recently got an opportunity to write on gaming laws for a website after the editor came across my book. At the same time, there has been some constructive criticism as well and I definitely hope to improve in the future. Reviews and suggestions are always welcome!
How did you balance out your time while authoring the book? Do you have any future plans of taking up writing as a career?
I guess you just have to make time to do the things that you love and that is exactly what I did while working on the manuscript for the book. There is no formula for it.
Writing has always been close to my heart- not just writing on law but even fiction and poetry. It is too early to comment on whether I will take it up as a full-fledged career but I wish to keep writing whenever I get the chance.
You also worked with AMSS, Bangalore. How was the experience of working in a corporate setup? What sort of research did your job profile entail?
I feel very fortunate to have gotten a chance to work with AMSS, Bangalore. The work atmosphere is excellent and I got the opportunity to work with some of the best minds in the field of corporate law in India. The seniors were very encouraging and approachable too.
There were various areas of law that I got to research on. I did extensive due diligence on the labour law compliances as well as on stamp duties for certain types of agreements. I also did research on aspects of contract law as well as FEMA and RBI regulations. The most memorable part was that I got to explore aspects of the new Companies Act (2013) and Rules thereunder, under the aegis of the best law firm with such knowledgeable people.
You are also the DAAD Scholar for 2014-15. How did you go about applying for the scholarship? What would you advise fresh aspirants to focus on?
My mother informed me about the scholarship and I applied for it. The most important part is the Statement of Purpose (SoP), so I would advise fresh aspirants to draft an SoP that is honest and reflects their interests and motivation clearly.
What is the field of specialization you've chosen for the LLM?  Why did you choose that subject?
The scholarship I received is for the study of European law. In my LL.M. course, I will be studying various aspects of European integration and I hope to make my master's thesis on European Union (EU) policy in the field of sports.
Coming from India- a country of unity in diversity, I think it will be interesting to understand and learn the way the EU functions, moving towards an 'ever closer union'. Moreover, the EU has many policies relating to sports such as sports and competition law, and players' rights etc. that I can use for further research in the field of Sports Law.

Please tell us a little about your academic schedules and the general experience of studying abroad? How different do you think it is from the pedagogy that Indian Universities follow?
The schedule is usually packed. While there may not be too many classes in a day, the duration of the classes is more. Also, there is a lot of extra reading required to be done and presentations to be made in class etc. Since the lectures are rather interactive in nature, one is required to read and come prepared for the class. Also, being in an international environment gives you great exposure- not only in terms of studies but also respecting and learning about various cultures and countries. I am also happy that I got to learn a bit of German here!
I would say that the level of interaction and participation in classes is more here but at the end of the day, I don't think it is to do with 'Indian' or 'foreign' universities so much as it is to do with individuals and the will to actively participate. You can make the most out of your education if you want, in whichever part of the world you are!
What is your view on the rapidly growing trend of Indian students pursuing their masters abroad? Do you think there is a resurgence of the brain drain?
I think if there is a programme of study that interests one and is feasible, then one must pursue it. As regards the question of brain drain, I sincerely hope there is none and quite frankly, it is hard to comment because it is matter of personal choice and circumstances, and putting everyone under a label would be unfair.
What would be your parting message to the law students?
Just one quote by Ralph Waldo Emerson (something I got as a farewell present in university) – "Do not go where the path may lead, go instead where there is no path and leave a trail."