Aounkar Anand is a Co-Founder and COO of RostrumLegal.Com, an online legal education platform. He graduated from School of Law, MATS University, Raipur in 2014. He is currently pursuing LL.M in International Business/Trade/Commerce from National University of Study and Research in Law (NUSRL). Aounkar holds a Diploma in Cyber Law from Asian School of Cyber Law & GLC, Mumbai. Aounkar has interned with Wadia Gandhy & Co., Singhania & Co. LLP, FoxMandal Little, A.O.R Manoj Swarup in Supreme Court of India. Aounkar has Also worked as a Judical Clerk under Hon'ble Justice Satish Sharma, Office of Public Prosecutor District & Session Court Dhanbad, Citizen Consumer and Civic Action Group (CAG).
In this interview, Aounkar talks about:
His experience at the Law School
Rostrum Legal and his team
How he is managing the finances of his business
Current scenario of startup in India
How would you introduce yourself? Please share a bit of what motivated you to pursue law as a career.
Born and brought up in the Coal Capital of India, Dhanbad. I have seen the diverse lifestyle starting from the downtrodden people to higher class executives and realised that there do not lies a much difference in a way they are brought up. It is the mind and intellect of each that helps him building his lifestyle. In this scenario, I was a very friendly, helpful and happy to go, person. I enjoyed my schooling in many ways. I even got the opportunity to serve the nation by joining NCC and went up to Sergeant Rank. This gave me a disciplined life and taught me the perfection and management of any work entrusted to me.
Like many others, I did my higher secondary schooling with the science background and took coaching for engineering entrance examinations for two years. There are numerous reasons for choosing to study law. I was fascinated towards working in the legal system since my childhood. One instance that I remember "Once I became a judge in a role-play in my school" and I think that particular incident was responsible for making me interested in studying law. Entering the law school opened a vast array of career options for me, and I have never regretted choosing to study law.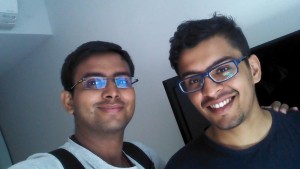 Kindly acquaint us with your college life. What activities were you involved in apart from the regular academic curriculum?
Life, at law school, was not so comfortable but full of adventures and learning. Being the first batch of the fresh, we were always the part of management's experiment, but thankfully everything went well. The five years in law school were the best part of my life, and there are numerous stories which I can share.
I was actively involved in managing and organising various events in the law school. I was the convener of Legal Aid Cell, Library Committee and Moot Court Committee. I utilized these forums, organizing various legal awareness programmes and campaign at various countryside places of Chhattisgarh. These committees helped me a lot in honing my organizational skills, improved my legal understandings and also made me acquainted with real legal perplexity in the society.
As a sophomore, in a "Management Subject Assignment" I along with my classmates started a t-shirt designing company named "INSANETEES". We made more than 50 t-shirts and sold it on campus. This exercise was the foundation of my journey as an entrepreneur. Henceforth, The time in law school was overall a fun experience.
You're the Co-Founder of RostrumLegal.com. Please tell us about Rostrum Legal.
RostrumLegal.Com is a brainchild of my Co-Founder Anurag Parihar. Before coming on black and white in December 2012, the embryo was conceived in 2009 itself. It was the hardships that we felt and the law schools having a faculty crunch gave us the idea to start with Rostrum. We started our journey with a course on Consumer Protection Act and amazingly we got 1012 registration in just 8 days. This was a great motivation for us, and we decided to move further and today we have more than 20,000/- learners from across 86 countries worldwide.
Please explain to our readers how RostrumLegal.com functions.
Rostrum has a unique team of legal professionals from working people in PSU's and Private entities along with some of the Professors, Associate Professors and Assistant Professors from different private and National Law Schools. It is accredited with International Accreditation Organisation.
At Rostrum, we try to provide lectures and study materials from many other faculties of different law schools on a single platform. The idea is to make the same learning platform for a student ranging from a remote law school to an elite one. A learner needs to make a profile on the website and has to access the course of his choice. There lies a discussion forum along with certain badges to bring the enthusiasm to study further. Also, we provide course completion certificate which can be verified either from the website or by writing to the office.
Could you also introduce us to your team?
I should not forget to mention the hard effort of the faculties of our law school along with the cooperation of our batch mates and juniors who helped us to form Rostrum and are included as a team. It has been co-founded by Mr. Anurag Parihar, currently pursuing his LL.M. at Melbourne Law School and myself. Also, the team compromises Campus Ambassadors and the legal professionals from different organizations.
How do you plan to expand Rostrumlegal.com regarding operations, infrastructure, as well as attracting more investments?
We started our journey from a college hostel and within 3 months of the incorporation, we shifted to a space of 144 sq.ft. in the area in the heart of Raipur. After that in another 10 months, we moved into our second fully customised 1000 sq.ft office having all the unique and modern technology of imparting online education. Subsequently in April 2015, we moved our office to Bengaluru to give a moulding to the on-going process. In near future, we are planning to have professional tie-ups with some of the organizations, and our aim is to make Rostrum a platform for everyone to come and teach or to come and learn and help the society to have a digital world of education.
What motivated you to start RostrumLegal.com?
During my journey, I realised that, in India, there is a lack of uniformity in the teaching profession. Though we have more than 1000 law schools, it is only a matter of record. My inner subconscious has an omnipresence saying that "Teaching is a mission, not a profession" and I wanted to justify the same.
With so much of competition existing in the online legal service field, what makes Rostrum Legal different from its peers?
It cannot be said that Rostrum is altogether very different from its peers, but the thin line difference is the learner's satisfaction. We take care of any complaint or suggestion made. We are also very happy to share the certificate verification from not only employers but also for many prestigious universities around the world. The pricing of the courses is pocket-friendly and does not put a burden; the learners are free to take any course at any point of time with a lifetime membership of the course.
How would you compare the Indian startup scenario with the rest of the world?
If we talk about the ground zero in India, the reality is very harsh and pathetic. The government is coming with many new policies and laws to regulate the startup community but the officials at the lower level are not manageable. The next big problem is the society not accepting the start-up culture. Parents still want a secured government job and a peaceful life of 10 to 5. Whereas in rest of the world the situation is entirely opposite and there is no role of corruption at the grassroots level.
How are you financing the business? How do you plan to finance future expansion?
Initially, we had started with on Rs. 2700/- and after that we are managing with the earnings from the different courses along with the annual classes for CLAT. Rostrum is looking for potential investors to invest in the future expansion and believes to get an investment by early 2017.
Share the biggest challenges that you faced in the initial days of your career. How did you address them?
As officially we started in the 3rd year of our law school the biggest challenge was to manage the classes along with the meeting with officials for necessary approvals and associations. Our Campus was 45 kms away from the city and had a difficult time with the internet connectivity. Hence, we used to go to some of the malls to use the internet connectivity. Also, to go hand in hand with classes and certain meeting dates coinciding with examinations were a significant challenge. In our early days, we managed it by working for more than 18 hours a day.
What skills and qualities do you think have helped you achieve your current position?
The fresh and calm attitude of both Anurag and me is the key mantra for the success. We did have differences but were able to sort them out due to our ethical mindset. Being a good manager along with the ability to work with perfection has helped me a lot in achieving the current position.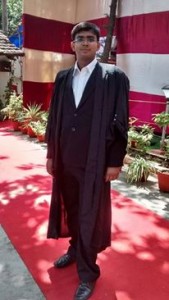 Where do you see yourself five years down the line?
It is very much difficult to predict, but I want to see myself as a person helping millions of people regarding education and wish to build a society which is not divided at least regarding education.
However, being the Chief Operating Officer of RostrumLegal.Com my dream is to setup a law school with all the ultramodern technologies and unexcelled facilities regarding other resources.
What would be your message to our readers, particularly young lawyers and law students, who wish to foray into entrepreneurship?
Well, be it a law student or a person from any background, he should not forget to fight for his rights and should never forget that no work is small or big. Being a law student if we cannot fight for our rights how will we stand for others? To start with entrepreneurship, risk-taking and decision-making capability should be inculcated. This helps you out in any scenario and gives you the way to your success.