Appanna Poonacha graduated in law from University Law College in 2006. Right after the completion of his graduation he joined Manthan Legal. After working at Manthan for almost six years, in 2012 he started working in ISGN, Bangalore. At present he is working as the Senior Manager – Legal of Ocwen Financial Corporation.
In this interview we talk about –
His journey through years of law school.
His work experience at Manthal Legal and ISGN, Bangalore.
His role of work at Ocwen Financial Corp.
Pursing Masters in Business Laws (MBL) program from NLSIU, Bangalore.
Certificate courses on banking and financial services
Please introduce yourself to our readers. Where did you grow up and complete your initial education? How did you decide to take up law?
I am Appanna Poonacha. I am a Bangalore based corporate lawyer. I currently work with Ocwen Financial Corp. as a Senior Manager – Legal. In this role I am heading the company's legal contracts functionality and oversee all commercial transactions at Ocwen's India offices. I was born into a family of lawyers at Coorg, a place which is popular for its coffee, spices and picturesque landscape. I grew up watching my dad practicing law. I completed my schooling at Coorg and then pursued my Pre-University at St. Joseph's Arts & Science College, Bangalore. I graduated in Law from University Law College in 2006.
How was your law school experience? What activities were you involved in law school?
Law school curriculum offers exposure to various subjects in law. This is the first step towards understanding each subject in depth. Moot courts and internships churn you towards the practical side of law practice. I actively participated in these activities which provided exposure to various challenges you come across as a lawyer. You also build skills related to leadership, teamwork and conflict management.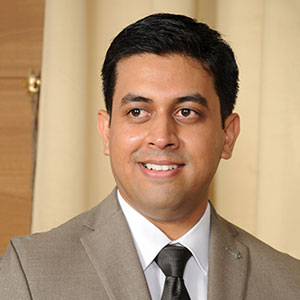 Upon graduating, you started working at Manthan Legal. What exactly does the company do, and what did your work profile involve?
Soon after graduation, I got an opportunity to work with Manthan Legal, an LPO which then specialized in providing litigation services to law firms in the United States. Joining an LPO back then was like exploring a 'road less travelled'. There weren't many players in this field. Manthan gave a platform for me to work with attorneys in a global set up. This was my first stint in a corporate firm. Here I successfully managed revenue portfolios close to 1Million USD, leading a large team of attorneys catering to these law firm clientele. I was responsible for delivery operations, accounts' management, client relationship management, business development and growth strategy of the BU.
In 2012, you started working at ISGN, Bangalore. What did your work at ISGN consist of?
After 6 years of working at Manthan, I got an opportunity to work with ISGN as an in house counsel. ISGN is a provider of mortgage technology and services for lenders, brokers and servicers in the US Mortgage industry. I was primarily responsible to oversee litigation & contracts for company's regional office at Bangalore.
Currently, you are Senior Manager at Ocwen Financial Corporation. What do your responsibilities include? What does an average day of work at Ocwen look like, for you?
Ocwen is one of the largest providers of residential and commercial mortgage loan servicing, special servicing and asset management services in the United States. I am currently heading the Contracts team at Ocwen's offshore facility in India. On a normal working day, my work involves liaising with internal teams, negotiations with clients and assisting the business with legal support in contracts.
What do you look for in potential candidates while recruiting them? Please describe the management and HR policies that Ocwen follows?
For me a potential candidate shall possess high values of work ethic, a drive to achieve and willingness to learn. Knowledge and skills are personal assets which qualifies an individual to grab opportunities. Ocwen is a workplace that believes in Customer Centric Quality, Inclusive Meritocracy, People, Integrity and Teamwork.
Do you agree that law firm atmosphere is more competitive and challenging? Has your work been an exception to this notion?
I would not buy that thought. Every profession has its own challenges. In today's global environment, it is unfair to make comparisons.
What are the essential requirements that a law student must fulfil in order to pursue a career in financial services? Do you think additional degrees like CA or CS help in this regard?
Every day is a learning opportunity. There is no one success formula to be successful professional in any industry. Knowledge that you gain as a student, as a young professional will contribute towards personal/professional growth and success in your career. Additional knowledge and skills are always an added advantage.
Has the Masters in Business Laws (MBL) program from NLSIU, Bangalore helped enhance your skills and abilities in a professional capacity?
Absolutely! Knowledge in any form has no boundaries or limitation. I was privileged to get enrolled for MBL from NLSIU. It provided me access to some of the best legal academicians and resources of law in this country. The program itself was targeted to corporate professionals.
How did completing a few certificate courses in banking and financial services help?
Financial Industry at the United States is highly regulated. These certificate courses helped me to understand the various laws related to compliance in the day to day functioning of these corporations.
Lastly, what is your plan for the future? What advice would you give law students wishing to pursue a career in financial services?
My goal is to be a General Counsel of a large multi-national corporation. My sincere advice to law students is to utilize the various opportunities provided to them during their law school tenure, dedicate your time to gain knowledge and skillsets. Always aim for the sky!