Ashish Arun graduated from NUJS, Kolkata in 2010. As a student he started working on his entrepreneurial skills while starting up with Offshore Research Partners. He didn't have to sit for placements as ORP had already taken off. Currently he is a Partner, Principal and Director at Expert Witness Profiling.
In this interview we ask him about:
Starting up and managing multiple ventures
Journey of being an entrepreneur
Importance of a co-founder
How would you like to introduce yourself to our readers? Please share your academic and professional background.
I graduated from NUJS in 2010 and currently run Offshore Research Partners, a legal research and outsourcing firm based in Calcutta. I am also a partner in Expert Witness Profiler, LLC, which is a legal research product oriented company, based in the United States. Originally from Patna, I am based out of Kolkata at the moment.
Tell us a bit about your childhood, your hometown and your pre-graduate life as well.
The first few years of my life were spent in a small town of Bihar. When I was 5, my father moved to Patna, primarily to get me a better education. Many who know me from NUJS wouldn't believe this, but I was actually pretty good at studies as a kid.
The career of a lawyer in India is still just a backup option for most students. What motivated you to choose law as a career? Did your family and friends not suggest you to go for Engineering or Medical Studies?
As a kid, I never wanted to be a lawyer. My father is a practicing lawyer at the Patna High Court and I had seen the struggles that a lawyer has to go through during the first few years and law as a career became a strict no. After getting a decent score in boards, the natural choice was either medical or engineering and I picked medical because I didn't want to study math.
As fate would have it, I couldn't clear the medical entrance exams and ended up wasting a few years after my 12th. I still wasn't thinking of law till my cousin (a successful practicing lawyer at the Supreme Court) convinced me that I should consider studying law. If not for him and the easy competition back in 2005, I wouldn't have studied law.
Kindly acquaint us with your college life and your aspirations in college. What activities were you involved in apart from the regular academic curriculum?
College life was the best thing that ever happened to me. I made some of my best friends, right in the first few weeks of college and the next five years were beyond imagination! I was involved in student activities right from the first year and tried my hand at almost everything; even singing – something my friends still make fun of. I used to actively participate in organizing Outlawed, the NUJS cultural fest and would also volunteer for almost every other event that took place. Student representation was something that I really enjoyed and eventually served as the President of the SJA (the NUJS student body) in my fourth year. That was a great experience as it taught me many organizational and leadership skills which still help me in running my businesses.
What kind of internships did you do while you were a student? Are there remarkable experiences during your internships that shaped your career choices later?
Like most law students, I was clueless about what I wanted to do after law school. So I tried all kinds of internships. Some of the memorable ones were from the first year when we actually spent days sitting on Jantar Mantar with the team of Justice for Bhopal, helping them with research and whatever little legal help we could offer as first year law students. Another great stint was at the offices of Siddharth Luthra, who personally taught us the basics of legal research. That internship made me understand how the right approach to research can save a lot of time and help you develop a clear understanding of the existing legal position on any issue; something that helps me today as well in serving our clients.
How did you fare in your academics at NUJS? How was the academic pressure? Do you believe that excellent CGPA is the key to all success?
If you make CGPA the benchmark, I didn't do very well at NUJS. A good CGPA shows you are hardworking and dedicated to what is needed even if you don't really like it. A not-so-good CGPA, on the other hand, doesn't establish that you are good for nothing. I don't think most of us felt any academic pressure. I may be wrong but the semesters used to be pretty easy going and everyone studied just a few days before the exams. Obviously, there were exceptions but not many.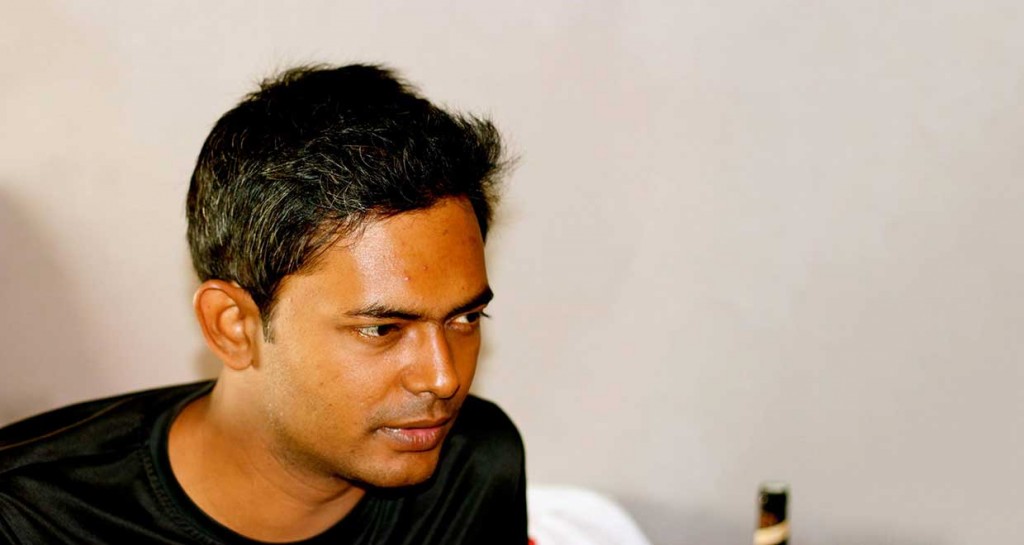 You started a business while you were at NUJS related to the LPO industry. Tell us the background story a bit.
Quite a few of us used to do research for Daubert Tracker, an American legal database, to earn some extra pocket money. I had managed a few third party research projects for them in my third year and realized that there was potential in academic and commercial legal research outsourcing. In March 2009, I was helping them conceptualize a new research product and that is when I realized that I wanted to work in the area of legal research and publication. It was a good opportunity as they were willing to outsource all their research operations to me if I could set up a team of lawyers in India. One thing led to another and by the time we started the Calcutta office in December 2009; we already had 3 clients sending us work on a regular basis.
A big stumbling block for student entrepreneurs is arranging capital for the business. How did you handle this? How did you find your initial team for the business?
Capital requirements are different for product and services related companies. Since mine was the latter, we needed very little capital to get started – just enough to rent a space with 2-3 computers, a working internet connection and some basic furniture.
The initial team came from friends and their references. That is something I would change if I had to do it again, as friends seldom make great co-workers.
Did you look for a co-founder? Is this important to start a business?
Since I started ORP after working as a researcher for Daubert Tracker for a few years, Myles Levin (Daubert Tracker's owner) was an automatic choice for a co-founder. He funded the start-up expenses and I had been working with him for several years to feel comfortable about it.
Having said that, I am not a huge believer in the "must-find-a-co-founder" theory. Many people start businesses with friends without truly understanding what the other person is really bringing to the table. No matter who your co-founder is, it is really important to decide the expectations and responsibilities of each person before you decide to sail together.
What did you do after your graduation? Were you looking for placements at all?
One big reason to go ahead with ORP with six months of law school left was placement options. I wanted to give six months to ORP which would have given me a fair idea if it was going to work or not. If not, sitting for placements was always an option. Thankfully, it worked fine and I didn't have to go look for a job.
Can you tell us something about the Expert Witness Profiler and Offshore Research Partners as your businesses and how did you conceive the idea for these business ventures?
Expert Witness Profiler (EWP) was a company that was our (ORP's) client. When one of the founders of EWP decided to leave to focus on his original business, I was presented with an opportunity to co-own the company. We were already handling their operations, from research to delivery and even post-delivery customer support – so it seemed like a good option to pick a stake and co-own the company and I went for it. It was one of the best decisions I made as the business has been growing and it is always more rewarding to be a co-owner than a vendor.
You won the Star Youth Achiever Award for the Year 2010-11. Tell us something about this. How does it feel to reach these heights at such an early stage in career? And how has your journey as an entrepreneur been so far?
Yes, the recognition and the awards came knocking very soon – but they are a mere reaffirmation of the fact that you are moving in the right direction and doing the right things. If anything, it motivated me to work harder and make sure that the growth momentum is maintained and the companies keep outperforming themselves on a regular basis.
My journey as an entrepreneur has been like most others, I believe – I have seen good times as well as bad. Business slowdowns and a sudden upsurge in the order books have both happened and we have learned as a team, every day, how to tackle problems better and keep moving forward.
How difficult would you say the first few years were of your own business? Tell us about the highs and lows.
ORP has been profitable since the very first month – so, thankfully, we never had any financial issues. Most of the problems that we have had are what I would call a "good-quality-problem". For example, we found ourselves overwhelmed with work and several of us would spend more than 24 hours in the office on certain days. This may sound normal to someone working in a law firm but it doesn't really happen in the outsourcing. We have seen slowdowns and plateaued growth for a few months here and there – something that very few businesses can avoid, but other than that, it has been a pretty smooth ride till now.
Did you at any point of time doubt your career choice of being an entrepreneur? If yes, how did you cope up with that?
Never. I know it is easier to say this now with 20-20 hindsight, but I am thankful that I never really doubted it as a career choice.
How do you think knowing law benefits an entrepreneur? What are the prime hurdles that a non-lawyer entrepreneur is likely to come across?
Everyone needs to know the law – it has its own benefits and entrepreneurs are no different. However, there is a huge difference in knowing the law and being a lawyer. Because of being a lawyer, I could draft my own Agreements and I understood the legal as well as the commercial aspects of it. Or, I could incorporate a company without using another lawyer to draft my AoAs and MoAs. But then, an entrepreneur can always seek legal advice for these issues. I do not believe that a non-lawyer entrepreneur would face any specific difficulties or hurdles just because he is not a lawyer.
You are a businessman more than a lawyer now. Do you feel that doing a business related course like MBA would have been better than studying law?
Most of the projects and businesses that I have undertaken till now and plan to take up in the future are related to law. And I would not have been able to do any of this if I didn't study law. An MBA may have helped but not as much as studying law did.
Would you like to pursue higher study some day? Why or why not?
Absolutely – but just to be able to go back to campus as a student! There is nothing better than that.
Do you take interns? If yes, what qualifies one for an internship at Offshore Research Partners and how should one apply for the same?
We do take interns and the only real qualification is that you need to be a law student. We have an internship application form on our Careers page (www.orp-india.com/careers) and one can apply using that.
Interns are selected based on the cover letter, the accuracy and attention to detail in their CVs and a little weight is given to the year in which the student is – the higher, the better.
Many law students consider working at an LPO to be an inferior choice. Why is this? What are your thoughts on the same?
The industry is still new and the general perception is that you do not get to do any cutting edge work – the work can be mundane and repetitive. However, nothing can be farther than the truth. Yes, a lot of work that LPOs do is repetitive but if you are bright, you can move up the chain quickly and participate in the decision making process – develop new solutions, work with clients directly and do things in a few years that would take you decades in a law firm. Expert Witness Profiler prepares background reports for attorneys not only because it is cheaper to use us (ORP does all the research), but also because many attorneys do not have the same resources or the research skills that our lawyers have developed through the years.
Lastly, what would be your message to law students and young lawyers who want to pursue entrepreneurship?
Just because one thinks that an idea is great and has a lot of potential should not be the only factor in deciding whether you want to go ahead with something. Most startups fail because there is no demand for the products or services they create. Therefore, it is really important to assess the market and make sure that you are either fulfilling a need that already exists or you would be able to educate your target market and create a need for your product or service.