Ashish Singh is a graduate of GLC, Mumbai. He had interned at Luthra & Luthra's Delhi Litigation Team as a Law Student, and therefore right after graduation in 2012, Ashish got a job offer from the same team.
Right from graduation he has continued to work at Luthra, and he had the opportunity to work independently in various high stakes litigation. He has advised clients on legal issues including corporate frauds, civil commercial litigation, Arbitration and Conciliation Act, 1996, Architect Act, 1972, Copyright and Trademarks and Transfer of Property Act, 1882.
He has also advised an MNC in the recent Common Wealth Games matters, before the High Court of Delhi.
In this interview we had asked him to tell us a few things about:
Experience at GLC, Mumbai
Luthra Delhi's Litigation work profile
Expertise in Anti Piracy litigation matters
Utility of Higher Studies in litigation
How would you like to introduce yourself to our readers who are law students and young lawyers?
Hi, I am Ashish and I am working with Luthra & Luthra Law Offices in the General Litigation Team at New Delhi. I graduated in the year 2012 from Government Law College, Mumbai.
I am a go getter who believes that all problems have solution. We only need to find them. Litigation has thus given me an avenue to convert this belief of mine into action. The thrill of arguing in Court and getting relief for my Client is something which keeps me on my toes.
Please tell us about your pre college life and your time at law school. Did you have lawyers in your family?
Throughout my life I have been in boarding. I joined boarding at a young age of 4 1∕2 (four and half) years. I am thankful to my parents for taking this harsh decision of sending me to a boarding school. I call it harsh because it is one of the most difficult decisions for all parents to send their children of such a young age away from them and let me tell you that unlike today there were no mobile phones at that time and the slow postal services was not of much help either. I still remember that there were times when I used to reach home much before the letters that I had sent asking my parents to take me home for vacation.
I would say this helped me a lot to shape into a strong, confident and independent person. I learnt that "..there are things which only you can do for yourself no one else can do for you…" You have to learn to do things on your own whatever it is tying the lace of your shoes or the knot of your tie or travelling to an unknown city for the first time (without any technology aid).
In boarding there are many programmes which are mainly organised and managed by students (of course in the supervision of teachers). I was one of the active participants. This experience not only helped me in my college life in getting sponsorship for different events organised in college but is also helping me now in building Client relationship and even while pitching for new Client.
My five years at GLC were the most enjoyable and important years of my life. For a boy who comes from Bihar and was under supervision 24*7 in boarding, Mumbai and the freedom at college was a breath of fresh air. I enjoyed every bit of it and lived my life to the fullest.
I am a first generation lawyer. I firmly believe that when one knows what he/she wants from life and is clear about his aim then it becomes totally irrelevant whether you belong to  a family of lawyers or not. What makes you successful in this profession is your grit, determination and the desire to achieve.
You studied at Government Law College, Mumbai, considered to be one of the premier law colleges in India. Please share with us your time in college.
I feel blessed to have gotten an opportunity to be a part of an institution called Government Law College (GLC), Mumbai. The college was established in 1854 and has given our country some of the most successful lawyers, finest Judges and the first Lady President of India.
GLC gives you an opportunity to intern throughout the year, thus helping you learn from the experience of seniors in the profession from the day you start your journey to become a lawyer.  Also various competitions that are conducted in GLC throughout the year give you a rounded personality which makes you a better lawyer.
I actively participated in the events organised in college and tried to intern as regularly as possible.
Apart from getting engrossed with academic work how else did you spend your time in law school?
GLC has lot of committees to keep you occupied. I was one of the active members of the Legal Aid Committee and our main work was to provide legal help to the poor and needy which ranged from drafting of bail application, complaint before Consumer Forum, etc to coordinating with different NGOs who work in the same filed.
Apart from studies, I like acting and directing. I was a part of a small theatre group in Mumbai. I used to spend most of my free time rehearsing and performing at different location and often we used to do street play. I love theatre and lot of time was spent at Prithvi theatre.
Please share with us your views on time management in a stressful law school environment.
Time management is the key to success in all spheres of life. It is important to maintain a work life balance because attending classes, working as an intern, preparing for various competitions and the exams can take a toll on you. It is therefore important to prepare a time schedule keeping in mind the dates for competitions, exams, etc. Ultimately you cannot be a lawyer unless you have a degree. So it is important to clear all your exams in addition to doing internship.
Please tell us about the work environment at Luthra & Luthra. What all do your work profile consist of?  What is a normal workday like?
Luthra has a wonderful working environment. As a beginner you need a lot of encouragement and support from your seniors. I was lucky to have a few mentors who made the transition from being a law student to a lawyer easier than it would have ordinarily been. One great thing about working at Luthra is the accessibility to both Partners and Senior Partners.
As mentioned earlier, I work in the General litigation practice and normally my day begins with a visit to Court with my partner. Once I am back, there is enough research and drafting to keep me busy. Also, discussion with the team working on the brief gives you a different perspective to the matter.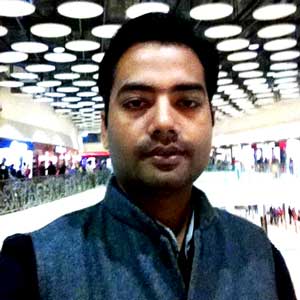 Anti-piracy and Anti-counterfeit issues being a nascent arena of litigation, please tell us how did you get interested in taking these up as your field of practice?
I began my practice with the Anti-piracy and Anti-counterfeit (APAC) team but gradually was given an opportunity by the firm to work on a wider range of issues in the General Litigation Practice.
Yes, APAC is a nascent field and there are limited lawyers working in this area. But, it has a huge potential in the coming decade to become a specific practice area. Many counsels who began practising in this new area five six years from now, are now considered expert in the same. I therefore joined an area which had just begun to warm up.
You have had diverse internships. What advice would you want to give to budding lawyers in regard to internships?
I took whatever internship opportunities I got. Honestly, choosing internships was not a conscious attempt but in the hindsight it has proved to be an enriching experience. It helped me decide that litigation was my calling.
My advice to law students would be that they should take their internship sincerely. It is the time when one understands the practical aspects of the subject they are studying. They should try to intern in both corporate and litigation practice so that they can decide to choose one depending upon their interest and liking. Also, internship helps one in forging relationship and getting placements. Many PPO's are given based on the internship performance. I got this job based on my internship performance.
You have been a part of Luthra for a considerable amount of time now. Please share with us Luthra's expectations from a budding lawyer and what do they look for in the CV of a budding lawyer?
I think all the law firms have only one expectation from a fresh law graduate that the person should be open to learning.
In today's world people prefer to specialise in their areas of interest and pursue higher studies.
What are your views on higher studies? Should a law student pursue higher studies right after graduation or after procuring some work experience?
I think what you learn from the practical experience can never be learned from books. Though an LL.M does look good on a CV but from a litigation perspective what is more important is your ability to think quickly and respond to situations as they arise in the Court. One has to think on their legs. This comes more by experience than by LLM. LLM from abroad does gives an exposure and broadens ones horizon but the cost at which it comes is a bit too high. Students spending such amount towards LLM also have expectations of high salaries which are little difficult to get in India. This at times, creates disappointment amongst students and they take up jobs abroad resulting in brain drain, and is a loss of brilliant minds of our country. In any case , I think if one is interested in pursuing higher studies it should be done after experience of couple of years as after working for a couple of years one becomes aware about his area of interest and also the industry requirements.
How should we consider choosing a law firm over litigation or litigation over a law firm?
I don't think I have chosen law firm over litigation rather I am doing litigation in a law firm. Working with a top tier law firm gives you a chance to do work with big clients on matters involving huge stakes. It also makes you a good team player as a group of people are working on the brief. In addition to the aforesaid, working in a firm also gives you an advantage of seeking assistance of people specializing in specific areas while preparing and drafting matters.
What would be your message to law students who want to have a smooth transition from law student to law professional?
Don't get disappointed/disheartened if in case you can't secure a job in campus placements. I did not get one either. Work hard and be focussed. There is no replacement of working hard. In the initials years try to work on as diverse fields as possible. This will help you have a better understanding of different areas of law which will make you a complete lawyer. There are no short cuts to success. This profession demands a lot of your time, dedication, energy but it also gives you a lot in return. You just need to be focused and patient.