Ashish and Vagish Kumar Singh graduated from NLSIU Bangalore in 2012 and 2013 respectively. Right after their graduation they decided to take the plunge and start-up.
Founded in 2012, Capstone Legal is a leading law firm based out of Jaipur practicing law at Supreme Court of India, Rajasthan High Court, Gujarat High Court and Bombay High Court. The firm has handled over 400 cases in the past two years ranging from Tax disputes amounting to several hundred millions of rupees to pro bono work for India's leading NGO's.
In this interview, the partners of Capstone Legal discuss about:
Building a successful law firm without any legal background;
Attracting clientele and performance in Court; and
Advice to prospective litigators and mooters.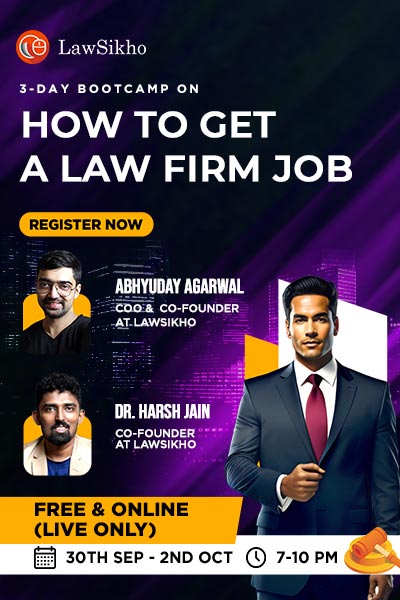 How would you like to introduce yourself to the readers? Please tell us something about your childhood and background?
Ashish: I am the managing partner of a law firm called 'Capstone Legal' and graduated from NLSIU Bangalore in the year 2012. I am a litigating advocate who usually appears before Supreme Court, Rajasthan High Court, Gujarat High Court and Bombay High Court. My father is a retired civil servant and my mother is a retired school lecturer. I spent my childhood in several cities of Rajasthan due to transferable nature of my father's job. My father has been always been an inspiration for me and both me and Vagish Ji have tried to borrow his Honesty and hard work in life and profession.
Vagish: Ashish Ji is my elder brother and I Joined Litigation owing to his guidance and support. I graduated from NLSIU Bangalore in the year 2013 and joined as a Partner of Capstone Legal. We are one firm which has not one but two managing partners.  I started litigation at the Rajasthan High Court and I appear before the Supreme Court, Rajasthan High Court and various Tribunals in Jaipur and New Delhi. As Ashish Ji said our parents were in Government Service and hence from a very early age we were exposed to Governance and Law. I remember accompanying my father to NREGA works and "Governance at your doorstep" camps. These practical insights into law, government and the State guided me throughout Law School and even now as a Litigator. Even though both of us did our Senior Secondary as students of Science, our interest was always towards contemporary Social and Political issues.
Why did you opt for the field of law? Do you have any legal background?
Ashish: As my father was working with the government, I got an opportunity to observe the functioning of the executive & the judiciary which made me realize the importance of the profession of law. However, the main reason was that I was averse to the concept of working under a boss and it was my sincere belief that a career in law can give me the freedom to work on my own terms.
We do not have any legal background. No one in my family, except my brother Vagish has a law degree.
Vagish: My inspiration to join Law was undoubtedly motivated by the constant insights which I had by interacting with Ashish Ji, when he was in his first year of law school. He painted such an exciting and challenging picture of the Course, that when I gave my senior secondary examinations albeit as a science student, I had decided that I would opt for the field of law. Our upbringing also had a major role to play in this decision and I couldn't agree more with Ashish Ji, our parents guidance had always encouraged us to observe and critique governance both from the perspective of a layman as well as a Judge or an Administrator. Law is not a subject either taught or practiced in isolation, it has great social, political and economic ramifications. The socio-political relevance of the subject had always fascinated me as a student and I was lucky to be guided and supported by my family in joining law.
What were your objectives and plans in the preliminary years of the law school?
Ashish: During the preliminary years at NLS, my objective was to become an entrepreneur. Thanks to our extraordinary faculty members, subjects like Economics always took my fancy. Needless to state, an understanding of law and procedure is vital for a business to survive and thrive.  However over the years I was lucky to have experienced some Great Internships under Mr. R.P. Singh (Senior Advocate) and Hon'ble Justice S.S. Kothari as he then was. I became inclined towards joining litigation in my third year at law school.
Vagish: When I had joined law School, my only objective and goal as far back as I can remember was to join the Civil Services. I had been inspired by my Father and the manner in which people appreciated his hard work and contributions. However by the time I completed my fourth year of Law School, litigation appeared to be an exciting and challenging profession. That coupled with the fact, that through litigation I could possibly contribute to the bar and the society without any intervention by political or social elements.
Have the NLUs been able to produce socially relevant lawyers? What is your take on this, given that many chose to take up firm jobs?
Ashish: Taking up a job at a law firm cannot be the touchstone to decide whether a lawyer is socially relevant or not. There are several law firms & lawyers who take up pro-bono work and are engaged in social activities. It depends on one's ability to find time to do something which helps the society. Moreover, some people choose to support social initiatives by providing indispensable financial help which according to me is an important contribution to the society.
Vagish: All the National Law Universities have contributed immensely in producing socially relevant lawyers. In my opinion, Social relevance is often erroneously equated with only pro bono, policy making or individual litigation. The efficient functioning of the Industry, market and other financial entities is equally if not more vital and relevant for the society as any other job. I am glad and confident that the fate of Corporate India is in the hands of my Learned Seniors and Colleagues. Their contribution cannot be ignored in any manner whatsoever.
Did you focus only on the Academics in the college life? How did you excel in the Academics? How's the Academic Pressure in NLSIU Bangalore?
Ashish: My focus was on academics while studying in Law School but I was a part of several hostel committees due to which I had a chance to work closely with the university administration. I was good at academics but I always scored more marks in my research papers than written examinations.
Academic pressure at NLS Bangalore is high but one gets to learn a lot from the faculty and seniors. We had the country's best faculty and I am lucky to have been taught by such legends in law.
Vagish: The academic pressure in NLSIU is immense, you are constantly haunted by the fact that you are surrounded by the country's best and brightest legal minds. But that in my opinion is also the greatest incentive and strength of Law School. Due to that competition and intellectual stimuli my primary focus was always on academics. However as Ashish Ji said we were involved in the Hostel Committees and worked closely with the College Administration on various issues. I always enjoyed participating in and helping in organising 'Spiritus' which is NLSIUs sports festival and played some Hockey and Volleyball for the University. It was always my endeavour to stick to all timelines stringently and attend classes irrespective of bad health or otherwise.
What were your area of interest while you were in Law School? And how did you go about developing expertise and knowledge in these areas?
Ashish: I had done my senior secondary as a Science student and therefore when I joined law school, introduction to subjects like Economics and Sociology fascinated me. I enjoyed reading international authors on Contract Law and Transfer of Property. However as soon as we were introduced to Commercial Laws and Taxation Laws the expanse of these laws and the beautiful legal principles governing them, took my fancy.  During my fifth year in law school i spent long hours in the library studying and discussing Laws related to Arbitration, Taxation and International Trade Laws. One of my favourite subjects has to be Litigation Advocacy, which was taught in the final year.
Vagish: In my first two years in Law School I enjoyed subjects such as Sociology, History and Political Science. I was amazed by the manner in which all these factors affect the formation and enforcement of laws in our country. My primary areas of interest were Criminal Law, Constitutional Law and Indirect taxation. I always made it a point to attend all our lectures and atleast browse through relevant reading material before attending them. We had an amazing faculty who always had an open door policy to all students, and hence project consultations and interactions after class really helped in my understanding of various legal principles. In law, there is no alternative to extensive reading, hence if a student of law intends to sharpen his skills and knowledge, he/she should read law not for grades or CGPA but for its real life application and utility. It is very essential to make a connection between ones internships and the subject matter being taught. All sections or provisions of law are not equally practically important and as a law student although it is prudent to have a overview of all important enactments but it is very important to not ignore the basics.
You judged several moot court competitions in the past. What do you see in a good mooter? Please provide guidance to the Prospective Mooters?
Vagish: I remember interacting once with Justice Rajendra Babu in one of our farewell dinners at law school. I told him about my intention of joining litigation after passing out and sought his guidance. He told me that the biggest mistake a young lawyer or a mooter ever makes is that he/she focuses so much on the intricacies of law that facts are ignored. It has been my belief and experience that litigation as well as mooting involves attention to detail to every single fact in a brief. It is important to know what to say and when to say it. Presentation of facts sometimes makes the most crucial difference between a good and bad mooter. My advice to all mooters would be to never memorize what to say or how to say it, just be thorough with your facts and law; and go with your natural style and flow.
Ashish: I completely agree with Vagish. Adding to what he has said, my suggestion to all mooters would be to read at least the introduction to Nani Palkhiwala: The Court Room Genius. It is important to be sound on Procedural laws and give importance to a particular argument on the basis of the stage at which a particular brief is being argued. Also, a mooter or a young lawyer should be his own best critic and counter every argument he/she plans to make. I have noticed that mooters and young advocates sometimes rely on overruled judgments due to blindly relying upon Books and Commentaries. It is vital that before a particular case law is cited before a Tribunal or a court, the entire jurisprudence on that particular issue should be clear in the mind of the Mooter/Advocate.
There is a notion that one should work at least a few years under a Senior Advocate to understand the intricacies and practical aspects of Law. You started your practice independently right after graduating. How did you overcome your initial jitters in a courtroom full of experienced lawyers and judges?
Ashish: Working with an experienced advocate certainly is helpful in training a young lawyer in legal and procedural skills, most importantly court craft and presentation. I have had the privilege of briefing Mr. K.V. Viswanathan, Mr. S. Ganesh,, Mr. Hiren Rawal, Mr Amrendra Sharan (Senior Advocates) in some our cases and it has taught us important insights in law and procedure. However I disagree with the statement that it is a prerequisite for every young counsel to compulsorily work with a Senior. A good senior is one who provides ample opportunities to his associates and juniors to prepare and present cases in courts. I was extremely fortunate to spend my only few months as a Junior Associate in the office of Major R.P.Singh Senior Advocate. He always encouraged me to draft Petitions, replies and entire briefs as well as appear before the Hon'ble Courts, at a young age. I am also thankful for the Guidance of Mr. N.M. Ranka Senior Advocate, under whom I did not have the privilege of working, but have always received his guidance, encouragement and support.
Vagish: I find it extremely difficult to understand this fallacy that a young lawyer should spend 5 to 10 years with a senior or a firm before he/she starts to appear himself before courts of law. Personally I feel no matter how experienced one becomes, a crucial hearing or a high profile case will give jitters to even a senior counsel. As a law student who has been trained by the best teachers in this part of the world, we can make no such excuse and should be ready to take on the responsibility. Most of all young lawyers should learn to embrace the challenge of this profession and be confident in their knowledge and skills.
Both of you being partners of Capstone Legal. What all challenges did you face while starting up given that you do not have any legal background? What were your challenges and how did you face them?
Ashish: I remember Hon'ble Justice V.S. Dave had told me once that Litigation and Advocacy is a rather strange profession, for the simple reason that one has to behave like an aristocrat yet be as one with the masses. I understand now the true meaning of what his Lordship wanted to convey, since not every brief involves multinational corporations or persons with a capacity to pay. Early on it is extremely difficult to attract clientele and maintain a regular flow of cases. The task becomes herculean if one starts accepting or rejecting a brief for the fees that the client is capable of paying. We overcame this trust deficit by accepting briefs irrespective of the fees, and by sincerely and thoroughly representing whatever limited clients we initially had. This performance at the bar acts like an investment whose dividends a Counsel reaps in the future. Due to this practice, we currently work with over a dozen ET500 companies.
Vagish: The biggest challenge that a young lawyer or lawfirm faces is attracting clientele. However, if a lawyer is patient and remains honest to his profession, this hurdle can be overcome by consistent performance at the bar. A young lawyer should not worry about the fees or quantum involved in a particular case. it might be extremely difficult to get your first brief but as I have learnt by observing Ashish Ji, performance at the Bar is noticed both by the Bar, the Bench and by other clients. We have also been extremely fortunate to receive guidance from seniors such as Mr. N.M. Ranka, Senior Advocate; Mr. R.P. Singh, Senior Advocate who always motivated us and trusted us even with complicated matters.
Please tell our readers about Capstone Legal, which in a brief period of two years has earned the name in the Legal Industry. What is a day at work like? What is the most challenging or stressful part of being a founding partner of a law firm?
Ashish: We started Capstone Legal as a litigation firm with the objective of providing individual and corporate clients a one stop solution for disputes pending before tribunals and courts of law. I am fortunate to work with Vagish as partner since we have always worked together and understand the firm's objectives and requirements equally. A typical day at work always begins at 8.30 and spending all day at Court or Tribunals till 5 and coming back to sit in office to about 11.
We both enjoy what we do and would not consider stress as being a part of this job. However, the most challenging part of being a founding partner of a law firm is a sense of responsibility and obligation towards a client. Many a times clients from extremely economically and socially backgrounds approach us with cases which we undertake pro bono. To my mind, obtaining any amount of relief in accordance with law to such a person, though stressful and challenging can be extremely gratifying.
Vagish: The success of our firm is undoubtedly due to the outstanding cooperation between me and Ashish Ji. He has always guided me not to prolong any matter and deal with any issue sincerely and promptly. Clients appreciate our zeal to get positive outcomes. Ashish Ji has already talked about the day at work and typically both of us share the same time table. We make it a point to prepare all briefs together so that the interest of the client is not jeopardised in case one of us is travelling to attend matters in other forums or cities.
I have come to realize that the most challenging part of being a founding partner of a law firm is that though we are always free, we are always busy. I always tell my interns that I do not have anyone who forces me to wake up every morning to sit in office and attend court. As an advocate and partner one has to motivate himself/herself everyday and treat the client's interest as paramount above all else.
Today law students intern at different places like Corporate Firms, Litigation Firms, NGO's, Research Organizations, and Policy Think-Tanks etc. Where were your internships at law school? How is an internship helpful for a law student?
Vagish: I think it is a welcome trend in law students to experience all areas and fields of practice of law. While in law school, both of us undertook internships at NGO's, advocates at the Trial Court and Senior Advocates at the High Court. My internships solidified my intention to join litigation and skills learnt throughout those internships helped me in my initial years of practice. I think the importance of an internship for a law student is best reflected when he/she joins the profession. Key skills learnt during such internships enable a young lawyer to familiarize himself easily to the workplace and the profession.
You have worked in over 400 matters till now across Supreme Court, High  Courts, CESTAT and Trial Courts at a young age. How's your experience so far in arguing cases? What is the most interesting case of your litigation practice till now?
Ashish: Arguing a case is an extremely challenging and exciting part of this profession. One needs to be well versed in all facets of the particular law and issue in a particular brief. in addition to a clarity in law, I make it a point to be absolutely sure about each and every relevant fact, so that it can be referred and brought to the attention of the Hon'ble court. Most of all the process becomes even more exciting since the issues involved are always extremely relevant to a person or a company, having real consequences to life, liberty or economic conditions of the client. Arguing a case, requires certain tact and court craft coupled with humility. I have had the good fortune of arguing a number of exciting cases, however one particular murder trial stands out. I was engaged by a local counsel at a certain district court to argue the final arguments in a sensational murder trial. It had been published in the local newspapers for years and involved alleged murder of a daughter by her own father. Without going into any details I can state that I was engaged to represent the accused father, and the arguments continued for over 5 hours before the Learned District and Sessions Judge.
Vagish: I had always seen my brother arguing in court when I first joined the profession and he had outstanding confidence and presence at the Bar even back then. I borrowed some of his flair and enjoy arguing before various courts and tribunals. It has been my experience that the most insignificant sounding cases teach a young lawyer the most about law and its practice. Perhaps one of the most exciting cases I have argued was the Constitutionality of Section  234E of the Income Tax Act before the Hon'ble Division Bench of the Rajasthan High Court. I referred to some beautiful passages from Seervai's Constitutional Law and Case Law distinguishing between Fees and Penalty. Arguing pure and simpliciter constitutional law is always a delight.
Does Capstone Legal take interns? If yes, then what is the procedure for taking interns? What are your expectations from a prospective Intern in your firm?
Ashish: Yes we always encourage internships for students in their third, fourth and fifth years. One may apply for internship at Capstone Legal through our website www.capstonelegal.in.
We expect our interns to participate in the realtime functioning of the firm which includes client meetings, drafting and briefing of counsel. We are a young and energetic law firm and expect the same kind of zeal and energy from our associates and interns.
What would be you message to the law students who want to pursue their career in the Litigation?
Ashish: Litigation requires a leap of faith and most of all it requires patience. There may be times in the starting few months of your professional life, when you have no brief, or maybe one brief in one entire month. Even in those times it is important to be honest to one's profession and attend Court diligently, learn from your colleagues and seniors and always remain vigilant of developments in law whether judge made or otherwise.
Young law students must undertake litigation internships in good offices, to learn beforehand of the nuances of law and its practice in courts.
Vagish: Litigation is undoubtedly a challenging profession. However for any young law student who wants to work on his own terms, litigation should always be a choice. It is important to believe and be confident in one's own knowledge and skills. Most of all a good advocate is always humble and polite to his colleagues & to the bench and yet ferocious while at the bar.
This interview was taken by: Shubham Gupta, III year, NLU Delhi