This interview has been published by Prabhjot Singh, Priyanka Karwa and The SuperLawyer Team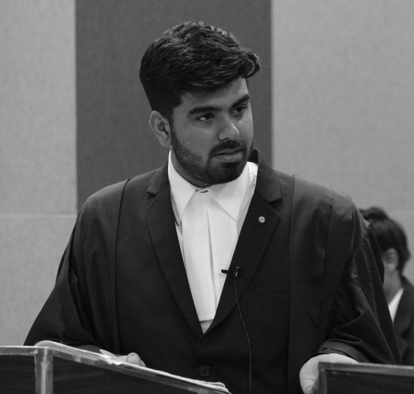 Was pursuing law planned for you or it all happened in a flow? Kindly share with our readers.
Well to start with, I am a first-generation lawyer, and to be very honest law was never a career option for me until the 10th Grade, I had planned to either join my father's business or start something of my own. However, it all changed in the year 2012, when my father was involved in a car accident, in which one bike hit his car and the pillion rider died on the spot.
After this, it was the first time that I ever visited the Local District Court of my city. During court visits, I was highly influenced by the impact the lawyers could have over their clients. Soon after, I developed interest in Criminal Law and the same grew over me and made my belief indeed stronger. So today, I can proudly say that being in the legal fraternity was a well thought decision and didn't happen by chance.
What do you think, which specific advice has helped you come thus far in law? What is that one motivation that keeps you going in life?
The advice that has helped me come this far is that if you roll up your sleeves and decide to do something, nothing in this world is impossible. Everything is doable, you just need to have the courage.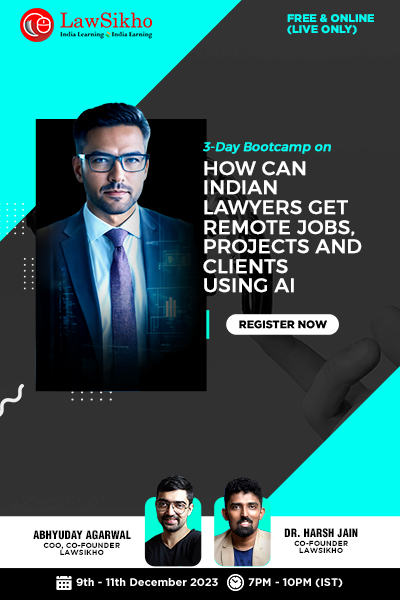 Frankly speaking, I never participated in any public speaking event in high school and had stage fear. Now came the time in Law School, when I realized the importance of Moot Courts but the continuous insecurity of never being a good public speaker or having no prior experience kept acting as a barrier.
It was only in the third year when I got the opportunity to participate in the Intra Mock Trial, where although in my opinion, my public speaking was not up to the mark, however, this opportunity gave me a sense of understanding that it was these mental barriers which were stopping me to do something. Since then, I have worked upon my oratory skills, and have never said no to such an event, which has helped me tremendously in becoming a better orator and Advocate.
Speaking about Motivation, after winning the National Mock Trial Competition in 2017, me and Prateek Lakra made a goal to start our own law firm after completing 3 years at the Bar. In 2021, we started Clergy & Wisemen, and since then there has been no looking back, and taking our Law Firm to the level of top law firms in India is the motivation that keeps me going.
Could you brief a case you were led on that substantially broadened your knowledge of the legal field?
From what I have learned while practicing law is that law is nothing but common sense, one should just have the vision to see the answers. It is an art that is learned through experience and wisdom. During the initial years of practice, the most crucial part is to understand the implementation of what we study in the Law School.
It was in 2019, when a Fraud had been committed by a person, which was worth crores. In the same case, my client was duped for a handsome amount. Initially, we filed a Suit for Specific Performance against one of the properties of the Accused before the Delhi High Court, however, it came to our knowledge that the Accused had created multiple third-party rights over the property, therefore, we also had to move before DRT, since the bank had started proceedings against the accused. Also, there were claims from various entities, due to which there were multiple suits and cross impleadments.
Parallelly, proceedings under the 156(3) Cr.P.C. were also instituted against the accused, wherein we got favourable order and an F.I.R. was also registered with the Economic Offences Wing (EOW), Delhi Police.
These proceedings helped me understood various remedies that a person has under both the Civil & Criminal Laws in India and how the Courts and Tribunals function.
Among all the specialisation, i.e., Administration law, RERA, Taxation, Corporate law and Arbitration, which area of law is the most interesting to you and why?
I would say that Corporate Law, since Corporate Law can itself be classified into various other sub-specializations, and due to the recent increase of Startups in India, Corporate Law has opened up various opportunities for Young Lawyers.
Now, with Startups the issue that usually comes up is that they cannot afford Big Law Firms, and it is where young lawyers can step in.
Further, in Corporate Law, a Lawyer has to get into the shoes of the Founders so as to protect their interests while making agreements such as the Shareholders and Founders Agreement, so that in case the Company goes for funding or dilutes its equity, the founders don't lose the control over their own company. Moreover, issues like dispute resolution between founders also has to be carefully drafted. With contracts, it is necessary that the Liabilities are limited, indemnification clauses are watertight, and in the case of Intellectual Property, the rights are carefully defined. I can go on with such examples, such is the nature of Corporate Law.
What would you do if you had taken on a case that went against your values? Any prior experience you could relate with?
I take cases as per my conscience; however, I am a firm believer in the fact that a person is innocent until proven guilty.
Yes, there have been certain cases where I had to self-introspect whether I was doing the right thing, however, I tend to keep my personal opinions and professional life apart. As the great Mr. Ram Jethmalanai once said: "A lawyer who refuses to defend a person on the grounds that people believe him to be guilty is himself guilty of professional misconduct."
How do you maintain the work-life balance Avi?
As a Lawyer, I feel that law is that field where once you are at the initial stage you need to spend more hours, drafting, researching, and navigating through documents, but as you practice more and more it gets easier to locate the crux of the case and you exactly know where to hit the nail, so spend in your initial years, it will reap well. Also, law is just like investing, the more you invest in your legal skills right now, the more returns in the later years.
Personally, for me, what has helped me maintain my sanity with this schedule is waking up early in the day, and having some time to myself before the whole show at the law firm begins. I believe that one must do something that is good for his/her soul once a week. It's okay to take a break, but you should know when the break ends. The work should not suffer, make yourself that efficient.
What strategies do you use to ensure that your clients receive the best possible?
There is no secret sauce to ensure the best possible results. Each case has to be seen in its own strategic manner.
In my previous experience be it working at chambers of a lawyer or law firms, one thing I saw was that although the Clients were getting reliefs in their cases, however, they were not satisfied by the management. For example, the client would not know what is going around in the case, sometimes they won't know what is next date, no regular updates, so on and so forth.
After starting Clergy & Wisemen, we not only ensured that our clients get the best legal services but also focused on the management of the Law Firm, be it the regular updates of their cases, addressing their doubts, having dynamic meeting slots, taking regular follow ups about our services, etc.
Now with Corporate Clients, we have come out with certain services such as Contract Lifecycle Management (CLM), Legal Manager, which have substantially increased the effectiveness and efficiency of the services provided by us. Recently, we have tied up with certain AI companies, which help us in the drafting of contracts, although each contract is reviewed by either an Associate or Partner at the Law firm, but it has helped us in reducing the TAT and Cost.
What challenges have you faced as in bank matters with DRT, DRAT, NCLT & NCLAT?
DRT and NCLT, alongwith their appellate tribunals, were made so that the burden over the courts is reduced and the cases can be fast tracked. Although, the burden over the courts have been substantially decreased, but I would not agree with the fact that the matters have been fast tracked.
Since, due to a smaller number of benches, the matters usually take a substantial time to be adjudicated, wherein the sitting benches are not able even finish half of the cause list, and requests such as to list the matter at the top of cause list have to be mentioned.
Moreover, these tribunals are not on par with the High Courts, be it the adjudication process, or the working of the registry.
Therefore, I believe that the number of Benches in the Tribunals should be increased and only in the rare cases the timeline mentioned under the Code shall be extended.
Lastly Avi, any advice for our young legal professionals?
My advise to the young legal professionals would be that they should always be updated with what is going around in the Legal Sector, this would not only help them in increasing their knowledge, but also to strike out a conversation at a relevant place and time, and trust me this helps significantly.
The other would be that they should understand that whatever service you are giving should be a valuable addition to the client and it must solve their problem, taking care of these would definitely help a professional building up his name, since the person would not only happily pay his/her fees to you, but also would recommend you to others.   
Lastly, in case someone is planning to start his own practise, then rather than just possessing the legal skills, one must also have the skills of a sales person, it might sound a little different, but Law is a Business until you get a client, one might be a very good lawyer and possess good skills, but till the time he has got no client, those skills would be worth nothing. Therefore, it is advisable that you must know to sell whatever skills and knowledge you possess. 
All the best!
---
Get in touch with Avi Kalra-