Aviral Sahai is a graduate from Jindal Global Law School (Batch of 2014). He has an enviable academic record and an excellent series of internships at top law firms. He has been the Recipient of the Naveen Jindal Young Scholarship. He underwent an academic exchange program with Maurer School of Law, Indiana University, Bloomingtion, Indiana, USA during his law school days. His diligence paid off when he received a job offer from AMSS in 5th year of law school.
In this interview, he talks about:
Winning moot court competitions including NLS International Arbitration Moot
Experience as a part of an International Student Exchange Program
Appointment at AMSS
Our readers consist of law aspirants, law students and young lawyers. How will you introduce yourself to them?
I'm a corporate lawyer, who aspired to become a litigator, got into law school wanting to pursue international law and took up science in plus two. On hindsight I might seem like a confused soul, but I tend to take the best out of what is on offer. So, as an introduction, today, I am a corporate lawyer who is trying not to plan too ahead and enjoying his tryst with a side of law he never thought he would practice.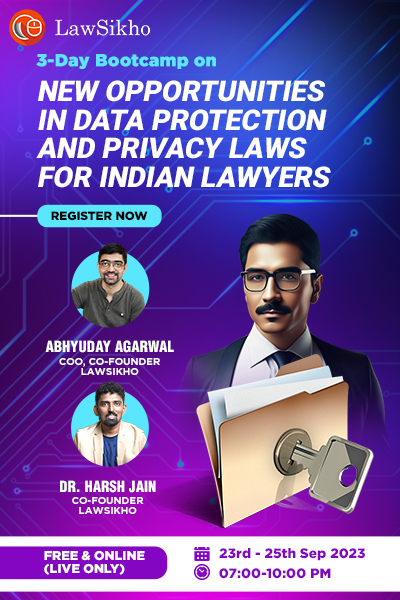 Tell us about your pre-college life? When did you decide to take up law as a career? Did you have lawyers in family?
No. There have been no lawyers in even my extended family for 3 generations. I think that was the prime reason for doing law, "even if I'm a bad lawyer, I'll be the best in the family".
I am an alumnus of La Martiniere for Boys, Kolkata, and, as whoever is familiar with the vibe of the city will understand, I was quite laidback in life. I was a science student and did considerably less than my fair bit of tuitions. Plain and simple, I did not want to be an engineer or doctor and just wanted to do something different.
On a serious note however, I am a lawyer because of my father. He is an ex-army officer who runs his own business now and has always had an aptitude for lateral thinking. Sometime during my class 11 he asked me what I wanted to do in life, which, quite honestly I had not considered up until that point in time. Even while I was a good student, I think I always hoped that life would turn out to be 6 hours of school and doing whatever I want the rest of the day.
I think my father already knew that I hadn't given much thought to the question so he himself suggested the idea of law. It had always been his passion to pursue the subject, and he just wanted me to explore the idea. After that, I was hooked. I read up a little, recalled a few episodes of Boston Legal and made up my mind.
Also, Lawyers are really smart.
In India there is quite a lot of resistance towards legal education even now. What motivated you to choose law as a career? How did you get through to JGLS?
The resistance, I think, has dramatically lessened. A mix of factors are involved in this,  liberalisation of the economy, institution of national law schools and the base realisation that law permeates every single activity an individual carries out (and perhaps people have come to realise the absurdity of the amount one can get paid in this profession). I think the outlook towards a child becoming a lawyer in future is changing radically. Becoming a lawyer is, at least where I come from, no longer a fall back option for someone who failed to make the cut-off for IITs. It takes an immense amount of dedication and focus to have even the slightest chance of doing well as a lawyer.
I understand however, that my views may be restricted by my background, but I always got a lot of support at home and from friends with respect to my career choice. Also, it was fun to befuddle people when they ask why I would take up science in school and pursue law thereafter.
JGLS was a big gamble for me. Just before sitting for my Class 12 boards, I took a one month crash course with LST, just to familiarize myself with the entrance examinations I was supposed to take. The vice-chancellor of JGU, Mr. C. Raj Kumar, had come to one of the sessions at LST and given us brochures JGU. His vision of the university pushed me to apply for the LSAT. I sat for the exam and got a 91 percentile which was good enough I suppose. I got through a few national law schools as well, including GNLU and NLU, Delhi.
While the fees discrepancy was a major concern, I finally made my decision based purely on the academic infrastructure that could have been given. At that point, JGLS seemed like the best bet academically, and it sure didn't disappoint. Academically speaking, I firmly believe that we have the best professors and curriculum. It's available for those who want to make something out of it.
You have been the Recipient of the Naveen Jindal Young Scholarship. How did it happen? What is the criterion to apply? How did you go about your application process?
The Naveen Jindal Young Global Scholarship is awarded to one student per batch and is based entirely on merit. The application process consists of writing an essay on why you think you deserve the award, obtaining a recommendation from a teacher and an interview follows thereafter.
JGLS offers a fair number of scholarships and this was one of the few you could apply for beforehand. I filled out the application not knowing anything about such processes. I checked a few samples online and just wrote out an essay which, in retrospect, wouldn't be one of the best exhibits to take credit of. Nevertheless, I was shortlisted and had a telephonic interview which was just a discussion on what I want to do in life with the then Vice-Dean of the law school.
One thing I would add to anyone attempting to write a Statement of Purpose or one of these obscure "why do you think you deserve …" essays, please try and be honest. There is no harm in paying your cards straight. These essays are not looking for someone who underplays their achievements. If you have achieved something, state it with the utmost pride, and even if you haven't, tell them why. It's just supposed to be simple. The same goes for any interview or application you make. Simple and straightforward. Regrettably, not many people have the time and patience to go through the flourish of one's language or self-doubt.
You have worked for AMSS, Khaitan and Co. and Karanjawala & Co. as an intern. What kind of work did you have to do there? Our readers would be quite curious to know how you went about securing these internships.
My college has quite a vibrant career development cell (CDPD). I must confess, I have never applied for any internship by myself. We had a set process whereby a peer review system had been created to draft and review CVs. Once this was done, the CDPD would forwards our CVs to institutions/individuals based on our preferences. I understand that most students go about securing internships by themselves but it is quite difficult for those of us who do not come from a legal background and have to start making contacts at an early stage. Having an institutionalized process really helps traverse this gap of not knowing people in the legal community beforehand.
My work varied a lot at all the places I interned. The main factor for determining the nature of work that I did was not my educational progress but actually my willingness to work. I have worked late nights as a 3rd year student at Khaitan assisting in a Due Diligence. Seeing that I was willing to work, I was given drafting work as well. Obviously, as one progresses as a student, the nature of work given becomes more challenging and expectation rise. The difference, however, that I noticed as an intern in a corporate law firm and a litigation law firm was the hands on involvement. At Khaitan or AMSS I was involved more in documentation, research and diligence; whereas, at Karanjawala, I was expected to sit and help formulate arguments for a writ petition. There is no hierarchy of quality of work between fields of law, either as an intern or as an associate. My effort always has been to ensure that whatever work I am given, I can satisfactorily say that I put in my best efforts.
How relevant did you find your law school education with the kind of work you were required to do at law firms?
Frankly, while many of my peers from national law schools attribute most of their progress as a lawyer primarily to the internships that they had, I think the education I received at JGLS gave me an immense edge at my internships. We have been well trained in legal writing, drafting and researching added to which, we have, in my five years of education, been offered over 100 electives in varying fields. Every student in my batch has ended up taking at least 15-16 electives in subjects we liked.
For instance, in my third year I was conversant with the repercussions of having a put option in a loan document which not many of peers had the chance to explore. Law school education, while pedantic at times and obsessed with completing the syllabus, at JGLS has honestly helped a great deal in preparing me for practical experiences as a lawyer.
You were a part of the team which won the 4th edition of the NLS International Arbitration Moot Court Competition. You have been awarded the Best Counsel award at 1st CDR-NLUD Pakistan India Moot Competition. Tell us about your experience.
Winning the NLS moot is perhaps one of the most exhilarating and proud moments of my tenure at law school. It was the first national moot competition that JGLS had won. We did not have any seniors to guide us or any experienced peers to help us out. The three of us worked on the moot from scratch and built ourselves tremendously through the competition itself. We actually sat and learnt on the spot while participating in the moot. Also, our professors did invest a lot in helping us create a grasp over our basics, not legally, but simple things such as how to sit, maintaining voice modulation and even when to nod and make eye contact with the judges.
The same was the case for CDR, after a point of time, the mood of the court did not depend on what authorities I had to back my arguments, but how I made them and whether I understood what the court demanded at the time. Any moot is a two stage process. First, is your research which gives you the confidence to say whatever you want to say; then, comes the part when you actually display this confidence in the right manner. I can say, with utmost pride, that we had read every single page of every single authority that we had cited in our memorial for NLS (nearly 150 cases, articles and commentaries).
There is honestly no difference in the skill set required to excel at moot courts. It just takes sheer commitment. The knowledge that you are not perfect and that you will mould yourself to deliver the best possible form of your argument in the simplest and most comprehensible manner possible is what is required. I was quite surely not the best mooter in my college at any point, but it takes an immensely balanced team, which I had the fortune of being part of, and clarity on the fact that jargon and/or spewing research will only take you that far. The additional push comes from the connection that you are willing to forge with both, the judges and your opponents. Make them see the sanity and logic in your argument and follow it up with undeniable facts. That, I think, is what it takes to excel at moot court competitions.
It is no different for oral rounds. Understandably, some are nervous or not confident in their speaking abilities and others have a natural flair, but the confidence comes from preparation and practice. You have to be sure of what you know and that there is no more to know about it. Also, this will stand true for any career path that is followed after law school, be it while briefing your seniors for court or in a law firm or speaking to a client. Everyone understands and admires smart and concise delivery of opinions, even if you are sometimes wrong in the formulation of that opinion.
There is one thing that I have told every junior that I have helped with respect to mooting, it is something that what one of the judges told us in the first round at NLS, "a judge is like a child, you have to hold his finger and walk him through everything."
A lot of students tend to ignore their academics while preparing for a moot. How did you manage the academic pressure?
I simply coped with it.
I have prepared for big moots and made the same commitment to my academics. If it is difficult for one to balance the two, then you need to take a call on what is more important. For me, I stayed up nights working on my memo and went to class with a few hours of sleep. While the same is not healthy if subsisting for a long while, it is just something that I made a call on and decided to stick to.
You have been a member of multiple committees while in law school. Do you think these enhanced your skill-sets? Please share a few of your memorable experience.
Being part of a new law school without the umbrella protection of being a national law school is quite tough. There is a lot of trial and error and a number of new experiences for both the students as well as the college administration. A few batch mates and made a decision to become part of the policy framing process. Being part of committees such as the placement committee and the student academic committee has really enhanced the manner in which I work.
I have learnt to be part of a functioning team and have learnt to manage and lead projects and efforts, which includes taking the responsibility of getting the job done, taking the blame for any drawbacks and even facing the backlash from my peers as well as the administration. But, I have definitely come out of it for the better. I am much more comfortable being a part of a team which requires me to fulfil my role efficiently as well as managing myself at the helm of responsibility.
Apart from learning how to function within a team, being a part of all these committees taught me a number of human relations skills that just can't be taught. I learnt how to talk to strangers and make a conversation, ask for something, promise performance in return, communicate issues and manage crisis situations. Even while at a very small scale, these experiences really aid in one's development in a professional working environment.
You underwent an academic exchange programme with Maurer School of Law, Indiana University, Bloomingtion, Indiana, USA. What did you benefit from the student exchange programme? In terms of academics how will you distinguish Maurer School of Law with JGLS?
My SoP for Indiana University was based on a simple request, that I be exposed to a system of education that is different from the one I have been bred in. I wanted to get out of our traditional education system in India where we grab a book, mug it up, give the exam and forget about it in a few months' time.
Indiana University, in that regard, was a welcome change. The academic process was very student centric. Classes are small and the emphasis on knowledge building was higher. The exposure that I received was my biggest take away from the exchange program. I was exposed to students who took the law very seriously and analysed it not just from the perspective of practice, but of academia.
JGLS has incorporated a number of the values of the American legal education system. The concept of weekly tutorials, reading intensive seminar format of classes and extensive professor-student communication is highly promoted at JGLS and I saw the same being mirrored at Indiana University. However, JGLS, just as any other university in India, is, at the end, marred by the professors teaching in it and the students receiving the education. It is quite difficult to get students, who are used to a textbook based approach to education, to embrace a more liberal form of understanding a subject as immensely immersive as the law.
What was your experience while interacting with law students from different universities? What is the difference in their approach, as compared to Indian law students?
There is one major difference between Indian law students and American law students, as I saw them in Indiana University, that being they are graduate students. In India, the 5 year integrated program is much more popular and students fresh from school enter law school without an iota of the effort it takes. I was one of them.
As a graduate student, law students are much more adept at handling the pressures of a college education, they can cope with the mental and physical stress and not much time is wasted in acclimatisation. More often than not, if a system is alien to us, we shut it out and the acceptance comes too late to learn more. Many of us, today, feel that a few subjects that we did in our first few years at law school would have been so much more interesting had we been accustomed to the work culture such subjects demanded. Students in law schools abroad are already trained in such aspects and consequently can adjust faster.
Currently, you are working at AMSS. How did your appointment take place? What worked for you in securing the job?
I was offered a placement in my fourth year with Amarchand & Mangaldas at our day zero placements. The process was pretty standard, we had a group discussion round after which students were shortlisted for personal interviews. I think what worked most in my favour was, as I said before, keeping it simple and straightforward.
Technical strength is a given of course. I was asked about the nature of the work that I had completed in my past internships and my favourite subjects in law school, on which I was even asked hypothetical questions. The group discussion as well as the interview demands just one thing, certainty. I realised that I had to be certain and clear on what I said in both these rounds. That is one of the things that works at interviews, I guess.
Many law students strongly believe that getting a job at one of the top 3 law firms is mostly about securing a high GPA. Would you agree?
Not entirely. A good GPA, in my opinion, serves just purpose in securing a job at one of the top law firms. The only function of a good CGPA is that it gives you time. At an interview, the first thing that the employer looks at is your CGPA, not to gauge whether you know anything about the law, but to know whether you have the commitment towards your academics to make sure you excel. As it fortunately happened with me, if the employer sees that you have a good CGPA, he/she will not waste time in asking you about why your CGPA is low/why you faltered in certain subjects and will automatically assume your commitment towards getting the job done.
This frees up so much time for everyone involved to have a much more direct conversation about the job itself and they spend more time gauging whether you know your law and whether you can work in a law firm, they already know you are focussed and committed. All said and done, however, CGPAs would rarely improve or negate your chances if you are certain about yourself.
If you could re-live your five years in Law school, is there something you would do differently?
Nothing at all. I cherish each and every moment. Perhaps I could have done a little bit more theatre, but then again, it wouldn't be law school if I had the time to do it.
Lastly, what would be your parting message for our readers?
Please don't take anything I say too seriously. At the end of the day, I am still just another corporate lawyer who aspires to be a litigator. I'm still planning things out myself.
Do try and enjoy the law though, it is quite possibly the most stimulating academic experience you might go through. I still love it.