Bharat Kumar graduated from Amity Law School, Delhi with a B.A.LL.B degree in 2009. He started working as an Associate in the litigation team of Saikrishna & Associates right after graduation and currently works as a Senior Associate there. He is also an empanelled counsel and counsellor for the Delhi State Legal Services Authority. In this interview he talks about:
Law school experience at Amity Law School, Delhi
Internship and recruitment at Saikrishna and Associates
The importance of pro bono work
How would you introduce yourself? Could you please share a little bit of what motivated you to pursue law as a career?
I was born and raised in Delhi and did my schooling from Ahlcon Public School. Essentially, I was a science student. Being from a typical 'tam-bram' family (and to be very honest with you!), I was rather fine-tuned since my childhood by my family members to someday become an engineer. Law, although, always fascinated me. I guess it was finally a couple of court excursions, which I did in the final days of my schooling that compelled me to pursue legal studies and become a (successful) advocate someday.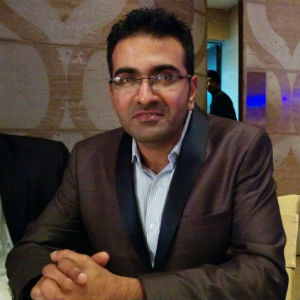 How would you describe your time at Amity Law School, Delhi? Did you take part in extracurricular activities? How important do you think that extra-curricular activities are to a law student?
Time spend during college days was fun, yet informative. **Laughingly** Our college had a fairly strict attendance regime, which compelled us all to compulsorily amass knowledge! Internships were a regular during holidays. Guess that gave us all an insight into the area of law we desired to get into.
Yes, I did take part in moot court competitions and played my hand at 'Table-Tennis', as a sport. Extra-curricular activities are quintessential to a law student as I believe they help not only in interpersonal skills, but also aid in nurturing the art of team management.
A lot of law students promise to take up pro-bono work and do some socially relevant work. Have these ideas ever crossed your mind?
Absolutely! Paying back to society should be if not our primary, but our next best ulterior motive. I did do an internship in the National Commission for Women (NCW) during my 3rd year in college, wherein I got an opportunity to be involved in a lot of cases concerning social issues. I am also currently an empanelled counsel and a counsellor for the Delhi State Legal Services Authority, whereby I help people belonging to the weaker sections of society by my legal services. My best advice to my younger brethren would be to help out as many needy people as possible, through your expertise or otherwise.
How was your first year after graduation? What would you suggest a fresh law graduate should do to hold spirit and utilise the opportunities available?
My first year was rather spent on learning (it continues to be so!). The emphasis was on a number of issues, more like, how to apply the law, be it procedural or substantive, onto a matter; how your senior argues a particular matter or even how interpersonal relations are to be developed in a workplace.
Totally! I believe it takes a fair bit of time to settle in, in any workplace! I feel one should hold fort and not hold grudges against any fellow worker. Believe in your superior and he shall give you opportunities.
Right after graduation, you started working in the litigation team of Saikrishna & Associates(S&A) as an Associate. How did your appointment take place? How would you describe your working experience there?
During my final semester, I started applying in law firms. I was fairly sure that I wanted to pursue litigation only. I did receive interview calls from a few law firms, S&A being one of them. Fortunately for me and pursuant to a couple of interviews, I finally got a call to be a part of the firm.
Working in S&A has been a delight! One is encouraged to handle matters on your own right from the start! Seniors are helpful with frequent discussions on legal issues. The emphasis is more on learning. I guess its fairly significant for any lawyer to have a good boss. I feel we have that in S&A.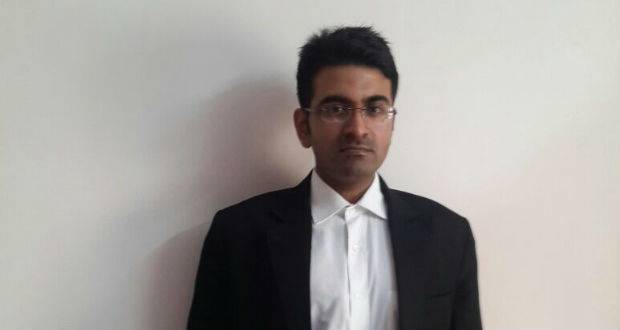 How difficult were the first few months of Saikrishna & Associates(S&A) given that it focuses mainly on a specific field of law?
Litigation offers one rather a protracted period of learning. Initial days in any organization can be challenging as practise may be reasonably different from what one has read. The first few months of my work was rather spent on learning drafting skills and getting deeper into the subject.
What is the procedure to apply for an internship and recruitment at Saikrishna & Associates? If I say that I have never interned at Saikrishna & Associates, what should I do to apply for a job there?
We have a fairly streamlined process of applying for an internship or for recruitment. Interns can mail their CV at interns@saikrishnaassociates.com. Pursuant to a screening of their credentials, they are allotted internships during various months of the year. A potential candidate seeking a place within the firm can apply on hr@saikrishnaassociates.com. This of course is subject to vacancies being present.
What would you suggest to someone who is preparing to work with an IPR law firm? What are the basic subjects (IP and non-IP subjects) which one should read and have understanding of before sitting for an interview?
It completely depends on whether one would want to get into prosecution or litigation or even work relating to policy. Considering the fact that one wants to get into litigation, one must have a reasonably good knowledge of the CPC. During college days, I presume we all tend to ignore the subject. Also, looking into the diversifications that have come forth in IP law, one has to be prepared even in the area of law he/she wishes to be in. Say for example, the requirements for a lawyer practicing copyright or trademark law is fairly different from a lawyer practicing patent law. The latter would surely require some expertise in science at a university level, in addition to legal studies. Nonetheless, the person going in for an interview should be updated with the latest developments in law. The recitation of a landmark case, together with your answer, during an interview would surely make an impact.
Please give our readers a few tips in order to land a job in an IPR firm.
One needs to make sure that their internship is promising and fulfilling. Working with outmost diligence and hard work will surely help in bagging one with a job.
You have specialized in IPR. What made you interested in the same?
IPR is an emerging field with a plethora of opportunities. Moreover, the same is also non-conventional, with an emphasis over the protection of rights concerning modern day issues. I believe IP issues, which I read rather habitually on a few popular blogs, elevated my interest levels and made me interested in the same.
After four year of work as an Associate, you were promoted to Senior Associate. How did you go about achieving this?
**Smilingly** Guess the question should rather be put to my supervisor(s)! I just did my bit. One needs to make sure that work's done efficiently and well within the permitted period of time. Be thorough with your matter and with the subject. That's what is required.
Have you ever considered starting up on your own? Would you say the opportunity a firm provides for a young lawyer is worth the trade off in building a reputation?
No. S&A provides us with the independence of arguing and handling matters all by ourselves. Our managing partner provides us with adequate liberty to handle and/or supervise even big ticket matters with minimal supervision.
Absolutely yes! Firms currently provide a very good platform to help and make your mark. One gets adequate client interaction even during their initial days. It definitely helps in gaining a lot of exposure.
What is a normal workday like at Saikrishna & Associates?
A normal workday usually begins with matters in court. The same is followed by working on client issues together with preparation on matters coming up on subsequent day(s).
What would be your parting message to our readers?
College days are the best days of your life. Enjoy them to the hilt! Just make sure that you have above average credentials and good internship experiences. Once you've finalized where you would want to work, spend most of your time interning with that office. Give your best to it and believe me, your future's secure!