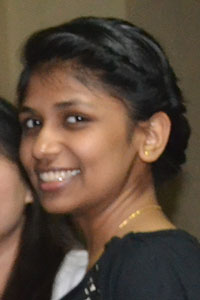 Chetna Shrivastava is one of the most diligent and illustrious scholars of the 2015 batch of NLIU, Bhopal. She has a noteworthy academic, mooting and debating record. She is a part of the Editorial Board of the NLIU Law Review and co-founder a student run newsletter in NLIU. Her diligence and mettle at work was recognized when she received a job offer from Khaitan & Co.  during campus placements. We asked her to share her experiences and strategies she used over the years.
In this interview, she tells us about:
Securing top-notch law firm internships
Her journey from an intern to getting job offer from Khaitan & Co.
Importance of academics, internships, debates and moots
Most of our readers are law students and young lawyers. How will you introduce yourself to them?
To begin with I would like to applaud this venture of Superlawyer of creating a database for law students and young lawyers to make informed choices after coming across experiences of the old souls (no offence!).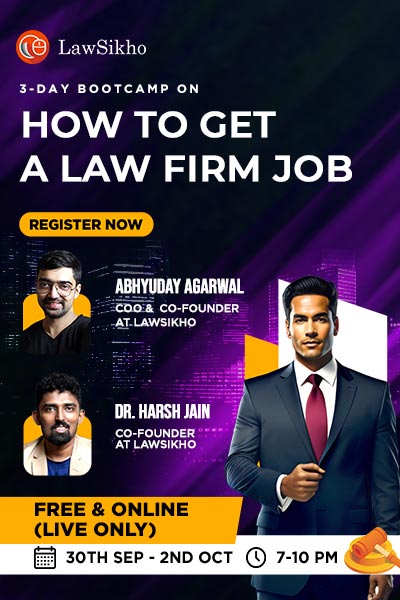 For this interview I will make a sincere effort to be as serious as the interview demands. While my grades so far portray me as a nerd, my friends will have a different story.
Caution: Those reading this interview for a chalked out strategy at bagging a job might be disappointed to know that the interviewee is a clueless person who has solely focused on gaining varied experiences to finally make the most suitable choice.
Tell us a bit about your childhood and pre-college life as well as educational background. Do you have lawyers in your family?
I finished my schooling from Christ Church Girls' School, Jabalpur, a reputed school with a rich cultural and educational heritage owing to its establishment dating back to 1870. My parenting and schooling ensured my proactive participation in extracurricular activities along with securing the top ranks in academics throughout school. To diversify my options I took up Mathematics and Biology (with Physics and Chemistry) after Class 10th.
I am a first generation lawyer.
In India there is still a bit of resistance towards legal education. What motivated you to choose law as a career?
Yes, the resistance towards legal education persists however it is weakening with increasing awareness of the diversity of career choices offered by legal education. The instances have reduced where I face quizzical aunties on how I could possibly take "CAT" right after school.
The two years that followed after Class 10th made me realise that performing well and having an inclination for the subject are not synonymous. Though I performed equally well in all the subjects, arts and humanities fascinated me more as compared to deciphering the molarity of salt solutions or calculating the net forces in a rope and pulley system. I had come across several school alumni who were already pursuing a successful career in the field of law. Hence it did not take me long to decide on law as a career. Though my parents are doctors and had the same career intended for me, they were very supportive when I expressed my wish to take CLAT.
You have participated in various moot court competitions, tell us how important is mooting and what effect does it have on one's CV?
Being a lawyer involves the practical application of the concepts that we are taught in the law school. Moot court competitions provide an opportunity to hone the argumentative skills along with understanding the practical nuances of the law concerned. It definitely adds a positive aspect to the CV because it evidences one's thorough understanding of the principles with a practical experience.
Apart from mooting and academics what other co-curricular activities did you engage yourself in?
As a first year student I had a brief stint as an adjudicator, representing my college in various debates. A major part of my co-curricular activities has been attributed to being a part of the Editorial Board of the NLIU Law Review, CSIPR Journal and the Literary Society. In my third year I co-founded a student run newsletter.
All your internships have been at top notch law firms. Tell us what all places you interned and how did you procure your internships?
Apart from NGOs and Chambers of Senior Advocates, I have interned in DSK Legal, Bombay, Khaitan and Co., Bombay and AMSS, Bombay. The latter two internships were procured with the help of the PCC in my third and fourth year respectively. While the earlier ones were procured by numerous individual applications sent well in time before the intended internship duration.
Did you plan your internships throughout law school deliberately or did it all just happen by chance? How relevant did you find your law school education with the kind of work you were required to do at law firms?
Honestly, the four years in the law school so far have been a journey of trying to accumulate varied experiences. Therefore my internships were an attempt to assess the pros and cons of the various options available to me after law school. Apart from merit "chance" was definitely an assisting factor as being a first generation lawyer it is not easy to secure the intended internship in the earlier years of law school.
The law school curriculum made me adept in understanding the assignments in the internships. However in the process of working on those assignments I gained a deeper understanding of the specific concepts which form a part of the subject taught in the law school. The internship was perfectly complementary to the curriculum in aiding a holistic understanding of the subjects of the curriculum.
These days there are many law students rushing forth to intern at law firms from their first year itself throughout till their fifth year. What do you have to say about the advisability of law students pursuing such a course of action?
Like I already mentioned, my internships were aimed at accumulating varied experiences of the options available after law school. I began with NGOs and Chambers of Senior Advocates and interned at a law firm for the first time by the end of the second year. In hindsight this helped in developing a legal aptitude to execute the assignments with a better understanding of my work. I would advise students to intern in law firms around the time when corporate laws are introduced in the curriculum as the internship and academics mutually benefit the understanding of the subject.
Recently, you bagged a job offer at Khaitan & CO. How did you go about achieving this?
At the end of my third year I secured an internship with Khaitan & Co. after being screened by an interview process arranged by the PCC. I was diligent in the internship which was facilitated by the inclusive atmosphere offered by the firm to its interns. By the end of my fourth years I was shortlisted for a PPO interview by the firm which was kind enough to consider me a worthy candidate for the job.
There is a phenomenal obsession amongst law students with maintaining a very high CGPA. How important according to you is this in securing a job?
As being one with the "obsession" and being decently successful at it, I believe that it plays a determining factor in securing a job. A consistent, more crucially than high, CGPA projects one as a diligent and sincere student to the recruiters. Most of the screening process by the recruiters has short listing of the candidates on the basis of their ranks in the first phase. However grades are not the sole reflection of one's knowledge. Averagely good grades complemented by co-curricular activities make the student come across as one who can balance both in a rigorous academic routine and hence a better candidate for a job which involves simultaneous assignments.
What should one law student aspiring for a job at top law firms do? How would you recommend they prepare in their last 2 years at law school?
In the last two years the students should strategically apply for internships in the firms they aspire to work in. The internship is a perfect opportunity for making a mark as a prospective candidate for the job. A thorough knowledge of the corporate laws and efficient application in the internship contributes majorly towards securing the job complemented by a good performance in the recruitment procedure.
Where do you see yourself five years from now? Would you consider going for an LL.M. abroad?
As a person who goes with the flow, this is a difficult question to answer. Currently I'm looking forward to working in Khaitan & Co. and gaining the most out of my experience. LL.M. is not an option I am considering.
What message would you like to give to our readers?
Being a student of a field with such diverse career options you should explore and make the most of your experiences to make an informed choice. Remember the closing scene of Kung Fu Panda where Mr. Ping discloses to Po that there is no secret ingredient? That realisation helps in working towards achieving your goal knowing that the only indispensable ingredient is well directed hard work and sincerity.