Chintan Chinnappa graduated from M S Ramaiah College of Law, Bangalore in 2009. He is currently a Senior Associate at Dua Associates. While being a Senior Associate at a top tier litigation firm, Chintan also plays cricket for a club in Bangalore, manages a booking agency for artists, and never gave up on his passion for music. He is currently the lead guitarist at Inner Sanctum which is a Death/Thrash metal band from Bangalore, India.
Chintan talks about:
Law school experience and Internships
Work at Dua as a Senior Associate
Taking time out for Inner Sanctum and other passions
What brought you into studying law?
I was born to a family of lawyers. My dad was a Judge in the High Court of Karnataka, my brother and sister-in-law (who incidentally also belongs to a family of lawyers) are practicing lawyers and my mom studied law, but never practiced. Surprisingly though, there wasn't too much law at home while I was growing up. I am not really sure if that was intentional or whether my family just didn't like bringing work home but I hardly heard them discuss matters or legal issues. To a large extent that gave me sufficient headroom to decide what I wanted to do with my life and take an independent decision. Cutting the long story short, I grew up, unlike most other kids, with immense respect for the profession and with a belief that lawyers saved lives. I was quite oblivious to the fact that this belief of mine was more or less solitary, in the sense that the rest of society didn't seem to share the same feeling. This was thrust upon me once I had made my decision to study law but that didn't really prompt to rethink my decision.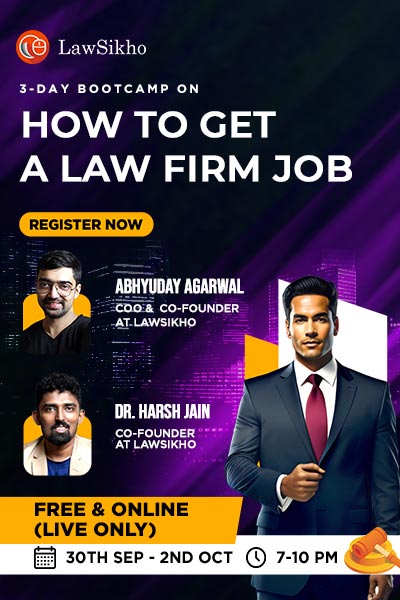 Did you ever take part in moots when at college or indulge in academic legal writing?
As a student I was quite focused about becoming a litigation attorney. I didn't have any qualms about possibly having to work with/in less than ideal clients or work environments. So it was quite natural for me to moot in college and I loved it! I mooted for several years and was extremely passionate about it, and at times the passion bordered on insanity.
I was quite fortunate to have a constant team through college and we skipped classes to work on a moot which was months away and have heated discussions in the library which would more often than not result in a few of us getting reported for causing a riot. Mooting left me with no time to indulge in academic legal writing. Honestly, that didn't interest me as much. I preferred moots and internships and no matter how much value an article would have added to my CV I couldn't convince myself to do something I wasn't passionate about. That should probably answer the second half of your question as well. Students should be given the discretion to decide the activity that they would like to participate in. I would have resented giving up precious moot preparation time for an article that I didn't wish to write. Compulsion causes more harm than good.
Tell us something about your internship experience.
Like I said, litigation was my calling and therefore all my internships were litigation centric. I didn't feel the need to do a corporate internship. I interned with all the top litigation law firms/ offices in Bangalore such as Dua Associates, Poovayya & Co., Indus Law etc. I also interned with Mr. Aditya Sondhi and a few senior advocates, Mr. Udaya Holla and Mr. Naganand. In my final year, I did a clerkship with Justice Raveendran just after he was elevated to the Supreme Court.
How different is getting hands-on experience at an internship, from learning legal theory in the university?
There was a clear disparity between what I was made to learn in college and what I needed to learn to survive an internship. I personally believe that most universities haven't figured out the purport of legal education. In fact, the only way to sort this out is for the universities to include in their training course (if there exists one) a compulsory three to six month internship for all professors in law firms and law offices. That's the only way to bridge the gap.
What kind of work did you typically find yourself doing as an intern?
Primarily research work and drafting, not to mention the court visits and the complimentary illicit appearances before tribunals and lower courts.
There was a huge disparity between internships in so far as the quality and quantity of work assigned to interns. A few offices understood the value of an extra hand and a few were just eager to hand over the ready to print certificate. It's a mixed bag! But what was fascinating to me was that each office seemed to handle and structure their work differently. This was enormous learning for me and I spent most of my internships figuring out how I could finish the most amount of work in the least amount of time. The internships in effect gave me a peek into the functioning of a law office and helped me enormously in deciding which office to apply to after graduation, none of which I could have figured out just sitting in college.
What do you feel about certain law colleges being supposedly more 'elite' than the others?
I don't really see the point of an 'elite' tag. All universities have the good and the bad graduating every year and this is more often than not the result of each student's efforts in personal development. I have worked with students who have graduated from different universities, elite or otherwise and I don't really see a sufficient difference to warrant the use of an elite tag.
How do you take time out for your music?
In addition to being a lawyer, I play cricket for a club in Bangalore, manage a booking agency for artists and also play guitars for a metal band called Inner Sanctum. It's a Jekyll and Hyde situation on steroids! I have no idea how I manage all of this but I just love everything I do and I squeeze in as much as I can everyday to ensure I do enough justice to each of my passions.
How do you feel the work life balance is working at law firms?
I worked for a year, right out of college at Poovayya & Co. in Bangalore. Though it was and continues to be an excellent law firm, I didn't see myself fitting into the overall scheme of things there and I decided to leave them in Aug, 2010. I immediately applied to Dua as I was extremely serious about litigation in Bangalore and Dua Associates is renowned for quality litigation work and a great working environment.  I joined them in Oct 2010 and it has been a good four years! The team is excellent and the firm accommodates and encourages the associates to pursue their passions and maintain a healthy work-life balance. That's how I manage to keep my band alive!
What does a usual day at Dua look like for you?
Like I said, I am part of the litigation team in Dua and therefore all the work associated to litigation I am required to do which includes appearing in courts, drafting, briefing senior counsel etc. As a Senior Associate, the firm expects me to perform certain additional functions in relation to team building and team leading. Honestly, that isn't too hard because we are fortunate to have an excellent team.
What do you feel makes an intern stand out and is very important for him to do to have a chance of getting a call back or even a PPO?
Confidence and the ability and desire to learn. If an intern has this, it most often than not results in a PPO.
Picture Credits: Prateek Biswas