Dr. Atmaram Shelke is a professor at Symbiosis Law School, Pune, a constituent of Symbiosis International University. He is a Ph. D. He is one of the most knowledgeable professors in Symbiosis Law School, Pune. In this interview he talks about
The experiences of being in teaching field and the subjects that he prefers to teach
The skills that students need to imbibe to be a good researcher
Teaching experience at Ostfalia University, Germany
Experiences of working with Ram Jethmalani in his research project of "Handbook on IPC"
Being a part of Nani A. Palkhivala's book review project.
HOW WOULD YOU LIKE TO INTRODUCE YOURSELF TO OUR READERS?
I am Dr. Atmaram Shelke, working at Symbiosis law school Pune, constituent of Symbiosis International University as a professor. I am also a recipient of two gold medals for standing first in LL.M. at Symbiosis International University (India).
WAS TEACHING YOUR PASSION SINCE CHILDHOOD?
Teaching has always been my passion. My father was also a teacher. In the second year of my LL.B. course, I used to take tuition for my classmates, juniors and even for a few seniors. So, teaching was always a passion and plan. Therefore immediately after my LL.B., I completed LL.M. and joined Symbiosis Law School, Pune.
YOU COMPLETE TEN YEARS OF TEACHING (IN SYMBIOSIS) THIS YEAR, HOW HAS THE EXPERIENCE BEEN SO FAR? WHAT ACCORDING TO YOU IS UNIQUE ABOUT SYMBIOSIS AND ITS STUDENTS?
It has been a wonderful experience. The students in Symbiosis are well informed about the current affairs and the latest developments in the field of law. So, the challenge that we as professors face is it that we have to cite current cases and go beyond the books. Also, in Symbiosis, there is a lot of emphasis on research and creation of knowledge.
ANY SPECIAL OR MEMORABLE INCIDENTS IN YOUR TEACHING CAREER THAT YOU WOULD LIKE TO SHARE WITH US?
Yes, there are many such incidents. Students thanking me for all the help I have given them through my teaching always gives a special unmatchable feeling. I think gratitude shown by students is the biggest award for any teacher.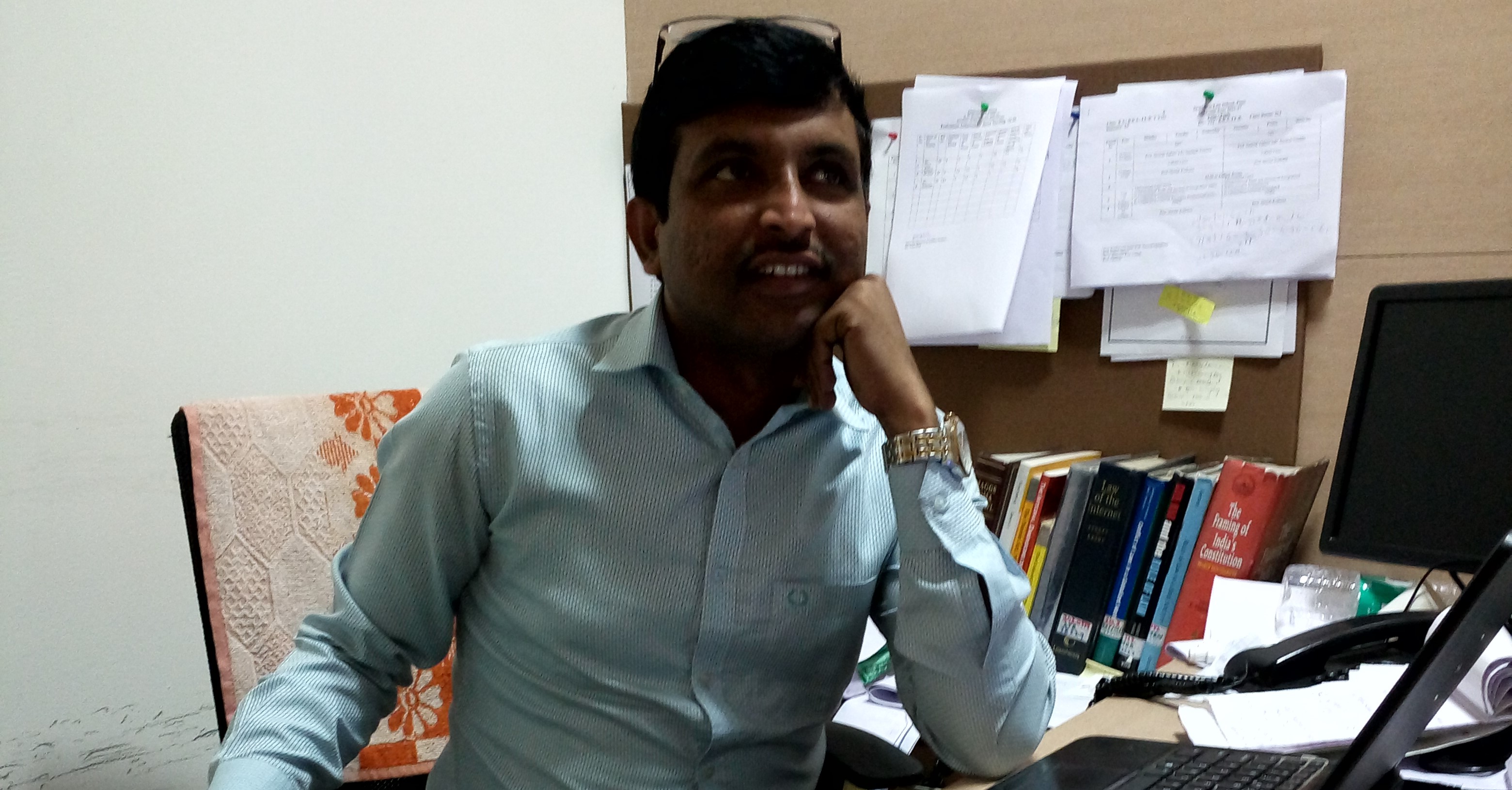 ANY MAJOR CHALLENGES THAT YOU FACED IN YOUR ROLE AS A PROFFESSOR SO FAR?
As I mentioned earlier, students show a lot more interest when current cases are being discussed and are used as examples to explain the concepts. So, we have to constantly update ourselves. I think that is one challenge which every law teacher faces.
AT A PERSONAL LEVEL WHICH SUBJECT DO YOU PREFER TEACHING AND WHY?
I prefer Constitutional Law, Administrative Law, Intellectual Property (IP) law and Information Technology (IT) Law. I prefer Constitutional Law because it is the base for other laws. Constitutional law and Administration Law both are logically developed subjects. There is lot of scope for analysis and criticism in both the subjects. IP & IT are evolving subjects. There are many challenges with regards to IP & IT. I have keen interest in IP and IT law subjects; therefore I even choose them for my Ph.D. research.
WHAT SKILLS SHOULD ONE DEVELOP TO WRITE GOOD RESEARCH PAPERS AND ARTICLES?
Writing skills and analytical skills are the pre-requisites for a good researcher. A good researcher should also have the quality to read and grasp important points, understand and comment (upon) apart from the ability to infer from the available data or material.
YOU HAVE VISITED OSTFALIA UNIVERSITY IN BRUNSWICK, GERMANY AS A VISITING PROFESSOR UNDER THE DAAD "NEW PASSAGE TO INDIA" PROGRAMME IN 2014. KINDLY ELABORATE ON THE EXPERIENCE
Ostfalia is a wonderful university. I had delivered lectures on Indian Legal System and challenges posed by Cyberspace. I had commented on problems posed by cyberspace in general and lacunae in Indian and German Laws. The presentations and discussion with professors there were well appreciated.
AT THE OSTFALIA UNIVERSITY, DID YOU OBSERVE ANY DIFFERENCES BETWEEN THEIR CURICULLUM AND OURS?
I think there is more emphasis on research and less spoon feeding. Students are given material at home; maximum lectures are written and copy of that is given to the students. The curriculum is basically research oriented.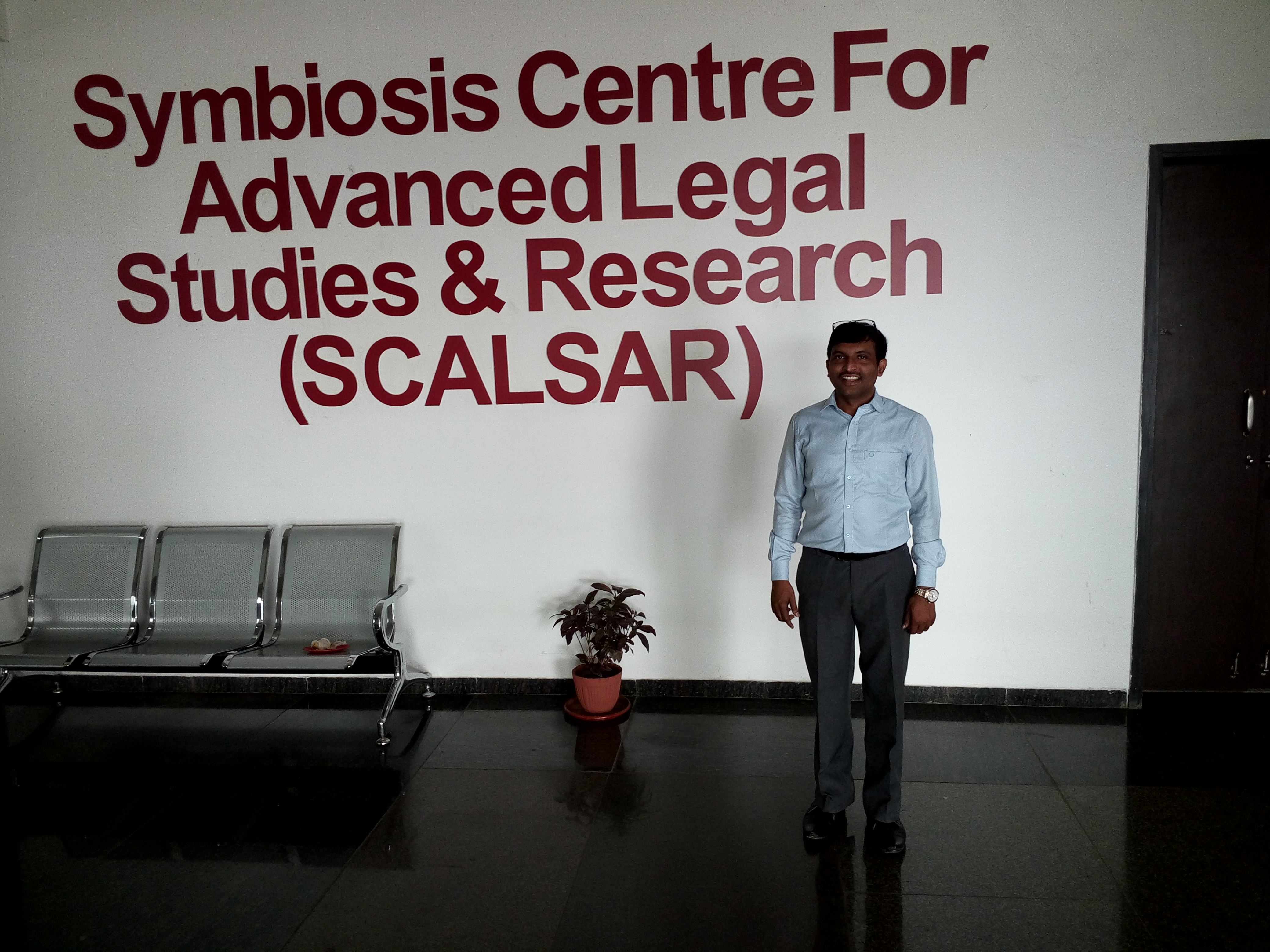 YOU WERE A PART OF NANI A PALKHIVALA BOOK REVIEW PROJECT, KINDLY ELABORATE ON THE WORK THAT YOU DID  THERE.
This project was given by Nani A. Palkhivala Trust to SLS, Pune. I was one of the members of this project and I am proud to say that I have received Nani A. Palkhival Trust Gold Medal for standing first in LL.M. We have revised and updated the book written by Nani A. Palkhivala and submitted it to the Nani A. Palkhivala Trust.
YOU WERE ALSO A PART OF SENIOR ADVOCATE RAM JETHMALANI'S RESEARCH PROJECT ON "HANDBOOK ON IPC." WHAT HAVE YOU GOT TO SAY ABOUT IT?
This project was related to a book to be written by Adv. Ram Jethmalani on famous criminal cases. I was privileged to work with Adv. Ram Jethmalani sir. He is a true intellectual. I have learnt many things while working with him. We often used to meet and discuss with him about the project's progress.
WHAT FINAL ADVICE WOULD YOU LIKE TO  GIVE TO ALL THE LAW STUDENTS WHO ARE READING THIS RIGHT NOW?
A law student always needs to be curious. It is the duty of law students (including the professors) to ensure that the rule of law is maintained. Primarily, it is duty of professor to research and guide judiciary, executive and legislative authorities and bring everybody on track as, whenever there is any wrong action, first reaction is from academics. We (Law professionals) have to work as a pressure group for justice in a democratic system; we shouldn't just criticise the agents of justice system but also guide them. Law students should be the torch bearer and show the right path to society, legislatures, judiciary and government.