This interview has been published by Priyanka Karwa and The SuperLawyer Team
Sir, in order to start our conversation, kindly let us know about your decision to pursue law as a career.
Even though you have asked me about my "decision" about choosing law as a career, however, it is my firm belief that there is nothing which we decide to do but destiny plays an important role in what we do! Coming back to your question I may say that ;
I decided to pursue law while I was in my first year of graduation in the year 1991. I did my graduation from the Govt Arts and commerce College Indore. My father initially wanted me to become an engineer but I was fond of reading and writing . Maths and physics were not my cup of tea. Sociology, Political Science and History were my forte . Studying about society and political system enhanced my skills in analysing various aspects of human behaviour. In depth study of the subjects helped me in clearing the entrance examination of law course of Delhi university in 1994 . I completed my law course in 1997 and thereafter joined the chamber of Mr LR Gupta, senior Advocate who was a distinguished civil lawyer . That's the initial journey of my life which started in 1974 , followed by my admission in Bal Bharti Public school.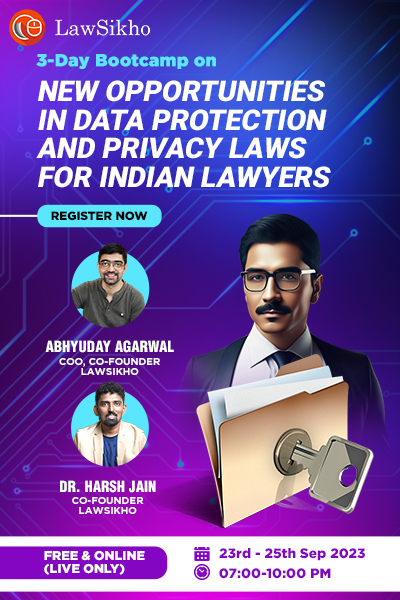 Being a senior Advocate, how would you explain the changes which have taken place in our judicial system over the time and if any, kindly express your views upon the same.
Our judicial system is indeed a dynamic one . When I started my career in 1998 a system was placed for the new entrants to complete a six months training programme , for those who wanted to appear for judicial services they were required to undergo a couple of years of training under an advocate. Gradually these programmes were changed. Many people would have different opinions on the practices and the systems which were in place but my personal opinion is that training under the lawyers was a good initiative. It is indeed very necessary to understand and to become acquainted with the working process before one starts his or her career as an advocate or a judge . Judicial academies have been set up in the country and the training which is imparted now is one of the best . Young judges meet many legal experts and jurists as a part of their training. I have traveled and have appeared before many courts in India . Undoubtedly the courts and Tribunals in Delhi have an edge in comparison to other courts in different states of India but we all have noticed that due to infuse of technology justice dispensation is becoming quick and easy. I am sure in next couple of years we shall all see many a new innovations being introduced with an objective to ease the grant of justice to those who approach courts for redressal of their problems and grievances.
Sir we would like to know about that one case you can never forget.
It's indeed very difficult to answer which case is difficult to forget . Every case brings a lot of challenges and to bring relief to the client is a most challenging assignment for any lawyer . I have appeared for clients while representing their cause in different areas of law. Yet I remember that I was able to secure an acquittal of an engineer somewhere in the year 2014 who was convicted of murder by the sessions court by misreading of the factual aspects and erroneous application of legal provisions and the evidence. The young man had to undergo rigorous imprisonment for a period of seven years even though charges could hardly be proved against him . False evidence was created and witnesses were planted against him . That is certainly a case I remember .
Kindly throw some light upon your initial days as a young lawyers and the challenges faced by you.
Initial years were full of learning and hard work. My father late Shri Inder Kumar Sharma played a huge role in my success . He was a learned man who excelled in the field of administration but he always remained humble and treated everyone with affection and kindness. This character is extremely essential for anyone to become a successful person. I have always tried to follow the traits of my father. I was extremely lucky during my early years of practice to have worked with some fine senior lawyers . I learnt a lot from them for which I shall ever be greatfull . I fondly remember my senior Mr LR Gupta who was extremely kind to me and always blessed me .
Please tell our viewers about your daily routine which helps you maintain the work life balance.
My routine includes a brisk walk / cycling for around an hour . Fit mind is very essential for any professional. One must spend time with nature. I also make it a point to have a sound sleep for atleast 6 hours a day. Rest of the time must be spent in preparing cases , reading newspaper and to keep yourself updated. I read and note in my register important cases and I am maintaining this habit of writing since the year 2000.
Sir, while looking at your profile we read your article named "Unfounded prejudices shouldn't be allowed to damage independence and esteem of the judiciary", please tell our audience about the same.
The article was written by me not to defend someone or to accuse someone . The same reflected my point of view which is clear from the reading of the article itself . I can't add anything to it except to say that normal human conduct and human nature gives a clear indication of many a facets of life and turn of events .
Lastly, any advice you would give to the professionals in the legal field?
The youngsters are smart and intelligent. They think better than us and have many new ways to approach towards a problem for an effective solution. The legal profession is such that it keeps one mind active. I will just like to add that any young lawyer who wants to join the litigation must remember few things to start with . Work with a good lawyer for at least 2-3 years . This period is sufficient to understand the procedures of courts. Develop good habit of listening. It adds to your advantage and many a times a good listener will be in a better position to answer the questions which may be posed by the judges. Respect your seniors and learn from your colleagues who appear for the opposite side . Never loose heart if you loose a case . No one can win hundred percent and therefore no one can loose constantly. Develop the habit of reading . Read files carefully. Read at least one or two reported judgments daily and try to keep a note of those . Never run after money . Since we all are lucky to be in an intelligent profession with time finances are never a concern . Behave properly and dress up smartly. The judges takes a note of appearance also. One should always be smartly dressed. While appearing in a matter with your senior colleague ask him / her questions which may come to your mind well before the hearing . This will make your senior glad as well and it goes without saying you will win a case for the client.
Get in touch with Manish Vashisht