Gaurav Vutts graduated in law from Delhi University, batch of 2003. Gaurav is presently working as Regional Legal Manager at Hindustan Unilever Limited and leads the East Region since January 2016. His in house experience includes Intellectual Property litigation, Brand Protection, Regulatory Compliances and leading the East Region as Regional Legal Manager. He has also previously worked as Criminal Lawyer specializing in Criminal Corporate advisory, appearing before Apex Court, High Court and Trial Courts. He had joined Hindustan Unilever Limited in Year 2011, supporting the Supply chain Legal, Reality and eventually led the subsidiary company Lakme Lever Private Limited and specialized in Franchising related advisory, IPR and Regulatory compliances.
In this interview, we speak to him about:
His early life from Poultry Farmer to Lawyer to In house Counsel
His role at HUL
His experience in Criminal Law, IPR and related regulatory compliances
Tell us a little about your early days, schooling and graduation.
Since my father was a defence officer I studied in KV School all my life. There I interacted with people from every walk of life. Post schooling I joined the Maharajas College, Jaipur and passed out with BSC. After my graduation I appeared for UPSC and RPSC exams and spent considerable time reading about history of India, Economics, Geography, Public Administration. To fend myself I also was running small scale business of poultry farm at Jaipur where I had approximate 10,000 birds. Here I labored hard in the farm not only feeding birds but planting trees in the farm, plating green grass and doing masonry. I was involved in doing all the kinds of labour which a common man does, like building roads, making concrete walls, making the sheds for poultry farm. It is these tenets of life which made me think that I must read and practise law. My younger brother was instrumental in making a lawyer from a poultry farmer.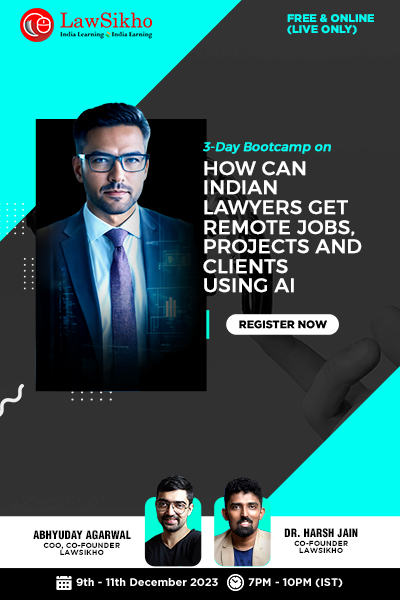 Tell us a little about your days in law school.
The days in law school (in Delhi) gave me hands-on experience and exposure to diversity in culture, inclusiveness, collaboration and leadership. For our livelihood, we had to fend for ourselves including arranging for accommodation. During the law faculty days I stayed at Air Force Hostel located at Subroto Park New Delhi. It was a tremendous time where in the afternoon I use to attend the Law faculty and at night I used to work with GE Capital Services Limited as Process Associate located at Gurgaon. It was a dream time where I used to work twenty hours a day. Nine hours I used to work at the call center, the sleep for four hours in the morning, then attend classes in the afternoon. Apart from this, I also interned with Mr. Som Mandal, Fox Mandal and Co., Mr. Rajan Narain at Global Legal Associates. It's here that I started to see the Supreme Court, High Court, Trial Court and Labour Law Tribunals. I used to sit through conferences with clients and lawyers and assist in marking pages, taking out case laws and even typing plaints, petitions, delivering briefs to courts, attending the courts and monitoring the court room board for item numbers.
How important are grades, in your opinion?
For me, grades are not important at all. What matters is hard work and honesty towards reading the law and understanding the subject.
What subjects did you take particular interest in during your law school days?
As a law student, Jurisprudence, Criminal Law, Constitution, Contracts, Arbitration and Procedural Codes fascinated me. I feel these subjects form the basis of a lawyer's spirit. These form the first principles.
Who was your mentor, or main source of inspiration who motivated you all along the way?
Personally speaking, I had many mentors. I will just name them. During my law college days I attended the Raj Anand Moot Court as my younger brother Vaibhav Vutts was interning under Mr. Pravin Anand. I was impressed to see Mr. Arun Jaitley and Mr. Pravin Anand. I was in literal awe to see them. Later I became a member of the law faculty body called Students for the Promotion on International Law and further got a chance to meet these mentors. In law firms I was mentored by Mr. Raian Karanjawala who is again one of my greatest mentors till today. I also got to work with Mr. Siddharth Luthra, Senior Advocate, as briefing counsel and briefed him in countless criminal matters. I spent nights in his chamber to study law and give the ideal summary of the case to him in morning. Till today I am mentored by him. Apart from this I have had many individuals who have inspired me over the years like Mr. Gopal Subramanium, Senior Advocate; my father, Wing Commander Sunil Kumar Lal, ex-Indian Air Force Pilot; my younger brother Vaibhav Vutts, Advocate, who runs a law firm called Vutts & Associates; my wife Priyanka Vutts, among others, are true inspirational people to me. I was truly inspired by many great senior advocates during my briefing days and travelling with them outstation for cases with Mr. KTS Tulsi, Mr. Harish Salve, Late Mr. GS Sanghi, Mr. Ram Jethmalani.  In fact, I find inspiration even from my litigating lawyers located at every nook and corner of India stretching from South to North, East to west. They give me unquantifiable passion to read and lead.
What kind of internships did you engage in during your student years?
It is very important that a law student interns with lawyers. It makes his foundation strong. I interned with Fox Mandal and Co. and Global Legal Associates managed by Mr. Rajan Narain. It is here where I got true vibes of litigation. I was truly lucky to undertake an internship in these places.
How did you develop this keen interest in criminal law and in legal advisory?
I always had the real time craving to know the basics of all sects of law. Be it Contracts, Constitution, Jurisprudence, Legislative Drafting, Criminal law, Procedural law, etc. The constitution is the mother of all laws. It is the founding spirit for any legislation. All enactments flow out of it and merge in it. During my internship days and practice days I saw the sense of humanity in resolving criminal cases, making an innocent person get his rights in a court of law, a stimulating subject which is par excellence when it comes to human conscience, irrespective of money you make. This is a true humanitarian service, I believe. The good reading of Constitution of India made me realize how intricate criminal law is and it enchanted me more and more. Once I joined Mr. Karanjawala's office, fate gave me a pillar to handle criminal law as he allocated the criminal department to me with a few senior lawyers in the firm. I appeared in all criminal law forums located across India and the turn-around was that in three nights, I appeared from Trial Court, to High Court and then to Supreme Court. I also learnt that IPR rights can be protected under the realm of law of crimes. In my in-house advisory I still lead when it comes to cracking my numbers in litigation and resolving intricate litigations under me.
Please give our readers some insights on the leading Indian firms dealing in Criminal Law, IPR Law, and your recommendations for where and how to secure internships.
There are quite a number of top quality criminal law firms dealing in corporate liabilities like Amarchand, AZB, Karanjawala and Co.
Tell us about your work experience at Hindustan Unilever Limited as Regional Legal Manager and at Lakme Lever Private Limited.
At the starting of 2011 I joined HUL as Assistant Manager-Legal, assisting the Supply Chain, Real Estate. It was a great learning curve for me. Here I learnt what leadership is and how important is governance. I got to work on some mega realty projects for the company and prepare legal documentation for the same in advisory with law firm. It's here that my talent to align with lawyers played a great success and yielded dividends to the company. I got to work on heavy stake matters and stood victorious in them. After a brief stint, I worked with Lakme Lever Private Limited as legal Head. From deputing a young dynamic team, advising the business from part A to Z on nuances of law, and setting up the legal process, it was an amazing journey for me. I got to work with a real talented team there. I was thereafter given the eastern region of the company and it is here that I got to work on mega projects, deliver advisory to business and governance. It is one of the most rewarding experiences I have had so far intellectually as in house counsel. Seven years of legal practice and close to seven years of in house practice has made me a full-fledged legal personality now with fair knowledge to address any kind of legal issue/ advisory. Needless to state, you will still remain a student of law till the end.
What general advice would you give our readers who aspire to stay at the top of their legal game?
My view is very simple. Read more, research more, read the complete case laws and relevant enactments, work hard and be meticulous to facts of the case. Don't draw inferences to attract immediate audiences to market yourselves by just reading some tit bits of legal provisions and gain part time popularity which may stand to your victory for few years but you will miserably fail to mentor young people, and not grow. Read the essence, pith and substance of law. This will make you a true lawyer and legal expert and a true mentor for people seeing you. The profession of law requires real time hard work and patience. Until the person does not do above aspects, he rusts gradually and fades away. Money will come as it's a byproduct of excellence but for a lawyer the most essential building block is to mentor his immediate juniors too.