Hrishikesh Datar is a graduate of the 2010 batch of National Law School of India University, Bangalore. He is an entrepreneur and the Founder CEO of Vakilsearch.com, the leading online legal services facilitator in India. Vakilsearch.com provides online legal services 24/7 and gets about 10,000 clients a year.
In this interview, Hrishikesh talks about:
Being an entrepreneur
Starting Vakilsearch.com and its progress so far
Internships at Vakilsearch.com
Almost all our readers know you and your endeavour Vakilsearch. What else would you want us to know about you as an introduction?
I'm a graduate of the 2010 batch of the National Law School, Bangalore. I opted out of the recruitment process for law firms and spent a year playing with ideas before starting Vakilsearch in 2011.
Did you have lawyers in your family? What motivated you to choose law as a career?
Yes, absolutely. My father is a reputed lawyer in the Madras High Court and Supreme Court. My great-grand father was a lawyer in Pune and some of my grand-uncles were lawyers and judges in different courts in Maharashtra.
I loved debating and I found grey a far more interesting colour than black or white. So the precise sciences were never really my cup of tea. I found the opportunity to be creative and try different approaches interesting about a career in the law.
Kindly acquaint us with your college life. What activities were you involved in apart from the regular academic curriculum?
I was a keen debater and mooter. In my fourth year, I started visiting  IIM, Bangalore where my love affair with entrepreneurship began. I started a T-Shirt business in college which convinced me that entrepreneurship was going to be my life.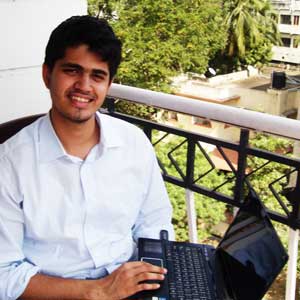 What kind of internships did you do while you were a student? How were you at academics?
I interned at the law offices of P.S. Raman, then the Advocate General of Tamil Nadu. I had a memorable stint with Arun Jaitley, who was then a full time practising advocate. I also worked with a criminal lawyer in New Delhi, a matrimonial lawyer in Chennai as well as on research and book writing assignments.
I did reasonably well throughout. To start with, yes, there was a pressure and a drive to succeed academically. But once you get used to the 'system', things become easier.
You are an Entrepreneur and the Founder CEO of Vakilsearch.com, the leading online legal services facilitator in India.  What motivated you to start Vakilsearch.com?
I just feel that the opportunity in India is so immense that we need a hundred companies like us to meet the needs of a billion people.
And I was deeply motivated by the sheer amount of pain and suffering people face because of not having reliable, affordable and friendly professional support. I saw this in abundance when I worked with different lawyers and firms across India.
This problem is not limited to the core legal space, it includes CAs and Company Secretaries as well.
With so much of competition existing in the online legal service field, what makes Vakilsearch different from its peers?
I would say relentless focus on customer satisfaction, a wide range of offerings and a technology focus.
Did you visit entrepreneur meetings during the formative years of Vakilsearch? How would you compare the Indian start-up scenario with the rest of the world?
The Indian scenario is in its early years, even now. And we have a long way to go. Yes, I did visit a lot of meetings at the IIM Bangalore and they were very inspirational.
You are a businessman and also a lawyer now. Do you feel that doing a business related course like MBA would have been better after studying law?
No, I don't think an MBA would have helped. Business is about life and people, and managing both. You can't learn this in a college. You have to learn it by doing. But yes, spending time with people who have succeeded in the business world, and learning from them is important. You can leapfrog some steps and avoid many mistakes.
Please tell us more about Vakilsearch.com
Vakilsearch.com, India's fastest growing professional services platform on the Internet with offices in Chennai, Hyderabad and Bangalore.
Our goal is to disrupt the delivery of legal, accounting and compliance services for every individual and every enterprise in India by harnessing cutting edge technological tools – and in the process, introduce transparency, efficiency and reliability. You'll agree with me that these are huge pain points in India today.
We get about 10,000 clients a year right now, and they are primarily small businesses and individuals looking for reliable professional support.
We help them with a wide range of things, ranging from incorporating their companies to getting their trademarks, copyrights and patents, preparing legal documentation and contracts, offering them advice and support and also tax related work. We are very comprehensive.
You are also in charge of building Vakilsearch.com's lawyer network, brand building and marketing and alliances. How do you manage all these by yourself?
We have a dedicated team for that now, so I have plenty of help. I just act as a catalyst, ensuring that problems are smoothened out and that difficulties are handled. That sums up my role today.
How are you financing the business? How do you plan to finance future expansion?
We raised finance through internal sources before raising a round of Series A funding with Kalaari Capital this year.
Who all are associated with Vakilsearch?
We've been funded by Kalaari Capital in a Series A round. We have a great team of mentors and advisors, including Shri Madhava Menon who consented to be an external mentor.
Are you planning to hire? What do you look for in a prospective applicant?
We're looking for the most aggressive, tenacious and determined minds to join our team. If you think you have it in you, write to us and we'll take it forward.
Where do you see yourself five years down the line?
We will be a billion dollar business serving more than a million clients each year.
Lastly, what would be your message to law students and young lawyers who want to be entrepreneurs?
Be willing to be 'unsure' about what lies ahead. Try different things and keep on looking for what moves you. And to quote Steve Jobs, "never settle".