This interview has been published by Prabhjot Singh, Priyanka Karwa and The SuperLawyer Team
Did you always want to become a Lawyer or was it something that you decided in the later part of your school life? What other career options would you have considered, if not particularly law?
No, I had never wanted to become a lawyer, in fact, my dream was to become an astronaut after watching I dream of Genie as a child. But after graduating with Geography Honours from Miranda House, Delhi University, I filled Law faculty form, sat for the entrance exam, and cleared it. Since it was the first exam I cleared after graduation, and did not want to study anymore during the summer breaks, I just decided to join Campus Law Centre.
I would have been an environmentalist or a vet if not for a lawyer.
What can be the real challenges while establishing a career in the field of law?
There could be many, but I will restrict myself to the two I experienced and get asked about a lot: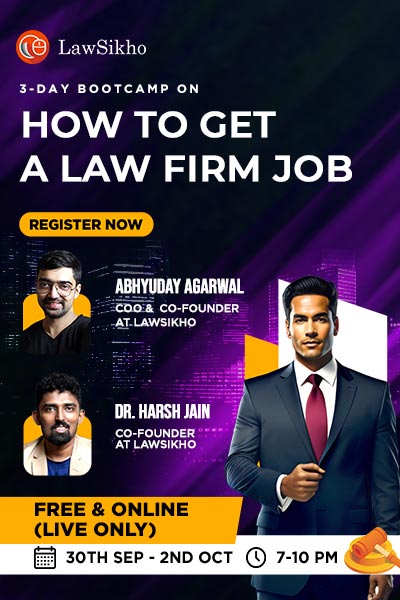 (1) godfather or having mentors/family members in the legal field,
(2) how can I work remotely or cross border as a lawyer.

Definitely, in litigation, having a family member or a mentor that supports a novice lawyer helps. But let us come to the second challenge of working remotely and across borders.

Covid changed the way the world worked and it pushed the Indian judiciary to adopt the technology. Many advocates pleaded from the comfort of their houses by using video communication platforms and many more parties to the lawsuit were given an opportunity to hear their cases in person.

As COVID restrictions loosened up, many lawyers went back to the old way and yet many new ones want to work remotely. And some, also cross borders.

What many lawyers do not understand is that with globalization and emerging technology, lawyers will have to be border-less.
New tech and associated legal areas like data protection, privacy, web 3, cryptocurrency etc. are border-less and the system will have to move from litigation in a specific country to alternate dispute mechanisms like arbitration or mediation.
New lawyers will not have to appear in front of a district judge every day, they will be assisting legal counsels and judges outside of India and will need to know many other laws apart from Indian laws.
This can be challenging as now lawyers will literally be competing with lawyers globally
Where individuals are still struggling learning about GDPR and data protection, you had a control on it way more earlier, what was your preparation for the same and how professionals can take charge on such critical laws?
I actually started working in data and privacy when GDPR didn't exist and many were not aware of this right of theirs.

At my first place of work in 2012, which was a tech/SaaS company that hosted websites globally, I was introduced to user privacy. The lack of laws and fewer judicial precedents meant every builder had their own way of assigning roles and responsibilities when it came to data privacy.

The strict segregation of controller and processor came much later when GDPR came into effect, but back then, we were responsible for assigning such roles and interpreting local IT laws in a way that protected the rights of both, user and builder, across jurisdictions.
My seniors in the legal team were my guides who had a rich experience in such fields with big companies like Intel, Microsoft, and Google who taught me everything I know about data protection and privacy policies.
Even after GDPR came into effect, we did not have to re-do a lot, as GDPR is more about regulation than prohibition (many users believe that under GDPR, companies are prohibited from storing and processing their data which is incorrect).
I am seeing a repeat of 2012 now in web3 and AI space. The laws are currently non-existed and are being drafted, and each user is interpreting and applying local laws to the best of their knowledge.
I would suggest the upcoming legal minds not focus on a lot of courses, but gain knowledge of such laws by experience. I never sat for any data protection and privacy exam, have no certification in this, and yet I know these laws because I learned from working in these sectors.
Congratulations on being listed as Remote Influencer and Women Lawyer in the Legal Technology Sector, how would you describe your role as a leading lawyer in the technology sector?
Not easy, in short. Tech is a male-dominated world and when I attend business meetings as a co-founder of my company that researches in the field of Artificial Intelligence, I do get an occasional look.

Again, I started working remotely in 2012 for many personal reasons and it was very, very tough to break into the industry. Lawyers working remotely was unheard of, and to be in the tech sector, even a lawyer needed to understand the basics of it.
After working hard for ten years, I am now in a much more comfortable situation where I work on new technology, overseas labour compliance, artificial intelligence and law, remote work and law, and lecture at universities.

Though it may appear as if I have settled, I can assure you that every month, I end up reading and learning about new tech, digging some judgments on them, and interpreting laws (even though I don't speak many European languages or am qualified to practice there.
I have interpreted German, French, Swedish, Swiss, Australian, Canadian, etc laws for my clients in the tech industry or as my role as the GC at Lano Software GmbH), aiding courts and litigators in lawsuits around web3 and AI law across the globe and going back to studying some more.

At my first workplace, I ended up learning PHP as it was needed for me to understand the tech before writing user rights documentation for it. Now, for my company, I am learning Python to be able to understand our projects, write accurate legal documents for the products and aid my co-founders.
What are the challenges that HR's in their work life face with emerging technologies like Meta Verse and Web 3? And how can they overcome those?
Let us first understand that when employees work in metaverse or any other virtual platform, it is deemed to be a workplace. Employment and workplace health and safety laws will be applicable in these workplaces as well.

In 2 years since I have been working in this tech, I have seen the following challenges that HRs have faced and I was consulted:

1. Establishing the identities of avatars that employees use in the metaverse
2. Checking if the employees are using a VPN or not
3. VR headsets that are available in the market are bulky and may cause temporary disorientation, watery eyes, headaches, or other nerve-related issues if used for longer periods of time. Injuries from the usage of VR headsets may amount to workplace injuries for which employers will be liable.
4. Cases of cyberbullying, harassment, or discrimination in the virtual workplace will also be the liability of the employers.
5. HRs will need to remember that employment contracts signed in the metaverse may not be legally binding, hence, such contracts should be signed as per the local laws in the non-virtual world.
6. Salaries, remittances, perks, and benefits to the employees must be done in legal tenders only. There is a trend of accepting crypto payments as salaries or to contractors for their services rendered, which is illegal. However, there are a few apps that facilitate this and can be used as they deduct the mandatory taxes from the gross amount, turn the net amount into cryptocurrency and transfer it to the beneficiary.
What HRs can do to overcome such issues:

1. Draft workplace policies that take into account the metaverse workplace.
2. Include cyber bullying, online harassment, discrimination and other forms of online safety norms in the company policies
3. Prohibit the use of VPNs by employees
4. Maintain and update a list of avatars that employees use and ensure that they are not copyrighted and are available for commercial and non-commercial use
5. Draft an extensive and clear-cut workplace safety policy
6. Conduct company-wide training for the usage and code of conduct of the VR workplace
7. Set salaries and compensation expectations right. Will these be made in cryptocurrencies, if yes, how and if no, why should be mentioned in the employment contracts.
8. Draft a VR workplace policy, in addition to the regular workplace policy, that should contain all the issues related to VR.
You have a decade of experience in dealing with employment laws, at a similar pace, how crucial is it for the employees to strike a balance between work-life balance and are there any laws that we should be aware of significantly?
Since I work for a German company, I can tell you that the laws in the EU are very strict and employee-friendly. As per German laws, I cannot be disturbed during my non-working hours and cannot work overtime, unless mutually consented.

In India, the concept of work-life balance is unheard of at many companies. Toxic work culture, unnecessary work pressure, office politics and favoritism, and lack of knowledge of the employee's part of their rights are duties are major challenges.
I have to admit that these challenges also exist in the EU, but there are regulations that prohibit employers from doing certain actions that result in a toxic workplace environment.

The laws also exist in India, but the question is always of implementation and the lengthy process of getting justice. Labour courts in India are slow and definitely have a lot of work, but then employers do manage to get out with little to no repercussions.
The HRs and the in-house legal team at companies should continuously educate the employees about their rights so that friction is easily mitigated.
In the EU, employees enjoy protection to a very large extent and the onus is on the employer for many issues, thereby, making it easier for the employee who has been wronged to get justice.
One must always remember, you are replaceable at the workplace, but not at home.
Will AI be the future of law?
Legal tech is to a lawyer what a tractor is to a farmer. A recent report I read mentioned that AI was more accurate at reviewing a contract than a team of very experienced lawyers (96% to 81%). And then there was a very interesting discussion on if AI will replace lawyers.

Having worked in deep AI for a little less than three years now, I can tell you that legal tech powered by AI will be a boon and not a bane.
Currently, AI is not 100% accurate and there will always be a need for a human to counter-review as AI has its own limitations. AI will be an aide and not the controller.

In a few courts in the Netherlands, for a test project, AI was also deployed to aid the judges in delivering judgments, researching case laws, and suggesting legal theories which actually helped the judges a lot.
Of course, lawyers in the future will intervene to eliminate AI bias and that I think will be a major game changer, combining the accuracy of AI along with the rationality of humans.
Can an Advocate be soft-spoken yet established; what do you think about how the legal profession takes this quality?
Yes, absolutely. It is very wrong for people to think that a loud or aggressive individual will be a good lawyer. To be a good lawyer, one needs to have sound reasoning, analysis, logic, and effective communication skills along with strong professional skills and ethics.
---
Get in touch with Bhagyashree Pancholy-