Iram Huq is a graduate from WBNUJS, Calcutta, batch of 2011. She was a top ranker as an orator at the Phillip C. Jessup International Law Moot. She is currently a Doctor of Law at Harvard University, where she is also student of the Moot Court Board (2013-2014).
In this interview, we speak to her about:
Getting a JD from Harvard
Interning at the United Nations
Taking time out for pro-bono human rights cases
Tell us a bit about your life before college.
I went to La Martiniere for Girls in Calcutta and was in the school's debate team. That inspired me to write the law school entrance exams. I had studied science in plus two, and I liked Physics and Maths. Occasionally, I wish I had taken those subjects more seriously. I really enjoyed them conceptually, but I never saw myself as having a career related to either of those subjects.
I think that my debating and science background helped me to develop a more objective view of the world. I appreciate the subjective aspects of the law, but I can't help feeling that our legal system tends to reward sophistry and obfuscation instead of real analysis. I do not have lawyers in my family.
What motivated you to choose law as a career?
I wasn't really paying attention to what people thought would be an 'acceptable' career. My parents were very encouraging, and my teachers also thought that law would be a great choice, given my skill set. It helped that a lot of people graduate from national law schools with excellent, respected jobs.
I think middle-class Indian parents tend to be very conservative in estimating what careers are satisfactory for their children. However, I have learned that it is very hard to be successful at things that you do not enjoy. I am glad I was never pressured into choosing some other career.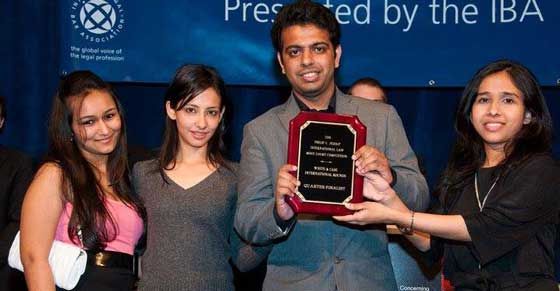 Did your debating skills help you at Jessup?
Yes, that is absolutely correct. Debating is a great platform to learn public speaking. Once you understand how to put forward an argument in a clear and convincing way, you can apply that skill to any number of activities, including moot court. My father was also in debate teams of La Martiniere and St. Xavier's so he was a great help. We had a teacher to coach us in school.
I will say my 'mentors' for moot court were my friends and teammates, Deepak Raju and Rukmini Das, who helped me understand the basics of moots and coached me during the initial auditions for the moot court team. (They were both excellent mooters before I had even considered moot court). I also learned a lot from my experience in Vis Vienna, and could apply those lessons to Jessup. Deepak and I were on a debate team together, and that's how we started working with each other. It was a pretty organic process, and I would like to believe that all three of us learned a lot from each other. I am not a fan of hierarchical team structures where the senior mooters mentor the junior mooters: the best teams are those consisting of friends.
What are your thoughts on activities like mooting and article writing for journals?
I think that writing for journals is a wonderful educational activity, if you can do it. Unfortunately, I was always too bored of academic articles to attempt to write them (but that was a personal preference). I liked mooting because, in addition to the academic part, it allowed me to travel and work on a single, practical project. Jessup (and Vis, Vienna) helped me understand how the rest of the world views different aspects of international law, improved my analytical and writing skills, and taught me how to network in professional settings. I definitely think that law students should try either mooting or writing for journals, if not both.
Did you get any institutional support for internships from your college?
No, I did not. NUJS was remarkably reticent when it comes to helping its students get good jobs or internships. It left everything in the hands of students, which was a good thing since the administration was both languid and incompetent. I did network with some of my seniors in law school, who recommended places where I applied and later interned. On two occasions, I secured internships through personal contacts. Young students should not be ashamed of using their contacts to secure internships. It is a perfectly natural process. If you don't believe me, watch this TED talk
How well do you think your education at WBNUJS prepared you for real world practice of law?
Honestly, I think we could do with less compulsory classes and more optional classes in law school. It is absurd to think that someone who only wants to be a securities transactions lawyer should be required to study jurisprudence or intellectual property. We were required to study so many things that were absolutely useless to me when I finally began clerking at the Supreme Court. And yet, I never had the opportunity to learn subjects that would become really important in my job, like lower-court trial procedure.
Additionally, our subjects were often taught in a completely academic manner, devoid of any instruction on how the law actually worked in practice. Finally, we never had clinics or any other option to learn through practical work. If not for moots and internships, my law school experience would have been completely inadequate.
I do have to say that I had some excellent professors, and their teachings proved to be very useful for me later on in my work. I think law schools need to work on rewarding quality professors.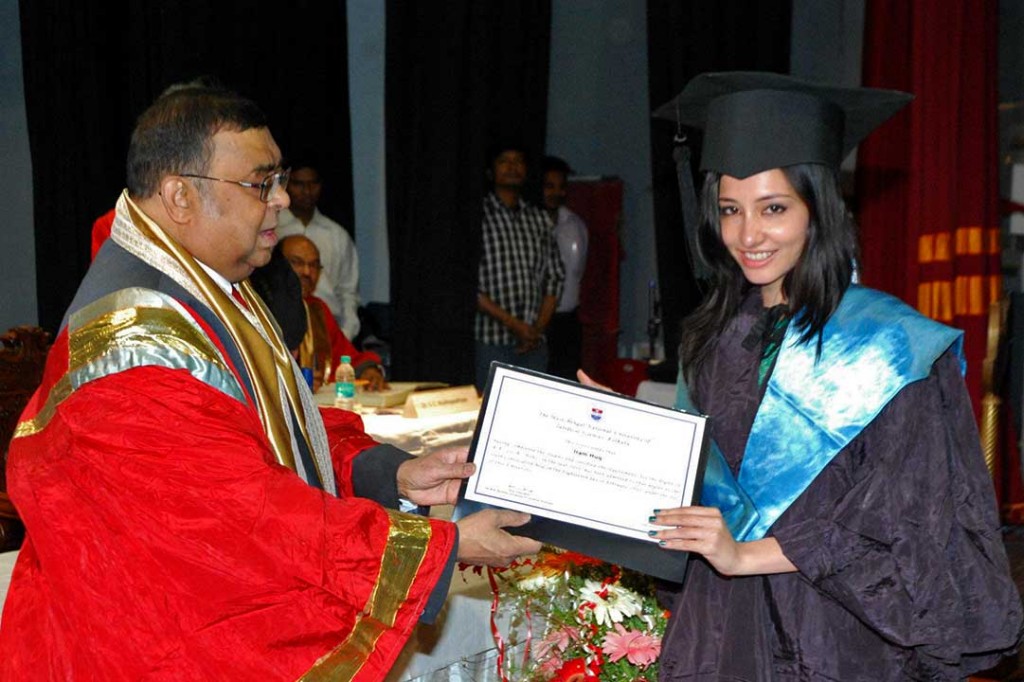 Do you think being from WBNUJS helped your career in any way?
Yes. Even though I complain a lot about NUJS, I have to say that I was surrounded by very intelligent students and studied under some wonderful professors. Compared to other law schools in India, NUJS has an institutional presence that reinforces an academic spirit and encourages its students to learn the law. I'm very grateful to my peers for challenging me and helping shape the direction of my legal career.
Tell us what factors contributed to your decision to purse Juris Doctor from Harvard?
I did not want an academic degree, like the LL.M. I was certain that I wanted to work in a law firm in the US. I was applying at a time when the rate of legal hiring was depressed (it still is), and so I concluded that the JD degree was the best option.
What is the application procedure for a JD from Harvard?
Applicants have to sit for the LSAT, and submit a couple of essays (a personal statement, a diversity statement, and any other essays they want the admissions officer to consider). Needless to say, successful applicants usually have good LSAT scores and compelling essays. Quite a few people have asked me similar questions, and it's hard for me to explain what constitutes a 'compelling essay'. But there is a lot of information available on the internet and on LSAC.
I do not think that anyone can 'hack' their way into Harvard. My only suggestion is that applicants should be able to demonstrate a real vision of what they want to do with their Harvard Law degrees once they graduate. I do not think my own essays were particularly good, but I was able to make up for it during the phone interview. That is why I think that some imagination goes a long way.
The application also requires at least two recommendation letters. Applicants should make sure that they get letters from teachers/employers who really know them and are willing to bat for them. But some institutional weight is also a good thing. I had a letter from Justice Patnaik, for whom I was clerking at the time I made my application. I highly recommend that graduates clerk after law school. It's a great opportunity to learn how judges and the justice system works. And if you do good work, you'll have a recommendation letter from a high court or supreme court judge, which is invaluable.
As for scholarships: I am on a need-based grant at Harvard. Harvard Law does not have academic scholarships, as far as I know. Once you get in, you have to submit a lot of documents about your parents' income and assets, and they assess a grant package. The whole process is very transparent, and applicants can find all the information on the Harvard Law website.
Do you plan to have a career in the USA?
Yes. I am currently working as a summer associate at WilmerHale's New York City office. I hope to secure a job offer by the end of my internship, if everything goes well.
You have been a Chayes Fellow for 2013-14. What does the fellowship entail?
The Chayes Fellowship is awarded to first-year Harvard Law students who travel internationally for public service work. More information can be found at Chayes international public service fellowship
As part of your Chayes fellowship you were an Intern at United Nations Assistance to the Khmer Rouge Trials. Please share your experience of working at Cambodia.
Yeah, that's what I did last summer for ten weeks. It was a great experience—I enjoyed working for the UN in Cambodia. I was working on the prosecution of senior Khmer Rouge leaders. I wrote a blog post about it: Blogs.law.harvard.edu
I gather that most of your internships have been concentrated in and around Human Rights organisations. Is it planned or they just happened?
I was looking for internships where I would get real experience in research, drafting and filing. It just so happens that large law firms in India rarely let interns shoulder much responsibility. Working for human rights organizations gave me a sense of purpose and also the opportunity to be far more involved in the projects to which I was assigned.
The firm where I work at present is WilmerHale; it has a large pro bono practice with substantial human rights work. One of my projects is an asylum case. WilmerHale's pro bono practice allows younger lawyers to shoulder greater responsibility and learn the art of appearing in court. No firm can afford to provide these opportunities in high-stakes litigation, and so human rights work is a great way for younger lawyers to acquire this experience.
How do you manage Human Rights activities alongside the corporate world?
I am committed to Human Rights work, but I am not a fulltime Human Rights lawyer. My goal has been to work in the corporate world for quite some time now (I have to say that I joined NUJS hoping to be a human rights lawyer). I guess I am privileged, because a few US law firms allow you to do corporate litigation work while still fighting Human Rights cases. I do not think that the two goals have to be mutually exclusive: many US law firms are very profitable even though they allow associates time for different kinds of pro bono work.
Lastly, what would be your message to law students who want to pursue a career in human rights?
I would say that they should go for it. Personally, I find the Human Rights 'world' to be a little oppressive: there is a constant sense of urgency and sadness associated with Human Rights work which interferes with my ability to objectively go about my work. But God knows we need more people dedicated to this field. I respect Human Rights lawyers for their courage and tenacity in the face of all odds. I will acknowledge that money is important, and there is not much of that in the human rights world. But we would be wrong to conflate wealth with success. If there are people who are willing to dedicate themselves to this field, we need to respect their legal skills and talent even as we respect rich and powerful lawyers.