Jai Dehadrai graduated from ILS Pune in 2011, worked as an associate in Karanjawala & Co., got a joint masters from University of Pennsylvania Law School and Wharton University, worked at Kline & Specter Law Firm in the US, came back to India and joined the chamber of Justice S.A. Bobde as a judicial Clerk. Currently he is working as a legal consultant for the Times Group.
Most amazingly he also published a book "Aequabilis" and writes under the name "The Irreverent Lawyer" in the Times of India.
In this interview he talks about
Law school experience from ILS, Pune
Post Graduation from UPenn Law and Wharton University
Work at Karanjawala & Co., Kline & Specter Law Firm and Chambers of Justice Bobde
Current work as a legal consultant in the Times Group
Writing columns under the name of The Irreverent Lawyer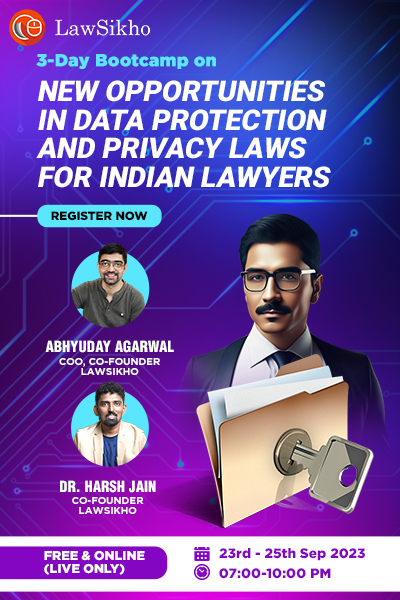 How would you introduce yourself? What motivated you to pursue a career in law?
My family is from a small town near Nagpur, called Dehad. My parents shifted to Delhi in the early 80's, where my elder sister and I were born. We were both admitted to Delhi Public School – where my sister was hailed as a model student, and I was declared a serial offender.
I was a very naughty student in school and loved playing pranks. Although I was academically bright, my gang of friends and I would invariably get into trouble with our headmistress, Mrs. Raghavan – in whose office we practiced the fine art of talking our way out of trouble! This was probably my first brush with a tough but fair judge. My teachers encouraged me to pursue competitive debating and in the process I fell in love with the challenge of combining words with reason to change someone's mind.
But it didn't always work, and I learnt the hard way. We once organised a charity football match and raised a lot of money for the victims of the Tsunami, but without seeking permission from our principal. When she found out about our little 'match', she threatened to suspend us for a week. We tried desperately to reason and argue, which soon turned to begging and pleading!
Very similar to a Monday and Friday in the Supreme Court. Nothing worked and eventually our parents were called to school. I was nominated to speak on behalf of my friends, and I successfully bargained for a lenient punishment.
However, our vice principal, Dr. Saini, realized that the best way to deal with us was to give us the opportunity to debate competitively in a courtroom environment. Taking the cue, my partner in crime and classmate Vikrant Pachnanda and I got together to create the first ever moot court society in an Indian school. We organised several moots and had a whale of a time.
It was then that I knew, the law was going to be my calling in life and have never looked back ever since.
How was your experience at I.L.S Law College, Pune? What were your hobbies during your tenure in law school?
Studying at ILS Pune, or 'Law College' as it is fondly called was a fabulous experience. The campus is easily one of the most idyllic places to study law– thus aptly called the Oxford of the East. Students at ILS are from different parts of India. It has a cosmopolitan crowd. There is healthy competition – no one will try and jeopardize your work to gain an edge. Some of the sharpest minds at ILS were also the most humble. The student body was very nurturing in that sense.
The college is also blessed with some very committed professors. Right from the doyen of Contract and Civil Law, Mrs. Neelima Bhadbhade to the renowned scholar in Feminist Jurisprudence, Ms. Jaya Sagade. Mr. Ajit Kulkarni had has a roaring practice but yet chose to teach part-time. I can never forget how his lectures on drafting were even attended by practicing lawyers!
In the evenings, my friends and I would play football occasionally (they were far more talented than I could ever hope to be!) or we would go for a swim to beat the heat (ILS has its own pool, which is also built in the midst of a forest). The ILS Canteen was another favourite spot to catch up on the latest campus gossip.
Share with our readers a few actionable tips on managing high grades.
(Jai was one of the most exceptional students at ILS Law College. He had graduated with a first division and achieved highest marks in Interpretation of Statutes, Arbitration and Constitutional Law.)
I think it is really important to be intensely passionate about one's field – excellence follows automatically. This is a really clichéd phrase but also the truth. My approach in college was to pursue as many moot courts, debates and research articles as possible, especially in the subjects that interested me. I found that it was easier and certainly a lot more fun, to learn about a subject by preparing for a competitive 'argument', rather than robotically mugging answers for a predictable university-pattern examination. There's not much of a challenge in the latter.
Besides, ILS is not an autonomous institution. Thus, the marking is not internal and neither does one receive credit for papers/projects – as is the case in National Law Schools. Making notes, a list of cases and managing time is essential if you want to avoid the stress of deadlines while performing brilliantly.
You have been a mooter through your law school life, what is your take on mooting?
Mooting, was without a doubt my favourite activity at law school. It was the closest thing we had to a courtroom! Unfortunately, some students avoid mooting – for a variety of reasons. Some have stage fright, some consider it a waste of their time and while others believe it is of no utility to their intended line of corporate work. Sadly, they ignore the immense intellectual benefits that a challenging mooting experience can provide. The intellectual gymnastics involved in simultaneously dealing with a tough set of judges and a cut-throat competitor who is waiting to grill you, can get the adrenaline rushing like nothing else. Mooting also forces you to think 'legally,' as opposed to studying a statute or case in isolation, as one normally does in a classroom. In a moot, you must apply the law to a given set of facts, build a crisp argument which can stand up against criticism. It also forces you to think on your feet – which rarely happens in our non-Socratic classrooms.
My approach was to treat every opportunity to argue in a moot as 'consequence-free practice.' Besides, mooting is so much more than the mere act of submitting a coherent argument before judges. The discipline involved in preparing for a moot court competition tests your commitment for work, to your teammates and most importantly it gives you a glimpse of how gruelling and unforgiving adversarial litigation can really be.
My advice to budding mooters is to grab every opportunity to prepare a well-constructed argument. Never worry about the consequences – if you win, it's a bonus. Else, it's just practice for the next case.
Besides, when else are you going to argue a case without a client!
What skills did you get to hone as the President of Debating Society?
Our faculty in charge for the DebSoc, was a very encouraging professor, Mrs. Shobhana Patil. She appointed me the coordinator of the debating society quite by accident. I would meet her often to complain that ILS did not have its own debating competition to hone talent internally. She asked me to stop complaining and to do something about it. Perhaps she also felt it was time that I moved on from debating to organizing debates!
With a phenomenal team of friends, we conceptualised and established, the 1st ever Justice V.M. Tarkunde Memorial Debating Championship in 2010-11. I had interned a few times with Karanjawala and Co. in Delhi, and thus requested Mr. Raian Karanjawala to sponsor the tournament – which he very generously agreed to do. Thanks to his generosity, ILS proudly hosts a very successful parliamentary debating championship every year now.
Hosting any event teaches you many things – like working in a team, building consensus and ultimately surmounting institutional challenges. Most importantly, we had a blast interacting with all the different participants and training the freshers. At one point we even considered inviting a very controversial Maharashtra politician to judge our debate – a request which was politely denied by our principal!
What kind of internships have you done in your five years of law school?
I worked with different firms – to get a flavour of different kinds of work and also to see firm culture first hand. In my first year I worked with Dua Associates in their corporate team. Thereafter, I did a stint with Hemant Sahai and then Karanjawala & Co. I enjoyed the litigation work at Karanjawala& Co. the best, since they had the largest volume of high quality work. In my 4th year, I did a semester long internship with a subsidiary company of Tata Motors – which was also a very rewarding experience.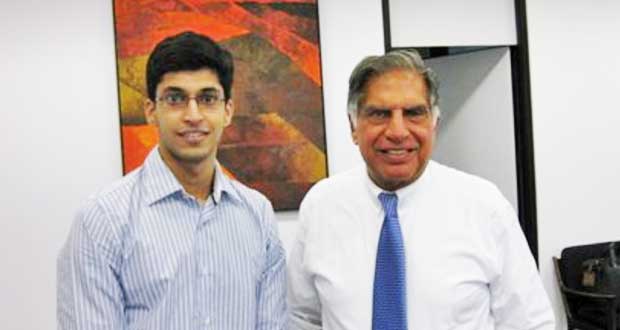 You managed to make a presentation to Mr. Ratan Tata personally in 2010 while interning for Tata Motors legal department. Tell us about your experience.
As part of my internship with the Tata Motors Subsidiary Company, I was required to conduct a legal audit of that particular unit. I discovered some regulatory anomalies, which I felt were not properly addressed by the management. Dissatisfied with their response, I wrote to Mr. Tata bringing this information to his attention. To my utter surprise, I heard back from his office a few weeks later informing me that he wanted to see me and hear about my findings first hand. The Tata's flew me into Mumbai and I had an hour-long interaction with Mr. Tata in his corner office at Bombay House. I was enamoured by his humility and his insistence on the highest ethical standards for all his group companies – big or small. He assured me that he would address all of my concerns.
Before going for LL.M , you worked as an Associate at Karanjawala & Co in their criminal law team . How did your appointment at Karanjawala & Co. take place?
My appointment at Karanjawala & Co. was sheer luck. I had interned with the firm twice before, and upon graduating I requested Mr. Karanjawala to give me a job, which he very generously did. He is known to have a big heart! I worked for the first six months in the corporate team and then in the criminal team – I had the good fortune of exploring different aspects of the law, right from mining and electricity matters to the more sensational BMW and Arushi Talwar cases.
I was a part of the team that briefed Mr. Ram Jethmalani for Mr. Nanda's appeal in the Supreme Court. Although I was the junior most member of the team at the time, my seniors Mr. Sandeep Kapur and Mr. Ravi Sharma gave me ample opportunities to participate in the conferences with Mr. Jethmalani. It is certainly an overwhelming experience to be in the same room as Mr. Jethmalani – his command over the law and his piercing wit are great fun for any young lawyer to observe. I remember distinctly how meticulous and thorough he was during our conferences – with meetings at his Akbar Road chamber often stretching into the wee hours of the morning prior to the hearing. But no one complained.
When the arguments commenced in Mr. Nanda's case in the Supreme Court, I watched in awe Mr. Jethmalani pieced together all of the material he had absorbed in the preceding days, masterfully connecting the pieces of the puzzle to form a simple yet lethal argument. His ability to interpret the criminal code while unravelling the safeguards inherent in constitutional provisions is simply unsurpassed.
Mr. Karanjawala had very generously agreed to represent the parents of the slain teenager Arushi Talwar without any cost – pro bono. I was lucky in that I was able to assist my senior, Shivek, during various stages of the case in the Supreme Court. It is well known now that the Hon'ble Court did not see any merit in the applications filed before them seeking relief for the parents. But I learnt that responsible advocacy requires vigorous representation to protect your client's interests. I certainly still believe in the parent's innocence and perhaps in time their names will get cleared.
Working with a large litigation firm has many advantages. If the firm enjoys a good reputation, it attracts many high profile clients who expect the best quality of work. Mr. Karanjawala runs a meticulous office, and yet the environment of the firm is not stifling or overbearing. Juniors are given many opportunities to get involved in matters and interact directly with clients and Senior Advocates. Since the stakes are high, the pressure to perform tends to be higher.
When did you decide to pursue higher studies? What was your motivation?
I think lawyers must never cease to study – rather, it would be anathema to their professional success if they did so. While ILS was an excellent place to develop a fundamental understanding of the law, I craved a more challenging intellectual environment.
Abroad, the methodology of teaching is very different. Students are expected to be very well prepared before they show up for class. Professors challenge students by employing the Socratic method of teaching, which involves intense class participation. These were novelties for me, since I had only been exposed to a traditional lecture based system of education – as most of us have. My prime motivation for studying abroad was the exposure to a world-class legal education, which I was very fortunate to receive at UPenn.
Besides, I think effective lawyers must keep honing their critical thinking skills. Learning a statute and reproducing answers during a predictable exam might not be the best way of training lawyers. My advice to students contemplating an LL.M. would be to go for it, undoubtedly.
Tell us more about this Joint Master's Degree from UPenn Law school and Wharton University.
UPenn, like some of the other Ivy League universities in the US, encourages inter-disciplinary course selection. Thus the advantage of being at Penn Law is its proximity and association with Wharton – which is a premier business school. As part of the LL.M., one is permitted to take regular courses at the business school as well – with MBA students. It is truly the best of both worlds – with course credit on one's transcript from both schools – law and business.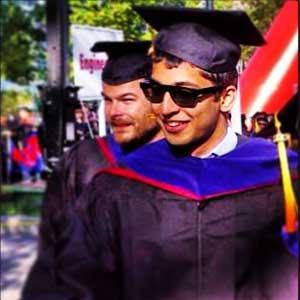 I took a very interesting course on corporate diplomacy, with a Harvard trained Professor, Dr. Sanjay Patnaik. The course covered corporate strategy employed by leading multi-national firms during times of crisis. We interacted with top industry leaders and even leading politicians from the European Union who explained the intricacies of doing business in a complex regulatory environment. Besides this course, Wharton offers a gamut of options ranging from traditional corporate finance to more complex courses on business management. In addition to this, both the law school and Wharton conduct numerous talks and presentations by business and political leaders from across the world.
The exposure is simply mind-boggling – and the result is that one's worldview is significantly impacted.
What was your topic of dissertation for Masters? Why did you choose that subject for research?
Most graduate programmes in US law schools offer a general LL.M., with a wide array of courses to specialise within the Masters programme. My areas of focus were advanced Corporate Law with M&A and US Anti Trust in the first semester. In the second semester I took litigation and drafting courses – such as Appellate Advocacy and Trial Advocacy.
The great thing about this approach is that it allows the student to customise their learning experience. I wanted a blend of corporate law and US style litigation – which is exactly what I got.
Tell us about your experience working with an eminent personality like Professor Raymond Ripple.
(Jai was the only LL.M student to have been accepted in Professor Raymond Ripple's class on Appellate Advocacy, where he also received the highest grade.)
Yes! His were one of the best classes I took at Penn Law. Professor Raymond Ripple is actually a full-time senior counsel for a major US Conglomerate, DuPont. He taught as the adjunct professor for appellate advocacy and took only about 9-12 students for his class. I was very fortunate to have been accepted by him.
Professor Ripple taught an intense course about how to draft a high-quality federal court brief. He was very particular about the style, structure and content of the final product. One component of the final examination required us to argue before judges, exactly the same it would happen in a real federal court system. The argument was then recorded and Professor Ripple gave systematic feedback to each student about how to improve his or her presentation and strategy. As someone who is passionate about litigation, it was an enriching experience.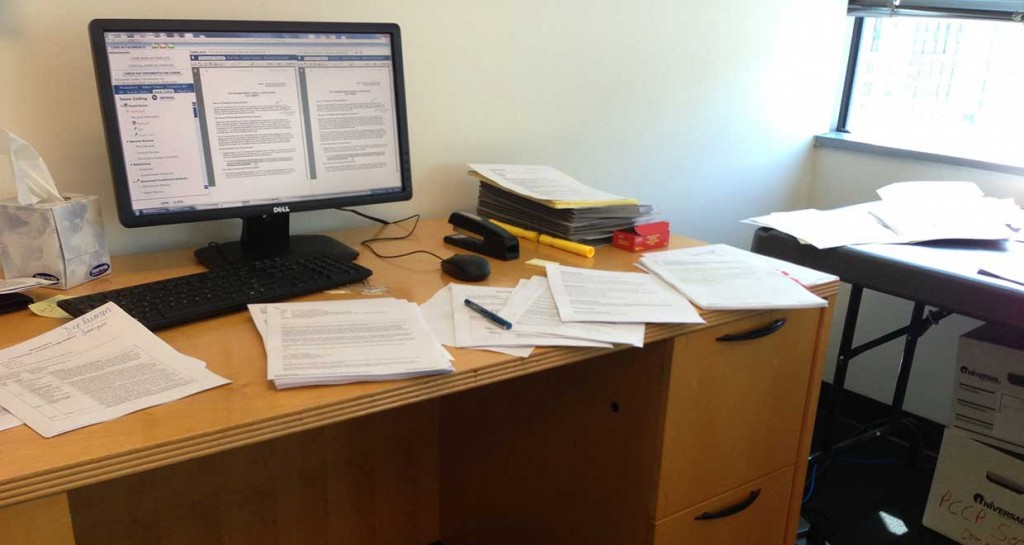 Which events led to your induction into Kline &Specter Law Firm? Were there any interviews or selection processes?
Upon graduating from Penn Law, I applied like everyone else to different law firms. I was very pleasantly surprised when I heard back from Kline &Specter, since it was my first choice. The email came when I was celebrating my graduation with my classmates in Miami – so we had two reasons to celebrate. They called me in for an interview with a Senior Partner, who later became my boss. We spoke about my past experience and also my interest for the specialised nature of work at K&S – pharmaceutical mass torts. Yes, incidentally, I was also the first foreign trained lawyer to have been accepted at the firm – but I owe that to the magnanimity of the founding partners who decided to take a chance with me.
How was it like working in a foreign law firm? How different was the work environment in the USA, from that in India?
American firms – much like top-tier Indian law offices, are very professional and manage their time well. There is a clear expectation for high quality work – which is recognised and duly rewarded. The routine at Kline &Specter was very comfortable and hours stretched only when there was a deadline or a key deposition coming up. The work environment was friendly and supportive. Watching Mr. Specter argue before a full bench of the Pennsylvania Supreme Court (9 judges) was an excellent experience. Top trial lawyers in the US prepare meticulously for their cases – a trait I saw in Mr. Jethmalani in India too.
Our readers would like to know about the whole case which you were involved with your partner. Please share few words about your experience.
(Jai has worked in the pharmaceutical mass torts division with the firm's partner, Mr. Lee Balefsky, on a multi district litigation (MDL) involving a billion dollar law suit against Johnson & Johnson and American Medical Systems for manufacturing faulty pelvic implants.)
Kline &Specter is one of the top litigation firms on the US East Coast for complex pharmaceutical mass tort cases. They have built a reputation for pursuing meritorious cases in a fair manner – they are not after easy wins. I learnt from Mr. Specter that a good lawyer must keep his client's interest at the core of his advocacy. This was especially true for those clients who had suffered horrific injuries for no fault of theirs. They deserve the highest level of commitment from those entrusted to represent them – which is what the lawyers at K&S strove to do everyday.
My work in the Mass Torts division with Mr. Balefsky was very exciting. I was involved in a complex multi-district litigation involving a medical implant manufactured by the top names in the industry. We represented a fairly large group of plaintiffs who had suffered terrible injuries as a result of these devices. Before actually taking the cases to trial, there is immense pre-trial preparatory work that goes into it. The discovery of documents can into lakhs of documents – medical papers, contracts and regulatory filings. Junior lawyers must filter through these papers with a fine toothcomb to create an arsenal of questions with which to conduct depositions of the corporate players.
Thereafter, you returned to India and joined the chamber of Justice S.A. Bobde as his judicial law clerk. What prompted you to make this choice and what made this shift possible?
The founding partner at K&S – Mr. Shanin Specter, apart from being a brilliant lawyer, is also a very supportive attorney mentor. He encouraged my work at the firm and told me that my work was very well regarded.
However, when I got the opportunity to assist Justice Bobde in India – I went to Mr. Specter with the honest question, as to what I should do next. He told me to follow my heart and to do what I felt was best for my career. He also told me that the doors to his office would be open after my clerkship concluded. The next step was obvious – I booked myself on the next plane to New Delhi and dove straight into working with his lordship. I have always dreamt of litigating in the Indian Supreme Court – and this shift made it possible.
What was your work profile while working as a judicial clerk under Justice S.A. Bobde? What do you think are the most essential things required to excel in judicial clerkship?
Justice S. A. Bobde is a very meticulous and hard working individual – he expects the same level of commitment from his law clerk. Despite many of my friends questioning my decision to pursue a clerkship at this stage of my career – I felt it was the best decision of my professional life thus far. Working at the apex gives you a top down view of how the matter has progressed through the courts – you get to see which arguments worked and which didn't. One begins to appreciate the judge's thought process too – which is trained like a hawk to filter out irrelevant arguments.
To be successful in a clerkship, I feel it is essential to fully understand what is expected from one's role. The clerk must play a solid supporting role to his or her judge – by carefully following the judge's instructions, and also by taking the initiative to make the inflow of matters as efficient as possible. Sadly, judges in India are swamped with matters through the week – the workload is truly difficult to fathom until you actually see the volume of matters that come into the office.
I had the opportunity to assist lordship on several criminal and civil matters. The most interesting of the lot was an arbitration decision that centred around the computation of interest on an arbitral award. There is much to be learnt simply by observing a judge.
How did you think of writing a book?
(All India Reporter published Jai's book, "Aequabilis", which is a detailed legal study of former Chief Justice of India R.S. Pathak's landmark judgments. It also discusses the Bhopal Gas tragedy decision in great depth and the development of mass-tort jurisprudence in India.)
This book happened by sheer accident. I've always looked up to Justice R.S. Pathak, as a child would admire his hero. Justice Pathak had a very gentle demeanour and an impressive command over the English language. He was an unassuming man and I was greatly inspired by him. His manner was extremely polished – a result of his fine lineage no doubt (his father was the Vice President and a famous advocate – G.S. Pathak), and he had this knack of being able to connect effortlessly with those several decades younger than him.
When he passed away, rather suddenly in 2007, I wanted to pay a tribute to his memory. When my efforts to organise a memorial lecture for him in my college did not materialise, I felt dejected and demoralised. Instead, I decided to immerse myself in his judgments and other writings – to reacquaint myself with my role model. Over time, I had read through nearly all of his judgments from his days as a high court judge and then his landmark decisions in the Supreme Court. I sensed a pattern in his writings, which was clearly distinguishable from the other cases I had read. Soon, I began critically analysing his judgments – and before I knew it, I had a collection of case comments and essays that aligned with Pathak's core juridical philosophy.
The main chapter of the book, however, deals with the Union Carbide decision of the SC which awarded nearly half a billion dollars as compensation to the victims of the gas leak in Bhopal. I spent several hundred hours analysing this judgment and all the criticism that had been written against the decision. I realised that a lot of the hate came from journalistic reportage that had little understanding of the inherent delays in the Indian legal system – a fact that was acknowledged even by the Supreme Court. My book attempts to set the record straight in this regard – and counters the unfounded journalistic and academic criticism that this decision has faced over the decades. The fact that the Supreme Court has repeatedly upheld the original judgment is testament to the integrity and foresight of the Pathak Bench.
Share with us your experience in getting your book published and what was the reception to your book?
The editors at AIR Nagpur were extremely supportive and encouraged me to publish my writings in the form of a book. Interestingly, Mr. Ratan Tata has penned the foreword to the book and has praised the chapter on Union Carbide. Ambassador L.L. Mehrotra released the book last September at the India International Centre. The release was followed by a panel discussion with Ms. Sunita Narain – a noted environmentalist who debated the merits of the Bhopal Judgment. All in all – it was a very rewarding experience.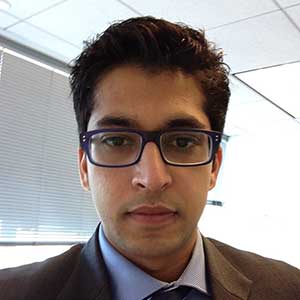 Currently, you are working as a Legal Consultant to the Vice Chairman and Managing Director of the Times of India Group, Mr. Samir Jain. How did you go about bagging this job?
Yes, I am presently attached with the Vice Chairman's office at the Times Group. I wanted to understand the intricacies of the media landscape in India and also learn about corporate strategy – from a lawyer's perspective.
I consider myself extremely fortunate to have been picked by the company to assist the CEO Group. I applied and was interviewed by their HR department, before being confirmed for the position.
Please give our readers some tips to nail an interview.
I think it's really important to be honest and clear in any interview. Most HR professionals want candidates who can think and articulate clearly. It doesn't help either if one has a negative attitude during the interaction – that would be a big red flag for any organisation.
How do you balance and make out time for writing blogs and other newspapers with your profession?
(Jai is one of the youngest columnists by the Times of India in 2012 and he regularly writes under the name "The Irreverent Lawyer" on legal and political issues as your hobby. He also writes occasionally for the Hindustan Times, Niti Central, Indian Exponent, Power Politics and the Daily Pennsylvanian.)
Writing helps me to de-stress! With all the views and counterviews flying around on the 24X7 media, I find it very soothing to amplify my own voice of reason to cut through the chatter. I usually write only about issues that I'm passionate about. I dislike hypocrisy and you'll notice that some of my writings attempt to expose the rampant doublespeak that certain groups indulge in.
I honestly do believe that lawyers can play a productive role in a democratic polity –by speaking up for the weakest sections of society. We're also bound by our profession's code of ethics – which demands that we strive for justice, inside and outside the courtroom.
Early mornings work best for me when I want to get some writing done. This way there's nothing to disturb my thought process – since everyone's either asleep, or they think that I'm still asleep!
Do check out my column here – http://blogs.timesofindia.indiatimes.com/author/jairai/
Has writing been a passion ever since childhood? Do you have any future plans of taking up writing as a career?
Litigation is definitely my first love and I am committed to it professionally. Besides, I would make a terrible 'fiction' writer – I know that for a fact! Writing is a relaxing hobby for me, and I enjoy indulging in it occasionally. Unfortunately, I feel that I lack the self-restraint and neutrality that a career-journalist should possess. I feel too passionately about certain issues, and I make no effort to hide my biases. Hence writing as a journalist is ruled out for me. Besides, I enjoy the thrill of litigation far too much to do anything else!
What message do you want to give to the Government for not paying attention to this issue?
(Recently, Jai has written an article in the Hindustan Times which discusses the problem of low judicial pay in India)
Judges in India are terribly underpaid – and it is a very serious issue that no one talks about. To compound the issue, our judges tend to be very traditional, and thus choose to suffer in silence to preserve the judiciary's dignity. Despite their ever expanding workload and long hours, and the astronomical rise of lawyers' fees, judicial salaries have largely stagnated at unrealistic levels. Good lawyers may one day refuse elevation on the ground of inadequate (in fact insultingly low) pay.
My article highlights this issue and warns the government of an impending constitutional disaster if this disparity is not addressed.
Lastly what would be your message for law students?
The only recipe for success in our profession is perseverance and hard work. Unfortunately, there are far too many young lawyers in Delhi and Mumbai, who are desperate to make a quick buck by adopting unethical means. Please don't become like them. They latch on to established lawyers to become middlemen between clients and their own seniors. In the process, they swindle the client by over quoting the fee. Sadly, these so-called 'lawyers' never realise that their reputation at the Bar suffers immensely – and they are labelled for life.
Justice Pathak gave me excellent advice, which might be relevant to your readers too – "Work honestly for what you want. If it comes too easily, it'll probably leave just as easily too."