Jai Sahai Endlaw graduated from NLU, Jodhpur in 2013, and thereafter he had the opportunity to pursue higher studies from the University of California, Berkeley. While at law school he had huge achievements in mooting, his team at NLU, Jodhpur went on to win the 16th Stetson IEMCC World Rounds, an Honourable Mention for Best Respondent Memorandum at the 9th Willem C. Vis (East) Arbitration Moot, at UC, Berkeley also his team made it to the Semi-Finals Pacific Coast rounds of the 55th Philip C. Jessup International Law Moot Court Competition.
With so much to tell you about him, we could ask only a few questions on:
Academics and internships for a career in litigation
Partaking in the best moots and acing them
LL.M experience from UC, Berkeley
What is it that motivated you to take up law as a career? Was it an engineered move or a sudden decision?
I knew early on that I wanted to pursue a career in law. Two factors anchored my decision – It being a family profession, the daily challenge of a court room drama was fascinating, and it was matched with my interest in current affairs, debating and reading.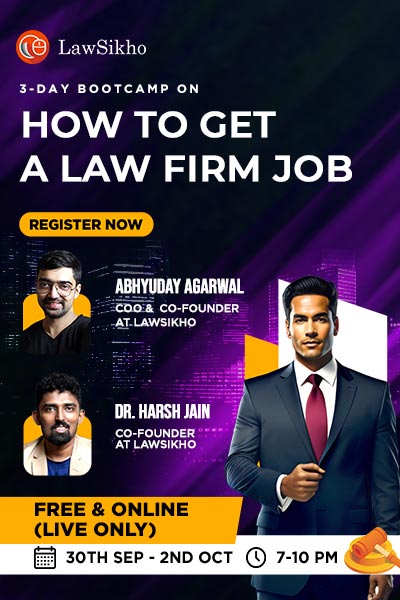 Would you say your parents were quite instrumental in making you take law as a career option? Did you get to hear legal discussions right from your childhood days?
My parents were instrumental in helping my shape my career decision. The choice was entirely mine. In fact they are of the opinion that a study in science at school level helps develop and hone analytical abilities – I studied science at school. My father litigated in the District Courts and High Court. During his practice, he largely dealt with matters on the civil side, original and appellate which included property and rent matters. My parents gave me complete freedom to find my calling at law school, and even supported me when I expressed my desire to pursue further studies abroad. Yes, legal discussions were a part of routine dinner table conversations – I'm a third generation lawyer.
Having a family with legal background may prove to be a huge advantage as far as establishing a practice is concerned. What is your opinion on the same? Did this factor ever play a role in influencing your decision to take up law?
A legal background and family practice is definitely a privilege and of help, but only to the extent of giving you a realistic perception about the practice and understanding law as a profession. Ultimately, in the business of advising, you bring 'yourself' to the table. There may have been some subtle influences acting upon me whilst I made my choices, but it is imperative for the choice to match your area of interests. Only then can one support and sustain a career long term.
Did your internships motivate you to get more involved in litigation than corporate law?
Internships are indeed processes of self discovery. If you work on them seriously, 4 – 6 weeks of work in a firm or under a practicing advocate gives you an insight into what your future requirements may be. My core area of interest lay in a litigation practice of my own, and the internships were great learning experiences. In fact, my first internship was with an advocate who practiced in the district courts as well as at the High Court. I followed him in the Courts and observed him arguing over the course of one summer and that cemented my decision to litigate after law school. Since that involved regular Court appearances and briefings, I felt that working with an advocate would be befitting. Practical, hands on work, always helps to either endorse or change your career trajectory.
What role do academics play in the career of an aspiring litigator?
Academics and exam scores are baseline platforms for professionals. One must use the time of five years at Law School to learn to examine critically and couple the approach to build a mature thought process and a confident personality. At the end of the day very few lawyers ask you for your transcripts when you apply for a job as a junior advocate. Our profession is such that law school can only effectively prepare you on the theoretical aspect of law, practical knowledge will come on the job but only after you are sound on what the law says.
Is there anything apart from academics that a student who wishes to pursue litigation must involve himself in during his law school life?
I don't think there are any specific categories of activities that one can pursue at Law School that necessarily help you become a better litigator or corporate lawyer. Having said that, moot courts are wonderful modules with fun and competitive ways of learning the law in a specialized area. They involve in depth research for specially constructed problems, and require clarity of mind and articulation. I haven't written any papers myself, but I'm well aware that the effort, reading and critical reasoning that goes into publishing is another great opportunity for law students, not only to express their views but to test their analytical skills.
Your team won the 16th Stetson IEMCC World Rounds and also an Honourable Mention for Best Respondent Memorandum at the 9th Willem C. Vis (East) Arbitration Moot. How big a role do you think mooting plays in the overall development of a lawyer?
For me personally, mooting was definitely a confidence booster. It also taught me that hard work does really pay off. The way international moots are structured, you read and research about specific areas of international law for months and in the process learn the importance of team work and improve your drafting skills. These are important lessons that stay with a lawyer for their entire career. Actual practice before any court is different in terms of the pressure, you plead your case on behalf of a real client, who is depending on your skills and knowledge to get him relief. Mooting definitely helps in aspects such as marshalling the facts of a case and narrowing down and identifying the issues in a legal proceeding, but appearing before a judge who is sitting not only to adjudicate your case but multiple others on the same day is a very different and unique experience.
How was your LL.M experience from University of California, Berkeley. Did you always have higher studies in your mind? If not, what motivated you to go in for the same?
A post graduate degree was always very much on the agenda. What really clinched my decision to apply was my experience at international moots, meeting teams from various countries, observing their approach to the moot problem and touring various American Universities after Stetson. You will be surprised at how easy it is to walk into any law school in the U.S., introducing yourself as a law student from a foreign country and informing them of your desire to pursue higher studies in the U.S. and as a consequence being invited to sit in on one of the lectures being held at that time!
For those students who are planning to go for higher studies, what do you think would be better- going right after graduation or going after having gained some work experience?
I can only speak from my personal experience. There are no short term benefits of an LL.M degree/diploma in a career in litigation in India. The take away is largely in terms of personal growth. However, from what I told, as you grow in litigation and deal with MNC's and foreign clients, a degree that such clients can relate to helps in them relating to the degree holder as well. Couple that with an international network that you develop during your LLM, and it's a powerful combination.
International experience is one of the most important components of a 21st century education, and a study abroad can be viewed as a step in that direction. Indian university graduates are relatively stronger on 'soft' skills such as interpersonal skills. Foreign degree holders appear disposed towards critical thinking skills, and using their knowledge to solve real world problems.
The eternal conundrum that law students face is when, if at all, to pursue their higher studies. I chose to go straight after law school because I felt that I couldn't afford to settle into a litigation career of a couple of years only to uproot it and go abroad for a year (or maybe more). On the flip side, I was one of the youngest in my batch at Berkeley Law and that has its own fair share of baggage!
What do you think is the perfect formula for candidature at a reputed law school for further studies?
I don't think anyone has found the perfect formula to get accepted to the best universities in the world. But I do know that the universities definitely look for candidates with diverse backgrounds. Your personal statement should reflect a focussed approach as to why and how the course you are applying for is the right choice for you and what in your qualifications supports that cause. I would definitely advise any one looking to pursue further studies to keep a healthy balance of their academic with co-curricular activities such as mooting, publishing and presenting papers, participating in workshops and conferences in the area you are looking to speacilize/study further in.
Is there any tip you would like to give to our readers, most of whom are students pursuing law?
In retrospect, I found that law school makes available a broad canvas of choices to law students and it is imperative for a law student to figure out in the five years – be it through internships or through pure academic interest – where your passion lies. This can be immensely helpful at the time of recruitment as well as applying to foreign universities.