Jitendra (Jeet) Soni graduated from KIIT Law School in 2013. During this time he has interned with Dr. Tamara Relis, External Grant Researcher, The London School of Economics and Political Science, Dr. Rajeev Dhavan, Senior Advocate, Supreme Court of India, Hon'ble Dr. Justice Vineet Kothari, Judge, Rajasthan High Court, and with firms such as AMSS, Trilegal, Wadia Ghandy & Co., among others. He is currently Associate at Gnarus Partners. 
In this interview we speak to him about:
Experience as a participant and as an Arbitrator at the Willem C. Vis Moot
Work experience at Gnarus Partners and being featured as a rainmaker in legal media
His diverse internship experience
What motivated you to pursue law?
To be honest, I can't remember an isolated incident or a point when I decided to study law. So far as I can remember, I always knew what I did not want to do (for instance, joining family business or engineering!) instead of knowing what actually I wanted to do. Going by your question, if there had to be a point, I think it must have been the day I joined coaching classes for law entrance exams. Because after that, I don't remember even a single day when it dawned on me that 'let's try something else'.
I have had a brilliant journey back there during law school – both personally and professionally. My whole personality underwent a drastic change during my college life and I feel good about myself. Made a lot of friends, committed mistakes, learnt from them, failed a lot more than I succeeded and infact, I did every sort of thing that one can imagine about his/her college days.
What does it take to write a great moot memo?
(Jeet won the Best Memorial Award at Commonwealth International Law Moot Court Competition during his first year itself.)
Despite the fact that I achieved early success in moots and was tagged as the best researcher by my gregarious peers, I don't consider myself as any authority. I'm a hard core believer of individuality and I believe every individual has something worth contributing and sharing. I consider this as a wonderful opportunity to share all little things that I have learnt by virtue of being on both sides of the bench in moot courts. To begin with, never consider any of your piece of writing (be it a memorial, an article or otherwise) as a mere collection of words and research on an A4 page of Microsoft Word. Rather, make an attempt to see it as a 'living person' which has to be meticulously brought into existence by using a perfect mix of 'a well-structured skeleton' and 'comprehensive research based flesh and blood'. Not to mention, you should dress it well by using several in-build features of Microsoft Word. In the words of Harvey Spector (from Suits), "people respond to how one is dressed", so like it or not, this is what you have to do.
I would club the required skills for writing a good memorial into three broad categories:
Reading and researching
Drafting
Formatting
The starting point of reading would be the moot problem. Not just once, but several times. Be as curious and inquisitive as you can about the existence of every word, full stop and comma used in the problem. Because there is and there has to be a reason behind it. On research part, always start with the basics and then move deeper into it. If you are reading a relevant case law, book or an article, don't just jump through pages, instead swim through every word and sentence. Keep noting down the phrases and sentences which you subjectively consider as being useful at drafting stage. If you research online, don't get impatient if Google doesn't give you a relevant hit during initial searches. Be patient enough to reach till the last page of Google when it says 'no more results' (bad luck, if you have to go so far!). Use every damn keyword (by permutation and combination) that you can think of while using Manupatra, Westlaw or any other research databases. The idea is not to miss out on anything that is of even least relevance.
Once you are ready with your understanding of facts and research, prepare a skeleton of broad arguments (table of contents essentially). On one hand, it would define the broad contours in which your arguments will operate while on the other, it will give the reader an easy understanding of your thought-process behind the entire memorial. On drafting part, never forget to keep a systematic flow in each and every sentence and argument that you write. To put it simply, it should be one, two, three, so on and so forth, rather than one two, nine, four, and so on. Ideally, you may want to put one line each on the extant law, judicial interpretation followed by its precise application on the set of facts and logical conclusion.
Always draft your memorial in plain and simple English and be very selective in making a phrase or word 'italics' or 'bold' within a paragraph. Trust me, you don't want to grab unnecessary attention of the reader or judge on an argument or phrase which doesn't feature in your top-four arguments. Not to mention, know everything about a case law before you cite it or an author before you rely upon his commentary. Discuss and even argue passionately with your teammates on every little aspect of the memorial.
Just because you have found a relevant or a convincing argument in a book or an article, that doesn't necessarily make the author reliable or authoritative. Conduct a background check, how far that author has been cited by the Courts, if not, read the preface of his book to understand why he should be relied upon. I remember having an in-depth heated debate with my partner-in-moot, Kanad on whether we should cite the article written by a particular author or not! This is what I am talking about.
Now that our living being is in existence, we should talk about dressing it up! Master the features of Microsoft Word. It is an assurance from a person who has himself learnt from the 'Help' option of Microsoft Word that once you have grasped these features, you will be able to format memorials (both sides), within 25-30 minutes at ease. The time you will save here, can be productively utilized for research and drafting.
I would suggest you to start learning from the basic shortcuts to intricate functions like in-built table of content, cross referencing, in-built table of authorities, styles, multilevel lists, controlling widow/orphan, etc. Once you are comfortable with these features, start using the 'paragraph marks' feature (appearing in paragraph on home tab with this sign – ¶) to be more vigilant about unintended formatting errors in the document.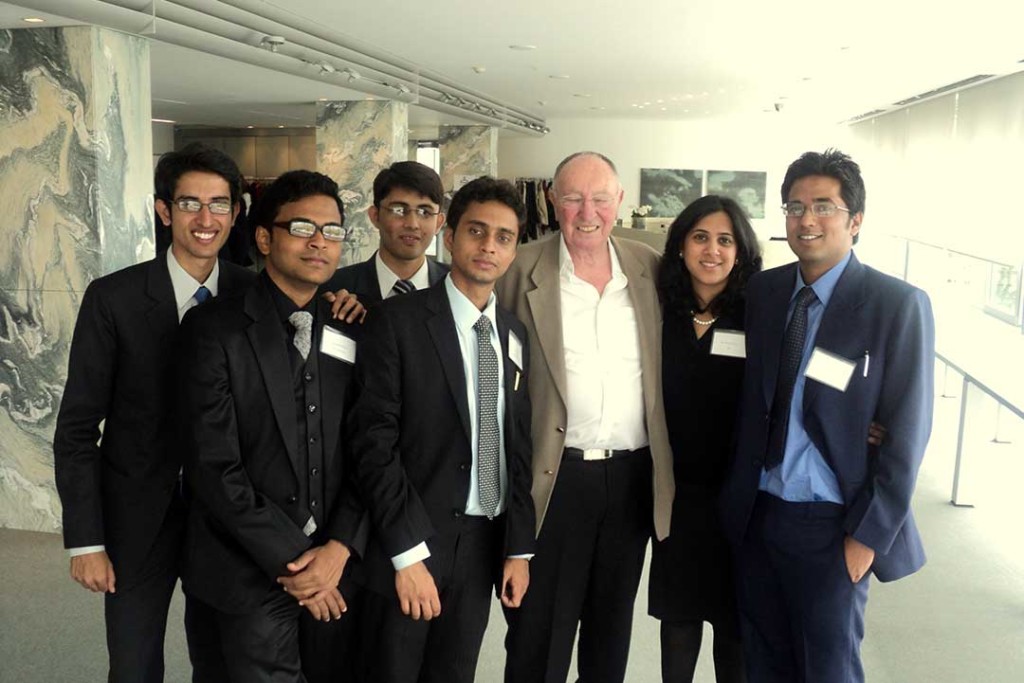 How was the experience participating in Willem C. Vis International Commercial Moot Court Competition in Vienna as a participant in 2011 and as an arbitrator recently?
Vis has always been brilliant – back then and now as well. Vis Moot gives a wonderful opportunity to meet the other teams, coaches and arbitrators from across the jurisdictions with the best part being – you meet and greet all while enjoying a glass of fine Austrian wine and finger food. The most glamorous and enriching experience was to be accompanied by Prof. Martin Hunter during the oral rounds in Vienna, under whose overall guidance we had prepared for the Vis.
Indeed, it was a breath-taking experience to be on both sides of the bench. Being on the participant side – I certainly find myself lucky enough to be a part of a team whose chemistry and bonding was unparallel (and our ties continue to grow even when each one of us is in different jurisdictions). During the memorial drafting days, we used to engage quite more than often in 'verbal riots' on an argument of the moot (although as a rule, such altercations used to get settled with delivery of a Dairy Milk as a settlement!). While at the time of submission and sending the e-mail with memorial copies, we would keep our whiskey glasses ready for a night-long celebration. The kind of motivation and all ancillary support (including finances) that we received from college was overwhelming and to this very date, we remain grateful that they all believed in us! Specifically answering your question, Vis continues to be my finest exposure till date.
Being on the other side of the bench this year was altogether a (renewed experience). It was rather exciting to refrain from asking questions and conduct the proceedings at par with those of international commercial arbitration. This was indeed in sheer contrast with the Indian mooting scenario where (with all due respect and as far as I have observed and heard), judges ask questions with a sole purpose to test whether the students have understood the problem and the law or to make the oral arguments 'interesting' or to 'showoff' one's knowledge.
My personal opinion is that such questions are not appropriate for moot courts that attempt to simulate a real-time dispute. Whatever limited understanding I have gathered about judging a moot is that as a judge, you should strongly refrain from questioning to the extent you refrain in a real time litigation/dispute resolution proceedings. That is the thin line of difference that I learnt as an arbitrator at Vis, which I believe gives maximum space of learning to people on both sides of the bench.
How helpful do you think is mooting for a law student?
I think this should not even be a question. To understand the real issue myself, I have not only read the opinion of past interviewees on this website but I have also interacted with my juniors and a few interns at our firm on the issue. From what I understand is that the scenario amongst the law students is characterized by rather a 'polarized debate' between the proponents and opponents of moot court competitions, with each positing themselves on opposing extremes of the spectrum on this point. That apart, I remain confident that mooting is much more than being a 'list of extra-curricular activity' on your CV.
I have been passionate about mooting and continue to be so till date! It is rather a deceiving thought that mooting belongs to those who intend to litigate. From my assessment and experience, a person who has workedon a moot with dedication and has derived the maximum learning out of it, can use such experience in any field s/he would take, whether litigation, corporate or otherwise. I mooted back then and today I am a transactional lawyer (often working on complex M&A deals involving a range of document drafting) and believe me or not, till date, I remain thankful to moots for giving me all these skills. You learn to be comprehensive in research.
You learn to put out your best research in precise words on a document. You learn to adhere to timelines. You learn to critically analyze whole range of issues left out by the statutes, courts and authors failing to clarify and/or thinking beyond the 'conventional' realms of thinking. You learn the sophisticated document management skills including drafting and formatting the document at professional level. Tell me, are these skills only relevant for a litigating lawyer? I am sure they aren't and that's why I think, there is a need to reclassify this debate itself. From the above points that I made, it is clear that mooting can give you much more than mere a CV-showcase, provided you have a direction in your efforts and approach.
You have won a Best Article Award and also have had a number of other great publications. How important is it to publish articles being in a law school?
Very, very important! Tell me, what is an article all about – is it only about words that we write? Or is it a collage of the time-consuming research that we did? Answer is a BIG NO. An article in simple terms is your way to contribute to the legal academia, using your own analytical thoughts based on the fallouts of the existing literature. Something more than what exists already on Google or any legal database. As a law student, when you write (even writing without the intent of publishing) or publish an article, you showcase that you are constantly engaging in brain activity and are inquisitive towards the unsolved issues and in the process, you also make a remarkable impact on your CV.
At the end of the day, it is a call which we have to make – whether we want to fiercely cite the opinion we took on a certain legal question or to quote, every time what has been quoted since centuries in all textbooks, case laws and by every Tom, Dick and Harry.
How should one get started about publication?
Fortunately, we are law students who are required to research and write papers as a part of our curriculum or during internships as a part of the work that we have been assigned. Start from that! Always remember to retain your research and notes on any hot-topic that you prepared during your assignments, moots or internships. Whenever you find time, start with that as the base and take that to its logical end. That's the easiest way to pile up the publications!
It never took me more than a week since all the publications that I have, are solely based on the work that I did either as a part of my curriculum, moots or internships.
What procedure did you follow to apply to the law firms you worked with?
I have no qualms in admitting the unspoken rule of law firms in India (generally but not always!) that there is much emphasis on the tangible factors such as 'institutional name', 'CGPA', 'uncles and contacts', etc.. These factors sadly but inadvertently dominate the decision-making process for granting internships. Having said that, being a first generation law student from my family (with absolutely no nexus in the legal fraternity) and hailing from a young institution which was in the process of establishing itself in the market, it was very difficult for me to secure an internship. It was disheartening to see constant rejections at a stage when I desperately needed an exposure in my area of interest (corporate law).
My story of first law firm internship is rather a bit unconventional – it was through LinkedIn that I got in touch with Mr. Aditya Prakash Rao, the then Senior Associate at AMSS, under whom my friend, Kanadhad interned. Based upon his performance during that internship, Aditya was more than willing to put me in the process of internship and eventually, I secured my first law firm internship. At this stage, I suggest the readers to be active on LinkedIn and build as much of a professional network as they can. It can help you in securing guidance of the professionals and sometimes internships too. It worked for me and I am positive it might work for you as well!
Once I got the much needed opportunity, I made sure to make the most out of it. I was on my toes all throughout. Going forward, during every subsequent internship, I made it a point to set and break my own precedents of working standards. And rest is history now!
What does a normal workday at Gnarus Partners entail?
I can't recollect a single instance during my tenure at Gnarus which can be remotely categorized as 'normal' or 'routine exercise'. It would not be too abstract to say that my role in the firm has been much beyond the conventional contours of my appointment letter. When you decide to join an established institutional framework, you are aware well in advance about the responsibilities that you will undertake there. Everything is set, you just have to get in and make yourself comfortable there. But the challenges accumulate and the story gets interesting, when you decide to join an institution in the making.
Before I could even absorb my role and responsibility there, I was entrusted with a role which I could have never imagined. Within my first month, I got the opportunity to sit in the board room of one of the biggest media houses in the country, and conduct the 'closing' of an acquisition transaction. Well, if I think about that moment in retrospect, I feel embarrassed about knowing nothing at that point of time. What gives me a great deal of satisfaction today is the role that 'moment' played in shaping my mind and to know my place in the firm.
Slowly and steadily, I think I have come down to know my role in the firm very well and today I don't consider this as an entity anywhere distinct of me. In my 1 year of experience with Gnarus, I am proud to admit that I have not lived the same day twice! (Oh, yes!). I have witnessed a variety of matters. Some of them were indeed quite related to my comfort zone and many others – I knew nothing and by the end of the day, I walked with a great deal of satisfaction of having learnt something. Apart from leading the firm upfront with Rishi in transactions, negotiations and other drafting work, I also had my own share of experiences of being an IT guy (fixing internet bugs in office), HR person (fixing up internships) and a few times in the capacity of a plumber and electrician too!
Ever since I joined Gnarus, my introspection has reflected in my growth both in terms of a learner as well as a thinker. However, whenever I think in retrospect today, it gives me immense satisfaction to see myself to have mirrored the evolution of the institution, having had the opportunity to contribute to it in my own modest way.
Before joining Gnarus, I had worked in the capacity of an Assistant Manager (Legal) at Kotak Mahindra Bank for roughly around 2 and half months. At Kotak, I essentially dealt with the cases in relation to SARFAESI Act and other related matters. I could never relate myself to the work which I was undertaking there and precisely that was the reason I decided to make an early move to do what I really wanted. That apart, till date I enjoy a very strong bond with my mentor at Kotak, Mr. Manish Kumar Gupta who heads the Delhi office.
What is your take on working at a smaller law firm in early years of career rather than working at a very big law firm?
To clear the shades of doubts, let us be clear on one thing – the size, name or repute of an organization are all irrelevant considerations in determining the kind of exposure you will get. In my personal opinion, at the cost of being a little cliché, it is the effort and willingness of your mentor with whom you work that matters the most. At the cutting edge of the profession where one is looking for opportunities and challenges, one should be at a place and with a person who will provide one with interesting and varied workload that will guide him to push boundaries and set new standards. That will surely involve a constant motivation on one hand and constructive criticism of your performance on the other by your mentor. The level of interaction with this type of mentor shall range from teaching you the very basics to pointing out mistakes from your work which you believes is your 100%. This mentor will always strive to guide your thought process and invoke your hidden analytical skills, rather than giving you external 'directions'. Without any penumbra of doubts on your capabilities, he will make you work in your own sphere, reason with you, and not discard your suggestions unceremoniously. I am glad that I have found everything which I could have asked for in my mentor, Mr. Rishi Anand.
Needless to mention, I am not advocating for either sides, rather I am of firm opinion that opportunities lie across the spectrum (both in big law firms and the start-ups) and students need to think more broadly as to where do they actually belong. It might not be always necessary that after graduation, every student shall be well aware of his areas of interest. For them, it is far more important to engage in as many experiences and choices as they can which will help them immensely in exploring and locating their niche. But what is most important is the person with whom you shall be working!
Does the entire team go through brainstorming sessions for transactions and deals that the firm does or does your Partner finalize everything and tell you what you have to do?
Well, if I had to give it a ratio, I would say 99 percent of what goes into the transactions is his experience and knowledge, with the best part being our involvement at every stage of decision that he takes. The great thing about Rishi is that he knows that the associates (at early stage of their careers) are not as confident or convinced about their subject, as the Partner is. To fill up this gap, he makes a point to explain us the intricacy of each transaction and strategy to deal with it and at the same time, he keeps his own decision open for discussion. We work as a team and we argue, debate and discuss, but we never forget that we are working towards a common goal. Yes, I admit we have creative differences, but it's not like 'it's my idea' and 'it's his idea' in our firm. The idea or the approach that works for the client is the best idea. So, either he convinces us or we convince him, but the communication line is open. We work freely with Rishi with no ego at play, neither a Partner's nor a Senior's. It's only about work! In my limited years of experience I have never seen anyone so deeply involved with his team. He sees a part of him in us and try to build up us every single day. Any other Partner would just tell his associates, get this work done. But Rishi takes our views and it's our excitement to take up that responsibility that drives him. He knows we can carry out any transactions, no matter how big or small it is, only if all of us are equally devoted. That's what teamwork is all about and that's how we have been working since Day 0 till now.
Do you accept interns at Gnarus Partners? How does one apply?
Yes, we do accept interns on rolling basis throughout the year. Our internship program has been designed consciously to reach out to the 'bright and unexplored talent' (as clichéd as it may sound) we all know but no one admits that within the internship process that exists and operates, there is an over-emphasis on tangible factors. The overall result of this 'sad state of affairs' is that, numerous brilliant legal minds out there who are not in favourable positions are excluded to even get a platform to perform.
It was our conscious decision to make our firm accessible to such talent and once they join, making the firm inclusive. For these reasons, we have fostered an inclusive work environment where interns are treated at par with Associates from the day they arrive, where they are encouraged to think critically and where their reasons are heard patiently. Acting against the Indian convention, we have developed an open door policy which ensures that interns are treated as an integral part of the firm. Be it a quick question on interpretation of law or drafting, or if they need any informal advice, at Gnarus, you will find the entire team more than willing to exchange their thoughts with you.
The process to apply for an internship at Gnarus is pretty simple – send your CV via e-mail with a cover letter to delhi@gnaruspartners.com and CC it to jitendra@gnaruspartners.com (which is me), at least three months prior to the period during which internship is being sought. Shortlisted candidates shall be invited to complete an 'internship questionnaire' followed by a quick response from our side. The factors that we consider while evaluating a person's candidature do not start and end with his/her résumé and tangible academic results. Rather, we look for qualities which reflect beyond these. We believe that there exists certain parameters which cannot be objectively verified yet constitute an integral part of one's intellect. With this background, we have specifically designed our internship and recruitment policy to enable us to learn more about the applicant as an individual.
We are an entrepreneurial firm that expects people joining us to be brimming with ideas, innovation and energy. In addition, we look out for people who have a wide range of experience and interests outside the legal arena as well. We require our prospective applicants to have highly effective communication skills to advise our clients on sophisticated legal and commercial issues in simple terms. Other core skills which we deem as fascinating and essential in our prospective applicants include, amongst others, a good sense of humour, commercial awareness and independent thinking.
We truly understand that applying for a job or internship at a law firm can be daunting and time-consuming. At Gnarus, we assure our participation at all levels to ensure smooth sailing of application. Once we receive applicants at Gnarus in accordance with the terms of our recruitment policy, we make it a point to read each and every application with utmost care and strive to communicate our decision at the earliest.
It is our understanding that the applicant will gain more out of the process if they have a clear cut understanding of the values of our firm and their future aspirations. Afterall, selection is a mutual process whereby they decide whether we are right for them and we reciprocate.
What would you consider as an exceptional internship performance?
Frankly, I do not know what exactly is exceptional, but I can surely share the ingredients which are likely to make one's internship quite exceptional. Always be an 'innocent learner'. As I have always conveyed to our interns, it is a good thing to know 'nothing'. It is not a traumatic thought, rather it is a sign that you are open to learning. The day you make yourself believe that you know 'everything', you shut down your avenues of learning and growth. If you don't know about a particular subject, admit it and try to read, discuss and know everything about it. Never try to proclaim that you know things, when you don't. You can't fool them forever; they are professionals who are much more experienced than you. Today or tomorrow, you'll encounter the reality. In case of doubts, never be afraid to approach the supervisor and clear the same at its very inception rather than sitting and sleeping over them. Try to focus on doing your work in the most diligent manner and by putting your own original thoughts. Existing literature or resources are there to guide you and not for (Ctrl+C) (Ctrl+V) purposes. And lastly, your contact with your supervisors and colleagues should not be limited during the duration of your internship only. Rather, keep your supervisors in the loop. Trust me, you will need them – not as a 'fancy contact' in your smartphones but to guide you throughout your career.
You were featured in various top-notch deals that were published on popular legal portals such as Legally India, Bar & Bench, etc. How do you feel about it?
One of the most important things about this profession is that you are required to not only work hard round the clock, but also to remain constantly visible in the market. Your career graph won't take a leap if you remain dormant in the market with least interaction with the people in the industry (physically or virtually). I am not suggesting that one should work solely for the purposes of getting featured on portals. In my opinion, publication merely symbolizes the amount of hard work and risks that one has undertaken in the background. However, the point that I want to highlight is that it is not something one should waste his time craving for.
Coming to your question, indeed, it is a great feeling to feature on these popular portals whose reader base is humongous within our legal fraternity. But I have never worked keeping this as an end. What fascinates me? It is the genuine feedback of clients that gives me more satisfaction than surfing the internet and viewing these news items. Again, I would not have featured outside the contours of 'LinkedIn' and 'Facebook' if I were not working with Rishi and at Gnarus. As I mentioned earlier, Rishi believes in sharing everything that our firm achieves with the entire team, therefore, when I saw my name out there along with his name, I was not at all surprised.
Lastly, what would be your advice to the law students interested in going into the corporate world?
It has been my constant endeavour throughout this interview to share my experiences with generous helpings of both bluntness and candor. I would advise all the readers out there to be original in their approach, not let their 'raw talents' be overshadowed by mindless status quo. Before approaching any assignment, put your thought in it and try to create something of immense value without prejudicing any part of your originality. Stick to it! Novel things are always appreciated. Set your previous work as a benchmark for yourself.
If you have not worked earlier on that assignment, then keep the best product available as your benchmark, and try to raise the level of the current work from your existing/previous work. Imbibe this habit so deep down inside you that your tolerance to mediocrity lowers to minimum. Keep your work and yourself open to criticism, never consider yourself as 'born smart'. Patience and perseverance shall ultimately take you to the heights which you can never fathom.