Jitender Chawla is a graduate from Maharishi Dayanand University (Batch of 2000). Soon after graduation, he started practicing law at District Court, Rohtak for an one year before moving to Indiabulls Securities as an Assistant Manager-Legal. He has also worked as Team Member – Portfolio Administration at Cushman & Wakefield, as a Legal Officer at Moser Baer India Limited and Assistant Legal Manager at PVR Limited. Meanwhile, he managed to pursue an LL.M. from Maharishi Dayanand University and a diploma in IPR from Indian Institute of Law, New Delhi. Currently he works as a General Legal Manager at Cinepolis India Pvt. Ltd.
In this interview he talks about:
Law school experience at MDU
Work experience at Cushman & Wakefield, Moser Baer and PVR
Induction and work at Cinepolis
How would you like to introduce yourself? Tell us a bit about your childhood and pre-college life as well as educational background.
I like to be viewed as a person of high values, discipline and integrity. It is always the attitude which is like an in-born quality; the skills are learnt throughout your life. I was an average student and more inclined towards playing football and other games. My father has to visit my school every quarter for assessment of my education on special call from the school principal.
What impressed upon you the idea to study law?
One of my father's friends was a lawyer, who often visited our place when I was in 5th standard, and was living a luxurious lifestyle. Initially this was the reason which prompted me to study Law. Later during the school days I visited courts for some purposes, which strengthened my decision to study law as I felt that the law is an important, independent and one pillar of our democracy and its participation is highly appreciated in the society.
You have done your graduation and post-graduation from Maharishi Dayanand University. How would you describe your experience?
Studying law at MD University has given most cherished moments in my life, we have been mentored by great professors and seniors throughout our law course. Participation in debates on the on-going legal matters/media trials were always encouraged and were of my interest as well. Moreover, we learnt to be straightforward and have empathy towards people.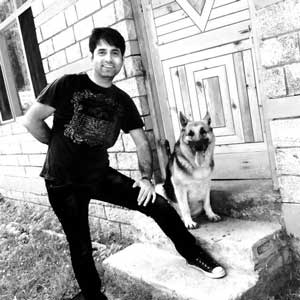 Soon after graduation, you started working at Indiabulls Securities as an Assistant Manager-Legal. How did your appointment take place?
Prior to joining Indiabulls I was practicing law at District Court, Rohtak and was preparing for LLM. During this time one of my brother friend and my school alumni approached me with an offer to join this company. He encouraged me to join the corporate and to appear for the interview next day morning. The decision was tough and I decided to appear for the same and got selected by the then Managing Director to handle the litigation and other matters pertaining to the Company.
What were the biggest hurdles and challenges in the first few months? How did you deal with them?
Shifting from the practice to the corporate did take sometime to adjust. Earlier I was independent and was representing the clients in the court, however in the corporate there are many processes and reporting structure that you have to follow. For me it was flip side of the coin, now I was a client for other lawyers in the court. I had to do lot of briefing and review/vetting of the filings before the courts representing the company. Constant touch with the appointed lawyers gave me comfort that I am still part of the court procedures and learning new cases. But over a period of time the nature of business of the company defines your professional growth, which gets limited as compared to the vast experience one gets while practicing law as one gets exposure to all kind of matters.
How did your appointment at Cushman & Wakefield take place?
The opportunity to join C&W came from a family friend who was working as Senior HR Manager with the organization. The opening was to work on real estate portfolios of the clients of C&W. Hunger to learn more made me excited to join the organization. I had good experience on the Contracts management before I left the organisation.
Thereafter you joined Moser Baer and later, switched over to PVR. How did that go?
Experience of working at the district Court, Indiabulls and C&W gave me the confidence to handle the Real Estate contracts and litigations. I was having better understanding on the coordination required for handling/representing the Company matters. The requisition for Moserbaer had lot of similarity with my previous profile. Afterworking for two years with Moserbaer I joined PVR, which helped me strengthen and improve my skills on contractual matters.
How important do you think that extra-curricular activities are to a law student? Did you take part in any extra-curricular activities during your law school days?
During my college days, I was associated with "People for Animals", an NGO. I made many good friends during this association with NGO. The mental peace one gets by working for the welfare of stray animals is very satisfying and further strengthens one's ability to work with focused mind.
Currently, you are working as General Manager – Legal at Cinepolis India Pvt. Ltd. What prompted you to make this choice and what made this shift possible?
I was working in the entertainment industry for 3 years before I joined Cinepolis. It was a new entrant in the cinema exhibition industry and was looking for the professionals from the same industry. Then MD of the company called me to have a discussion with him. After the discussion with him I was impressed with their Idea, attitude and growth plan for the company. I was having a big opportunity to handle the legal department of the startup. It was exciting and challenging to join the company. I was 4th employee of the company when I joined 6 years back and today we have more than 1000 employees.
How did your appointment as a General Manager of the Legal Team at Cinepolis India Pvt. Ltd. take place?
It was a small startup and we were having a very small office. It was more like a family working towards a common cause. There was no formal HR that point of time and my appointment letter was given to me by then MD of the company. We were multitasking and working hours were long as we were working towards the success of the organization
We would love to hear about your work profile. What is your workday like? Are there new challenges every day or did work fall into a predictable pattern?
Today, I handle the legal department of the company. I support the management to strategies on the matter related to contractual obligations of the company. I have implemented the process to create the contractual obligations and to streamline the liaison process for the company.I oversee all the contracts, legal disputes and give legal training on the processes.
What is the current scenario of studying corporate law as a career option in India? What are the key qualities one should posses for becoming a corporate lawyer?
I see a lot of growth in the field of Law. As we know about the India growth story and huge investment happening in India, there is lot of potential for a law student in India. The three qualities that I would emphasise on are Integrity, commitment and Straightforwardness to be successful as a lawyer.
What would be your message to law students?
Keep it Simple.
Positive attitude, empathy and focused approach. Someone has stated "If something is wrong, fix it if you can. But train yourself not to worry. Worry never fixes anything".