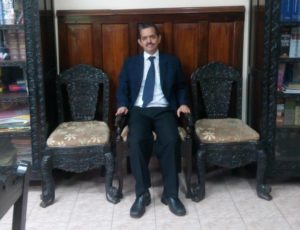 Justice Desmond D'Costa is the Principal District and Sessions Court Judge, South Goa, graduated in law from G.R. Kare College of Law in the year 1982 and answered his Judiciary Examinations in 1992 and has been a judge for the past 24 years. He possess an experience of over 34 years in the legal industry and encourages the students participate in various activities in order to get more experience. His main goal is to serve the society. This Interview was conducted by Dietrich Almeida of GR Kare College of Law
IN THIS INTERVIEW HE TALKS ABOUT:
Serving for the cause of justice and bringing justice to the people

Legal Education

The Indian Judicial System and

His advice to law students intending to join the Judiciary
1. HOW WOULD YOU INTRODUCE YOURSELF, GIVEN THAT MOST OF OUR READERS ARE ASPIRANTS OF LAW AND SERVICES, LAW STUDENTS AND PROFESSIONALS?
I am the Principal District and Sessions Court Judge Desmond D'Costa. I graduated from G. R. Kare College of Law in the year 1982. I've been an advocate for 10 years before I answered the judiciary exams in 1992. From 2002 to March 2016, I was an Additional District Judge. I've been a judge for the last 24 years. So you can say I'm a follower of law. It has been 34 years since I've done my law. In a way you can say I live law, I breathe law, we don't eat law but we live and breathe law.
2. WHAT WAS YOUR LIFE LIKE AFTER GRADUATING AND HOW DID YOU BEGIN FOCUSSED PREPARATION IN ORDER TO ACHIEVE YOUR GOAL?
Like I said I graduated in 1982 and my objective was to serve the cause of justice. So I practised as a lawyer for several years and then when there was an opportunity to join the judiciary I applied for the post of a judge. And I was selected as a judge in 1992. And ever since that time I'm trying to see in what way I can serve the society such as deciding cases as quickly as possible and not keeping matters pending. We always criticize the system, but in joining the system and doing my contribution that's the way I achieved my goal.
3. ALONG WITH YOUR HARD WORK AND CAPABILITY, WHICH INDIVIDUAL WOULD YOU LIKE TO ACCORD CREDIT TO IN ATTAINING YOUR GOAL?
When I became a judge I and my fellow colleagues used to interactions among ourselves and at the end of the day we would sit together and discuss our problems. So you can say my fellow colleagues, my fellow judicial officers are the people I give credit to. Like we always used to share as the saying goes "Knowledge is only a drop in the ocean", you can read books but sometimes you might not be able to grasp it or remember it but what you get from discussions with your colleagues and sometimes even with lawyers is entirely different. We used to share experiences and in this way improve and sharpen our focus and sharpen our law.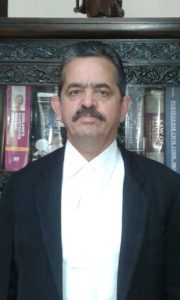 4. WHAT WERE YOUR AMBITIONS BEFORE JOINING LAW AND WHAT LED TO YOUR INCLINATION TOWARDS LAW?
Firstly, I don't come from a family of lawyers. So when we were students we used to always see injustices all around us. So many students used to fight against injustices. Once you get involved in society, advocates now make you go for legal aid clinics so you see the trouble that people face. And sometimes cases don't get over and people are frustrated with the system. There's a lot of distrust and disgust in the system, that is what we felt and thought, let us see in what way we can contribute to put faith in the system. My experience with the student's movement and tackling different social issues at our level as students made us interested in seeing in what way we could mould the law to bring justice to the people.
5. DO YOUR FEEL THAT IN INDIA THERE IS STILL A BIT OF RESISTANCE TOWARDS LEGAL EDUCATION?
So what they say is that the legal profession doesn't have green pastures, like a student who does his engineering or medicine they start earning immediately. But now of course in Indian law schools such as national universities, students who study there get very good positions. But in Goa, advocacy implies once you are qualified in law and start practicing, for 4- 5 years you have to attend the courts and see the how it functions. Thereafter, by the time people have confidence in such a lawyer, which is very important as no one will entrust a case to you unless he is sure that you'll win the case for him, it is what's called a long gestation period. No doubt that some new graduates who come out of law are well experienced by attending courts and they know most procedures and that is why they are able to start practicing immediately but then you have to be with a senior counsellor. Nowadays judgements are easily accessible over the internet but then to win people's confidence you have to chisel or polish yourself into a well rounded professional which only experience gives you.
6. WHAT MOTIVATED YOU TO APPLY FOR JUDICIAL EXAMS?
Well, I never had a wish to be a judge. As they say life is an accident. So, along the road of life, after I became a lawyer, I continued supporting people for the causes of justice as I've said before instead of throwing stones at the system as I felt that it is better to join the system and try to be the change. That's when I applied for the judicial post and completed my exams. I think that I cannot be a judge by myself but I am a part there in the judiciary.
7. PEOPLE HAVE A TENDENCY TO IGNORE MOOTS, DEBATES AND EXTRA CURRICULAR ACTIVITIES IF THEY WANT TO GO INTO JUDICIARY OR CIVIL SERVICES. WHAT DO YOU THINK ABOUT THIS?
This is very true because ultimately what happens is that the lawyer has to develop self-confidence. Further, knowing the law by heart and having academic knowledge but not being able to put it into use is of no utility because ultimately law is to be applied in day to day events and to solve the problems and issues in regards to which your clients will come to you. You have to know the remedy and tell them how to tackle their problems. And all this comes partly from experience by participating in moots, debates and extra-curricular activities makes you an all-round citizen.
It also gives you a social exposure and makes you more practical. There's a vast difference between the law written in the books and law in practice. Only when you take part in moots, debates, only then your skills sharpen and your outlook broadens. Take the example of a frog in the well in this regards, the size of the sky for the frog is only the small blue part that he can see. So in order to see the whole blue sky he has to come out of the well. In other words, every student should come out of the well and have a broadened approach. He should not be confined to the walls of his room or library but he has to go out and take part in skits, legal aid clinics, speak to people and also learn their language because in the classroom we speak in English but with clients you have to speak in the local language. Therefore, moots, debates and extra-curricular are very important.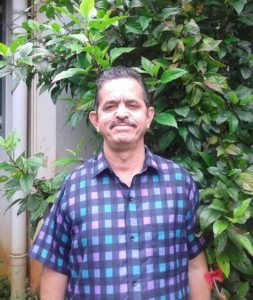 8. HOW IS A TYPICAL DAY AT WORK LIKE?
A judge's life is 24×7. We hardly have time. And at the end of the day I try to finish the work I have for the day by reading the files and avoiding postponing the dates of judgment. We have to keep on reading. There's no time to breathe but of course I enjoy it. I would try to do what's best for the system. The better equipped you are with knowledge the greater use you can put into society. A gain in our knowledge helps us to be more efficient in our work.
9. DO YOU FEEL THAT THERE IS A NEED TO IMPROVE ON THE SYSTEM OF DELIVERING JUSTICE?
The Indian judicial system is a system which is so overburdened, the backlog of cases are clogging the wheels of justice. That's why people say once you enter into the court your life is finished. In India we have a lot of law commissions which keep on saying that the proportion of judges in India presently is 50 per million. So a number of law commissions have recommended that they increase the number of judges and increase the number of courts. This is one of the main reasons for the big backlog of cases. In the last few years, the Supreme Court on their own have been taking the initiative and has been acting as a motivating factor. That is why we have bought in arbitration, mediation, conciliation and negotiation. We also try to have more lok adalats. Now every month we have got a national lok adalat. We are trying to use alternate dispute resolution techniques, (ADR). So in this way we can at least convince people and try to settle disputes. So delivery in justice in the system can occur only if there's quick delivery of justice, now because of the back log in cases, because of shortage of courts, there's more and more cases that are piling up. Then the procedures that we have are so lengthy and every order is challenged in the higher court and this is also one of the reasons for delay in justice. So now we have fresh blood coming into the system and the country itself is a country of youth let us hope that they bring a change.
10. WHAT WILL BE YOUR SUGGESTIONS TO OUR READERS WHO WISH TO JOIN JUDICIARY? WHAT ARE THE ESSETIAL QUALITIES ONE SHOULD CULTIVATE?
To join the judiciary is in itself very challenging. A judicial post is not so lucrative, so, if you're looking to becoming a millionaire than you shouldn't be a judge but if you want to live and feel like you have some responsibilities to the society and want to give back to the society then it is the proper choice.
To be a judge you have to develop and be balanced in your approach, be open to criticism, put in a lot of hard work and you have to have qualities of being a good human being, believing in good values such as honesty. These days not only in India but throughout the world there is a lot of corruption in public life. Corruption in public life in India is becoming a major challenge. So a judge is supposed to be an epitome of honesty and have good basic values because ultimately we are all social animals, so we have to see in what way we can improve our society. That's what I tell some of my friends. If you remember that famous poem by Robert Frost, Standing in the woods of a snowy evening, in which he says "the woods are lovely, dark and deep, but I have promises to keep, and miles to go before I sleep and miles to go before I sleep…" this is very inspiring as he says we have a lot of promises to keep. Keep this as you're motive and you will be a big asset to the society because ultimately everyone thinks about himself first but it is not that we should be selfish but also think about others.