Kapil Duggal is the topper of NLIU Batch of 2014 (set to receive the Gold Medal on 15 November), who bagged a PPO at Amarchand & Mangaldas & Suresh A. Shroff & Company, an accomplished mooter, a successful Convenor of Moot Court Association (Took NLIU from #23 to #1 on the MPL and retained the numero uno position for 4 months), a debater and sportsman among others.
In this interview, he talks about:
His experience in taking NLIU from Rank 23 to Rank 1 in MPL
Choosing Masters at NLIU over PPO from AMSS
Few tips on framing C.V.
How would you like to introduce yourself to our readers? What motivated you to choose law as a career?
I am a 2014 batch graduate from National Law Institute University, Bhopal. I would like to take this interview as an opportunity to share my views and insights on life in a law school and career decisions that a law student has to take.
Law was not my first choice. I was pursuing engineering when at the end of the first Semester, I realized that I was not cut out to be an engineer. A couple of friends suggested me that I should look at law as a career option. I browsed through their preparation material for CLAT, it caught my eye, and a few months later, I ended up at NLIU, Bhopal.
You've done your graduation from NLIU and currently pursuing Masters there. How would you describe your experience?
Well my experience has been nothing short of fantastic! I've got the opportunity to explore many dimensions of my personality. For instance, I had never participated in any public speaking event/competition when I was in school. And one year into law school, I was representing my University at the United Asians Debating Championship in Bangkok, followed by another National Debating Championship at NLU, Delhi.
National Law Universities provide you with plethora of opportunities in every field. I led the University basketball team at various National Sports Fests like Spiritus, Virudhaka, Yuvardha and Sportomania.
I also organized the first round table conference on Need for Legal Regulation of Coaching Institutions, wherein after debating and discussing the nitty-gritty of the subject with all the stakeholders, we drafted a paper and forwarded the recommendations to Ministry of Consumer Affairs, Food & Public Distribution, Government of India.
NLIU also gave me the opportunity to interact with many legal luminaries and have discussions with them over a vast range of subjects. I will never forget my discussion with (Retd.) Justice VS Sirpurkar regarding the challenges faced by the judiciary and the criminal justice system, when he visited our campus for delivering a Guest Lecture and was kind enough to spare some time from his schedule to interact with the students. I also organized a guest lecture by Senior Advocate Ms. Geeta Luthra on Trial by Media, which is cherished by students of NLIU till date.
So it has been an incredible experience at NLIU, which was one of the reasons I opted to pursue the Master's degree at the same institution.
You have been among the top rankers during your college days. What are the tips and strategies you would like to share with our readers who are currently law students?
Sincerity and dedication are one of the most essential factors to be considered. One need not entirely focus on reading the course material. It might even be tedious at times. A rather interesting approach, which worked well for me, is to read latest judgments on the subject. Actual cases in a courtroom are not quite simple and straightforward, and involve interplay of multiple provisions and in many cases, of multiple statutes. And a Supreme Court judgment would usually trace the first case which dealt with the subject and eventually come to the contemporary interpretation before finally arriving at a conclusion. So by reading one judgment, a law student can understand multiple provisions while getting acquainted with landmark cases.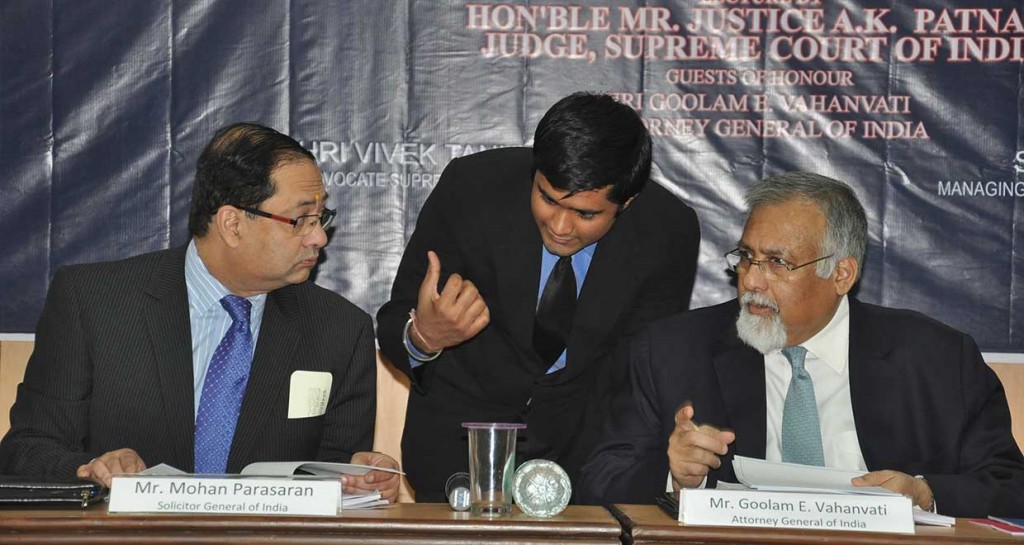 You were the Convenor of the Moot Court Association at NLIU and during your tenure, NLIU gave its one of the best ever performance in mooting circles. How did you achieve such a feat and what skills do you get to hone while managing such a responsibility?
NLIU had ended up at #23 on the MPL in 2013 and that's when I assumed the office of Convenor, MCA. I straightaway took up the challenge of taking NLIU to the zenith. I reviewed the existing policies, inspired the mooters to put it in their 100%, and created a moot pool specially for our First Years students, so that we could groom them and send them for national competitions in their freshman year itself. Our alumni were very supportive and gave us their valuable inputs whenever necessary. Consequently, we were able to achieve #1 on the MPL and retain that position for 4 months i.e. for about one-third of my tenure. Even our mooters from the First Year brought home 4 awards in the moots they participated in.
You have also judged the 5th NLIU-Juris Corp Moot this year. What is your advice to budding mooters? What factors do you think contributed to your success?
The first step to success in a moot court is doing good research. And once you are standing before a judge, you should be in a position to argue your case without even glancing at your memorial. You ought to know the facts and the law on your fingertips.
Having argued before a total of 10 Supreme Court and High Court judges in different moot courts, I've experienced that the situation in final round(s) of a moot court is generally a bit different from all other rounds because sitting/retired SC/HC judges would be on the bench, and they generally don't appreciate inferences drawn from the factsheet, for want of evidence. So you must modify your strategy and strictly argue on points of law.
How helpful do you think is mooting for a law student? Does it serve to build any practical skill?
Absolutely. First of all, mooting helps improve your researching skills, which prove to be a great asset during one's internships. Secondly, since you have to argue on behalf of both the petitioner/appellant and the respondent, you get to train yourself in applying the same law to opposite situations and thereby get to learn interpretation of statutes, which is one skill you hardly get to develop in academics. Thirdly, you get to keep yourself updated of legal aspects of contemporary issues as mostly, moot problems are drafted on contemporary issues.
What would you say differentiates between the best speakers and the rest? What are the top three things you consider sine qua non for being a great speaker?
Knowing the law- both for and against a proposition, ability to put your best points forward effectively in the given time frame and, and ability to take the bench with you on every point are the things that differentiate a good mooter from other participants. Equally important is knowing when to concede a point and taking the decision of moving to the next argument. This comes only by experience.
You secured a PPO from AMSS during fourth year of your graduation. Still, you wrote CLAT and joined NLIU for Masters. What prompted you to leave a lucrative career opportunity and pursue LL.M from an Indian University? Was it a part of your long term plan?
Interning with AMSS was a great experience, it's a terrific place to work. I liked the work there, and would have loved to join AMSS. Senior Advocate Ms. Geeta Luthra had a profound effect on my decision-making. She along with Professor (Dr.) S.S. Singh and Prof. (Dr.) Kumar Kartikeya guided me to the nuances of a career in litigation and inspired me to take it up. I intend to practice in the field of Constitutional and Administrative Law (after completing my LL.M degree). It made more sense to me to undertake an in-depth study and analysis of laws that I would be dealing with on a day-to-day basis, as against pursuing LLM from a foreign university, where I wouldn't have got an opportunity to do so. NLIU, Bhopal being one of the top universities in the country and the only top institution offering a course on Constitutional & Administrative Law, made my decision easier.
What kind of work did you come across during your internship at AMSS? What are the things you consider sine qua non for positive feedback from an internship?
I worked with Project Finance and Litigation teams of AMSS, Mumbai. The nature of work included drafting, preparing research notes including for some very interesting topics like law regarding spot-fixing in cricket, etc.
Sticking to deadlines, formidable research work, making sure that your work is updated with latest case laws are sine qua non for a positive feedback. You must be thorough in the work you are submitting for you can be called at any time and asked to give details regarding the cases you have cited, if the associate finds them of great use.
Did you have to undergo an interview before securing your PPO? Any tips on how one should go about framing a C.V. and prepare for an interview?
While drafting your C.V., you must precisely state the topics which you have worked upon during your internships. You must also keep yourself updated of any new developments regarding them. Customize your CV according to the firm/company/lawyer you are applying for, and stress on those parts of your work experience which hold value for them. If your CV is heavily loaded with co-curricular activities, you can cut down on the section of extra-curricular activities in your CV.
I was interviewed by AMSS as well as by Khaitan & Co. for a PPO. I received an offer from AMSS first and hence I requested Khaitan & Co. to allow me to opt out from the PPO process and they were kind enough to oblige. You must read up on the topics that you have worked on during your internship, including the latest developments. Having knowledge of the market situation and practical aspects is definitely a plus point. You should not miss out on reading up even a single topic which you have mentioned in your CV. You should also be able to readily answer any question regarding the field of law you would like to specialize in, which should be supported by your CV (you should have written papers/articles or participated in moot courts/conference relating to that field of law). These would significantly help you in preparing for an interview.
Lastly, what would be your message for our readers?
You must make the most out of your vacations. Intern with a lawyer/firm whenever you get an opportunity to do so, for you will learn the practical aspects of what you read in law school, which will give you an edge over others. Also, manage your time wisely and do take out time for your hobbies/sports, so that you enjoy your time while in law school.