Ketan Mukhija graduated from NALSAR, Hyderabad in the year 2007. He has worked in foreign law firms like Jones Day and Herbert Smith. Thereafter, he returned to India and worked with two Indian law firms at responsible positions. At present, he works as the Senior Vice President (Legal) of SREI Infrastructure Finance Limited, one of the largest infrastructure financing firms in India.
In this interview Ketan talks about:
His career trajectory from working in US & UK and then to India
Working in an in-house position as a career option for young lawyers
Structure of an in-house legal team in a large company
Role of an in-house counsel
Skillsets required to work in an in-house position
Click here to read our earlier interview with Ketan.
Please share with us your journey so far.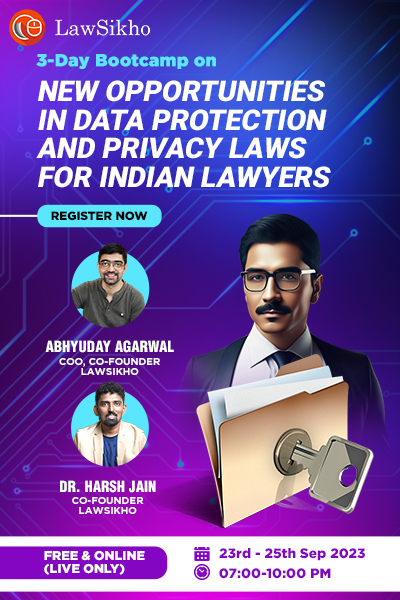 It is has been a fascinating journey so far.
After graduating from NALSAR, I started working in the western hemisphere and slowly and gradually, moved towards the eastern. I commenced my career with a firm called Jones Day which is an International Law Firm (ILF) based out of the United States, and has multiple offices across the world. I was working as part of the Merger & Acquisitions and Strategic Alliances team there. Thereafter I moved to Herbert Smith Freehills (HSF) in London. I got a dual qualification to practice as a solicitor in England & Wales within the United Kingdom.
At HSF, I was working with Equity Capital Market Division, and got an excellent opportunity to work on big transactions. I was involved in the acquisition deal of Land Rover and Jaguar by Tata, which was a tremendous experience. While working for HSF, I had also advised Bradford and Bingley, which is UK's biggest buy-to-let lender. The recession had just set in, so we represented and advised Bradford and Bingley on tracing of capital, drafting of prospectuses and related documentation.
Thereafter, owing to personal reasons, I had to shift to New Delhi where I worked for a relatively short stint with two firms, Vaish Associates and Luthra & Luthra Law Offices in senior positions. It was a good experience because working for Indian clients was different where the work areas are generaI as far as the corporate area is concerned. In US and UK, we have very focused and super-specialized areas. In Indian firms, you pretty much pick up a generalist experience and set of transactions. Accordingly, the major areas that I worked on included corporate restructuring, PIPE transactions, private equity, banking finance and energy infrastructure. Overall, I got a good all-round experience at both firms following which I got the opportunity to work with SREI Infrastructure Finance Limited as the Sr. Vice President (Legal, Corporate Strategy and Planning).
SREI Group is one of the largest infrastructure financing conglomerates in India, having assets worth USD3 billion approx under its management and with almost over hundred entities as sister concerns. It is a huge group which is being held and managed under the auspices of the Kanoria Foundation.
Many young lawyers want to become in-house counsels and are opting to work as in-house counsels directly after law school. How do you see this as a career path?
There are a few things which we have to bear in mind. There is some form of uniformity and inconsistency in terms of working in law firms. On the other hand, an in-house counsel has to be flexible according to the organization he/she wants to work with. In the M&A division or capital markets division of any other big firm, the type of work is somewhat on similar lines, depending on the transaction at hand. However, each company has a different structure. The philosophy of a company, organization, structural configuration and the hierarchy will be very different from that of a law firm. Before I shed some light on the content side or the method side, a word of advice for people who aspire to be an in-house counsel, they should do some background research on the type of company they want to work for. In the past, companies used to look for a person who had 15-25 years of experience in the same industry. However, that is changing. Young lawyers are being recruited by companies who are creating immense value and changing the traditional setup.
It is important to note that, as an in-house counsel, you must know that your role will be more than just a legal adviser; you will be given a much-diversified responsibility which may not be strictly legal in nature. Here, the client is your financial team, commercial team and you are not catering to the entire world but ensuring that there is organic or inorganic growth within the organization, and you undertake the roles of a dispute preventor, cost controller and the right business partner in the literal sense. So, you should keep all the aforementioned points in mind before joining a company as an in-house counsel.
If you want to generalize the structure of an in-house legal team in a  large company, how will you do that?
With the caveat, that no two organisations have the same structure. I would like to give an example from the structure in the SREI Group. Under SREI Group, for every legal entity, there is a corporate legal and corporate compliance at each level because the regulator mandates these. A listed company needs to comply with several regulations by different regulators. There is constant interaction with Security Exchange Board of India (SEBI), which supervises all major activities of a company. If there is an acquisition or a potential change in the management of a listed company, everything has to be regularly and periodically intimated to SEBI and the stock exchange where the company is listed. Therefore, the compliance divisions ensure the conformity with the regulators and the RBI. The SREI Group is regulated by the RBI as an infrastructure finance company (IFC). So, we have a lot of interaction with the RBI on fairly regular basis. It is crucial to have a compliance division to ensure that we comply with the existing legal and regulatory framework.
Almost all companies have a risk management team. The risk management team usually takes the form of an internal audit or a legal audit division. As a company with multiple associate/subsidiary entities, it has to ensure that the internal contractual arrangements and shareholding is managed properly, and there exists a system of checks and balances between the various entities at all levels to ensure that you are minimizing risks at every stage. So, the risk management division assumes a lot of importance.
There is also a corporate legal at each entity level. On a daily basis, in an operative contract division, there are employment contracts, non-disclosure agreements, term sheets, securities documentation, memorandum of understanding and collaboration agreements which the corporate team needs to look at and thoroughly negotiate with the counterparties.
A financial institution has many recovery matters, possession matters, civil matters, DRT matters, risk management, compliance, internal audit, etc, so it is important to have a robust litigation division.
Moreover, at the group level, you have a strategy and planning team that drives and co-ordinates with all the aforementioned divisions.  It is the strategy team which drives the processes substantively across these 4-5 teams. The set up is mature in our organization but it varies with every organization, but this is typically what I have seen in Indian multinational corporations.
What is the role of an in-house counsel in an organisation? How is it different from working in a law firm?
The role of a general counsel is in the nature of a true business partner who works as a i) preemptive risk mitigator, ii) cost controller for legal expenses and iii) remedy agent in case there is a legal issue. A General Counsel has a role which is similar to a general physician, who would identify the issues in hand and should be able to guide the business functions in a right direction in case of any legal issues, rather than implementing every function himself/ herself.
It is important to understand what the scope, ambit and role of an in-house counsel look like. There can be various divisions and verticals in the legal department. You have to involve yourself in the strategic decision-making process of the organization and for that, you need to know the legal risks and help streamline the processes within the organization to ensure that the key issues and the legal matters are being monitored and scrutinized. Then you have to take the strategic decisions keeping in mind the philosophy and the interests of the organization. So one of the key things is actual to be in coordination with the management of the company or the business heads of the company to ensure that all the decisions are taken by keeping in mind the legal risk that can potentially arise. You have to work on commercial transactions with external counsels and law firms to help us on an ad-hoc or retainer basis. If you have a defined skill set, you have to wear the business hat and think like a business head and try to create value at each step. It is important that as an in-house counsel, you should have the ability or skillsets required to set up the right structures to achieve a high level of operational efficiency and continuous improvement of organization and business, the methods ensuring incorporation of the best practices, creating awareness, development of functional centres of excellence and the ability to work under pressure. As an in-house counsel, you should be in a position to handle critical issues which are sensistive or confidential in nature. You have to be fully equipped, informed and in a position to handle that. So the idea is to integrate the legal advice with the business requirement and create value for the organisation. A person has to be a generalist, must have good grasping power, has to be flexible because litigation can change colors tomorrow. Working in an in-house role can be very different from working in a law firm. In a law firm, you might work on one area of law throughout your life, but the variety of work in an in-house function is extremely wide. You have to be very flexible and good to learn and grasp so that you can learn about the collaboration between the corporation office and various group companies optimizing the value of the corporate entity.
What are the skills sets required to become an In-House Counsel?
The skill sets have to be both technical and soft skills. You must have the judicious amalgam of the soft skills as well which is very much required because you will be dealing with very stringent timelines and some unexpected kind of pushbacks. When you are dealing with non-lawyers and people from other departments, you will have to be slightly more versatile and more efficiency oriented to ensure that they understand the tone of your language. It is important that you understand both their business requirement and you convey your legal provisions. This is one of the key skillsets that one must possess if they want to work in an in-house role.
The organization will go on forever, and no person is indispensable in an organization. So it is important to standardize the procedure and processes in line with the business requirements to ensure efficiency and seamless delivery of advisory legal opinion. It is important to have standard points, or starting points or denominators or basis, wherein the position or philosophy of the company is clearly laid down. Those philosophies guide the operations and decision making over the years. So standardization and uniformization are very important.
It is also crucial to have the ability to drive the processes, because deriving economic value and savings for the organization by bringing in the subject matter expertise and skill sets can only make meaning when you have a high level of operational efficiency.
For example, if a company wants to embark on an M&A transaction, the law firms will be doing a set of documentation, the technical team and other teams will be doing their own due diligence and submit their report. Everybody has his or her compartmentalized job of work customized to the transaction. However, as a sole point of contact with all stakeholders, you as an in-house counsel should be able to soak all the information from everyone, give it the right shape and ensure that they mold and cast well in the framework that you want.
You need to stay updated with the latest changes in the position of law so that you can give the best perspective advice from a commercial perspective to the top management.
What should be the role of a legal head in case of a regulatory vacuum/ grey areas in law?
While advising the business verticals to act on areas where there are regulatory vacuum or grey areas, a general counsel has the role to pre-empt the risk in a calculated manner and put the same before the business verticals. However, in cases where the existing legal framework is inadequate or fails to meet the current market scenario, it will be important to put forward the problem with the government agencies, either through industry bodies/ associations like ASSOCHAM or individually. Whenever a new law is proposed, generally the government provides a window period of 60-90 days during which the stakeholders can voice their concerns about the new law. It is important that the problem or concerns are clearly identified and proposed solutions are put forward in such cases. These solutions can be based on industry best practices around the world or based on ground realities or the market sentiments.
Please give your views about the trend in the Indian companies on having a large in-house legal team.
The trend is towards having a robust in-house function as well. The mantra of any firm is to increase their revenue and decrease the cost. I think having a robust in-house team works much better for me than hiring a law firm every now and then because that is an expensive affair. If you have a good in-house team, then the cost can be curtailed quickly and to a large extent. Because, when you talk about International Law firms, for a simple agreement they will charge you huge amounts. Now, if you have equipped lawyers who have global exposure and are good negotiators, I think they can play a role both in increasing revenue as well as cost preventers to a colossal extent. It is important to have in-house experts in finance, investment, taxation laws who can form the right opinion. One can take help of external consultants, when the volume is huge or when the work needs to be done at different locations, and it is not possible for the internal team to be present at different places. The idea should be to ensure that the person understands the business because that is where it adds value. Consultants will come as an outsider, but here you know the aspirations and expectations and can lead the best optimal advice. So I think the trend is very encouraging, fruitful and also sinks with the simple market logic. It aligns the incentives and disincentives of the promoters. So it is a market-driven kind of move.
Is there any other aspect you would like to add on to the discussion?
The role of a General Counsel or a Senior Corporate Counsel is also that of a behavior analyst of the corporate systems. Now there are so many rules to manage the entire litigation, rules to manage the complete compliance kind of platform, rules to administer the contracts. You have to make use of the technology, behavioral skills, core competencies, evolve right system of checks and balances within the organization, and I think that's the requisite kind of skill sets. and I can probably end by saying that today's evolving business scenario in the changing market, the role of a corporate counsel is very meaningful in the sense that they are becoming the true partners of the business unit and the company and, to drive the strategy towards higher growth, development, higher bottom lines and top lines. The role of a General Counsel is critical because he work at every stage with CFO, CIO, CMO, and CTO and acts as the point person for the top management. It is important that he gives the right advice to the top management which would drive the strategy for the company. In today's scenario the role of a general counsel looks very promising.