Kunal Sarpal graduated from ILS Law College in 2016. He is the Founder Partner of White Collar Legal LLP. He is also a company secretary. Very passionate about entrepreneurship, he regularly speaks at various seminars and is also a visiting faculty at various institutes including the TISS, MIT College, Pune. Corporate and IP lawyer, Tedx speaker, entrepreneur, author are only few feathers in his cap.
In this interview we talk to him about:
About specialisation in corporate law
Pursuing CS along with LLB
Being an Entrepreneur
Success of White Collar Legal LLP
HOW WOULD YOU LIKE TO INTRODUCE YOURSELF TO OUR READERS? PLEASE TELL US SOMETHING ABOUT YOUR PRE-COLLEGE LIFE?
I was once called a renaissance man by a senior colleague and have always tried to live up to that label. The best part, Leonardo Da Vinci is my all-time idol and inspiration, coincidentally after-whom, the Renaissance man term was coined. Hence, very special for me.
I practice, teach and preach law and entrepreneurship. By qualification, I'm a Commerce and a Law graduate, a qualified Company Secretary, one of the youngest to clear the course in India at 20 and having started practice immediately.
I am the Founder Partner of White Collar Legal LLP, a multi-state Corporate and Intellectual Property Law firm, started in 2013 now having over 20 employees and 3 branches.
I love enterprises and entrepreneurs and how law can be an enabler to anyone who wants to start, scale or save his enterprise.
I absolutely adore public speaking and hence am routinely giving key note speeches everywhere, am a Tedx Speaker (you can find the talk here https://www.youtube.com/watch?v=-cwTyIOPCC0) and very recently, I have also started making small investments into Social Enterprises.
Just written a book this year on Internships (you can find it here https://www.flipkart.com/intern-ceo-50-practical-tips-ace-internship/p/itmf3ye9tfhqdbaw)
Given my love for speaking coupled with teaching, I am fortunate to be a faculty (visiting and adjunct) with Flame University, TISS, MIT and many more, wherein I primarily cover law and entrepreneurship.
I'd love to go on, but for more (visit my linkedinprofile here https://in.linkedin.com/in/adv-kunal-r-sarpal-3b404635)
Pre College:
I can be summoned up in 3 words. Creative. Speaker. Organizer.
I was all over the place. Extra curricular activities were my thing. Hated academics big time. Still do.
Loved attending school and college and rarely missed a single day, because there was so much to do!
Did my schooling from J.N. Petit Technical High School, followed by college at Ness Wadia College of Commerce and ILS Law College. CS was done along-side my Commerce degree. Surprisingly, had great grades throughout after clearing school. Into Top 5 always.
Throughout school and college, you could find my participating in every event that was going on, be it as a participant, as a delegate or as an organizer. Loved the entire concept of learning from doing. Experiential learning is what they call it today. I have this huge trophy chest and a pile of certificates which I am very proud of.
Very notorious, always getting into trouble. When my school friends look at me today, they say I've changed completely. Few hours spent with them, they realize that not much has changed.
HOW DID YOU DECIDE TO PURSUE LAW AFTER B.COM? MANY PEOPLE HAVE THE OPINION THAT THE THREE YEAR LLB IS NOT ADEQUATE FOR THE STUDY OF LAW. DO YOU AGREE?
While I was pursuing my CS along with B.COM, my interest in Company Law and other mercantile laws grew. To satiate this curiosity, I had to do law. Now, after practicing for more than four years, I can safely say that it was a great decision.
On a lighter note, I'm sure, the only folks who say that are five year law students or graduates!
To put it straight, the study of law cannot be construed through a tenure or a timeline. It is continuing.
I enjoyed the three year timeline because it was crisp, all-encompassing and gave me the skill of reading the law. To understand and severe the difference between, what the law is, and between, what the law is for.
And frankly, that's all you need to know.
Interacting with a lot of lawyers now, senior and junior, with a three year and five year law education, I can confidently say that it holds little ground in the long run. Especially in practice. Maybe in employment, the 5 year course is preferred.
WHAT FACTORS INFLUENCED YOUR DECISION TO SPECIALISE IN CORPORATE LAW?
My prior education as a CS, study of the legal sector from the practise scope and my inclination towards helping entrepreneurs.
Since I was the first generation lawyer getting into practise, I knew it's going to be an uphill task to build clients, generate work, to create a brand and so on.
Internships were key too. When I interned with lawyers, I realised that litigation at the lower level is not for me. And litigation at the higher level won't accept me right out of college. So, the choice.
This also opened a beautiful new area to practise in. The Tribunals. Both NCLT and the IPAT.
Further, my CS internship with Amanora Group (City Corporation Limited) and my Corporate Law Internship with DSK Legal really gave me exposure to Corporate Law, to practise and to really savour the entire consulting approach to law. I love it till date.
As a natural corollary, we are now into Intellectual Property Law too.
I'd say, once you're really into something you like, things develop. Just give it time. And if you don't like something, please shift. Don't give it time.
YOU ARE ALSO A QUALIFIED COMPANY SECRETARY. WOULD YOU RECOMMEND STUDENTS AIMING TO BE CORPORATE LAWYERS TO ALSO PURSUE CS?
Oh yes. Definitely. A 100%.
It'll help both in employment and practise. Will give you a wider scope and your grasp, especially on Company Law and other allied laws will be super.
CS is a great course in terms of how it's administered by ICSI. Especially the examination. Gruelling, lengthy and mind boggling. Application of knowledge is rewarded over reproducing information/retention power. It being a competitive course, clearing it with flying colours will also validate your choice and give you the confidence to choose Corporate Law as a long term career path.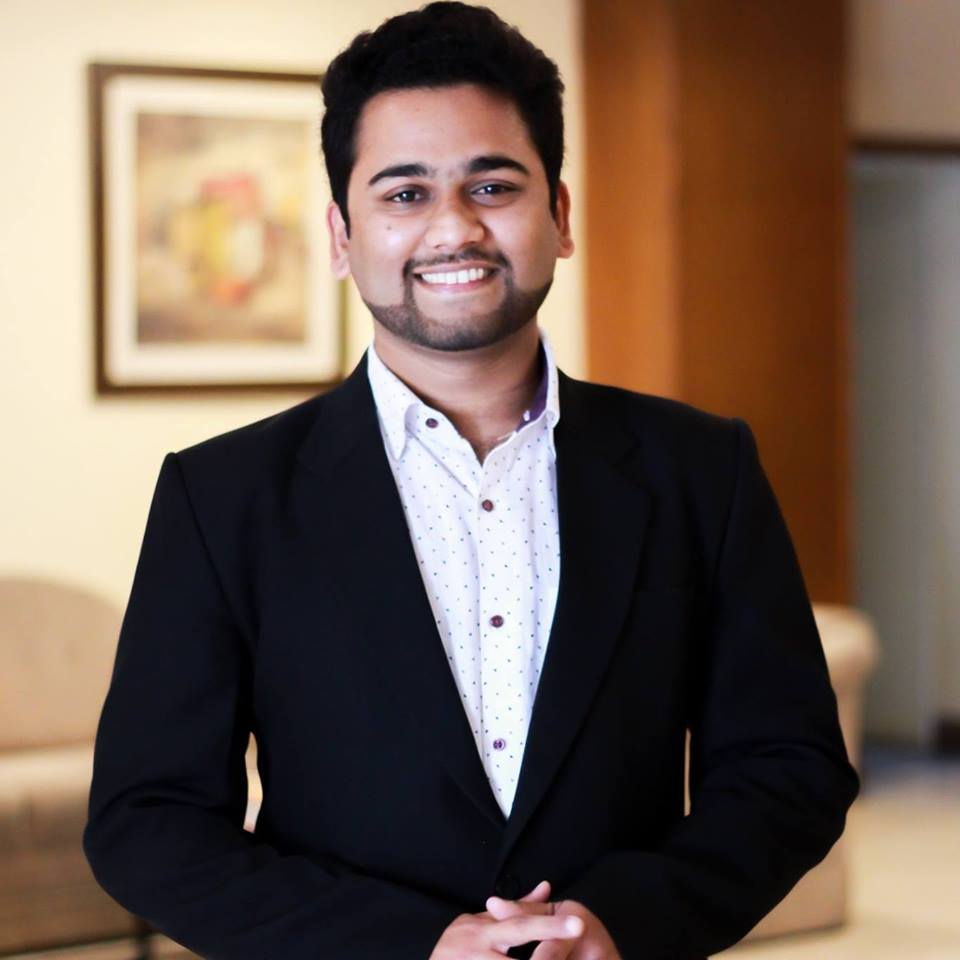 YOU STARTED YOUR OWN FIRM AFTER YOUR GRADUATION. WHAT WERE THE CHALLENGES IN YOUR INITIAL YEARS? HOW DID YOU OVERCOME THEM?
Oh my my! (He smiles remembering those days..)
The challenges just didn't seem to end for the first few months. As mentioned earlier, no clients, no experience, monthly rent, expenses, over confidence of sitting out of placements, family taunts, not meeting classmates to avoid humiliation, loss of social life, was constantly giving me nightmares. You really need to have to be strong emotionally if you're starting out from scratch like me. Those were testing times.
The only thing that kept me going was assignments which came now and then and since I was good at speaking with a decent knowledge of the law, I used to moonlight as a visiting faculty with a few coaching institutions. A habit that stayed, even today, I may have moved on from coaching institutions but am not associated with top Indian Institutions. At most times, I'm teaching students who are my age or older. I think it is fitting to mention here that I'll be 25 this year.
By one and half year or so, we had our first employee, office renovated and our names on the building wall with a decent per month takeaway.
After year two, it was beautiful. A quarter on quarter growth of 25% and above. Since then, no looking back.
Year three onwards, it's a well-oiled process driven machine now wherein we target to help 100 new entrepreneurs each year.
What I did well was, lot of article writing on leading portals and magazines, speaking a lot at conferences and events and teaching. Writing gave me clarity and certain fame. Speaking helped me establish my brand. And teaching helped me stay updated. So in a way, what I loved doing helped me, even though it wasn't strategic.
Since we can't market or solicit clients, the above are excellence avenues to organically create your network. Because your network will eventually become your net worth.
PLEASE TELL US ABOUT YOUR FIRM WHITE COLLAR LEGAL LLP?
It's my baby. My brainchild and comes above everything else.
To start this journey alone but now sharing it with more than 20+ partners and staff and over 350+ clients is truly rewarding.
We at White Collar Legal LLP, help individuals and businesses, start up, secure themselves, structure themselves and scale up. Corporate and Intellectual Property Law is where our core competence is. We help execute Ideas. Taking Ideas to IPO or Ideas to Impact.
We help companies establish their entire legal framework so that the entity is driven by systems and processes and not by promoters or people, so it stands the test of time, the investors and the shareholders. A lot of credit goes to our investors and clients whose constant feedback to us helps us compound our learnings and apply them to future projects. Hence, I'm usually quoted at the office saying that the client feedback is the greatest teacher.
Right from registering one's entity to drafting all agreements to getting all the IP secure to advising on M & A, we help entrepreneurs deal with the entire legal framework, partnering with him or her.
From student startups to large clients like Natural Ice Creams, we cater to them all.
WHAT DOES IT TAKE TO BE A GOOD ENTREPRENEUR?
Lots and lots of guts. Being laser focused/Master of one. The ability to eat humiliation for breakfast every day. Clairvoyance to see where you're industry is headed and accordingly adjusting. A tab on international trends. Using Technology to automate everything non-essential/mundane and for MIS. Incessant reading to keep yourself updated. Very strong skill to sell. A strong WHY/ passion behind doing what you're doing. Service nature by upbringing. Pro-activeness. Ability to do multiple things. People management. Excellent communication skills. Impeachable character/name/brand. And lastly but most importantly, oodles and oodles of humility.
YOU HAVE BEEN A TEDx SPEAKER. PLEASE SHARE YOUR EXPERIENCE.
It was fantastic. Truly. To be able to share your story with the world is something else.
I feel very lucky and blessed to have had the opportunity. In the Tedx talk, I spoke about youth entrepreneurship. Till date, I keep receiving emails from students about the ideas they have and about people who want to support. An ecosystem is getting built and that's awesomeness!
TEDx talk led to many new and better opportunities from a practice, teaching and speaking point of view.
YOUR FIRM HAS WON NUMEROUS AWARDS. WHAT FACTORS WOULD YOU ATTRIBUTE TO THE SUCCESS OF YOUR FIRM?
Complete focus on client service. Being their partners in growth and not just cold third party service providers.
Getting things done. Less talk, more action. Always going out of the way.
Being young and small, it also helps us stay lean and agile and deploy tech to our advantage, to understand and respond to client needs better.
The Japanese principle of Kaizen (continuous improvement) is what serves us well.
To mention my Partner Ms. Isha Eklaspur (ex- VRL Logistics) and two of my key members, Mr. Praful Srivastav and Ms. Gemini Rajgor, who were key in setting the culture of excellence in client service and delivery.
WHAT SUGGESTIONS DO YOU HAVE FOR LAW STUDENTS AS TO HOW TO BE A GOOD ORATOR? HOW DO STUDENTS OVERCOME STAGE FRIGHT?
Practice. At every given opportunity.
Speaking is a skill. And just like archery or swimming or driving or any other skill, you will learn it only by doing it. Not by reading about it or watching videos or listening to lectures.
10,000 hours of doing anything, will make you bloody good at it!
And yes, join your nearest Toastmasters Club.
YOU ARE ALSO A VISITING FACULTY AT TISS, MIT PUNE AND FLAME UNIVERSITY. HOW IS YOUR EXPERIENCE AT TEACHING?
It is pure bliss and very necessary at the same time. It keeps me updated as I have to read to prepare, it helps me keep in touch with current trends through student discussions and it helps me gain wider perspective, as I have students ranging from all ages and all walks of life.
I chose to do this only when I received feedback that I was great at it.
As a student, I always enjoyed listening to visiting, guest or outside faculty a lot. Purely because it brought change and also gave industry perspective. I love doing that with my students. Sharing snippets of what I do with them. Notably, my favorite teachers at college were always visiting faculty. To name a few, Mr. Ajit Kulkarni (for Drafting), Mr. Aglawe (For Land laws), Mr. Dangre (For Criminal law), Mr. Ganu (for CPC) and many others were just fantastic at ILS.
But we also had equally erudite faculty among others in Mr. Jain (For Constitutional Law), Mrs. Bhadbhade (For Contracts), Mrs. Sagade (For Family law), Mrs. Satya Narayan (For Torts) and Mrs. Sonali Jadhav (For IPC). We were lucky as ILS has the best of both worlds!
WHAT WOULD BE YOUR WORD OF ADVICE TO YOUNG LAWYERS AND LAW STUDENTS LOOKING TO MAKE A CAREER IN CORPORATE LAW?
Intern for a minimum of two months and see if you like the work. Work at both small and large firms (at least a quarter dozen) and see if you can do it for 50 years and more of your life.
Ask questions to your seniors at college and at work. The more the better. The weirder the better. To those who have been there and done that. Don't assume anything. And don't settle on Corporate Law or Litigation for extraneous factors such as money, fame or feel good factor. Do it only if you really really love it.
And if you're planning to practise, make sure you have all the traits of being an entrepreneur.
All the best! Crush it!
Share your thoughts with me at : kunal@whitecollarlegal.in
Link to company website: www.whitecollarlegal.in