M.S. Bharath graduated in law from Pune University, batch of 2001. Bharath is a Senior Partner at Anand and Anand, India leads the Chennai City Office practice since June 2009. His practice includes Intellectual Property litigation before Indian High Courts, opposition, cancellation and other related proceedings before the Trademark Office, Intellectual Property Appellate Board (IPAB), Copyright Board and Geographical Indications Office. He has been the lead counsel in numerous appeals, rectification and original proceedings before the High Courts of New Delhi, Chennai and IPAB with several reported decisions to his credentials.
In this interview, we speak to him about:
His time at law school
His role at Anand and Anand
His experience in IPR
How would you like to introduce yourself to our readers?
I am an intellectual property lawyer and a Senior Partner in Anand and Anand based in Chennai.
Tell us a little about your days in law school.
The days in law school (in Pune) gave me a hands on experience and exposure to diversity in culture, inclusiveness, collaboration and leadership. For want of hostels, we had to fend for ourselves including arranging for accommodation (which were in the 1990's either homestays or apartments shared by at least eight to ten individuals), food (either by hiring a common cook or eat out from dhabas) transport and working on budgets. The absence of a structured placement cell compelled us to be innovative to raise monies, collate resumes of those who were interested, design and print a brochure, visit firms across the country to brand the institution and seek placements of the students as well.  Spearheading this initiative helped me gain operational skills but also with much needed exposure to the legal market and understanding of the differences in expectations and work cultures in cities such Bombay, Delhi, Madras, Calcutta and Bangalore as they were known back then.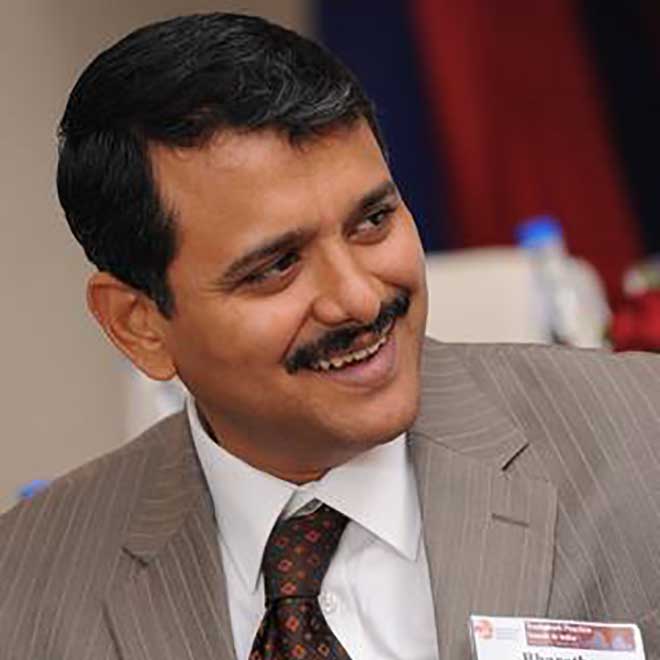 How important are grades, in your opinion?
While grades are important they are definitely not critical. Most lawyers and firms seek law graduates who are committed, hardworking and above all uncompromising on integrity while grades as GPA's are incidental.  I sincerely hope that students aspiring for a legal career do not seek out only for chances of landing jobs in top firms, as any firm one joins or sets up may soon be one.
What subjects did you take particular interest in during your law school days?
As a law student, Jurisprudence and Procedure Codes were quite appealing to me. While these subjects were not decisive in my career choice, they are  indeed the Grund Norm for daily practice.
Who was your mentor, or main source of inspiration who motivated you all along the way?
Personally speaking, there can never be just one mentor for an individual for it is likely to take away one's individuality. I have had many individuals who have inspired me over the years including my father Mr. Subramanian, my late grand uncle Mr. Raghavan, both lawyers and my grandfather Ananthasubramanian who sowed the seeds of grit, independence, integrity, contentment, honesty; my wife Kavita who brought out the extrovert in me; Mr. Anand our Managing partner who continues to share his "Never say die" and "Never say never" attitudes, client handling abilities and vast wealth of IP knowledge; a dear friend and colleague Shamnad Basheer for getting me on board the IP world through Anand and Anand and inspiring many including me to care and share with initiatives such as IDIA (Increasing Diversity by Increasing Access). In fact I find inspirations even from interns and colleagues who bring new ideas and ideologies to the working table.
What kind of internships did you engage in during your student years which you feel were invaluable to you in reaching your current position?
It is important that as a student, one identifies their favourite subject and aspirational senior / firm / organisation early on to seek and undertake an internship. This helps both the student and the employer know each other on many levels. I was lucky to undertake an internship in Anand and Anand in the penultimate summer of my law degree. The month long program led to a pre-placement offer and next sixteen wonderful years here.
How did you develop this keen interest in Intellectual Property Rights Law?
The zeal to learn new subject and remain a multi disciplinarian drew me towards intellectual property laws. The profession of IP attorney is possibly the only one which touches upon varied subjects of law, arts, science and commerce and in some rare cases all at once. The graduation in commerce prior to law helped me blend in easier.
What kind of activities did you undertake in law school that helped you nurture this interest in IPR law?
It was the internship at Anand and Anand which gave me an insight into the world of IPR which am still discovering and exploring after sixteen years. Back in the day we hardly had exciting activities on campus unlike now to nurture interests in IPR.
Would attending IPR conferences hold any CV value, or would you recommend them anyway for their academic value?
It is easy to get lost in the host of conferences, which are being organised on IPR related subjects. Of late there are so many, that even practitioners find it difficult to pick the right one or to let go. It is best to seek guidance from seasoned practitioners on which ones are relevant to attend as a student or young practitioner. In any case, while attendance at these conferences may be of academic value it would not have much impact on CV!
Please give our readers some insights on the leading Indian firms dealing in IPR law, and your recommendations for where and how to secure internships.
There are quite a number of top quality IPR law firms in India currently, with most based in the cities of New Delhi, Mumbai, Chennai and Bangalore. It would be inappropriate to name only some.
While most of these firms over the years have gained reputation on one or few verticals within the IPR regime, say trademarks or patents drafting or prosecution or IP Enforcement, there are only a few which are quite interestingly known as "Full service IP firm" excelling in all forms of IP and all forms of prosecution and enforcement. Choosing a firm to intern with is critical and ought not to be done for the sake of merely adding on to resume. Depending on one's leaning and flair for a subject, firms have to be identified and applications for internship are to be sent in early on.
In the recent past I increasingly notice students sending requests for being connected on social media such as Linked In and immediately follow up with requests for internship. Such tools are not only easier for students to better understand the organisation and the individual with whom they seek internship but also build a rapport even prior to the internship program.
Despite all these initiatives, one needs to be lucky, and being lucky according to me is meeting of Preparedness and Opportunity. A person would not be lucky if despite being having an opportunity is not prepared to take it further ahead.
Tell us about your work experience at Anand & Anand where you currently are a Senior Partner.
Starting as an intern in 2000, last year I was invited to be a part of our firm's Council of Senior partners. Early on as a trademarks attorney, I assisted in setting up the firm's practice before the IP Appeal Board. After several appearances before the Trademark office and Appeal Board, I turned to be a litigator as well. Ever since moving to Chennai in 2009, the city office practice has blossomed well with a current strength of over fifteen members.
What do leading firms that specialise in IPR such as Anand & Anand look for in prospective candidates for internships, retainerships or recruitment?
While the love and flair for the subject is a given requisite, we look for candidates who innately put clients' interests above all and work with high commitment, vigour, and ownership without compromise on integrity. As internship programs help us identify prospects, it is easy to differentiate those who come in only for adding claims on their CV and those who have the IP fire in the belly and eagerness to join us.
Do you believe in the conception that there is manifest reluctance among law graduates to take up IPR law as there is a scarcity of job opportunities in this area of practice?
Quite the contrary! With the boom in innovation, manufacturing and consumption in India, the need for IP attorney has gained significant importance and their need is sure to increase in the times to come. The IP field and as an industry has been steadily growing if not exploding in India recently. While there are quite a few IPR boutique firms which have blossomed recently, the Indian and multi-national corporations have also been busy setting up in house IP cells and departments, resulting in need for many IP hands at work.
Do you feel that there are shortcomings in Indian IPR law that make the practice itself difficult? 
Every country legislates laws suitable to its own historic, social, economic background each of which undergo change with passage of time. Indian IPR Laws are no different and are quite unique to the land. Practice of these laws and succeeding in it would directly depend on one's ability to identify practical solutions to clients' problems within the limits of these laws. There are no short-comings in either the Indian IPR laws or their practice. Innovation is key especially in practice of IPR law. We at Anand and Anand take pride in always staying ahead of the curve to come out innovative solutions to clients. For example one of the largest brewing companies was facing severe waste of resources, as they were one of the few players in the industry to introduce fresh bottles into the commercial stream. As beer bottles are a commodity which are recycled, other players were reaping the benefit of sourcing such bottles from recyclers without having to invest in fresh ones. A simple solution suggested by us of introducing distinctive bottle designs with the brand names embossed on it gave a two layered protection both under designs and trademarks, saving large sums of monies to the client.
Is it necessary to have a background in General Sciences in order to pursue IPR studies?
Not at all, though having a science background is indeed a great advantage. Science and Commerce are the Yin and Yang of IP. It is a rarity to find those who understand both the streams well but it is in the intersection of these two subjects where the hearts of IP and its practice reside.
What moots would you recommend for an IPR law enthusiast to further their interest and what journals would you recommend for someone who's hoping to get their work published?
India's first and most prestigious moot court competition on IPR is Raj Anand Intellectual Property Moot Court, which has had fifteen editions. It is considered the epitome of IPR moots and is a must attend to get a flavour of India's best competitors mooting on the best IPR problems before the best judges, who are India's leading IP practitioners and sitting judges of Indian Courts. More information on this can be found at http://ipmoot.org. I would encourage students to publish their work firstly in their own college journals and thereafter reach out to other prominent journals such as PTC (Patent and Trademarks Cases) MIPR (Manupatra IP Reports) which encourage and receive submissions from laws students and scholars. Spicy IP, the popular IP Blog founded by Shamnad also encourages students to be part of their eco system and community to present views and publish works as well.
What general advice would you give our readers who aspire to stay at the top of their IP game?
An IP lawyer advising clients on a variety of IP subjects has to necessarily understand their client's business and commercial standing for each of the subject matters. While standing in their client's shoes an IP attorney needs to have a perspective of subjects including accounting, statistics, finance, marketing, and advertising. Even if one is not a commerce or a science student there is a much needed foundation for an IP attorney to understand the panorama of how a business is run. To stay ahead of the curve think like a lawyer, science student, commerce student all at once while acting like a business woman / man!