Malek-ul-Ashtar Shipchandler, a 2014 batch graduate of ILS, Pune, is currently an Associate of Securities, Financial Regulatory, Corporate Law at Shardul Amarchand Mangaldas, having already worked with Economic Laws Practice (ELP) for a year.
In this interview, he speaks to us about:
The significance of the Company Secretary (CS) course;
The experience of a Vacation Scheme at Clifford Chance;
The relevance of certification courses; and
The ability to continue with legal writing even after joining a law firm.
Would you say that high school experiences led you to choose law?
(Malek was part of the Student Council at school and participated in Model United Nations (MUNs) simulations, both as a delegate and Secretary General, and attended the Global Young Leaders Conference (GYLC) in Washington D.C and New York.)
These experiences were definitely instrumental, coupled with encouragement from my family and teachers who saw in me an aptitude for oration and argumentation. I chose to be a commerce student in my penultimate and final year at school, perhaps because I was not exceptional at science related subjects but did fairly well in commerce related subjects such as economics and business administration studies; towards the end of my final year at school, the choice for me was either finance or law.
Please share with our readers your experience at law school. What kind of activities did you participate in? How did you develop an interest for moot courts?
Studying at ILS Law College was an excellent experience for someone who thrives in an atmosphere wherein you are not given a map of how to go about grooming yourself as a budding lawyer; except for the compulsory lectures, one is absolutely free to pursue other diplomas/courses, peruse books and journals in one of the best law libraries in India, participate in advocacy competitions, get involved in organizational activities, articulate views for publication in law journals, contribute to academic discussions post lecture in various "cells", work with a law firm or a counsel, or simply do nothing and enjoy the cold coffee at the ILS Canteen! It has been an inspiring and humbling experience being taught by some luminaries in their own subjects, interacting with and being guided by seniors who have achieved milestones in their careers, and studying along with some stellar students who are currently not only doing well in law, but other fields as well.
I primarily participated at intra-college and national moot courts and contributed to discussions at post-college "cells". As a fresher and sophomore, I remember watching some brilliant seniors argue at moot courts and parliamentary debates – this sparked the keenness in me to participate in moot courts myself. Watching seniors argue at moot courts also helped me to not only understand the basics of fundamental laws like contract, torts and constitution but also gave me a chance to learn and imbibe in myself moot crafting skills such as presentation of facts, articulation of arguments, modulation of voice, rapport building with, and responding to, questions raised by the judges and rebutting contentions put forth by the opponent team.
How did you decide to pursue the CS course? In the long run, do you think that this degree gives one an edge over other law school graduates?
(During Malek's second year at law school he started pursuing the Company Secretary (CS) course.)
Pursuing CS came as a natural decision due to my inclination towards finance as well as corporate law, coupled with the fact that I had time on hand after attending lectures. Having studied for and attempting CS examinations, I am of the opinion that apart from giving you a flavour of basic concepts in company law, securities law, banking-finance law and taxation law, the way the ICSI frames its exam papers is far more objective, and challenges your legal cognitive, as compared to mere rote-writing. The CS course helps one to understand the inter-play between different corporate laws, apart from teaching how to read and interpret basic company financials – a skill very useful for corporate lawyers who interact with Promoters, CFOs and GCs, conduct diligences and draft commercial agreements.
Do you believe ADR competitions are important, but are shadowed by the more popular moot courts in law schools? How do you think this could be changed?
(Malek has also extensively participated in negotiation and client counselling competitions, nationally and internationally, and thereafter even judged such competitions.)
There is no question of one advocacy activity "shadowing" the other. Moot courts and ADR related activities, I believe, are complimentary to each other in holistically grooming a budding law student. Most traditional law schools in India prefer the modus of teaching only by lecturing (rather an encouraging participative discussions or simulation learning), and that too on aspects necessary for examination purposes.
While lectures on CPC and CrPC, and sessions on moot courts, allow students to imbibe the skill of argumentation, cross-examining and drafting, it unfortunately does not hone the art of personal communication, explaining the law to laymen in simple terms, understanding and syncing the clients' expectations with legal modalities, and devising commercially viable solutions. These skills, I believe are indispensable for any lawyer, be it a litigator or a transactional lawyer.
Most law students associate advocacy competitions as synonymous with moots courts and mock trials, perhaps because the number of negotiation or client counselling competitions that happen in India are far lesser in comparison to the number of moot courts. Law schools and law firms need to collaborate together and initiate more of such ADR related activities and competition. From my experience of founding the first ever negotiation competition at ILS Law College, I can say that the inputs of practicing lawyers or GCs (as compared to professors) to such activities/competitions is crucial for the quality of the activity/competition.
You interned primarily at corporate law firms. Where did this inclination towards corporate law start from?
John Grisham may have had a role to play! On a more serious note, I actually started my internships learning at places known for litigation. My first internship was with Hariani & Co, followed by the chambers of the then Attorney General, the late Mr. Goolam Vahanvati. Being in the second and third year of law school, more than learning the law or the procedure, it was through these litigation related experiences that I understood research methodologies, articulation of thought on paper i.e. how to draft legal notes/memos and documents management – skills which eventually helped during my corporate law internships. I believe as a law student, for the initial years at least, one must try everything and not wear blinkers concentrating on either just "litigation" or "corporate".
My inclination towards corporate law was sparked when I participated at the NLIU Juris Corp Moot Court Competition which gave me a chance, while researching on the moot problem, to identify and understand certain transactional nuances in securities and competition law which ultimately led to a dispute in court. I must admit that certain facets of litigation, such as argument drafting and strategy, really interest me; I am grateful that so far in my career, along with corporate-transactional work, I have been getting to do some work focussed on the Securities Appellate Tribunal and appearances before the Securities and Exchange Board of India.
You experienced a vacation scheme at Clifford Chance. Was it different from Indian law firm internships?
The experience can be comparable to internships offered by certain Indian law firms. Global firms such as Clifford Chance have very structured work experience schemes, almost like a course by itself, which involves learning and development of the Schemer through work assignments, attending in-house lectures, insights into the workings of different teams handling different practice areas and networking opportunities with the professionals at the firm. Firms such as Clifford Chance are driven by a philosophy of investing in their lawyers, right from the time one begins a training contract with them.
I would encourage the readers, that given a choice between doing a LL.M and taking up a training contract, the latter should be considered hands down; there is no better teacher of practicing law than actual work experience, given the fact that law we read while studying is often very different from how it operates/is applied in the real world.
You have scored a remarkable 99/100 in the FICCI's certification course on Competition Laws and IP Rights. How far do you think these certification courses help a law student?
Most traditional law schools often do not have specialized laws as part of their curriculum and are therefore not taught, at least as a core subject. Certification courses facilitate the learning of specialized laws, and are generally designed in such a manner, that it can be undertaken simultaneously while continuing your regular college activities. While there is a culture among law students of enrolling in parallel courses early on, it might make more sense to wait until the 4th or 5th year (or 3rd year in case of a three-year program) to assess where exactly one's inclination lies – this is possible after participating in advocacy competitions, doing internships or writing papers – avenues through which one can understand what it is like to "practice" the specialized law, and not merely "read" it. From a CV building point of view during law school, especially if you have applied to intern under a particular practice group, certification courses would be a plus.
Did you face difficulties in the beginning of your work at ELP? When did the transformation from a law student to a lawyer take place?
(After graduating from law school, Malek joined Economic Laws Practice (ELP) and worked there for over a year.)
It is only natural to feel challenged (not, "difficult") when one moves from one life chapter to another viz. the academic chapter a.k.a "fun phase" to the professional a.k.a "real world phase"! That said, having interned previously at law firms and being a part of a great team headed by Mr. Suhail Nathani, made the transition for me as a student to a lawyer not only easy, but also memorable. Believe it or not, your perspective about practicing law is greatly impacted by your first job, team and senior.
Do you believe that drafting contracts, legal opinions and other legal documents is an essential skill that most law schools in India omit to teach their students?
I believe most law schools lay emphasis on teaching the principles of contract law as compared to actually teaching a student how to draft a contract. That said, law schools such as ILS Law College not only has a contract drafting competition but also has a subject on drafting which is taught by a renowned lawyer, Mr. Ajit Kulkarni – I still remember, his lectures were attended by non-ILS students as well as lawyers! Most traditional law schools, instead of asking students to take hand written notes of contract templates (which are otherwise available online), could consider equipping students with, and evaluating them on basic skills of drafting such as formatting, cross referencing and even proof-reading, and impart knowledge on aspects of stamp duty and registration – these are essential for drafting most contracts.
You are now an Associate at Shardul Amarchand Mangaldas, Mumbai. What is your work profile there? Could you share your experience at the firm so far?
A usual day for me at SAM involves team meetings, tending to client queries over phone call or email, preparation of memos/notes and drafting and reviewing of transaction related documents. We also advise on securities litigation matters, and as such, whenever required, we draft submissions to be made to the concerned authorities. Some transactions require me to work with other specialist teams in the firm, allowing me to benefit from their domain knowledge and experience. Besides encouraging regular interaction with the partners who have a plethora of experience and knowledge in their respective practice areas, the firm underscores the need for overall development of its lawyers and has implemented programs/policies where SAM lawyers share their opinions and experiences relating to a particular legislation and/or matter – this allows one to be up to date on contemporary legal developments and bake an opinion on certain contentious aspects – a must for any lawyer!
Do you think it is important for legal professionals and law students to make their presence felt online?
I believe, as will most people, that visibility is the key for growth in any profession. It would no doubt be helpful to reduce one's time on social networking websites, and invest that time on professional networking websites such as LinkedIn.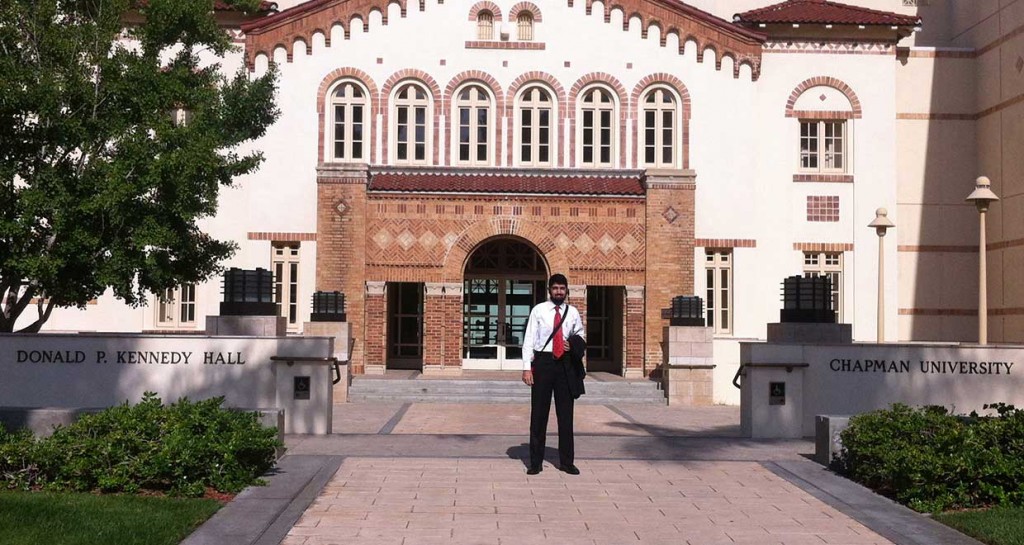 How do you find the time to research and write legal articles? Could you share a few tips with our readers on how to go about legal writing?
Let me answer the question this way: I generally find time to write during early hours of the morning before work, or on a weekend, because writing helps me analyze cogently, organize logically, distil accurately, argue persuasively, cite knowledgeably, punctuate skilfully, and phrase smoothly, among other things. Some coveted blogs and forums also elicit the comments of experienced professionals and luminaries (either concurring or differing from the views expressed in the article) on the article, which is enlightening to read. I believe everyone has their own way of building their knowledge of the law and expressing their interpretation and application of it – legal writing is one such way which quite a few law graduates appear to adopt.
To the readers, I can share that, while writing, I tend to implement certain guidelines which appear in a publication of the American Bar Association: "…you must struggle to achieve simplicity—and learn to achieve it without oversimplifying. That's a tall order in an intellectually challenging discipline like the law.
And it's especially tall when you think of the overwhelming attraction that legalese presents to the average mind. With "pursuant to" and "assuming arguendo" and "hereinafter" and "inter alia", you have ready-made shortcuts for feeling lawyerly. They're like secret handshakes. They seem to make you a member of the club. Without them, you'll feel like your pre–law-school self at a time when you may really want to feel a difference. Never mind that they typify low-grade legal writing."
What is your message to young law students?
"Work until you no longer have to introduce yourself" is a mantra I endeavour to live by – try it!