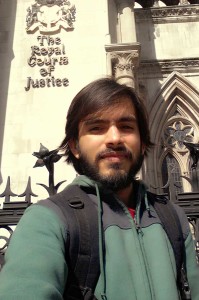 Manan Bhatt graduated from Maharaja Sayajirao University of Baroda in 2010. Thereafter he went for an LL.M. in International Commercial Law to University of Westminster. He practises as a litigator and is registered as an Advocate. He also had the opportunity to judge the 10th Willem C Vis Arbitration Moot.
In this interview he talks to us about:
Days at MSU and differences between MSU and Westminster
Comparison between an Indian LL.M. and an LL.M from the UK
LL.M. experience, faculty, facilities and overall academics from Westminster University.
How would you like to introduce yourself to our readers?
Hello, you are reading an interview of a person who is experiencing the field of law since 2005 and actively learning the Law since 2010. I did my undergraduate in Law (B.A, LL.B) from Faculty of Law, Maharaja Sayajirao University of Baroda. In 2010 I graduated and my name has been entered in the roll of advocate of Bar Council of Gujarat. I started my practice as an Associate with the Chamber of Hriday Buch which has its presence in High Court of Gujarat. After practicing before High Court of Gujarat for more than a year and a half, I went to UK to pursue LL.M in International Commercial Law from University of Westminster. Currently, I am honing my Legal acumen under the guidance of Mr. Asim Pandya.
What motivated you to pursue law?
One or the other reasons did not allow me to stay in the same school for more than three years. I got good exposure by having education from various different schools situated in different areas of Gujarat. My primary education was from Government Primary School, Kheda. Then my father relocated in Gandhinagar and I got secondary Education from Mount Carmel High School, Gandhinagar. I successfully finished my XII – Commerce from Sheth C. N. Vidhyalaya, Ahmedabad. In this manner, I consider myself very fortunate that I have lived, experienced and seen rustic life as well as City life in a very early age.
I am the 'first-generation' lawyer. My entire family is from the education field. So, it was a difficult task to choose a career path. Though, my mom always inspires me to be a lawyer as she believes I am good at arguing (being a victim of my argumentative skill!). Jokes apart, I always believe to be in a field where I can get opportunity to communicate with people and observe every sphere of the Society.
In fact, I scored very well in XII – Commerce even I got full marks in Business Math in my Board Examination. So, many of my relatives and well wishers impressed upon me that I should become CA. unfortunately, I did not fall prey to their choice of career and got myself admitted in St. Xavier College, Ahmedabad for F.Y. B.A. (Psychology). In the same year Maharaja SayajiRao University announced five year integrated Law course and I opted in. In a sense, I can't say that law has been my career choice from the beginning at the best I can say that I have inclination towards law from my early years of the school.
What kind of internships did you do while you were a student?
From the very first year of our under graduation we required to attend court proceedings as a part of our academic calendar. I did various internships at various different organisations that include Chambers, NGOs, MNCs, Solicitor firms, etc. It helps me to gather first hand information of the legal field. Being a first-generation Lawyer internship is the only source to get to know about the profession. I have read a few autobiographies of Law Legends, but I could have not known the profession and its true color had I not done internships.
When I was doing my internship with Mr. Majumdar a lawyer and Public Prosecutor in Ahmedabad district Court, I was given an assignment to draft an Appeal for Consumer Matter. I suppose it was a Pro bono brief. One fine day that client came to get the copy of his Appeal. He thanked Mr. Majumdar for his help. Mr. Majumdar called me in his chamber and told the client that he has drafted your Appeal. In a literal sense the client touched my leg and thanked me. This was happened when I was in my second year, I was so embarrassed and at the same time happy to see the happiness engraved in the eyes of that client. From this incident I learnt a lesson in life that the lawyer's duty is not just give his client a best possible professional advice but, it is also the duty of every lawyer to generate sense of confidence in his client so that he can feel that he is in the safe world.
How did you go about securing internships under people like Mahesh Jethmalani?
Faculty of Law, M. S. University gave a large number of legal doyens to the profession. In the year 2005, as many as nine Justices were alumnus of Faculty of Law, M. S. University. It also gave many Chief Justices to various High Courts. Even many of its alumni have been elevated to Supreme Court of India. So, the brand name 'MSU' plays very important role to secure Internship in good organisations/chambers/firms.
What stark differences did you find between MSU and Westminster University?
We are the first batch of Baroda School of Legal Studies. Being a first batch of Five Year Course has its own merits and demerits. I believe infrastructure was the biggest hurdle in MSU. Though, we had renowned faculty member. There were many practicing lawyers who came as a visiting faculty and which helped us immensely.
The stark different between MSU and UoW is infrastructure and library. In UoW, we have library which runs in five floors. Not only books but we also have a facility to borrow laptops from our library. We can access full version of many web portals such as WestLaw, LexisNexis, HeinOnline, Jstor, etc. We do not need to visit the campus just to renew the books which we have borrowed three weeks back. This helped me a lot while I was making my dissertation. In MSU you are constantly in a pressure to find out the sources for your research. Expensive books are not available and if available then only for the reference purpose. This all have very bad impact in your research quality.
What was your motivation behind doing an LL.M. abroad?
This is the question which I have answered zillion times. Invariably, every person asks this question why not an LLM in India. The answer is simple. I was convinced that I am litigation material and hence, I want to expand my knowledge base that too in a short span as I want to rejoin the profession again. In India at that time LLM courses were of two years. And in UK it does not consume more than 9 months. This is the first reason.
I am not a 'DEGREE CENTRIC' person. I want to expand my knowledge more particularly; I like courses which require intensive research and a more independent approach to working towards DEGREE without the constraints of attending timetabled lectures. In India, we are obsessed with attendance and 'text book–based–examinations'. This is what I hate the most and hence I decided to pursue LL.M from UK.
How did you choose the universities that you applied to?
Actually, I had three countries in my mind for pursuing my LL.M i.e., UK, USA and Singapore. Then I contacted many LLM students through LinkedIn that helped me massively to zero down on UK.
After I decided that I will be going UK, the task became easy and I surf, read, research and talk with many people. Here, I would like to give an unsolicited advice don't hire any agent for a help to make your research and application. DO NOT believe what they say; use your own mind and do your own research. Contact Admission Office of any of the universities of your choice and ask every single query your mind has cultivated.
As I said earlier I want to join some Research University. I have applied in SOAS, Kings College, Queen Mary, Durham, Leeds, and Leicester. I received offer letter from Kings College, Queen Mary and Leicester University.
How did LL.M. at University of Westminster happen?
It all happened very hurriedly. I decided to go for higher education in May 2011 when we have Summer Vacation in the High Court of Gujarat. Though, I have already made research on 'LLM -IN –UK'. Hence, I knew that I was late in applying. I have applied University of Westminster through UKPASS. I was in touch with the Admission office of UoW. They guided me with my application process.
How is the recruitment for overseas students?
I personally, do not believe that 'Foreign – LL.M' improve my chances of employability. At the same time, recruiters do call you for an interview by acknowledging your foreign degree mentioned in your CV. After all it's all about Confidence and rapport you share with your interviewer which might help improving your chance to employability. Miss Swethaa Ballakrishnen has written a paper viz. "Homeward Bound: What Does A Global Legal Education Offer The Indian Returnees?" on chances of employability of an LL.M holder. I recommend all the aspirants to read this paper. It will provide crucial insights regarding LL.M and Employability.
How was your experience in Westminster?
One of the main reasons I chose UoW is its faculty members. John Flood, Reza Banekar, Richard Earle, Joseph Tanega, Adam Samuel, Simon Newman to name a few, are our faculty members. They are reservoir of knowledge, very active and attentive, ready to help and they are the Professor in its true sense and spirit. They respect knowledge and talent. They made me strive for knowledge.
I could not find a single reason for which I can say that paucity of resources in UoW hampered the quality of my research/overall outcome of my result. We have good library. The central library system in UK allows me to visit any library situated in UK. In fact, I used to visit LSE's library for research. They have online database. Prompt reply from faculty members is the rule. So, there is nothing for which you can blame UoW for your bad quality of research. They help you in settling up interviews if your research demands interviews of various stake holders of the society. These all facts make you to concentrate on research only. The administrative side has been looked into by UoW. This helped me a lot.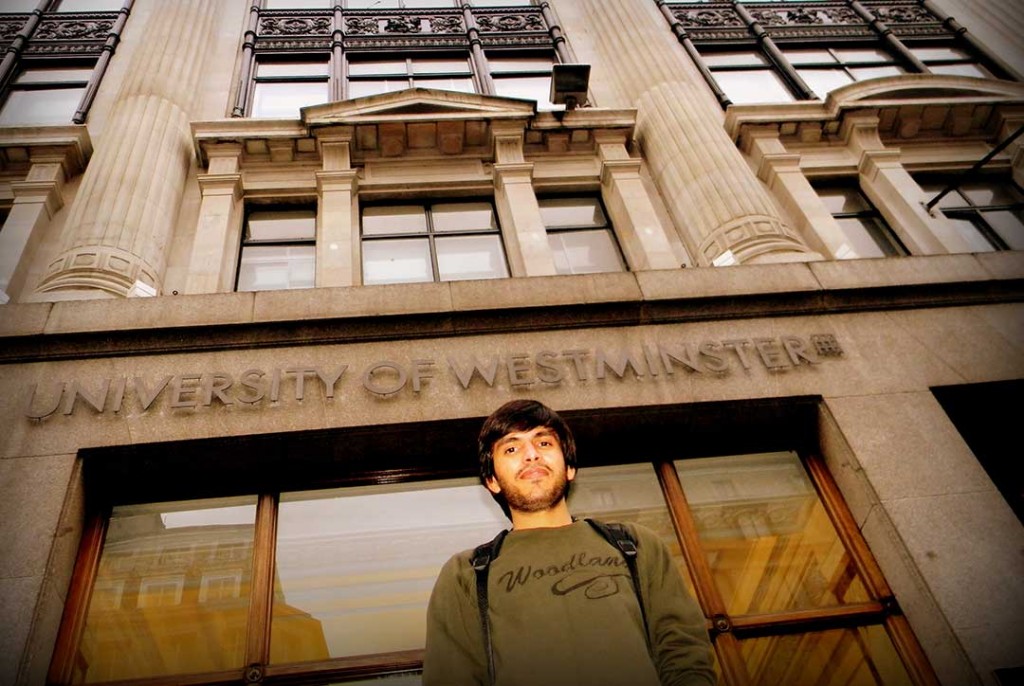 What do you suggest one should necessarily do while at the Westminster University?
The Cinema in Regent Street London is the part of UoW.  You are not an alumnus of UoW if you have not experienced the Cinema. "Walking Tour of the Neighbourhood" guided by Adam Samuel should not be missed out. One should join Adam Samuel to know food joints around the neighbourhood and history of the neighbourhood.
What did you specialise in?
I did my LLM in International Commercial Law. Foundation in International Commercial Law is a mandatory module for the Student of LL.M-ICL. International Commercial Arbitration, Comparative Commercial Arbitration: Law and Practice, Research Theory and Practice, International Commercial Litigation And Corporate Social Responsibility Issues in Business and Law are the other modules which I had opted for and successfully cleared.
My first love is Litigation rather, Dispute Resolution. Arbitration and litigation is therefore, natural preference. I took Research Theory and Practice because I thought and which also became reality, that it will help me to make my research more effective. The selection of these modules paid well in terms of marks I secured 65 marks in the dissertation. I wrote my Dissertation on "Interim Measures of Protection in International Commercial Arbitration and its Practice in India." Corporate Social Responsibility module had been chosen just because I find the name of the module somewhat fascinating.
How was the academic schedule?
Our Course is based on 180 credits. 60 credits for Dissertation and rest of 120 credits are divided in to twenty credits per subject that comes to six subjects in an academic year. I studied five subjects in the first semester of my post graduation. I must admit that the first semester was more hectic than the second one as in the second semester I have only one subject and Dissertation. But, in the last it helped me because in second semester. I got ample time to set my focus on Dissertation. So, the academic work depends on how you choose your modules.
How's the Indian fraternity over there? Are there many Indian students?
There are many Indian students and if we count south Asian students then I believe they are more than English students! My course had three Indian Students including me. So, around the university there were many Indian students but in my course we have not that luxury to have 75% Indian Students unlike Queen Mary or Kings' College.
What about accommodation?
I have not stayed in a hostel or dorm. I was staying in Private accommodation. Private Accommodation is economical.
Where do you see yourself in five years' time?
Five years down the line I would be more mature in terms of Law as well as life.
How has your life been after the LL.M. from UoW?
After LL.M I got the occasion to represent a client in International Arbitration. It was an ICC Arbitration held in Geneva. I was invited to judge/arbitrate Tenth Willem C. Vis (East) International Arbitration Moot held in Hong Kong on 11th – 17th March, 2013. I was invited to judge 3rd ILNU International Moot Court Competition 2014. At present I am working on various domestic Arbitration brief.
What would be your advice to law student interested in going for higher studies?
Do your research by yourself, Cross check what you read online. Get your priority straight. Define your purpose for higher studies. If the only purpose is to open up more avenues then think twice. If you want to do pure legal work in other Jurisdiction. Better you give Bar Examination i.e. In UK QLTT, LPC or GDL; USA New York Bar Examination etc. It is economical and it will increase your chance of employability.
Lastly, what would be your message for law students?
Read. Re-read. Analyse. Think. Write. Listen. Pay Attention. Observe. Speak.