Manas Agarwal graduated in the year 2014 from School of Law, Christ University, Bangalore. Immediately upon graduation, he joined Accenture Pvt. Ltd. as a Contract Associate, before appearing for the Institute of Banking Personnel Selection (IBPS) and being selected as a Scale-1 Officer (Law) for Karnataka Bank.
He holds a Diploma in Business and Legal Studies, apart from having completed a general course on IPR laws conducted by WIPO. He has to his credit many awards ranging from debating to moot courts. In this interview he discusses:
The benefit he accrued from studying in a private university with many departments.
The IBPS examination and how he cleared it
His tips to ace the interview rounds after a selection process
The importance of a helpful mentor in a lawyer's formative years.
How would you like to introduce yourself to our readers?
Hey! This is Manas Agarwal. I prefer to introduce myself as a lawyer falling under the 'Non-Nerd' category. I graduated from School of Law, Christ University, Bangalore. I am currently working as Scale-1 Officer (Law) for Karnataka Bank.
Was studying law your dream career? What motivated you to take up this field?
In all honesty, it was a dream career which I started dreaming of after class 10th. I remember that day when I was sitting on the stairs of my boarding school (Wynberg-Allen School, Mussoorie), staring at the lush green hills under the monsoon clouds and thinking aboutwhat to do with my life. That is when I asked Mr. Tindale (the Principal) who was standing next to me– "Is it a cool thing to be a lawyer?" His 'Whoa! Attaboy' expressions followed by a detailed explanation motivated me to take up this field with the never ending support of my parents.
Tell us a little about your time at School of Law, Christ University, Bangalore. What extra-curricular activities did you participate in and how did it enrich your law school experience?
Christ University was a good platform for me not only to grow as a budding lawyer but also to grow as an individual as I was being exposed to different multicultural and departmental benefits which a deemed private university could offer. I was an average student academically. I was that guy who enters the class with a basketball in his hand in the morning. Every class has that one guy. I was mostly active outside the classroom being immensely involved in the extra-curricular and co-curricular activities such Client Consultation Competitions, Negotiation Competitions, Moot Court Competitions etc. I was a part of the college's basketball team and a 'C' cert. NCC cadet. I used to have basketball team practice before the class hours and NCC drills on Saturdays post classes. I made a lot of good friends who are not just restricted to the legal industry but belong to different departments such as management, computers, engineering, commerce, arts etc. which again is one of the perks of a private university having different departments under one roof.
You have won many moots, debates, client counselling and negotiation events during your years at law school. What do you have to say about excelling at such events?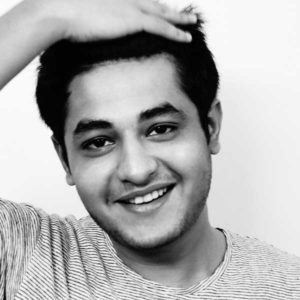 As we prepare for a competition, we spend hours researching about the problem/topic in the process of preparing the contentions/agenda. In this process of intensive research, many a times, students get deeply engrossed in the problem and reach the advanced level of the research but forget to prepare on the basic or elementary knowledge of the problem in hand which is mostly questioned by the judges in any competition. My advice to students who wish to excel at such competitions would be to start from scratch. Try to understand the problem first and then ask yourself- Did you understand the subject matter? Can you narrate the problem to your friend without looking at it? If not read again. Before turning into an insomniac and shifting to the advanced research levels reached through spending late nights at the library, a student should work on the root questions. If a student is thorough with the basics, half the battle is won.
You hold a diploma in business laws and have also completed a certificate course on IPR laws offered by WIPO. What is the value addition of such external courses?
As a student of law, when I took up these courses the thought which hit me first, as it mostly does for the students of that age, was it'll reflect good on my CV. What I have realised after completing these courses was that more than the CV, the knowledge delivered by these courses which helps in the long run. A decorated CV can only get you an interview call but the knowledge you gained will help you jump rest of the hurdles, both before and after joining.
You have been selected as Scale-1 Officer (law officer) at Karnataka Bank conducted by IBPS. Would you like to tell our readers a bit about the examination and the process of preparing for it?
Sure! So IBPS conducted this exam for Karnataka Bank. Firstly, the candidates were shortlisted based on the exam, which was conducted online similar to other bank PO exams. The exam was a 200 mark multiple choice question paper with 5 options. The paper was divided into 5 sections including Quant Aptitude Test (Mathematics, which was the biggest challenge for me being away from the subject for quite a time). There was 1/4th negative marking allotted for each wrong answer. Result of the test was communicated after a few days on the official website of the bank. The selected candidates were given the interview call letters and were accordingly called for the interview at the bank's head office located in Mangaluru. This year they have selected 73 candidates in total including all categories – General Probationary Officer (PO), Agriculture Science and Law.
What advice would you give to the candidates short listed for the interview?
My advice to the aspirants is just to be real. Do not try to fake it or make up stuff. Respect the expertise which the panel possesses. They will easily catch you if you happen to make up stuff. Prepare well and if you do not know a thing then tell them clearly. Remember they want a genuine and honest employee.
What are the responsibilities of a Law Officer in a bank?
A Law Officer in a bank deals with the cases related to the bank and acts as an advisor to the bank whenever a question of law is involved. The statutes which a law officer deals with are Acts such as the SARFAESI Act, Indian Contract Act, Banking Regulation Act and various other statues related to the banking industry.
You worked at Accenture Pvt. Ltd.  prior to this. How was your experience as a contract Associate?
Accenture was a great place to work. I really enjoyed working there. Starting your career with an MNC such as Accenture teaches you a lot of things, professionalism being top on of that list. It helped me grow as a team player under the guidance of highly qualified managers who were always ready to connect and help me during and post work hours.
You have interned at different places having different lines of business including Holla and Holla, Bangalore and ICIC Lombard, Bangalore. What were the greatest takeaways from these?
As a law student, I had planned to design my CV in the most diversified way possible. Where Holla and Holla taught me the research work on property laws, ICICI Lombard extended my knowledge on the applicability of the motor vehicle insurance laws. When a law student enters a law firm or a legal department of a company in his initial years, he expects it to be like the TV series Suits. However,  right after the initial week, he gets his reality check. That's when he is ready to adopt the new culture of the firm/company and tries to learn their way. This is the time when he actually needs some additional support from the lawyer he is working under or the supervisor. I was fortunate enough to have wonderful leaderships in both of these places which helped me learn the importance of management.
What would be your message to law students and your fellow colleagues?
Law school is a wonderful phase of your life. Make the most of it in all possible way. Once you are out of the law school you'll find yourself in a swimwear on a beach. You'll be desperate to enter the sea in order to beat the heat but you'll be wondering from where to enter.  I have gone a bit philosophical on this one but I am sure you'll relate to it one day. Stop worrying about the packages and CTCs. That should be your last concern (trust me!). It's the knowledge and experience which matters the most in long run. Don't forget you are a lawyer now. Do what interests you the most. Always remember what my elder brother (Manav) always told me- 'First job picks you whereas you pick the second one.' Don't panic, you have time. Just focus on the direction you are in and not how much you are earning at the moment. 'You don't get a second chance and all' is utter nonsense. Life never stops giving you chances provided you work and ask for them. Most importantly never ever stop enjoying (chilling- as we like to call it) no matter what you do or how busy you are. We are born to live and not just to work. Good Luck!