Mini Gautam graduated from ILS, Pune in 2010. Soon after Graduation she worked at ITC Limited as an Associate Legal Manager and then went on to pursue a Masters in International Financial Law from Kings College, London. Thereafter she returned back to India and started working at Magma Fincorp Ltd as Assistant Manager. Later, she switched over to Udwadia Udeshi and Argus Partners.
We asked her to share:
Her experience while pursuing an LL.M from Kings College, London
Work experience at ITC Ltd. & Magma Fincorp Ltd.
and appointment at Udwadia Udeshi and Argus Partners.
Given that most of our readers are law students and lawyers, how would you introduce yourself to them? What is it that motivated you to take up law as a career?
Hi, I am a lawyer just like all of you are or hope to be one day. We all belong to this amazing legal fraternity, and we all owe so much of who we are to this profession. I decided to become a lawyer in the XIth grade, when I read about the rape and murder of Hetal Parekh by Dhananjay Chatterjee in the newspaper. There was a huge rope hanging in the middle of the front page with the tag line "to hang or not to hang" It just moved something in me.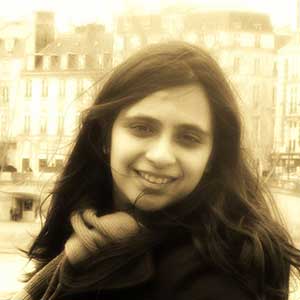 What is the kind of interest or aptitude do you think one needs to get into law?
Law is not a career option, it's a way of life. You cannot stumble upon law or come to be a lawyer as a last resort since nothing else worked out for you. The legal career is a very demanding profession, it requires a lot of effort and dedication. There are increasing cases of students dropping out of law school or quitting their jobs within a couple of years of passing out. It is true that you cannot know whether you are really interested in the field till you actually join law school, but I really feel that kids should conduct a little more due diligence and be a little more certain before deciding on a career in law. It is not Boston Legal, Suits and the Good Wife all rolled into one.
Social awareness is of course a pre requisite for anyone who wants a career in law. If you have an argumentative nature and like to analyse the two sides of any argument, law is the career for you. People say that law is nothing but common sense, it is applying of pure and simple logic.
What were your areas of interest during your graduation? How did you go about developing expertise and knowledge in these areas?
What interested me the most in law school was the law of contracts. It is probably the most basic and fundamental area of law for any corporate lawyer, whether you choose to work in a law firm or in-house.
The legal profession is all about reading. The best of lawyers in our country go back to the books even after 20 years of experience and each time they find a different perspective or a different interpretation.
After your graduation, you started working at ITC Limited as an Associate Legal Manager. How did you secure your appointment?
I had interned in ITC during my college days and I think that helped me to acquire contacts. I used to handle the intellectual property work which was actually really interesting and enjoyable. My job profile involved trademark applications, oppositions, infringement proceedings, etc. and I think within 6 months I had a good grasp on the subject matter. Honestly, I didn't really face any challenges in this job and it was more of a smooth and happy experience for me.
How was your LL.M experience from Kings College London? Did you always have higher studies in your mind? If not, what motivated you to go in for the same?
I believe that the sooner you complete education the better. Once you get settled in your job and are in the habit of earning, it becomes a bit difficult to take the decision to pursue higher education. That's the main reason that prompted me to quit a good and well paying job for higher studies. I don't regret the decision since if I hadn't quit then I would probably never quit and I wouldn't have had the kind of experiences and rollercoaster career ride that I have had instead.
Do you think it makes sense to students to go overseas to study law when they want to practice in India?
Honestly speaking, an LL.M abroad may not per se be of use in India to get a good job or even in practice. It is only if you want to pursue academics that LL.M is directly useful. Having said that, studying overseas helps to broaden your horizon and gives you thekind of exposure you cannot get in India. In life everything cannot be measured in pure profit and loss terms, and the only real thing that matters is the kind of experiences you have had.
After pursuing Master, you joined Magma Fincorp Ltd. What was the nature of your work there?
Magma Fincorp Limited is a finance company based out of Kolkata with operations across India. One of the best things that I learnt during my short stint there is contract negotiation. I had a chance to directly negotiate with the other parties and that's a skill which every lawyer must have.
Currently, you are working as an Associate as Udwadia Udeshi and Argus Partners. What prompted you to make this choice and what made this shift possible?
I wanted to get the exposure of working at a law firm. Ideally, it makes more sense to work at a law firm within the first few years of graduating and then moving to a corporate since law firms have bad working hours and less of work-life balance. But when I graduated, ITC worked out and that was an excellent brand. A law firm gives you the chance to be exposed to a much greater variety of work than you would get in a corporate. It is a perfect learning opportunity.
What kind of work and responsibilities generally an associate at Udwadia Udeshi and Argus Partners deals with? What should a student do so that he gets placed in a firm like this?
An associate at a law firm like UUArgus has the advantage of working on highly varied matters and areas of law. I have dealt with a plethora of matters ranging from due diligence to drafting of share purchase agreements, EPC contracts, conveyance deeds, joint development agreements, etc. There is an emphasis on solid and thorough research and I have had the chance to learn a lot. A law firm like Udwadia Udeshi and Argus Partners would look at your overall resume. Good grades in college are very helpful, since initial screening would take place on the basis of that. As you grow older you realise how redundant grades, moots and internships are since all that matters is your experience. But these things are relevant for your first placement.
What is the basic difference that you see between an in-house counsel and a law firm lawyer?
There is a world of a difference between working as an in-house counsel and as a law firm lawyer. In a law firm you are the one drafting and as an in-house you are the one reviewing drafts made by law firms. In-house counsels are closer to the business side of things and have a better understanding of the company's operational aspects. I think people have a wrong notion that in-house lawyers don't have that good an understanding of the law. There are many lawyers at law firms who don't understand the nitty gritties of law while some of the most exceptional legal minds might be working in-house. One must simply aspire to excel wherever you are working.
What is the current scenario of studying corporate law as a career option in India? What are the key qualities one should posses for becoming a corporate lawyer?
I think more and more law students are taking to corporate law. For many people it's a way to make good money which is kind of true. Litigation requires a lot more patience and tenacity. if you study corporate law, you will end up getting some kind of a job at the end of your course. But it's important to have a genuine interest in the subject. As I mentioned earlier, I see a lot of people dropping out of law, they come back with comments like "law is not my cup of tea." I think it's unfair to waste so many years of your life on something and not utilize it.
Corporate lawyers need to be sharp and smart. You represent the interests of large organisations. You cannot afford to be unsure of yourself. You need to think out of the box to come up with innovative solutions and suggestions. While being street smart is of great help, there is no substitute to actual knowledge of your field. Law is changing constantly. SEBI, RBI and MCA websites are full of updates on what is happening and how fast law is evolving. You can choose to stay ahead of the game or fall behind.
How challenging is life as a corporate lawyer? What is the earning potential?
There are a variety of factors which would determine this. Life in law firms is definitely harder than in corporates. But basically a lot would depend on which organisation you work for, who are the people you report to, etc. The earning potential as a corporate lawyer has always been good. Corporate law is a high paying field compared to many others. Though a word of caution would be to not let money be the deciding factor in what you want to do or who you want to become. You have your entire life to earn money, but only the initial few years of your career to decide what kind of career path you want to take.
What are the other related fields where a corporate lawyer can try hand apart from joining law firms and corporate houses?
Academics have always been a good option for anyone who wants to pursue a career in law. There are a lot of compliance management companies and LPOs where the skills of a corporate lawyer can be utilised. An excellent combination with corporate law is the company secretary course. Under the new regulatory regime, the role of company secretaries has widened and the demand for them is increasing every day. I would strongly recommend every law student who has the time and especially those with a commerce background to complete the course as it helps to open even more career options.
What do you cherish most about the experience you've had over the past two years?
The thing I cherish most in my experience over the past two years is growth. Every day is a new challenge and every day I see myself grow.
What are your future plans from here on?
I would like to do something where I can contribute more to society and to my profession. Though I joined the legal profession with some very lofty ideals in mind, I haven't really been able to execute them. I am hoping that sooner rather than later I would be in a position where I can be of help more to others than to myself.