Natasha Fernandes graduated from Government Law College, Mumbai in 2002 and had thereafter worked as in-house counsels of large corporate houses. She currently heads the Law department of B4U Television Network India Ltd.
In this interview, she talks about:
Building up a career in media law
Strategies which she used while working with different places
Journey from an Assistant Legal Manager to Legal Head at B4U
Given that most of our readers are law students and young lawyers, how will you introduce yourself to them? What motivated you to choose law as a career?
Hi friends, this is Natasha Dsouza.. I head the legal for B4U Television Network India Ltd. Been here since 9 years, with a total rich legal exposure of 12 years.I pursued the 5 years law course from Government Law College, Churchgate. Having no family background in law, the hunger for knowledge was the only factor that kept me going. To be honest, Law was not a career stream for me, rather the interest to know the law of the land so that people could not take me for a ride was the motivation to learn law.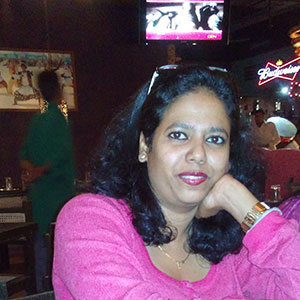 What all activities did you participate while in your college? What were your areas of interest during your graduation?
College life was very simple, but fun. Did my 12th from P.D Lions College, Malad and then joined GLC, Churchgate for the 5 year law course. I had a lot of fun with friends but within the four corners of discipline. These years have some of the best memories and friends. College was merely education and fun. All the expertise and practical knowledge was post my completion of law.
Did you do any internship during the course of your studies? What kind of work did you come across during your internships?
No, unlike others I did not take up any internship during college. I started my career only post my graduation in law.
Many lawyers say that the first year after graduation is the most difficult year for young lawyers. How was your first year after graduation?
I had lived a very simple and protected life, home to college and college to home, never journeyed beyond, rather had always depended on friends or folks to travel to a new place.
When I joined the law firm after my graduation, I had to appear in all courts all over Mumbai. With no knowledge of routes nor any internship training, had no knowledge about appearing in matters, it was a new world with a plethora of experience, especially with the strict judges who were not very supportive of juniors appearing before them. It was a do it and learn it yourself affair, but a journey that made me independent.
You had started working at P. V Nichani & Co. right after graduation, and thereafter you joined Shapoorji Pallonji& Co. Ltd.. What led to this shift?
I always wanted to work for a corporate. I started my career with G.P Consultants and Developers immediately after my graduation in law. On working there, I did feel the need to have procedural and court exposure and hence started my journey with P. V Nichani & Co. Worked there for a year, appeared in all Metropolitan courts in Mumbai, Small Causes Court, City Civil as well as in the Bombay High Court. After a year of enriched experience and exposure, I was approached by Shapoorji Pallonji& Co., and I took up the offer on selection.
You left SP & Co. Ltd. to join Star India Pvt. Ltd as a Legal Executive. What motivated this shift? What does it take to get job at Star India at that stage?
STAR motivated this shift. As far as getting a job is concerned, it's always a matter of confidently marketing your experience and exposure in a way that suits the need of the Company interviewing you. It is very important to know about the job profile and whether you can handle the requirement and an honest answer to everything. It is always good to confess what you don't know rather than to beat around the bush or lie. Coz even if you sail through the interview, any lie will make you fall flat on your face when you start work.
Thereafter you started working at B4U Television Network India Ltd. Having been at B4U since 2005 as an in-house counsel, you were promoted to Legal Head; what qualities do you think helped you to achieve this status?
I joined B4U as an Asst. Manager in 2005 and have been working here since 9 years. My qualities that helped me achieve it, is what every growing employee has..
Honesty and sincerity towards work;
No saying NO to any work;
Constant learning and research. No one knows everything and everyone needs to learn, so never felt ashamed to ask when I didn't know something. It is better to ask than to make mistakes;
Eye to details and re-checking everything that is done;
Time management and prioritizing work to achieve within set timeframes
And above all my Drafting skills and perfection towards work
Many lawyers would say that the actual learning takes place in the years of practice. How far would you say it is true? What was the case in your situation?
Not true in my case. Actual learning takes place wherever there is an intention to learn. You face various challenges as an in-house counsel and also working with a corporate divides your exposure between litigation and non-litigation. Both give you a lot of learning and learning never ends.
What would be your message to our readers who are budding lawyers and law students?
Believe in yourself
Be attentive to details
Never feel shy to ask what you do not understand
Stay positive and self-motivated, focus always on your goal, nothing else matters, no negative comments, no politics, when you know you are working with honest, giving your all, just stay focused, let people not bow you down.
Never keep ego at work.