Nipun Bhatia is a Senior Consultant with Legal League Consulting, India's first management consultants to the global legal industry. After graduating in B.Com he pursued LL.B from Faculty of Law, Delhi University, and graduated in law in 2008. Besides being a lawyer, he is also a qualified Chartered Accountant. He has worked with Lall & Sethi Advocates as their Senior Manager – Finance, Administration & Human Resource Development. He has done a Post Graduate Certification Course in IPR from Indian Society of International Law.
In this interview he talks about:
Pursuing C.A. and law
Working at Legal League Consulting
Law firm management and Enterprise Resource Planning (ERP)
Please introduce yourself to our readers.
I am a Senior Consultant with Legal League Consulting, India's First Management Consultants to the Global Legal Industry. While I deal with all aspects of Law Firm Management, my core areas of expertise include Finance, Human Resource Management and Enterprise Resource Planning. Besides being a lawyer, I am a qualified Chartered Accountant, which explains the interest in finance and number crunching. Prior to joining Legal League Consulting, I have worked with Lall & Sethi Advocates (now Singh & Singh Lall & Sethi), a leading IPR Firm, as their Senior Manager – Finance, Administration & Human Resource Development. My first job, however, was with an Ad Agency, which was a subsidiary of Future Group.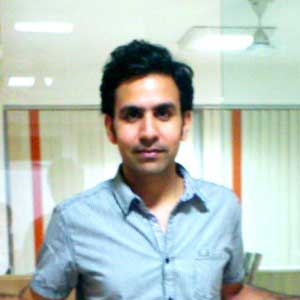 When did you think you were suited to a career in law? How did you get through to Faculty of Law,
University of Delhi?
While studying for the Chartered Accountancy course, our curriculum included studying various laws and to my surprise I used to enjoy studying them. Reading of Acts and their practical application generated a lot of interest and I decided to give the LL.B. Entrance Test after getting through the Intermediate level of CA Course. Surprisingly, I cleared the test and made up my mind to pursue the course. Also, on a lighter note, the family used to always complain that I have this habit of arguing and sharing my views upfront in every matter, so lawyer is the best suited career option for me! Once I got through, they realized that I had taken it a tad too seriously!
After your graduation, you have pursued a Post Graduate Certification
Course in IPR from Indian Society of International Law. Was it a professional requirement to enhance
your career?
From college days itself, I found IPR to be a very interesting area of law and something which a common man relates to. Reading about Trademarks, Infringements, and Counterfeits etc. intrigued me and I decided to take up the Certification Course, in order to have a longer stint with the subject. At ISIL, I thoroughly enjoyed the class room sessions since the faculty encouraged live discussions and took up real life case studies. Out of the sheer interest and due to such fabulous class room training, I worked very hard on the project submissions. It also helped in studying diligently, which earned me not only the highest score in the entire batch, but also a gold medal which is my prized possession till date.
What were your areas of interest during your graduation? How did you go about developing expertise and knowledge in these areas?
As mentioned above, during the LL.B. course, I had begun to like IPR a lot. Apart from IPR, I meticulously studied for Jurisprudence as it explained a lot about evolution of law and the rationale behind it. I still remember that my notes used to be photocopied by colleagues and juniors since I used to make very neat hand-written notes, after referring to a lot of books and doing my own research. Till then, the use of typed notes and e-mails was not very common.
Another subject that was very interesting was Family Law. Being a Hindu, we have always been exposed to Hindu Customs and Practices. Thus, when we were introduced to nuances of Muslim Law, I found it very interesting to read.
You have also managed
to pursue Chartered Accountancy
. Tell us why did you chose to do it and what is the utility
of having
a qualified CA degree in your
domain
?
Chartered Accountancy came into the picture because my mother always wanted me to take it up as a career. When I cleared Senior Secondary Examination, I managed to score in decent eighties in Accountancy (99.99% score was not the norm at that time, as it is now). So I was told that I should pursue Chartered Accountancy since I have scored decently well and the subject is not that hard as compared to any other pure mathematics based option. So I just filled the form and cleared the Foundation Examination after nine months of study. It was only when I entered the Intermediate level that I realized that it is anything but easy!
It requires a very disciplined approach towards studies and a belief that one should never ever give up. While I would always jokingly tell the young aspiring students that one should not take up CA as a career choice since it is a very demanding commitment, I would also like to outline here that all the hard work put in through the number of years of studies and all the sacrifices made during this course are really worth it! The kind of respect this profession earns you makes every sacrifice made during the course of journey worthwhile.
What were the biggest challenges in
the first year of your graduation? How did you deal with them?
I did my law graduation from Law Centre – II of Delhi University, the classes of which are held in the evening. Being an evening college, it was a favoured choice for a lot of Govt. Servants and people who have already achieved a stature in life. In the first year, it had a mixed effect on me. I used to feel intimidated by the presence of such stalwarts beside me since all of them were very intellectual and would pose lot of questions in the class. I was also hesitant to make friends with them due to the age gap. However, over the period of time, as the interaction increased, I figured out that there is lot to learn from them. The fact that they were willing to work hard at that age and gain further knowledge despite being successful professionals motivated me to a very large extent. They were not only friendly, but were very helping and tolerant towards our generation.
You have
worked for a s
hort period of time
with a premier Apparel Bran
d and got to hone
your creative
skills
over there.
How did your appointment take place? What worked for you in securing
this job
?
This, being my first job, will always hold a very special position in my life. I was shortlisted through a famous online job portal and was selected after a couple of rounds of interview. After the initial few hiccups, I developed a comfort level with the Managing Director of the Company and worked under him directly. My finance background and my legal knowledge both helped in securing the job since it involved a lot of work with respect to drafting of contracts and agreements, along with regular Financial MIS Reporting. Also, the experience gained during the internships helped a lot since I was able to put the knowledge to practical testing.
Before moving to Legal League Consulting, you have worked
with a leading IPR Law Firm as
a
Senior Manager – Finan
ce, Admin
istration & HR Development for three
years
.
What kind of responsibilities
were
you
entrusted with?
Getting a job with Lall & Sethi (now Singh & Singh Lall & Sethi) was a path breaking move in my life. Ms. Bithika Anand (Founder & CEO of Legal League Consulting and under whom I work currently) was entrusted with the responsibility of finding a Finance person for the Firm.
Through a consultant she interviewed me and found me apt for the role. Besides CA and LL.B., my certification from ISIL in IPR field also favoured me in getting selected for this role. Since the day I was appointed at the Firm, there was no looking back. Under superb training from Mr. Chander M. Lall, who is a visionary and legend in himself, I was given one challenging role after the other.
Thus, while I joined them as a Finance Manager, within a short span of two years I was promoted to Senior Manager – Finance, Administration & Human Resource Development. Had it not been for the fantastic grooming I was given under Mr. Lall, I would have still been just an accountant! Also, it is very important to mention here that being a fitness freak, Mr. Lall is an inspiration for a lot of youngsters like me. I joined the Firm as an accountant who weighed 92 Kgs and slowly got into fitness after being inspired by him. Thus, in less than a year, I was able to knock off almost 25 Kgs from my weight. I would not be exaggerating if I say that the Firm and its wonderful people brought a 360 degree turn in my personality.
How did you decide to work with Legal League Consulting?
I think I have been very fortunate to meet just the right people in my life. As mentioned above, I was initially interviewed by Ms. Bithika Anand, who placed me with Lall & Sethi. I was very sure that whenever I would decide to move on, I would go back to her. Her dynamic personality almost instantaneously surrounds you with a positive and energetic aura. Hence, it was always in my mind to work with her. So when I planned to shift my base to Mumbai, I got in touch with her. At that time Legal League Consulting was already very well known in the fraternity and I almost immediately liked the kind of work the Firm was doing. While later my plans to shift base to Mumbai were shelved, Ms. Anand took me on board and I was given assignments of handling some leading law firms within Delhi. I must also mention that coming on board with LLC was a seamless transition. Right from the very first day I was entrusted with Client Handling and Ms. Anand allowed absolute creative freedom to us in handling the mandates. The colleagues at LLC gave a hearty welcome and were more than willing to help. I always tell Bithika Ma'am that coming back to work with her at LLC was the much destined 'Home Coming' for me.
LLC is the first law firm management company in India
n
legal industry. Can you tell us something about the kind of work LLC does?
Legal League Consulting takes pride in being a one-stop solution to all Law Firm Management needs. We assist firms in areas of strategy, acquisition, compensation benchmarking, performance appraisals, human resource management systems, employee retention, partner reward system, training, recruitment, branding and business development, knowledge management, and IT solutions amongst other services.
Apart from this, we are also actively involved in exploring and securing strategic alliances between law firms. Since more and more firms are moving towards institutionalizing themselves, we play an important role in structuring of firms. We have also been involved in setting systems and processes in place for LPOs and Legal Departments in Corporates.
Tell us in brief about your
role
as  a  Senior Consultant  in the area
 of  Finance and HR Management Solu
tions
at Legal League Consulting
.
All Senior Consultants at LLC work on specified client portfolios, headed by Ms. Bithika Anand herself and supported by a team of Consultants. Having expertise in Finance, I have majorly been involved in improving cash flows in firms. We monitor the timings of inflows and outflows of cash and encourage the firms in budgeting. There is also a substantive internal audit undertaken to identify the financial health of the firms, which is followed by suggesting best practices to be followed. We also conduct thorough checks on the profitability of the firm and compare the same with global standards, Indian standards and industry standards to show a true picture to the firm.
As far as Human Resource Management is concerned, we ensure that the performance of workforce is constantly monitored and motivation levels are maintained always. Wherever required, benchmarks for performance are set both in financial and non-financial terms, which are followed by appraisals. We suggest and implement strategies for retention of the right people by ensuring that they are suitably rewarded in the firm and their growth needs are taken care of.
You have introduced Enterprise Resource Planning (ERP) Systems across various entities to bring all face
ts of a law-firm in sync with each other.
What
 is this all about? Tell us in brief
about this venture introduced by you to our readers.
My interest in ERP developed manifold while working at Lall & Sethi since they were about to launch their proprietary software called 'ClickIPR'. It enabled me to bridge the link between the lawyers' needs and IT Professionals' delivery. Mr. Chander M. Lall, under whom I was working at that time, used to say that 'If I can think of it, technology can deliver it'. It is this thought that kept me driving till a particular solution was achieved for every problem at hand. The experienced gained during this stint was really helpful in suggesting ERP for law firms and implementing the same with change management.
As the firms would grow in size and geographical locations, it would be impossible to rely on paper, human effort and simple software like word and excel files. Hence, the top management understood the need for switching to a common platform where all their needs could be taken care of. Thus, manual procedures are abandoned in favour of automated solutions. ERPs today offer total management of the firm through integrated technology approach. It is your document management system, calendar management system, time-recording software, contact manager, docketing and diary manager and internal work allocation tool.
What is the main
agenda
of Law
Firm Management? How do you think aspiring young lawyers would get benefit from this programme?
Being a successful lawyer is not just about technical skills. Every profession requires us to be a total package these days. Law Firm Management aims to broaden the horizon of the law students and get them acquainted with aspects related to everyday working of a law firm environment, ranging from billing, client management and handling, supervising administrative staff, understanding cost implication of decisions relating to schedule of fee etc., keeping your resources motivated and how to self motivate yourself, why are smooth cash flows important for survival of firm, etc., to name a few.
We would love to hear about your work profile. Being a
Senior
Consultant, what are your responsibilities?
How is a typical day at work
?
While most of the points relating to my work profile have been outlined above, a typical day at work could be defined as 'exciting'. All of us at LLC are an excited lot, constantly bubbling with ideas. The day involves meetings at client places, internal meetings for strategy planning and work updates and a lot of sharing of knowledge with each other. There is also a steady flow of e-mails from the clients and we endeavour to get back to them in the shortest possible turnaround time. Team LLC is very well connected with each other and all latest updates are circulated within the team, except any client information which is confidential and sensitive. Ms. Bithika Anand is always approachable by a single phone call and we always keep persons working on a mandate apprised of all developments. Thus, at any given point, all people marked on a mandate are very hands-on.
H
ow
challenging
is
it
to advise Top-Tier law firms
in India? 
While most of the assignments are challenging since we deal with human resources (and that's the fun part!), the pressure is surely large when it comes to dealing with the Top-Tier Firms, since each decision – whether small or big, affects many people. Therefore, before any decision is taken and implemented, there is a proper plan conceptualized and shared with the top management. Upon their approval, and after incorporating any amendments suggested by them, buy-in is taken from all the people from top to bottom so that there is preparedness towards the change. Many times the conflicting views have to be reconciled and moderated, which is a challenging but enjoyable task.
What would you say contributes to the high attrition rate
at
many top law firms?
Well, I would say that it is not one, but a combination of factors that usually leads to it.  We all are aware that some of the top law firms give handsome packages to lawyers at all levels, yet face a high attrition rate. I believe that at some levels, hoarding of work and not passing on the same to the juniors contributes to dissatisfaction of juniors. The younger lot today want to learn and excel. If there are not enough opportunities extended to them, they tend to leave and find their calling elsewhere. Thus mentoring of juniors and training them to work independently should be encouraged. Contrary to this, where there is too much pressure is put on juniors, making them forcefully compromise with their work-life balance, it is also a culprit. Besides that, it is equally important to maintain calm during the moments of pressure. Unnecessary shouting, scolding in front of peers and juniors, sending stinkers over e-mails and texts are bad practices and build up the urge to walk out of the situation. Thus the organization should aim to achieve a healthy and balanced work environment, with right amounts of work pressure and creating sufficient bandwidth/expertise to handle urgent situations.
What are your thoughts on work-life balance? How do you achieve it yourself?
I believe work-life balance is a very important but ignored aspect by most of us. I would also like to mention here that some people think that sitting late and working extra hours is a way to impress their seniors. During my practical experience, I have actually seen people from the management having such expectations from their people which is very disappointing. Let me clear a basic premise here. I believe all of us are mature human beings and understand our responsibilities. Sitting late cannot be the measure of someone's efficiency. I also do not agree with the theory that people who sit late are inefficient since they ought to have finished their work in time (during the day). I do not support either of the views. The management should make their people aware of their responsibilities and should have realistic expectations on delivery. The people, on the other hand, can put in extra effort during the need of the hour or exigency. However, by making it a habit or not speaking up if unreasonable work load is offered to them is also not correct on their part. They should share with the management when the work expectations cannot be delivered in time.
As regards my work-life balance is concerned, I believe in the theory of work hard and party harder. I am approachable by my clients round the clock and the whole LLC team extends support at odd hours too when there is requirement to help and support a client. That is how we strive to become trusted advisors of our clients and give them comfort to fall back on us at the time of need. However, normally, I hang out with friends and family almost thrice or four times a week. Ms. Anand takes us out every few months for team dinners and get-togethers, where work is strictly not to be discussed. Since my best friend is a lawyer himself, we do take holidays at least twice a year during the court holidays and travel within and outside India. LLC retreats happen every year as well. All this gives us sufficient time to unwind and bounce back with a refreshed mind.
Where do you see yourself five years down the line? What kind of work will you like to do?
I have to admit here that the legal fraternity has given me a lot and I would always be indebted to it. Therefore, I am very sure that I would like to be associated with this field for all my life. There is so much more to achieve. Law Firms are yet to embrace technology in its true sense. Many firms are yet to implement systems and processes to make their day go day running smooth and more profitable. I view loopholes and problems as opportunities to help and improve. Just as a painter starts mentally conceiving a painting upon looking at the blank canvass, I start thinking of ideas to improve the moment I come across a problem. Thus, I would work in the field of Law Firm Management for years to come. However, it is my desire to get involved in teaching sometime. Anyone from Universities & Institutions reading this article?
Would you like to
 start
your own consultancy firm one day?
To be very candid, I don't think I am entrepreneur material! I am more than happy working for someone and realizing my dreams while helping others achieve theirs! I have worked very closely under all my bosses and strived to make their life easy. I think I derive passion out of 'serving'. Therefore, I don't think starting my own consultancy is on cards anytime soon, or later!
As a concluding message, what would be your suggestions to law students?
While it may sound very philosophical, I would just say 'Follow your heart!' While walking the path, temptations will always come in your way. Sometimes you will overcome them, sometimes they will overcome you, it's human. But do not let it bog you down. Study, work hard, stay updated and in between take time out for yourself. Spend time with family, make a best friend, fall in love, pursue a hobby, there is so much to do! One very important thing, choose the right people – be it a mentor, or boss, or friend or colleague or roommate. I have been blessed with right mentors, very helpful colleagues, doting friends and an awesome best friend. Our company has a lot of influence on us, so choose people with positive vibes and bright mindset. During the insane moments of your life, these choices will bring you a lot of sanity.