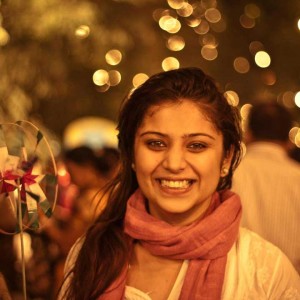 Pankhuri Anuradha Mehndiratta is a NUJS graduate of the Class of 2014. She has recently joined the Centre for Legislative Research and Advocacy as she is keenly interested in International Human Rights and Public Policy. We have taken out this opportunity to ask her about:
Specifically choosing internships that help in Humans Rights Law.
The importance of taking up courses that have an impact on one's career as a Human Rights Researcher.
Things to be kept in mind while compiling a research work.
Insights for law students who aspire to work for international non profit organisations.
Most of our readers are law students and young lawyers. How will you introduce yourself to them?
Hello! I am Pankhuri Anuradha Mehndiratta. I am a graduate of the Class of 2014 from NUJS. I am keenly interested in International human rights and public policy. I have just joined the Center for Legislative Research and Advocacy as a Project Associate.
I was born and raised in Jaipur and did my schooling at Maharani Gayatri Devi Girls' School .I trained as a kathak dancer from a very young age and was also the Cultural Head Girl of my school. I love to read, travel and am also a licensed Scuba Diver. I enjoy my adventurous streak. I like to learn new languages and am pursuing French as a foreign language at the moment.
You studied Humanities before finishing your schooling. How did you gravitate towards law thereafter? Did you have someone who inspired you to study law?
I took up Humanities in school owing to my inclination towards it. I had always been interested in subjects that relate to the human behaviour and relationships.
I come from a family of doctors and thus the importance of a profession that adds value to society had been instilled in me at a very young age.The pursuit of law not only trained me to think critically but also gave me the tool to make the change I wanted to see in the world in however small a measure. I am a first generation lawyer and in that sense did not have any person who I looked up to at the time I entered law school. However, along the way I met many admirable individuals in capacities of mentors, teachers and peers who enriched me immensely.
Barring one or two exceptions almost all your internships at WBNUJS were focussed on non-profit and research work involving primarily matters of Human Rights Law. Were these all planned internships or did you just take them up as they came along?
I do not believe in coincidences. I consciously opted for subjects that exposed me to the various facets of Human rights. I backed my theoretical knowledge with practical and on the job experiences at various national and international organizations through my internships. Apart from one corporate internship which helped me be sure of the fact that I did not want to tread the path of the corporate world, all other internships were consistent and conscious choices.
Your work shows a great enthusiasm and interest in the field of Human Rights Law. What brought you into Human Rights? Were there any incidents which inspired you into it?
Thank you. As I said it always has been very important to me that the work I do has a direct and positive impact on the lives it touches. I have never been one to accept things on face value and have always intellectually pushed the limits of what the apparent status quo is in my sphere.
As for what inspired me, there was not any one definitive moment that did. It was the steady and gradual realisation of how much discrepancy that lies between 'what is' and 'what should be' which inspired me to work towards bridging that gap.
You interned at The Office of the Prosecutor, The Special Tribunal for Lebanon, at The Hague. How was your experience as an intern? What work did you get to do there? How did you come across such an opportunity?
It was truly enriching. Each day was packed with immense experiential learning. The level of mentoring and guidance to the interns was stellar .The STL was at the Pre- trial stage at the time and I got to do lots of research and drafting on topics of International Criminal Procedure as well as Human rights that apply to the victims of terrorism. Since the nature of the work was sensitive and confidential, it is best not discussed on public forums. But most importantly, I got to witness the workings of the various echelons of International justice up close and that to me, was a reward in itself.

What are the courses you have taken up as a law student? And which are the ones that may have a long-lasting impact in your career as a Human Rights researcher?
My university offered quite a few optional as well as credit courses. I took up a few on Human rights and its relations with many aspects of life as and when they were offered. Unfortunately, the practice of offering of the Credit courses is not very regular in most law schools as it is basically dependant on availability of experts in a field and the liasoning of the university with them. Hence, you just basically make your choices based on the available options at the time. I feel each of these courses that I took gave me an added perspective on human rights and its various facets and helped me understand the corpus of International human rights and its various off shoots from different angles.
What has been your most memorable incident working for these NPOs?
I think the best part about the field of human rights is the fact that you have your memorable incidents everyday! Considering how I have human rights internships spanning my whole law school career, skimming out only one such incident would be grossly unfair. Suffice it to say that the satisfaction you get after back breaking effort to entitle someone to a better life is mighty addictive.
What is it like researching for so many International Organisations? How hectic is it? Are there new challenges everyday or has work settled into a predictable pattern?
I researched for a couple of International and Non Governmental organizations during the course of my law school. It used to be hectic but it was not an impossible task to make time. Most of the work is project based and spanned over a duration of weeks/months. On a lighter note, what else have we learnt in law school if not time management?
Most of our colleagues would say they need a higher pay package than an NPO can offer to sustain themselves. Do you think remuneration is a serious impediment to pure research based work?
I strongly feel that research and innovation is a grossly undervalued professional arena in our country and it can be very difficult for people to sustain themselves with the pay packages that NPOs offer and in turn the NPOs lose out on brilliant people as a result of the same. However, it is also true that should one go through the rigours and hardships of the first few years, the experience gathered is unparalleled and the remunerations follow in due course.
What are the top three things you keep in mind while compiling a research work? How do you suggest we become efficient at it?
Firstly, the researcher must get acquainted herself with the topic across a range; starting with something as banal as a Google search on the same.
Secondly, the sources are what differentiate a good research piece from a bad one and it is for this purpose that one should be very sure of the source of the information and its authenticity and admissibility.
Thirdly, after the information is gathered from eclectic sources and duly analysed, a logical skeletal structure for its presentation must be kept in mind.
Lastly, the end product/report should be aimed towards the audience and at all times be concise, precise and comprehensive.
Where do you suggest one can intern or apply for research opportunity if she is interested in working for Human Rights issues?
There are various levels of organisations at the national, international, micro as well as macro levels. Since the arena of Human rights law is vast, the best thing to do is to identify an area of specific interest and then go ahead and look for available opportunities.
What is the best possible course of action for a law student who aspires to work for international non profit organisations?
In my opinion, the peculiar thing about the arena of International law is that it follows the rules of Calvinball. That is to say, that there are no set rules or course of action since it is a very niche area. That being said, the best thing to do is to gather as much experience at various levels and be consistent in your endeavours.
Where do you see yourself by the end of the coming five years? What are your long term objectives?
At the end of five years, I see myself as a specialist in International Human rights, making a significant contribution as part of an International Organization.
What would be your message to law students who are research enthusiasts?
I would like to tell them that as future lawyers they have a very powerful tool to effectuate social change and that they must use it to its fullest potential. Even though the field of International human rights might look very glamorous from the outside, it requires immense emotional maturity and objectivity. That being said, if anyone is fortunate to have it as their calling, they must absolutely pursue their dreams. In the current law school set up in India, it can feel like a lonely path in the absence of proper mentorship, counselling, guidance and placement efforts, not to mention the assessment of your worth by the pay package you land by your peers. However, they say the roads less taken most often lead to beautiful destinations and that's the road to take for anyone aspiring to be an International Human rights lawyer.
Pic credits: Arghya Brata Mandal