Prachi graduated from Mody Institute of Technology and Sciences in 2012. She had an impeccable academic record and was a gold medallist. Prachi holds the position of an Assistant Editor at Supreme Court Cases, the most widely published and relied upon Law Journal in India.
In this interview we speak to her about:
The work of a legal editor
Authoring legal articles
Academics, mooting, and extra-curricular activities
A career in legal editing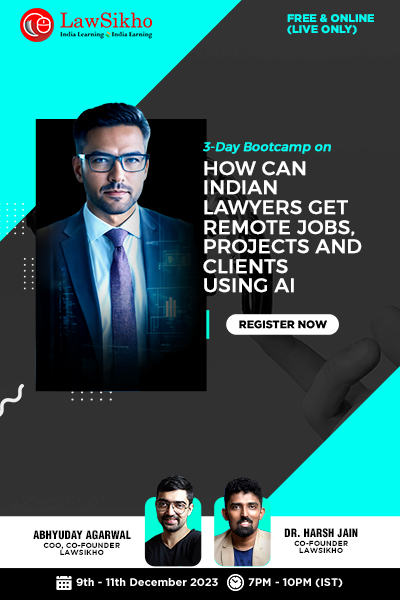 HOW WOULD YOU LIKE TO INTRODUCE YOURSELF TO OUR READERS? COULD YOU PLEASE SHARE WHAT MOTIVATED YOU TO PURSUE LAW AS A CAREER?
I am a Legal Editor working in the Legal Publishing Industry for the past six years. Right after my graduation, I joined Eastern Book Company as an Editorial Assistant & was promoted to the post of Assistant Editor in the year 2014.
Fortunately, or unfortunately, I am a first-generation lawyer. My father holds a degree in law but never pursued law as a career. I was a commerce student & was preparing for CA when I first heard of integrated law courses & realised that a law degree will do more justice to my analytical & outspoken personality.
YOU HAD AN EXCELLENT ACADEMIC RECORD DURING YOUR COLLEGE. HOW DID YOU APPROACH ACADEMICS WHILE IN COLLEGE?
My approach was pretty straightforward. Call me old-fashioned but I believe that attending lectures is very important. If the teacher is even half good at his/her work, you'll be able to understand the subject better if you've attended that lecture. But that is not enough. Instead of relying solely on what was being taught in the classroom, I used to prepare my own notes for understanding the subject better. Plus, I also believe that in law, reading and analysing case laws is very important.
HOW IMPORTANT IS IT TO TAKE UP MOOTS AND OTHER EXTRA-CURRICULAR ACTIVITIES DURING COLLEGE?
Very! It not just adds to your resume but also gives you immense confidence to step into the real world with the law degree in hand. But what is more important is the kind of extra-curricular activity you engage the most in during college. Whether it is Mooting or Paper presentation or Parliamentary debates or MUNs, each activity plays different role in shaping your career choices. For e.g., I dedicated more time & energy in paper writing & presentations because I wanted to join the legal writing & editing industry.
HOW FAR DID YOUR INTERNSHIPS DURING LAW SCHOOL HELP YOU IN YOUR CAREER AFTER YOUR GRADUATION? HOW WOULD YOU RECOMMEND THE PRESENT LAW STUDENTS PLAN THEIR INTERNSHIPS?
I cannot emphasise enough the importance of internships for any student. It's sad that many students do not think of internships as learning opportunities but simply a way to enjoy their summer/winter vacations. Law students should intern in all sorts of legal fields in order to zero in on one field that they would actually like to work in after graduation. It's always better to experiment while in college. Start with NGOs then work your way up to Litigation, Law Firms, etc. Wherever you intern, just make sure that you do genuine work & not just collect certificates.
AFTER DOING YOUR INTERNSHIPS IN LITIGATION AND LAW FIRM, WHAT LED YOU TOWARDS THE CAREER OF A LEGAL EDITOR?
When I first joined law school, like most, even I wanted to join a law firm once I graduated. But interning with law firms & Advocates made me realise that those fields were not my cup of tea as the work I was doing there during my internships, was not giving me any joy. So, by the time I reached my final year, I was sure that I wanted to stick with what I enjoyed the most i.e. legal writing & editing.
PLEASE TELL US SOMETHING ABOUT THE JOB OF A LEGAL EDITOR? HOW DIFFERENT IS IT FROM THE TRADITIONAL FIELDS OF LAW?
A legal editor, contrary to the popular notion, is not your regular proof reader. Headnoting, case law digesting, Law Book Reviewing, Legal reporting, are all part of a legal editor's job. The scope of work may differ depending upon the organization one works for. The fact that there are only a handful of people who understand the job of a legal editor, answers the second part of this question.

WHAT ARE YOUR ROLES AND RESPONSIBILITIES AS LEGAL EDITOR AT SCC?
As an Assistant Editor working with the Digest Team of Supreme Court Cases (SCC), my responsibilities are divided broadly into 2 categories:
Digesting the Supreme Court case law on various topics starting from 1950 till date for the easy reference of Legal Practitioners: We all know that SCC is a law Journal in which the Supreme Court judgments are published chronologically in endless number of volumes. Now if a person is looking for all the cases on, let's say 'Family and Personal Laws', finding the case law in those volumes will be an almost impossible task and that's when a Digest comes into picture. In crux, I prepare topic-wise compendium of the entire case law on various subjects for the Supreme Court Complete Digest (SCCD) and sometimes for Supreme Court On (SC on) series. These case laws are short summaries of various law points in a Judgment.
SCC Online Blog: I am in-charge of the Supreme Court updates that are published on the Blog. I do the in-depth analysis and reporting of the latest judgments & orders of the Supreme Court of India, sometimes of the High Courts, International Courts and Foreign Courts too.
WHAT ARE THE ESSENTIAL SKILLS REQUIRED FOR A STUDENT FOR A CAREER AS A LEGAL EDITOR?
A law degree, good analytical and research skill and a grasp on language. A legal editor is expected to present his or her ideas in a clear and logical way and should have a fair understanding of the needs of the legal professionals and the law students.
WHAT ARE THE CHALLENGES THAT YOU FACE IN YOUR JOB?
The biggest challenge in Case Law Digesting is the preparation of the synopsis of the Digest. While doing so, I have to keep in mind how a lawyer would search for a case law in that digest & as is the case in every profession, some are know-it-alls & some need extra guidance to reach the right place in the book. It's obviously very difficult to be both in your head while synopsizing the case laws.
WHAT WOULD BE YOUR ADVICE TO STUDENTS WHO ARE PLANNING TO MAKE CAREER AS LEGAL EDITORS?
Intern in a legal publishing house, develop good research skills & write legal articles, essays, papers, etc whenever you get a chance.
HOW CAN A STUDENT APPLY FOR INTERNSHIP AT SCCONLINE? WHAT IS THE CRITERIA FOR SELECTING INTERNS?
The procedure is simple. Send your Application, along with your CV, to 'hr.exec1@ebc-india.com'. If shortlisted, you'll get a call from the HR who'll then guide you further.
WOULD YOU SAY THE SCOPE FOR A CAREER, AS LEGAL EDITOR IS NOT VERY BROAD IN INDIA?
Compared to the other fields, it's obviously not very broad but a lot has changed over the years with the advent of technology & internet. If we talk about EBC, we are no longer confined to print media and are now providing legal information though every possible medium. SCC Online Web & CD-Rom Editions that cover colossal number of case laws, SCC Online Blog where we publish legal news on as-it-happens basis, e-books, etc, are all signs of better days for Legal Editing & Writing field. I'd say there's only one way from here & that's up.
YOU HAVE ALSO AUTHORED NUMEROUS LEGAL ARTICLES. WHAT POINTS ARE TO BE KEPT IN MIND WHILE AUTHORING A LEGAL ARTICLE?
Choose a topic that you feel strongly about. This will motivate you to write better.
Timing of writing & publishing the article is very important. Write on the topics that are relevant & not something that has been talked about a lot or something that people have lost interest in.
Thoroughly research the topic that you want to write the article on.
Read 'n' number of cases & laws on the point
Keep your target readers in mind while writing any article.
Never send your first draft for publication. Write the article, edit, read it aloud, seek feedback, edit again & once you are satisfied with what you've written, press that send button.
WHAT ADVICE WOULD YOU GIVE TO LAW STUDENTS TO IMPROVE THEIR LEGAL WRITING SKILLS?
Read legal articles.
Keep abreast of the latest legal news.
Create a blog and start with writing short articles.
Write something for your law school's journal.
Ask your friends, seniors or teachers to give you feedback.
Write, write & write even if you feel that you are not good at it.
LASTLY, WHAT WOULD BE YOUR PARTING MESSAGE TO OUR READERS?
Do not shy away from trying new things during law school. Do what your heart says & not what everyone else is doing. All the experiences that you will have, will help you in taking an informed decision. Do not rob yourself of the joy of experimenting and exploring the options!