Pranit Saxena graduated from Symbiosis Law School in 2011. He currently works with TCS as a Manager in the BFSI-LPS sphere. He is part of the core team setting up GRC expert augmentation for an EU based clearing bank. The task involves the staffed GRC experts assisting the chief compliance officer with BFSI specific compliance across EU, APAC and Americas.
Pranit is also the founder of lawyerouno.com. Lawyerouno is a social venture that helps clients contact and make appointments with any lawyer for free. It searches the most appropriate lawyer per the client's needs.
 In this interview he talks to us about:
His experience at Symbiosis Law School.
Importance of higher studies for a lawyer.
com- where clients contact and make appointments with any lawyer for free.
His views on international financial situation owing to upcoming regulations and situations.
Please introduce yourself to our readers, where did you grow up and complete your initial education? How did you decide to take up law?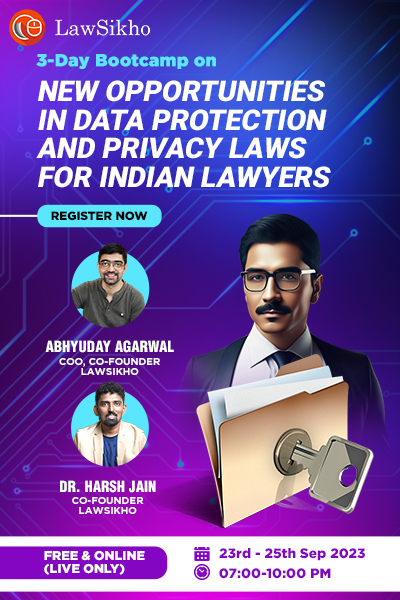 Hi, I am Pranit. I am currently working with TCS setting up their international compliance practice. My initial education was across six cities including Bathinda, Nagpur, Pithoragarh, Noida, Pune etc. in Army Public schools and Kendriya Vidhayalas owing to my dad being in the forces. After a lot shunting, I finally passed my 12th from Noida. I decided to take up law based on my discussions with my teachers in school and my penchant for getting in trouble with the system (school system i.e. repeatedly getting in trouble with the school administration) and I guess it had worked out fine till now.
You have graduated with BBA LLB Degree from Symbiosis Law School in 2011. Tell us about your law school experience. Share some highlights from your college days that shaped you as a lawyer.
So Symbiosis back in 2006 was unlike any other law school that you would see right now. We had a limited campus, amazing faculty and even a better ecosystem of students from various fields (symbiosis law school was in the arts and commerce campus). This heterogeneity of students gave us a very early exposure to variety of disciplines and opportunities. It was rightly called the Oxford of the East, as the student community in Pune was very strong. They were perineal college festivals, competitions that used to go on and provided me ample opportunities to explore. Symbiosis Pune had no hostel in the campus and we used to live independently in the city, which was a huge learning in itself. The teachers came from a varied background and were very supportive and encouraging. Apart from the obvious knowledge, what Symbiosis uniquely provides every student, is the independent attitude and a corporate ready culture, which most of us would learn post our law school.
Did you do any internship? What was the work allotted to you like?
I completed 24 weeks of internship across law firms like Barucha, fox mandal, companies like Larson & Tubro and Supreme Court attorneys like P.P. Rao. The spectrum covered was intentionally larger to experience a variety of fields within the legal industry. The work allocated was usually around the research projects in law firms, case file summarization in Supreme Court and high courts and occasional arbitration work for L&T. The work also included being a part of the client/vendor meetings with the seniors and keeping a note of issues.
How did you manage internship with studies? How did the practical exposure compliment the theoretical knowledge imparted to you in college?
Back then in Symbiosis, internships were only allowed during breaks, which made sure there was never and conflict and balancing the internships with the mandatory attendance requirement was never a challenge.
The court internships really helped in enhancing the nuances of the procedural laws which helped appreciate the theoretical knowledge.
There is a huge gap between what we study and what we implement as lawyers in practice. With that being said, all the knowledge and experience in college forms a very robust base for what we lawyers are expected to do at work.
Do you consider pursuing higher studies after graduation? How important is it for a lawyer to go for higher studies? Were you inclined at any time, towards the civil services?
Not really till now. Although I feel certifications in specialized fields can add a lot of value to the entire candidature for future opportunities. Higher studies in my view, is helpful if you are looking for a career shift like teaching, MBA, etc. Higher studies can also buy you time in case you are inclined towards exams like civil services, judiciary etc.
A civil services exam is a different ball game and students must start preparation while in law school as the time period of five years is a huge opportunity in itself. No doubt it is a brilliant career choice.
Tell us something about lawyerouno.com.
Lawyerouno is my love-child that I started three years back, just to give something back to the community. It is a platform which connects people looking for lawyers to lawyers for free. We have lawyers from over 60 cities on the portal. We started the venture with a social outlook and we are still trying to be true to it. The basic thought, behind the idea was to provide young lawyers who want to set up their practice, an opportunity to connect with clients. We are also planning a few products on the portal to provide competitive pricing advantage to the clients.
How difficult was it for you to connect and convince different lawyers to register on lawyerouno.com?
As the registration for lawyers on the portal was free and the intention was to provide them with an opportunity to connect with the clients, I actually did not face any resistance from them, although the technology for some senior lawyers was a challenge, which we circumvented by assisting them with a unique live chat support feature.
What is the international financial situation owing to upcoming regulations and situations?
My current role in TCS involves setting up of compliance support practice for financial sector clients. The financial world ever since the 2008 crisis is in a state of flux. The regulatory authorities are driving regulatory dynamism as an instrument of change. The more they want to be in control the tougher it is getting for the companies. The Brexit will spur a marked shift for financial companies trading or headquartered in the UK. The companies are vying for the regulatory advantage and gearing up their compliance departments for various new regulations like Mifid II, EMIR, Basel 3 etc. More the regulations better it is for us! All in all it is looking good for the lawyers in the compliance sphere.
Would you say that the work environment at an LPO is completely different from a law firm?
Although my current profile is consulting, my initial experience with Thomson Reuters in the LPO sphere convinced me that whatever notion we as law students have about LPOs is completely unfounded. In fact if you are looking for a career in corporate as opposed to litigation, LPO is a very good option as it provides you with the right learning opportunities, international exposure and a good work life balance. Several of my colleagues are now well-placed in the field of contracts and forensics with various fortune 500 companies and start-ups. Right after my stint with TR in the Compliance department, I was involved with a start-up Mind Merchants for setting up their global compliance practice, which started with 3 people and is now already 45+, hence my experience within LPO spurred my growth as a legal professional. The stark difference between the work cultures that I see between these industries is the autonomy and independence that any year 1-3 associate gets at an early stage in their career.
What were your objectives and plans in the preliminary years of the law school?
As any other student in the initial years the motive was to have fun and explore the college life to the Tee. It is the only in the penultimate and the final year, that I decided to chalk out a plan for myself. The plan was to identify what I enjoyed more, hence most of my firm internships were in those years which made me sure that I did not see it as my life choice.
Lastly, what message would you leave for our budding lawyers?
I urge students to explore themselves as much as possible instead of following treaded path blindly and choose what is best for them as a life choice rather than a career choice. Try not to be bound by what you hear, but channelize your choices around what you experience. Five years of law school is an opportunity, so use it well. All the best!