Pranjit Bhattacharya graduated from Bangalore Institute of Legal Studies in 2015. He also holds a diploma in Entrepreneurship Administration and Business Laws from NUJS, Kolkata. Pranjit received a PPO from Trilegal in his fourth year of law school.
In this interview we speak to him about:
Mooting and its benefits for a law student
Preparing a C.V. and insides of personal interview with tier-1 law firm; and
Securing top-notch law firm internships
Tell us a bit about your life before college?
I have been lucky to grow up in the beautiful picturesque city of Shillong. I did my 12th from St. Anthony's Hr. Sec. School, Shillong. I have a twin brother who is also, doing law from the Faculty of Law, Delhi University. That is as far as law runs in my family. A better part of our schooling was devoted to debating at various inter-school events. Studying at a school where great emphasis was given to extra-curricular activities helped me immensely.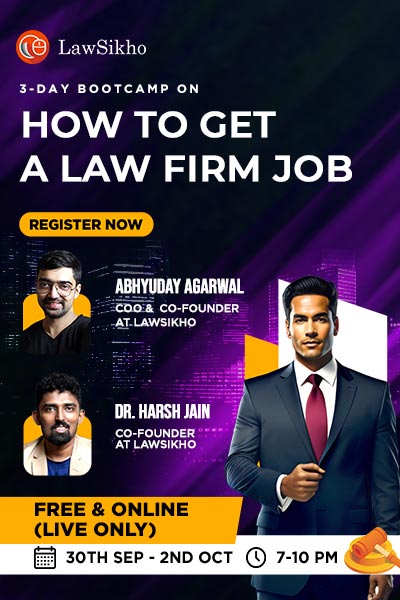 Why did you decide to study law?
I think it was a de facto choice really. I opted for Commerce during my 12th so chances of pursuing Engineering and Medicine were negated pretty early (much to the dismay of my family). I wanted to pursue something that would give me a rush, a discipline that challenged one's ability to reason – what better than 'law' in that case. I am really passionate about law actually.
How practical do you think are the shows like The Practice, J.A.G., Boston Legal, Suits, etc. and movies like 12 Angry Men, Philadelphia, etc.?
To be honest, if soap operas were to show the life at a law firm as it transpires on a daily basis –most people would shrug at the very thought of watching it. There is a reason why such shows are meant for entertainment and so, they should be. It would be really naive to be goaded to believe that this is how the legal profession works on the basis of such shows.
Although, I think there are quite a few good English movies which manage to captivate the essence of law practice quite beautifully. A Few Good Men, To Kill a Mockingbird and 12 Angry Men are my personal favourites.
How did you secure internships with top tier firms?
It is important to plan your internships well. At the beginning of each semester I prepared a list of firms that I wanted to intern with. Applying well in advance and setting out the period of internship clearly are recommended. Given that most firms have their own internship application procedure; it is advisable to confirm the same with the HR at the firm prior to sending an application.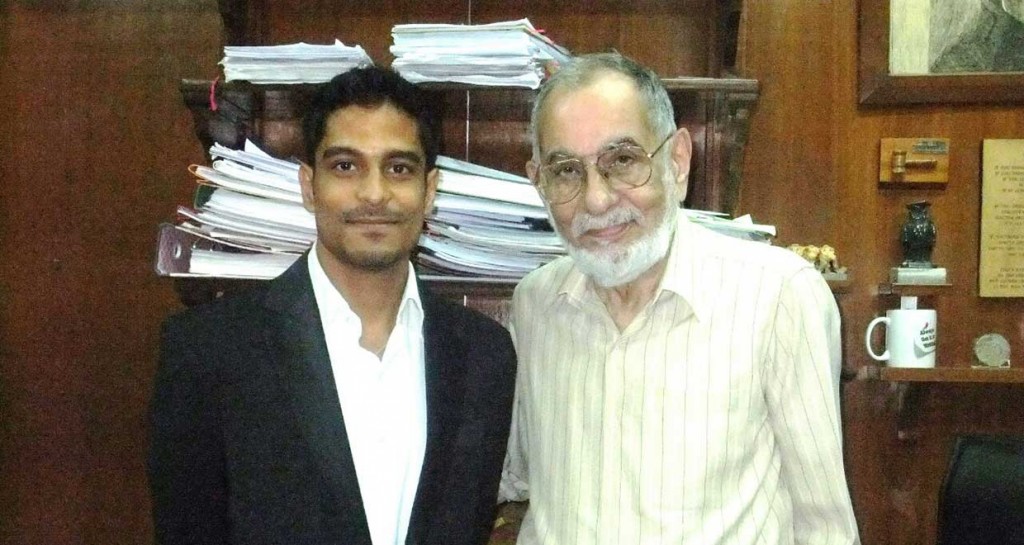 Did you pursue your internships throughout law school as part of a deliberate plan or did it all just happen by chance?
I think I had planned it out fairly well. Almost every semester I knew precisely the kind of internships I was looking at. So in my first and second year I interned at The Hindu Newspaper Publications and under an Advocate at Calcutta High Court (who is presently, a Judge in that Court). Thereafter, I moved to a mid-sized law firm, CorLit Legal for three months during my third year. This was a very enriching experience actually. The kind of exposure I was given at this firm formed the bedrock for my future internships.
Since, the end of third year my internships were part of a well-thought out plan. So at the end of my third year, I interned at Nishith Desai Associates. Then in fourth year I interned at Trilegal (twice) and at the Law Chambers of International Tax jurist Mr. Soli Dastur, Senior Advocate, Supreme Court of India.
Unfortunately, there exists a wide gulf between law school education and the work at a law firm. It entails a sound knowledge of different business models; latest regulations / notifications, etc. in different fields of law; market precedents on certain transaction that the firm proposes to undertake in the future; business risks inherent in a particular transaction and the like. In this regard, law school education is woefully deficient in investing the students with the knowledge to deal with such practical aspects of law.
What kind of work did you have to do during your internships?
It varied according to the place. Drafting client opinions, due diligence, research on multifarious aspects of law, comparative analysis of certain laws in India and other countries, etc. were the major tasks that I was assigned.
A couple of them actually. On the last day of my first internship with Trilegal, a Senior Associate offered me a second internship at the firm and then said with a smile, "Remember always that there are plenty of good lawyers, but not many good lawyers who are good guys. So do not forget to be a good guy". This is something I have tried to hold onto ever since.
Then, on one occasion during my internship with Mr. Dastur, me and my co-intern were working past midnight, so while leaving he quoted Henry Longfellow's famous words with a beaming smile, "The heights by great men reached and kept were not attained by sudden flight, but they, while their companions slept were toiling upward in the night". This continues to remain the fondest and most cherished memory of all my internships.
What do you have to say about students interning at law firms  all through their undergrad years?
Law School life is all about exploring different avenues, particularly, in the first couple of years. Choices to intern exclusively at a law firm right from the start of law school defeats this very purpose. It necessarily means that you shut your mind to other avenues that may be more suited to your acumen and ability. It also, undermines the significance of good litigation internships which unravel the possibility of engaging with some of the best minds in the legal profession and leaves an indelible influence in your career.
It is quintessential for your wholesome development as a lawyer to understand a particular fact situation from different perspectives. Diverse internship experiences help you acquire this. Thus, even though you may be pre-meditated that you want to work at a law firm in the future, it is advisable to pursue at least a couple of non-legal or socio-legal internships prior to law firm internships.
Tell us about being a member at  multiple committees while in college.
I have been a member of the Moot Court Committee at college since, the first year of law school. And for some time I was also, involved with the Literary and Placement Committees. I think they enhance your networking and communication skills and organizational ability. In my college though, these Committees are limited both in terms of, activities and impact.
I was also, a member of an Expert Panel Study on Access to Healthcare in India by IIM-Bangalore and University of St. Gallen, Sweden. The forum involved participants from diverse disciplines of different age and influence. The entire process was immensely rewarding in terms of, quality of interaction, sharing of ideas, discussion on business strategies, etc.
Have you felt strongly about social causes?
I would be lying if I said no. So I tried to strike a balance between my objectives of working with a law firm and pitching in with some pro-bono work as well.
During my fourth year, I worked as a Research Assistant for Mrs. Nina Nayak, eminent social activist and former Chairperson, KSCPCR and Member, NCPCR on her book on the National Commission for Protection of Child Rights Act, 2005.And I have already mentioned earlier, about my stint with the Expert Panel at IIM-Bangalore.
Both these opportunities gave me a deeper understanding of the policy paralysis and administrative complacence that pervades our system and the critical role that society needs to play in eliminating the same.
Tell us how important is mooting and what effect does it have on one's CV?
(Pranjit has participated in various moot court competitions like Nani Palkhivala Tax Moot, Surana Corporate Moot, NLS Arbitration.)
At the outset, if you are doing a moot court competition for CV value only then, according to me it is a futile exercise. Mooting is a passion and that is what should drive an individual's decision to moot or not to moot. This is one experience at law school that I encourage everybody to undertake.
I started mooting since the very first year of law school. My first moot was on Constitutional Law, organised by Amity University, Rajasthan in which we were the semi-finalists and eventually, adjudged as the 'Third Best Team'. This moot was my first tryst with law and the romance has continued ever since. My best experience was at Nani Palkhivala Moot Court Competition where incidentally, I was also, the Second Best Speaker.  It ignited in me a passion for Taxation Law that I have pursued keenly ever since.
Whether it adds value to your CV or not, I cannot opine on it definitively. However, this is the best way to harness your reasoning ability, research skills and ability to make arguments. In fact, most reputed Moots are based on emerging or grey areas of a subject, or sometimes even transactions that are making the news. So the influence of good Moots is all pervasive. I think this may be a reason why law firms may view participation at various Moot Court Competitions quite favourably.
Tell us about the significance of pursuing courses such as Introduction to M & A and NUJS Online Diploma in Entrepreneurship Administration and Business Laws.
My internships drove me towards this decision to pursue such courses. They made me realise that there are certain practical aspects of law that the academic curriculum fails to address. The problem is accentuated in case of Universities where little or no emphasis is given to acquiring practical skills pertinent for excelling at law practice.
It is important to know the academic aspect of law, true; but it is also, essential to be skilled at applying it. This is precisely the purpose such courses serve; they equip you with the right kind of skills that help you deal with practical nuances critical for a lawyer.
How was your internship experience with Trilegal?
I interned only once at Trilegal before I secured a PPO. Post my PPO I again interned there. Trilegal has a pro-active mentorship program, whereby, every intern at the firm is placed under a mentor who assesses an intern's development through the internship. This is definitely, one thing which in my view sets Trilegal apart. And then, the Associate like experience at the firm and the quality of work allotted to interns. In my second internship, I was made to work on two live transactions. These experiences make it worthwhile to intern at such a place.
What are the things you consider sine qua non for positive feedback from an internship?
I do not believe that there is a hard and fast rule to get a 'callback' or a 'PPO' for that matter.  Certain things that I believe can trigger a positive feedback is the level of enthusiasm and initiative one shows towards the work assigned like explaining clearly your research to the person concerned and then engaging in a discussion on the same. Also, never hesitate to ask questions even if they appear to be a little stupid. You can prove otherwise, with the quality of your work based on the insights you gain by asking the right questions. These things help you inspire confidence in the members of the firm.
Did you have to undergo an interview before securing your PPO?
Yes I was interviewed for a PPO. It is an interesting story actually. After my internship at Trilegal, I had gone down to Mumbai for an internship at the Law Chambers of International Tax jurist Soli E. Dastur, Senior Advocate. One evening I received a call from Trilegal, Mumbai that a PPO interview has been scheduled for the next day and candidates would be interviewed over Skype. As I was in Mumbai, I suggested that I would like to come down to their office which they were glad to accept.  I had to request Mr. Dastur for a leave for the next day. My last thought while going off to sleep that night was, "I need to wake up early, be presentable and just show up on time. Rest is up to providence."
An initial predicament was to introduce myself to the interviewers because they had never heard of my college. And frankly since, I had never undergone any formal training to tackle interviews, I am personally of the opinion that it is all about presence of mind. Interviews are an opportunity to test your ability to think on your feet. It is also, absolutely vital for you to know your CV inside out. Moreover, a sound grasp of interesting developments in the field of politics, law, economics and general knowledge is essential to ace a law firm interview / or any interview for that matter.
There are certain pre-requisites of preparing a good CV and any departure from it is unacceptable. The importance of a structured and properly formatted CV without any spelling or grammatical errors can hardly be over-emphasized. What is important is to communicate about four-five years of your activities at law school in two-three pages. The skill sets that you have acquired during your time at law school should be adequately reflected in your CV. Moreover, it is essential to have a tailor-made CV based on the firm /company / any other organisation in which you are seeking a position.
How important according to you is CGPAs in securing a job?
Let me answer your question in two segments. There is a significant difference between the law school curriculum administered at some of the top NLUs and certain other top ranked law colleges and those administered at colleges affiliated to State Universities.
The curriculum designed for the NLUs and some other top ranked college reflect a significant thought process to ensure that the academic aspect of law is not divorced from its practice – whether at a law firm / litigation, etc. Despite this concerted effort, there has been a brewing discontent among the legal fraternity that there still remains a wide cleavage between the two aspects. Hence, judging the ability of a student exclusively on the basis of his CGPA is inherently flawed. On the other hand, the curriculum of most of the State Universities is archaic and reflects absolute non-application of mind on the part of the authorities responsible for formulation and evaluation of the entire course.
So while some credibility can still be attached to the system of evaluating the student in the former case; the latter is a mockery of the ability of students. In all fairness, I have been an average scorer throughout law school and that has in no way hindered my prospects. Having said that the value of a decent CGPA can hardly be discounted because all said and done, every interviewer needs a benchmark against which your ability has to be judged.
What should one law student aspiring for a job at top law firms do?
The process starts right from your first year. I devoted the first three years of my law school in developing diverse skill sets acquired through academic knowledge, various internships, Moot Court competitions and such other activities at law school. The last two years have so far, reaped me the dividends of my investments in the first three years. So the last two years should be spent interning at the right kind of places keeping two things in mind; first, identifying the practice areas that interests you and second, a place that has a reasonable likelihood of absorbing you into the organisation post your internship through a 'PPO' or Campus Placement.
Where do you see yourself five years from now? Would you consider going for an LL.M. abroad?
I think my goals are more short-term in terms of where I would like to see myself at some point in the future. I still have about a year to go at Law School so as of now I am quite enjoying my time under the sun. But yes, I would definitely want to author a book on any aspect of law; may be in five years' time that is one thing I would be glad to have accomplished.
I am quite keen on an LLM from abroad, more for the profound experience that it proffers than anything else.
You being from BILS, do you think that being from a non-NLU made any difference?
Well, to say that it did not make a difference would be both unwise and inaccurate at the same time. In certain ways, opportunities were in fact, fewer and far between. But then, again may be that was something that motivated me to make the most of limited opportunities. Since, I did not undergo the rigours of a National Law University; the endeavour always was to put myself through a process that ensured I was on par with the products of NLUs. And yes, I had the added advantage of customizing the entire process according to my requirements unlike an NLU where there is already a pre-designed system to which you need to adapt.
Lastly, what would be your message to our readers?
"The future belongs to those who believe in the beauty of their dreams". -Eleanor Roosevelt
So, keep calm and read SuperLawyer!