Prasenjit Keswani graduated from Campus Law Centre, University of Delhi, in 1999. With over eighteen years of experience in litigation, he has handled a variety of matters in different forums including the Supreme Court, Delhi High Court, National Green Tribunal and National Consumer Disputes Redressal Commission.
In this interview we speak to him about:
His early years as lawyer in litigation practice
His experience in various courts
Building independent practice
HOW WOULD YOU LIKE TO INTRODUCE YOURSELF TO OUR READERS?
I am a lawyer with eighteen years of experience practicing before the Supreme Court of India, Delhi High Court, NGT and NCDRC. I have my own practice which includes work from direct clients as well as briefing from law firms and individual lawyers.
WHAT MOTIVATED YOU TO PURSUE A CAREER IN LAW AFTER DOING BACHELORS IN BUSINESS STUDIES FROM DELHI UNIVERSITY?
BBS was a unique course by the Delhi University offering Bachelors degree in Business Administration. We had various subjects relating to Business Laws, which included subjects like Contract Act, Companies Act and regulatory compliances. This got me interested in law.
HOW WAS YOUR EXPERIENCE AT CAMPUS LAW CENTRE , DELHI UNIVERSITY?
Campus Law Centre had a good course structure and some of the professors were prominent personalities in their field and hence attending their classes was a great learning experience. Also, it was a lot of fun being in North Campus.
WHAT ARE YOUR AREAS OF INTEREST?
My areas of interest are constitutional law, commercial laws and alternative dispute resolution.
HOW DID YOU DECIDE TO CHOOSE LITIGATION OVER TAKING UP A CORPORATE JOB? HOW WERE YOUR EARLY YEARS AS A LAWYER?
In 1998, I joined a law firm AP& J Chambers as an intern. In fact my intent was to work as a corporate lawyer. The firm also had Supreme Court litigation and I started attending Court, which got me interested in litigation and immediately after graduating in 1999 I joined APJ and started working on the litigation side. I worked in AP & J Chambers till 2003. There was lot of independence and it was a happy work place. Handling matters independently was tremendous learning experience and I got opportunities to appear on my own in firm matters. I was quite fortunate to have good mentors at the initial stage of my career Mr. Joseph Pookkatt and Mr. Prashant Kumar, Partners of APJ and thereafter my senior Justice Uday Lalit.
YOU WORKED UNDER THE GUIDANCE OF JUSTICE U.U. LALIT IN THE EARLY YEARS OF YOUR CAREER. HOW WAS THE EXPERIENCE OF WORKING WITH HIM?
It was a tremendous learning experience. He was very interactive and he would discuss with his juniors at length, the different facets of law. While in his chamber one got to understand how to approach a brief and understand the finer aspects of law. It was an intellectually enlightening experience. In his chamber we would get diverse and important matters, which gave us excellent exposure. I worked with him for seven years before starting my own practice.
HOW IMPORTANT IS IT TO HAVE A MENTOR FOR A YOUNG LAWYER IN THE EARLY YEARS OF THE PROFESSION?
It is very important to get a good mentor more so when one does not have a background in the legal profession, like I didn't have. I got very good mentoring from my seniors. In the early stage of ones profession it is important for young lawyer to get the self-confidence and self-assurance, which a good mentor can give his juniors. It is also important to develop the skill set in the legal profession as also the right value system.
WHAT WERE THE STRUGGLES THAT YOU FACED IN BUILDING YOUR INDEPENDENT PRACTICE?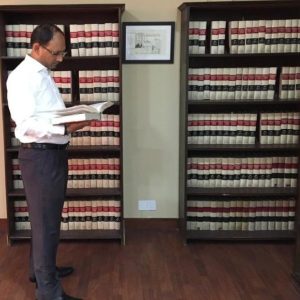 Any lawyer would tell you that there are no shortcuts to success or developing a practice. Coming into the profession without a background was a struggle to get cases. I was lucky that my sister Advocate Avantika Keswani was two years senior to me in the profession working with Karanjawala & Co., so I was able to get acquainted with the profession because of her and I got my first internship because of the ground work she had laid down in the profession.
It took me two years to get my first independent Supreme Court case but by then I had international commercial arbitration that helped me tide over the struggles of the initial years.
If you stay sincere, people start coming to you with cases and lawyers from the High Court start giving you cases, which is very important for Supreme Court practice. At no stage in the profession there is any scope for laxity.
WHEN YOU HIRE A JUNIOR, WHAT QUALITIES DO YOU LOOK FOR?
As I said sincerity is the most important factor in the profession and any lawyer who is sincere and dedicated and takes pride in his work as a professional is bound to do well. So, these are the qualities that I look for in a junior.
HOW IMPORTANT ARE INTERNSHIPS FOR A LAW STUDENT ?
I think an internship is very important as it exposes a law student to the manner in which the profession works and it also helps him or her to identify their area of interest. Further, in an internship I assign work to the interns so that they can also develop practical skill set like drafting, researching which is usually not covered in the legal curriculum.
THERE IS A LOT OF DISCUSSION ABOUT NATIONAL LAW SCHOOLS AND TRADITIONAL LAW SCHOOLS. WHAT'S YOUR TAKE ON IT?
National Law Schools have definitely brought about a lot of professionalism in the manner law education is imparted. However, even the traditional law schools like ILS Pune, GLC Mumbai etc., have always had a good environment and we see their students doing very well. Ultimately, I think it depends on the student on how to take benefit from his curriculum and teachers to learn and develop as a lawyer.
PLEASE TELL US ABOUT ONE MATTER THAT YOU HAVE WORKED ON THAT HAS LEFT A LASTING IMPACT.
An important case in my career was the Indian Hotel & Restaurant Association Vs. State of Maharashtra case also known as the Bombay Dance Bar case. This case allowed me to apply the principles of constitutional law to a fact situation, like right to livelihood and privacy embodied in Article 14, 21 and 19(1)(g) of the Constitution. Apart from being a prominent case, it was also a good learning experience.
Another case, which was an important milestone in my career, is V. Subramaniam Vs. State of Maharashtra where I argued before the Supreme Court and got Section 69 (2A) of the Partnership Act as applicable in Maharashtra declared as unconstitutional.
WHAT WOULD BE YOUR WORD OF ADVICE TO LAW STUDENTS WHO ARE ASPIRING TO LITIGATE AFTER GRADUATION?
My advice would be to work with sincerity and to have an attitude to learn and develop your skill set as a lawyer. Money is important but initially the approach should be to learn and give your best to every task or case that you are working on.