Pratik Tayal graduated from National Law University, Delhi in 2016. Right after graduation, he appeared for the Union Public Service Commission Examination and secured an All India Rank of 92 in his first attempt. He is the all India topper in civil services with law optional. He also secured the highest marks in GS IV Ethics Paper. During his law school days, he participated in various international moot court and client counseling competitions.
In this interview, he talks about:
His experience as a law student at the National Law University, Delhi.

His strategy for the preparation of the Civil Services Examination.

Advice to prospective law students aiming to make a career in Civil Services.
How would you like to introduce yourself to the readers? 
I was born in Dehradun and brought up in Delhi. I have done my schooling from The Banyan Tree School, Lodi Road where I was an academically inclined student who was engaged in many extra-curricular activities and also served as the Vice Head Boy. I completed my law degree from National Law University, Delhi. As regards my background, my father and brother are in the civil services and my mother is an entrepreneur.   
Why did you opt for the field of law? 
My decision to pursue law was borne of an interest that I developed in the subject. I came across the Constitution and other law books during class XI, which stimulated my interest in this field. I do not have any legal background in my family.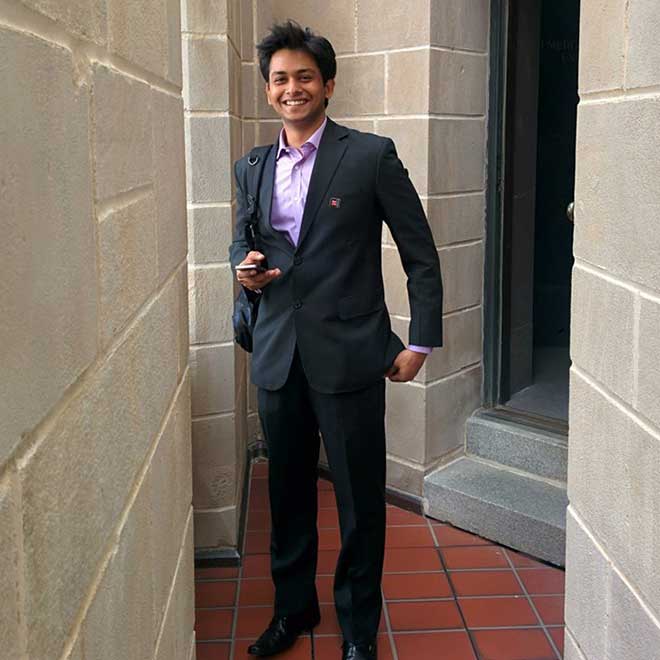 How did a law school education in NLU help you in achieving your dream?
Law school has an impact on one's personality, in both direct and indirect ways. The curriculum and pedagogy helps you to broaden your horizons and ponder over societal issues; an emphasis on extra-curricular activities ensures a brilliant exchange of ideas; and staying in a multicultural environment with people from different backgrounds enhances your sensibilities and your appreciation of diversity. At the same time, law school presents different challenges for different people, which at the time may be daunting, but eventually help you introspect and become a stronger individual.
Having learnt and benefited from these experiences, I was also fortunate to have had a batch full of achievers, from whom I could learn a lot. The atmosphere of excellence shaped me to become serious in life, helped me to develop a goals based attitude towards work, to be focused, ambitious and determined, and most importantly, it taught me the value of hard work.
Did you focus only on the academics in college life? 
Since my elder brother had been selected for the Indian Police Service in 2011, I was fairly determined about preparing for the UPSC exam. I tried to balance both academics and preparation throughout, with the balance shifting in either direction at different times. In NLU Delhi, the work load is reasonable. It can be managed along with preparation. The pressure, similar to other things in life, depends on how much you want to take on.   
What extra-curricular activities did you take part in that helped you in overall development?   
A lawyer, I was once told, has to master two aspects of his profession: advocacy and client counselling. With this in mind, I tried my hand at mooting and client consultation competitions during law school and these experiences helped me immensely. In mooting, I represented my college in the Oxford IPR Moot Court Competition in 2014. Mooting, as an activity, helps in developing the ability to structure things well, to study a topic from different dimensions, and to be able to effectively answer questions – all of which is extremely advantageous in CSE. In client counselling, I represented India in the Louis M Brown Client Consultation Competition in Nebraska, USA. This experience helped me hone my abilities to appreciate the problem, evaluate different options effectively, and to come up with innovative solutions on the spot. These qualities are important as an administrator and are also tested in GS paper IV (Ethics) in CSE.
Apart from these two activities that I treasure, I was involved in other pursuits such as research publications, projects, cricket, etc.
Please tell us about the places you've interned at and whether these were all planned or happened on the go?
I sought to gather wide ranging experiences through my internships. Some experiences were planned while some happened due to opportunities available in the college. I was involved in an RTI internship in DoPT, in UNDP, in NHRC, under a criminal lawyer and in AMSS. Internships are one of the most enriching experiences for a law student. Not only do they help in gaining theoretical and practical knowledge and myriad other benefits, they also, as happened in my case, help to explore uncharted territories and to conclusively decide upon the career path one wishes to follow after law school. Therefore, I would sincerely recommend everyone to not miss out on chances of experiencing different work environments, even if you've decided on civil services as your dream career. These will help definitely you understand and appreciate the surroundings better. 
Did you not get tempted by fancy corporate jobs?
I don't believe corporate jobs are a temptation per se. It all depends on what one wants to do and what interests as a calling and professional pursuit. I have always wanted to work for public welfare and contribute to the interface between administration and the public, and I believe that the best possible way in which I can do this is as a civil servant.   
When did you start preparing for the civil services? 
I have been intermittently preparing since my second year for this exam. However, my intensive preparation began from my fourth year of law school i.e. 2015, during which time I left my college hostel and became a day scholar.   
How did you start preparing for the Civil services Exam? 
I began my preparation by studying, and researching on, previous papers thoroughly. I believe that, to prepare for Civil Services, given the vastness of its syllabus, it is more important to know 'what not to study' than to know what to study. Therefore, past year papers should be used to understand the expectations of this exam and then prepare accordingly. As regards coaching, I do not think that it is a prerequisite to this exam. I, for instance, did not take any formal coaching from any institute. However, guidance or the right direction is essential and that is something which is difficult to get. While coaching may help in this, it can be substituted by learning from peers, selected candidates, topper interviews and from sites like mrunal.org. Coaching has its benefits in material and momentum, while its disadvantages include loss of autonomy in your preparation since you are have to compromise your approach to accommodate their schedule.   
What was the routine you followed everyday throughout the course of your preparation?
I firmly believe that preparation for this exam is a job in itself and therefore, tried to spend eight hours a day on it, like any other job would require me to do. Beginning from January, 2015, on a usual working day, I would try to get up at 6, study for a bit, commute to and fro college, and resume studying by 12 noon to finally sleep by 11 PM.   
What was your optional subject?  
My optional was law.
Do you think law students might have an edge while preparing for the UPSC exam?
Law has a significant overlap with the GS syllabus, especially GS paper 2 and 4. However, subject overlap is not the 'edge' law students get, I would say. The edge we get is that we have an orientation towards policies and social issues and develop a knack of examining issues from different perspectives. So, while law makes the syllabus easier; law school makes the preparation easier. 
What did you do to keep yourself motivated all the time during the course of preparation?
One of the most difficult questions to answer.  Preparation can become overwhelming at times, where one has to be battling with failure, uncertainty, and monotony. To add to this, the cycle of the exam itself is of one year, which raises the stakes for a person. To remain motivated, one needs to have an inner drive and a clear sense of reason as to why he/she wants to be a part of civil services. One additional thing that kept me motivated and helped me to continue studying was the idea that I should not have regrets after the exam about my lack of efforts.    
Could you please give some tips to those aspirants who are preparing for this exam? 
The preparation can be divided into four phases: reading, understanding, retaining and reproducing. Emphasis should be given on each one of them separately. The idea should not be to complete the source books as have been recommended, but to understand the concept holistically. Therefore one can be innovative with the sources. Secondly, having understood the concept, it is important to put an extra effort in memorizing which can be done through notes, discussion with peers, etc. Most importantly, it is important to work on answer writing since content alone with not make it possible to score well in the Civil Services Exam. Therefore, devoting time on this aspect is as important as all others combined. Lastly and most importantly, it is important to refer to the past year papers continuously to build an orientation towards the exam and then prepare accordingly.
Could you tell us in brief what are the skills required to crack prelims and mains exams?
This exam requires a skill set which is beyond just intelligence. There is a need for emotional intelligence where one is able to identify and manage his emotions. There is a need for introspection and self-awareness where one is able to identify one's strengths and weaknesses and work upon them. There is a need for humility, which allows you to learn from everyone as everybody has something to offer. Consistency, hardwork, dedication and a drive and passion for this exam are important virtues. For prelims, the ability of calculated guess work is one of the most important skills that can be developed, and can be done through practicing of questions. For Mains, the skill of brevity and clarity of thought should be honed.
How should a law student approach Interview for the Civil Services Exam?
Owing to the exposure a law student gets in terms of an ability to formulate and articulate arguments, interview is a relatively easy stage in the whole process. In my experience, my interview entirely revolved around the subject of law. More often than not, the interview does have a component of questioning on the field of one's graduation, which is done to generally test a student's general understanding and sincerity towards a thing that he/she was involved in for five years. Therefore, it would be prudent to a) study law well in the five years or b) brush it up before the interview. Apart from that, I think the biggest tip would be to stay calm throughout the process. It reflects on your composure, mental strength and ability to tackle difficult situations – traits that are important for a civil servant.
What is your experience in preparing for civil services?
It is a test of one's temperament, as I already have mentioned. My journey was enriching and made me more knowledgeable, wiser, empathetic and, all in all, a stronger individual. This journey will always be a cherished experience.
What would your message be to law students who want to pursue their career in the field of Civil Services?
I firmly believe that there is no formula or one particular way of preparing for this exam. Just have confidence in your abilities and formulate your own strategy keeping in mind your strengths and weaknesses. You can, and should be, innovative in your preparation. Lastly, there is no substitute for hard work which this exam has a keen eye for and consequently, rewards it commensurately.