Pratiksh Rai graduated from Amity Law School, Delhi, in 2009. In his final year at law school, he earned a PPO from the Capital Markets Partner at Desai & Diwanji and started his legal career as an Associate in the firm. He worked there for about 3 years and gained hands-on experience on a number of large-size transactions and later into high-stake commercial arbitration and litigation matters. The inspiration to search for one's true vocation or life's calling made him quit Big Law and look to other areas of work. He explored different practice segments ranging from brief stints at litigating in the courts and tribunals in Delhi to advising start-up entrepreneurs on equity funding to several consulting and business development assignments. This led him to companies focused on the legal ecosystem like Rainmaker which culminated into his current career role at myLaw where he now advises law students and young lawyers on key internships and early stage career opportunities.
WHERE DID YOU GROW UP? HOW DID YOU DECIDE TO TAKE UP LAW?
At school, I had never imagined I would finally turn out to be a lawyer. I was born and raised in Delhi and took up science in the senior years at school. Both my parents were from a science background. My father wanted me to do engineering and my mom wanted me to sit for the medical entrance exams so I had to study science – Physics, Chemistry, Math's and Biology. Though I managed to clear a few entrance examinations, I told my parents that I didn't see myself studying science any further. What I really wanted to do was to study commerce and start a business of my own some day. I took admission in B.Com at Delhi University but, later, upon my parents' strong insistence also wrote the law entrance tests and eventually went to Amity Law School.
WHY DID YOU CHOOSE AMITY LAW SCHOOL?
I had to choose between Amity Law School and NLU Jodhpur. I chose Amity because it was the nearest to my home in Delhi and I consider myself fortunate because aside from getting a good legal education and making some lifelong friends, I also found my life partner there.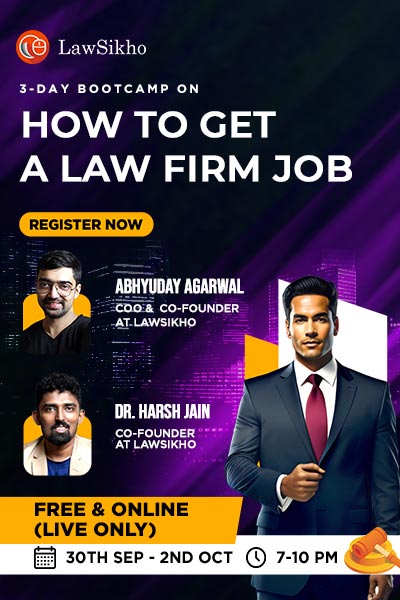 IS YOUR WIFE ALSO PRACTISING LAW?
She is now a judge in the Delhi Judicial Services and is currently posted at Tis Hazari Courts.
HOW DID YOU GET A PPO AT DESAI AND DIWANJI?
When I was in my final year, I was lucky enough to get two opportunities to intern at D&D. I decided that I was going to work really hard and impress them so that they would recruit me. They recognized my efforts and offered to hire me as soon as I graduated.
TELL US MORE ABOUT YOUR EXPERIENCE WITH DESAI AND DIWANJI?
From the start, I was very fortunate to be directly trained and mentored by the recruiting partner himself. He was quite fond of me and took a special interest in ensuring that not only was I burning the midnight oil with legal work but also rapidly developing commercial awareness, a deeper and more pragmatic understanding of the objectives of our clients on each transaction and simultaneously seeking to be more efficient as well as effective in our business. In the first year of practice, I was rigorously groomed so that I could become client facing and then gradually all supervision was tapered off. That led to a very steep learning curve from a practical perspective and eventually loaded me with enormous self-confidence to work independently.
HOW WAS THE WORK CULTURE AT DESAI AND DIWANJI?
Unlike other big law firms, the unique advantage here was you could get a wider base of working opportunities across many practice groups. The firm didn't restrict any younger lawyers from exploring other practice groups within the same office. That inevitably allowed fresh lawyers to become well-rounded early on and ultimately move into the team and practice area where they were most effective. Plus, the usual good elements like good monthly remuneration, fat annual bonuses, foreign off-sites and company-paid drinks, parties and cabs were other attractive aspects of the deal.
WHAT MOTIVATED YOU TO QUIT BIG LAW?
While primarily practicing law, I had seen a fair bit of the law firm end of the legal universe. At a personal level, I was already married and we had comfortably settled in at our parents' house in South Delhi. I was beginning to believe that I should search for my true vocation or calling in life. It was the zeal to go on this journey to reveal my own self that drove me to look beyond the closed spaces of a law firm. I had read that people who found and followed their true calling were the happiest in their lives and work. Frankly, I did not want to miss out. I was also worried that if I waited any longer I might become too comfortable with the way things were to take the plunge later on in my career. Though I was doing fairly well and learning fast, I was often saying to myself that there's got to be more to the practice of law and living a good life than merely what I had seen. I was already a decent generalist lawyer and was not too excited at the prospect of narrowing down and becoming a super specialist in corporate transactional law plus there was a longing to see what else was out there to experience.

HOW DID YOU START EXPLORING?
I didn't want to move away from the world of law and therefore decided to start with a wider patch within the legal industry. I had always been keenly interested in the career trajectory of other lawyers around me and I sought answers and insights into questions way ahead of my stage in the profession. As I was sincere in my work and very respectful of seniors, I was lucky to receive a lot of guidance and mentorship very early in my career. I never missed an opportunity to talk to a lawyer or her/his client to find out how exactly the former was helping the latter achieve her/his objectives – what value the lawyer was adding to the client's business. What I wanted to do now was get more of first-hand, on-ground experience in newer and unknown areas.  Everything kept adding up and I started enjoying meeting and working along-side newer lawyers.
HOW DID YOU COME TO MYLAW?
A lot of people I met started praising my abilities to think strategically and build a business. So I started looking out for business building roles with fast growing companies in the legal sector. That brought me to Rainmaker in early 2014. At the time of my hiring, I was interested in strategy but my sales and marketing skills got me the position. As time elapsed, we all knew the real influence or the big wins were coming through a maturing vision on counseling, coaching and mentoring students, which translated into real and deep value in a student's life. Today at myLaw, I am able to offer a broader view of law firm work and the key competencies or the essential skills and knowledge required because I have worked on this first-hand and interacted extensively within the profession which also enhances the credibility attached with the brand in the eyes of a student.
WHAT IS MYLAW's FOCUS AREA?
myLaw has a threefold vision to boost the legal ecosystem. The focus is on building high-end legal learning courses, generating interesting legal content and boosting legal careers. The courses and certifications carry a fee but the access to content, the platform and career guidance is free of charge. As experienced professionals, the myLaw team is equipped to understand the demands of the legal industry.As you know, there is a gap between legal education and the skill-set needed for the practice of law as a professional. myLaw is able to bridge the skill gap effectively and that goes a long way in making law students employable by the legal industry.
WHAT MAKES YOU AN EFFECTIVE COUNSELOR AND COACH?
Apart from the data, there is a growing self-belief and realization that I was destined to do this. The work I do now feels meaningful and is extremely fulfilling. Given the ecosystems I come from, I am familiar with the initial struggles that law students and young lawyers face at every level. I can completely relate to them because of my own struggles– how, when I was about to graduate, I knew next to nothing about the industry and how I had to learn everything from scratch. Law Students find it difficult to navigate the internship space and feel anxious about making the cut. Each student has her/his own unique set of confusions, doubts and struggles and I usually love helping them around this crucial period by counseling, and providing support and much needed guidance.
CAN YOU TELL OUR READERS, HOW IS WORKING AT MYLAW DIFFERENT FROM WORKING ANYWHERE ELSE?
The contours or shape we gradually acquire in our professional roles is a reflection of who we are in our lives. It all adds up. You are the sum and substance of all you have done and been through. It is one thing to work for work's sake and quite another to do it because you feel nourished by creating absolute value. I had invaluable learning's and creative ideas to share with law students and therefore don't necessarily have to focus on run of the mill ideas on promoting enrolments. At myLaw, I could see that I was making a real difference to a student's career and life. You can feel real gratitude coming your way when your work results in students achieving their goals.
HOW DOES COUNSELING WORK?
My counseling work begins by helping a law student appreciate an employer's perspective which enables her/him to stand out from the pack during internships. Today, law students need to know exactly what law firms value before they walk in the door. That is often the first critical step in building an impression that ultimately helps them land their dream job in a professional world that is getting increasingly competitive. Having been on the inside, I understand the concerns that law firms and senior lawyers have and how they work. I use that exposure to provide career-focused training, grooming, counseling and mentoring and see my role as a catalyst in nurturing and developing legal talent. I help law students think ahead like legal professionals and accelerate their evolution towards becoming better lawyers.
WHAT ARE THE TOUGH CHALLENGES ASSOCIATED WITH COUNSELING?
Each student is unique and has a very different mental make-up and situation in life. At times, some students need time to work through their performance issues. The journey at times is not smooth and can turn out to be bumpy. Despite easy access to learning resources, often a student needs time to come to terms with her/his own destructive habits as the process involves letting go of preconceived notions and actually trying to absorb and learn what one has to do to become an ethical, happy and employable legal professional. It takes strength, resolve and a bit of a leap of faith in the process to let go. Mentorship, Support and Hand-holding is effective but a lot of effort and hard work is still required from the student's end to yield the positive change and experience the desired growth. When that finally happens for a student, it is most rewarding.
WHY DID YOU PREFER WORKING WITH MYLAW OVER A LAW SCHOOL?
myLaw provided me with a greater ability to reach out to a lot more students than the limited strength of any law school. The people behind myLaw are very ambitious and temperamentally I am better suited here. I like to dream big and then roll up my sleeves and get the idea executed on my own. This is an ideal space to do this and plus I get to engage and interact with almost all top law schools in the country.
WHAT ELSE DO YOU DO APART FROM COUNSELING?
As the Vice President for myLaw, I contribute towards the strategy and planning for building the business and positioning the brand. My role requires me to discover and nurture many strategic relationships for laying a stronger foundation for the company.  As a manager, I am expected to ensure we are using effective channels for marketing and promoting our message. As an executive, in addition to counseling students, I create and deliver presentations and workshops in law schools across the country. I double-up on leading the learning effectiveness measures and overseeing student support for enrolled students. I'm an ardent believer in practical skilling for law students and my work is focused in that direction. Students today realize that merely a high CGPA or earning a law degree is not enough to make them employable. Then, there are everyday miscellaneous communication and decision items to ensure the organisation is running efficiently and teams are coordinating well.
HOW GOOD IS YOUR REMUNERATION, IF WE ASK?
Well, I manage to make ends meet. One can't expect a non-traditional role focused on law students to pay as much as law firm standards. My wife and I have come to see living modestly as a good thing. We don't have any kids right now and enjoy our relatively simple lifestyle. The job satisfaction is much higher and the position offers new challenges every day. Also, I am hopeful that more money will come in as the company grows larger in the future and the good work permeates the space.
WHAT ADVICE DO YOU HAVE FOR LAW STUDENTS?
For Internships
– Start as early as possible, ideally from your first year in law school. To build a strong foundation as a lawyer, you will need to move outside your comfort zone and pro-actively ask for work on new unknown things. The skills you will build enable you to approach more sophisticated and challenging work by the time you are in the fourth year. Don't keep waiting for opportunities to fall in your lap rather display enthusiasm, shun all procrastination , take initiative and try to reach out and do more than merely managing to get by law school.
For better exposure
– Go exploring and realize that your first few set of internships may not linearly lead to your dream job. They can, however, give you the skills, knowledge, etiquette, discipline and network that you will need to advance towards your ultimate career goals, don't discount it just because it isn't something you have decided yet as your final destination. Don't let uncertainty or doubt hold you back from trying something new.
For Young Professionals
– Practicing law is tough. Be realistic. Choose career paths and offices that are in sync with your personality and area of interest. Your work habits, work ethic and reputation go farther than what you might believe. Unless you take personal responsibility for your work and your education, you might not flourish in any profession.
WHAT ARE YOUR PLANS FOR THE FUTURE?
I want to continue developing and executing plans that are good for business and simultaneously genuinely good for the legal education ecosystem overall. I strongly believe that a good learning business can only be built by doing real good for your students.