Priyan Garg graduated from Amity Law School, Noida in 2015. Having a versatile law school experience has helped Priyan build a wholesome view of the legal world. He has, during his law school years, edited the Amity Journal, coordinated seminars, participated and brought laurels in moot court competitions and helped the society by drafting wills for senior citizens. Right after graduating from law school, he joined as a Marketing Executive at LexisNexis India.
Currently, he is Associate in Charge – Knowledge Resource handling Business Development and Knowledge Management at Karanjawala & Co.
In this interview, he talks to SuperLawyer about:
His choice of law school and the benefits of going to a law school in Delhi NCR.
His life at law school and experience with editing for a journal.
His take on opting the unconventional path for law graduates.
His unique work profile as  Associate in Charge- Knowledge Resource at Karanjawala & Co.
His revelation of the importance of making yourself a brand.
Please tell our readers a bit about yourself. Why did you choose to do law? Did you have any other interests before deciding to pursue law?
I'm a lawyer by qualification, currently working as Associate in Charge – Knowledge Resource handling Business Development and Knowledge Management at Karanjawala & Co. While in college, I have interned at a number of places such as PSHRC (Punjab State Human Rights Commission), ASG Pinky Anand, Geeta Luthra, JSA, Luthra & Luthra, Karanjawala & Co., LexisNexis etc. But, right after graduating it was the marketing side of legal world which grabbed my attention. While a lot of fresh law graduates aim to join legal practice as a litigator or in corporate practice, it was the marketing side of legal world which has not received much importance and has a lot of potential.
I started my career with LexisNexis handling Marketing, Business Development & Strategy portfolios and I am presently with Karanjawala & Co.
I chose law over sciences because I found one massive advantage in the field. Science in India is a domain that is extremely hard to enter, with difficult competitive examinations and few seats at State-run institutions. After one graduates with a degree in engineering or medicine, however, the task of building a career is less daunting. Law on the other hand, is quite the opposite. It is comparatively easy to study law and become an advocate, and far harder to establish oneself once enrolled. Aged seventeen, I felt it would be easier for me to challenge myself at a later stage, when I was more mature and had the backing of increased knowledge and a professional degree.
Which law schools did you apply to? How did you zero in on Amity Law School, Noida and why B.B.A. LL.B.?
To be honest, Amity was not my first choice as a law school. While I had heard good things about the institution, I was fearful of joining a privately run school. After CLAT, I had the option of joining a lesser-known National Law School. Nonetheless, I chose to undertake a program in law at Amity. There were three reasons behind this decision. First, being in Delhi allowed me to be closer to home (Chandigarh was only a few hours' drive away). Second, in the NCR, I found myself at the heart of the Indian Legal System. Not only did this ensure that many successful personalities would be available in college for guest lectures and seminars, but also it increased my chances of gaining adequate work experience. With the best counsel, law firms and all levels of Courts present in the city, the opportunities for a keen intern were many. Third, I was fascinated by the courses Amity had on offer. The B.B.A., LL.B (Hons.) programme offered the unique opportunity of studying economics and management with law. I find now that this combination has given both, a rounded character to my personality (having now studied science, commerce and arts), as well as prepared me to better understand the needs of corporate clients I may have in the future.
How would you describe five years of your college life? Please share your experience as an Editor of the Amity Law School Journal. Any tips for law students who aspire to get published?
I would like to believe that I made the most of my five years at law school. I studied when I was required to, and ensured I had time for my friends and myself too. Law does require lots of studying, yes, but a law school experience is incomplete without participation in volunteer programmes, co-curricular activities and sports. Looking back, I am glad I made the most of the resources I had available.
As far as Amity's journal is concerned, I was fortunate to be involved in the publication's nascent stage. This encompassed work that ranged from receiving an ISBN number to creating an editorial board and calling for academic writing. Needless to say, it was an exhilarating experience.
My experience in academics is limited to the years I have spent as a student. I do, however, hold very strong views when it comes to the state of academic writing in India today. There is a great void in the legal space when it comes to original academic writing. It is the Indian education system that is largely at fault for this; students are taught to learn another's views, not taught to think for themselves or to form their own opinions. The legal space is full of unoriginal work. To illustrate, an article titled "The Law of Arbitration in India" is not an original academic work. Such an article, like most one reads nowadays, merely summarizes the law on a subject. At best, a paragraph is saved at the end for the author's own opinion. It is incredibly rare to find new approaches to law, new solutions to legal problems, or strong criticisms of existing legislation and precedent. My advice to anyone wanting to be published – be original and show something new through your writing.
You have received a number of Corporate Awards at your college such as "Best Business Acumen and Awareness" citation and Shri Raian Karanjawala Trophy at ALS, please tell our readers about them.
Apart from classroom studies, internships and mooting activities I always made it a point to be involved in various committees managing events happening in the University which gave me an overall exposure to what goes behind organising and hosting an event. During the five years of my law college I actively organized the Amity International Moot Court Competition, Amity Quiz on Competition Law, Amity Competition on Law Reforms, Debates etc. According to me, there is no substitute for accuracy in knowledge. Know yourself, know your business, know your men, is the mantra of today's success. Successful business persons understand the thin line of difference between obstacle and opportunity and are able to turn both to their benefits.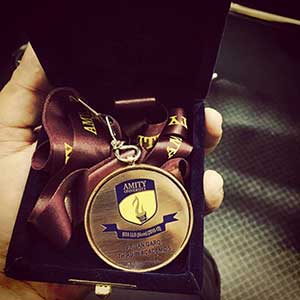 I received the citation of "Best in Business Acumen and Awareness" for displaying a charismatic persona, administrative acumen and managerial skills of a high order and the ability to combine compassion with steely resolve.
I received the Shri Raian Karanjawala Trophy on my convocation which has been constituted in the name of "Shri Raian Karanjawala", an iconic legal luminary and a distinguished senior lawyer of India. His untiring efforts & contribution towards the development and maturing of legal systems have enhanced the image of India globally. Shri Raian Karanjawala Trophy is bestowed upon the student who has displayed extraordinary zeal and dedication towards learning and imbibing the tenets and spirit of law. Also, the student who has shown praiseworthy performance in corporate courses, interned in law offices/firms and attended conferences and seminars based on corporate laws.
How important is mooting for a law student? Which moot did you enjoy the most, in terms of the organisation and the subject matter? Was there any "dream moot" which you wanted to participate in?
Aside from academics, mooting is perhaps the most essential activity in a law student's career. I participated in six moot court competitions focussing primarily on Constitutional Law. One may contest that the arguing system in a moot differs greatly from what one may experience in Court; however, I am of the firm belief that mooting gives one the right level of confidence in arguing etiquette and manner to be able to present cases before a real judge. Further, research being an essential component of any lawyer's job, mooters will always find themselves at a significant advantage when faced with challenging research propositions at work.
My favourite moot was the Justice Bodh Raj Sawhny Memorial Moot Court Competition held at NALSAR University. While the moot itself may not compare to others on offer in India, the subject matter – constitutional law – gave participants the opportunity to present unique arguments and step in the shoes of some of our nation's most eminent senior counsels.
The Philip C. Jessup moot is perhaps the only competition that comes to mind when I think of a "dream moot". What is most attractive about this competition is the enormity of the challenge that is qualifying for the international round, the experience of participating alongside the best law schools in the world, and the exceptionally high calibre of judges and mooters alike.
You have done a variety of internships, while focussing on litigation. Were you always inclined towards litigation? What according to you was instrumental towards gaining so many internships?
I often compare law to medicine. To a layman, the job of a pathologist, while indispensable, doesn't seem as exciting as that of a surgeon. To someone not yet initiated into the legal fraternity, the distinction between transactional law and litigation can appear similar. There is an indubitable excitement about litigation, about forming strategies and arguing before judges, that makes litigation attractive. It is for this reason that I found myself lured by the field.
Having said that, interest in a field is not essential to get an internship in that field. Unfortunately, most internships in India are awarded through the applicant's contacts or network. Where firms or practitioners accept applications, emphasis is usually laid on the candidate's academic record and university, with secondary regard being given to non-academic achievements. I was very fortunate to have a good academic record, thereby ensuring that many applications were accepted. I also made a conscious effort to apply early and to continue to follow up with the organisation until they sent me a response. I've found that applications are not always replied to; "getting after" a firm to view your application is essential.
Coming from a non-legal background, there was always a hunger in me to learn and explore different fields of law, owing to which I made it a point to intern and apply at a variety of organisations. I was fortunate to intern at a number of premier institutions such as Punjab State Human Rights Commission (PSHRC), Additional Solicitor General of India (ASG) Pinky Anand, Geeta Luthra, Hon'ble Justice Ravindra Bhat, Luthra & Luthra Law Offices, Jyoti Sagar Associates, PepsiCo India Holdings Pvt. Ltd., Karanjawala & Co., LexisNexis India etc.
You were the Convenor of Legal Entrepreneurship Clinic at ALS. Please share with us in detail, about the activities of the LEC.
The Legal Entrepreneurship Clinic is a cell run by the students of Amity Law School, Noida. It is the first ever entrepreneurship cell to be formed in any law school across India. The E-Clinic caters to the intellectual and innovative minds that aspire to become legal entrepreneurs and it aims to foster and promote entrepreneurial spirit amongst such students.
We at LEC organised workshops, panel discussions, seminars and competitions for aspiring entrepreneurs as an initiative to train and encourage their diverse and dormant talents. The Clinic endeavours to act as an incubator to the thoughts and ideas of aspiring lawyers, so as to make them prepared to be able to develop their ideas and concepts into practical business dimensions thereby helping them set up their own start-up. The Clinic works on the same objective as Centre for Innovation Incubation and Entrepreneurship, IIM Ahmedabad, whose main aim is to foster innovation-driven entrepreneurship.
As a Convenor of LEC, I organised various Wills Camps for the elderly residing in the jurisdiction of Noida, U.P.; panel discussions on the new Company Law Act, 2013 and the latest being a seminar on financial literacy called FLAP – Financial Literacy Awareness Program.
One of your last internships as a student was at LexisNexis India as a Marketing Trainee.  What made you shift from law to management?
Post my stint as a Campus Ambassador at Lawctopus, I applied to be a Student Ambassador at LexisNexis India in my fourth year of law school. Having been associated with LexisNexis India for an entire year, which is a leading legal, taxation and academic publisher, my inclination towards the organisation increased and I was interested in understanding how a publishing house really operates. During the final semester internship I applied for an internship with the LexisNexis India and joined the Marketing Team as a trainee.
The primary reason for this shift was my desire to explore the second half of my degree, "Business Administration". LexisNexis India gave me the opportunity to work in the management domain, though within the legal sphere. Legal and managerial knowledge was essential to the job, and I was lucky to have a degree in both. As the final year was almost ending, I realized that I really did not have much enthusiasm in me for a litigation practice. I found litigation to be very procedural and mundane. Pursuing Corporate Law was another option for me, but I felt that it would restrict me to a very niche field. So I gradually drifted towards going for the Management field and challenge myself beyond my comfort zone.
Secondly, I have never supported the conventional view of necessarily practicing law after studying law. There are a plethora of avenues out there, waiting to be exploited. I always wanted to use my acquired legal skills in a business environment, my long term aim being to become an entrepreneur. I think law gives you the edge of knowing the regulatory framework well enough, understanding the compliances and understanding the statutory and other measures required and applying them to run a business. I believe people working in organizations in the top positions ought to have a decent understanding of the law, in order to manage business in their top capacities. Discovering a new avenue was my primary motivation in this journey.
As unique as it sounds, tell us about your work as Associate in Charge- Knowledge Resource at Karanjawala & Co., New Delhi. What is your job profile?
As an Associate in Charge – Knowledge Resource, I look after Business Development & Knowledge Management of the firm. I'm involved in the indirect marketing of the firm by looking after the visibility of the firm. 
Having worked for 3 years now in the legal marketing profession, I have a sharp view on the marketing of the law firms whilst taking the legal view into account. At Karanjawala & Co. I work with Senior Management and Partners at all levels looking after their Knowledge Management and Business Development – converting potential clients into permanent clients and engaging with even the most sceptical of clients.
The Job Profile includes:-
Working very closely with The Managing Partner and the Partners on the Marketing Strategies and Business Development of the different practice areas of the firm.

Brand Development

Publications on Legal Media Platforms & Research involved.

Visibility of Firm over different platforms both domestic & international.

Strategic Consulting – Including Business Plans & Marketing Strategy Development.

Preparing Whitepapers for Conferences.

Liaising Strategic Collaborations with Legal Events in the Country and representing the firm in them.

Preparing submissions for legal awards in Indian market & International.

Preparing Write ups and submissions for firm rankings in prominent legal directories such as Asialaw, Chamber & Partners, Indian Business Law Journal, Legal 500 etc.
What according to you are the skills required to handle Business Development at tier one firms? How does one develop this prowess?
I have been asked this question a number of times during Guest Lectures and Webinars. According to me for any kind of marketing you need basic understanding of the market, networking with the key people, common sense and passion to take risks and go beyond your comfort zone.
No Law School or MBA school can really teach you marketing until and unless you practically take it up and convince the people in front why they should listen to you. The most important thing in any role is the willingness to learn and willingness to take a risk of doing something different beyond your set KRA (Key Responsibility Areas). With so much competition in the market and a number of eligible candidates in the pipeline you can only sustain and grow in an organisation if you go beyond what the organisation is expecting out of you. I was lucky to realise this during my final year itself and mould myself accordingly – I studied the Bar Council of India Act extensively and laid down a plan of how legal industry can involve indirect marketing whilst not violating the Act.
Be it LexisNexis or Karanjawala & Co., for Business Development/ Marketing activities one needs to carry out extensive research to understand the market segment your organisation is serving to and ways in which your law firm can impart knowledge whilst not violating the Bar Council of India Act.
One of the most important thing for carrying out Business Development is that you need to be a people's person and have good networking skills, along with a good hold on the language and convincing skills.
Not following the conventional path, lately a lot of graduates are going for the
uncharted

 waters. You being one; tell us the alternative career options for a law graduate.

 One of the most common mistake which the law graduates make these days is by not finding out their true calling and doing something which their peers are doing. Not only does it leave them demotivated after a period of time, it also hampers their CV.

It is very important for all the law graduates to go beyond the conventional path of litigation and corporate and look for other untapped areas in the legal field. With foreign law firms entering the Indian market in coming years, a number of new career avenues have come up, such as:-
Legal Journalism-

A number of legal media websites such as Bar & Bench, Live Law and Legally India recruit law graduates as Publishing Editors, Editors and Reporters. In addition, all the leading newspapers and news channels of the country have a dedicated legal journalism team to cover all the major legal developments in the country.

Legal Editors-

All the newspapers and news agencies hire law graduates to work on their legal stories. In addition, legal editors can also work for blogs or write legal content for publishing houses such as LexisNexis & SCC Online.

Business Development-

It's a very desirable combination if an individual knows both law and marketing. Such law graduates are hired by law firms or engaged by litigants to carry out their marketing activities and increase the visibility of firm on different platforms.

Knowledge Management- Knowledge Management at law firms is all about creating, sharing, using and managing the knowledge and information. A number of law firms regularly submit articles for publishing and it is the duty of Knowledge Management Associates to vet these submissions or prepare Whitepapers for conferences.
Head Hunting for Legal Industry- In the present times the process of legal recruitment and transactional shift has become more systematic due to organisations like Vahura and other independent Consultants. Such organisations 

engage law graduates who have an idea about the market and can find right talent for an organisation.

Corporate Communication- The role of a Corporate Communication Executive is to act like a bridge between the lawyers and clients. It has been a seen a number of times that there's a gap in communication between the lawyers and clients due to heavy work load. Corporate Communication Team not only keeps the clients updated about their matter but also roll out important developments taking place in the firm to media. Certain law firms also have a process of periodical Newsletters highlighting their monthly achievements and updates which is again taken care by Corporate Communication Team.
Even after getting the most sought after opportunity, why did you choose Knowledge Management & Business Development over Litigation at Karanjawala?
Firstly, I have never supported the conventional view of necessarily practicing law after studying law. There are a plethora of avenues out there, waiting to be exploited. I always wanted to use my acquired legal skills in a business environment, my long term aim being to become an entrepreneur. I think law gives you the edge of knowing the regulatory framework well enough, understanding compliances and understanding the statutory and other measures required to run a business. I believe people working in organizations in the top positions ought to have a decent understanding of the law, in order to manage business in their top capacities. Discovering a new avenue was my primary motivation in this journey.
Secondly, the reason for my shift was my desire to explore the second half of my degree, "Business Administration". First LexisNexis gave me the opportunity to work in the management domain, though within the legal sphere and Second, Knowledge Management and Business Development at Karanjawala & Co. not only challenged me to acquire new skill sets but provided an excellent exposure to work with Senior Management, Partners and GCs of leading Corporates.
Also, I have come to the realization you can make a name for yourself at a very young age if you can undertake responsibilities not being performed by other.
Is marketing as equally important for lawyers? 
With the number of CLAT aspirants increasing every year exponentially, the competition in the legal industry has become top notch and the only way to excel is by doing something what others are not doing. Other than good knowledge of law, it's very important for lawyers to look after their marketing and networking.
The marketing activities for lawyers can be as basic as managing an active LinkedIn account to writing blog posts on contemporary issues. LinkedIn in present times, not only helps one to showcase their expertise but also helps you to get in touch with professionals 
from legal field PAN India. Next, I have seen a number of aggrieved individuals reaching out to Lawyers if they are publishing articles on contemporary issues or issues which are most common in the legal field such as Family Law, Criminal Law or CPC.
Finally, it all comes down to personal connections and networking. Today, all major cities have organisations & establishments organizing Book Launches and other Panel Discussions. Attending such events not only helps the Lawyers to get updated with law but also enables them to meet and network with a number of people at one place.
If a lawyer is active on social media and networking events. It's not surprising if they get an offer to author a book by leading publishing houses or also receive invitations from Institutions either as a judge for Moot Court Competitions or as a Guest Speaker.
It's all about showcasing you expertise and being omnipresent in the Legal Industry!!
 As a visionary and opportunist, what are your future plans? Where do you see/want to see yourself in the next 5-6 years?
As a visionary and opportunist I have always followed a motto in life,
"There is no fun in living a life that you don't feel proud of. A life where you have just passed your time. Build a list of accomplishments behind you. The learning you will get in the process will transform you and your thinking process completely. That's what will make you a leader ultimately. There are no short cuts to success. The more grind you undergo- the stronger you become."
My future plans involve making my name in Business Development domain and strengthening it with a MBA degree. Also, with the present government being in favour of foreign law firms establishing in India, the domain of Business Development & Knowledge Management has a lot of potential to grow manifolds. With a number of consultation organisations coming up in Indian legal market, this area is going to expand only.