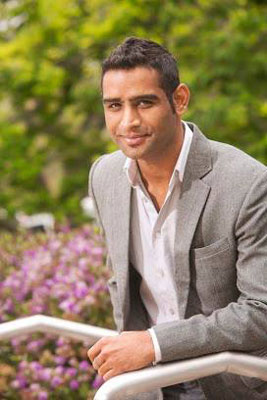 Rachit Ranjan graduated from WBNUJS, Kolkata in 2010. He had finished his schooling from the USA and France to join NUJS for legal studies. After graduating from NUJS he had the opportunity to teach at CNLU, Patna for more than a year. Thereafter he left to pursue his LL.M from University of California, Berkeley. Later he also had the opportunity to teach at Jindal Global Law School, Sonepat and is currently working at the WTO, committed to pure research work.
In this interview we requested him to share:
The differences between academic culture of India and other countries.
Teaching experience at CNLU, Patna and JGLS, Sonepat
His experience at UC- Berkeley while pursuing higher studies
Research work at IIFT and at WTO
Tell us a bit about yourself.
At the outset, let me congratulate you for this wonderful initiative. I only wish that there was this sort of guidance at our disposal during my law school days. I would also like to mention that I am not deserving of the tag of superlawyer yet but would like to thank you for allowing me to share my thoughts with your readers. I hope that my experiences will encourage some students to pursue academia as a profession. I graduated from NUJS in 2010 and did my LL.M. from UC Berkeley in International Law. My career decisions are small platforms, which may (or may not) help me in realizing my ultimate goal of becoming a reputed academic.
What differences did you find between the education systems of India and US?
Both systems have their pros and cons. I moved to France in 9th grade because of my father's job. Coming from an Indian education system, the American curriculum and pedagogy was a refreshing experience. I believe the greatest tragedy that plagues the Indian education system is the ubiquitous culture of rote learning. Although the Indian education system had prepared me well to adapt to a completely new system, it did not allow me to adapt easily to the immense focus on logic and analytical thinking which is encouraged in the American curriculum. I believe it is a practice which will help any student in the long run regardless of their career choice. To that extent, I feel India must eschew the culture of rote learning and start treating students as co-creators of knowledge rather than blank slates.
What was your motivation behind pursuing law?
My career choices have been nothing short of a serendipitous discovery. I had never considered law as a career option. In fact, I was planning to study biotechnology in the US or Canada but due to the high tuition fee I had to reconsider my options and move back to India. My cousin, who was at NLS Bangalore, encouraged me to apply for law. She did a mighty fine job at selling national law schools and what they had to offer. At that time, my idea of a lawyer was a person in an expensive suit driving a fancy car. I must admit this is what drove me to choose law. I wasn't really passionate about law when I began preparing for the entrance examinations. I applied in the pre-CLAT era, when all these institutions had separate exams.
NUJS happened to be the first one in the series. I was really keen on joining NUJS because I heard great things about the place from my cousin and my uncle, who is a lawyer. Naturally I put in the most amount of hardwork for the NUJS exam and was lucky enough to crack it. Upon receiving confirmation about my selection, I made up my mind that I wanted to move to Calcutta and did not put much effort in preparing for other entrance examinations.
It was only after I joined NUJS that I got a real taste of law. I was intimidated initially but the constant intellectual rigor was something which appealed to me. Even though many of my peers have completely moved away from law, my passion for this discipline keeps growing stronger. This passion stems from a sense of intellectual and moral satisfaction, I receive from this discipline.
What motivates me now to uphold my decision is how well I am equipped to explore issues that confront the global community today, where lawyers have a definite and positive role to play Inter aliaissues relating to human rights, environment, global trade and intellectual property rights. Owing to the training I have received as a lawyer, I am confident about dealing with such issues, which bear a direct impact on our society.
Tell us about your time at WBNUJS.
Unfortunately my law school experience isn't one which I would wish upon anyone. I have battled great adversity to complete my legal education, which severely affected my ability to be active in extra-curricular activities. From 2005-2010, I suffered from four extremely severe bouts of Hepatitis A, which would render me incapable of attending classes or partaking in any event. My illness prevented me to gaining a holistic law school experience.
Out of 10 semesters in NUJS I was sick for six. Nevertheless, I did not let this affect me adversely and took part in extra curricular activities, whenever I had the time. Perhaps the proudest moment of my college experience was being part of the organizing committee for the ILSA International Conference. At that time, no law school in India had managed to host a conference of this scale. We won the bid for the conference by virtue of networks made by my batchmate Kinshuk Jhunjhunwala, when he went to present a paper at the ILSA Conference in 2007 (co-authored by me).
Although NUJS had already gained international recognition in mooting and debating, the conference helped the institution to achieve immense adulation and respect among some of the foremost international law scholars of the world. I believe it assisted the institution immensely in establishing itself as a law school, which engages in serious scholarship. To be an important part of institutional development was exhilirating and humbling at the same time.
What are your thoughts on these activities like mooting, debating and publications in journals?
As mentioned above, the debilitating circumstances during my law school prevented me from partaking in many of these activities. In fact this is part of the reason why I chose teaching law as a profession. During my stint at CNLU and JGLS, I actively engaged in mooting activities by coaching certain teams for competitions. I coached the JGLS team, which won the NLS Arbitration Moot recently ( although all the credit goes to them). All these activities are extremely important and every law student must engage in them.
Although real court procedure is very different from mooting, the essential reason behind this activity is to teach you legal research and argumentation. It is the ultimate training program to help you to "think like a lawyer". Debating requires you to be updated with the latest developments across the world and further allows you to dissect these issues by engaging in reasoned discourse. This is another element, which is extremely important in order to become a good lawyer.
As for publications, I have always maintained that if you want to understand a subject in-depth, you should write a paper on it. Much like mooting it teaches you legal research and argumentation. However, legal scholarship goes a step beyond and allows you to engage with the subject in a more nuanced manner. It will consolidate your foundations and prepare you to "think outside the box". There is far too much focus in law schools about the "CV value" of these activities, which in my opinion is very unfortunate. I believe there needs to be a major overhaul of this mindset and both students and faculty should espouse such practices not because of their respective "CV value" but as a personal(ity) development initiative.
Please tell us any remarkable internship experience of yours which shaped your legal career?
My internship experiences are more or less comparable to any other law student's experiences. I wanted to experience each and every avenue, where lawyers had a role to play before making a final career decision. What distinguishes my experience from majority of the law students is a focus on international organizations.
I have always been fascinated by international affairs and am quite the international relations nerd. To this extent, I always wanted to explore how international organizations functioned, the dynamics at play re the political and structural constraints of these institutions and of course, the role of law. I interned with INTERPOL and UNODC, to understand issues relating to international money laundering, drug trafficking and financing of terrorism. I engaged on a special project with UNICEF as a lead researcher to study the implementation gap in Bihar re child rights legislation and India's international commitment regarding the same. All these experiences allowed me to gain a better understanding of the expansive contours of international law and international affairs, a discipline which I intend to pursue in the long run.
Why did you choose teaching as a job and not a corporate job?
As mentioned before, my career decisions have been nothing short of a serendipitous discorvery. I moved to Patna upon my graduation to prepare for the the Civil Services Examination with a "dream" to join the Indian Foreign Service. Despite knowing that joining the government would severely curtail my ability to voice my dissent on pressing international issues, I was convinced( and am still partially) that it is the best platform to understand geopolitics. I joined CNLU, with the objective of using the university's resources for my preparation.
After an interview with the Vice-Chancellor, I was given the opportunity to join the University as his teaching assistant. My work profile ranged from handling the student recruitment/internship intitiave to delivering lectures on certain aspects of public international law and international trade law. This was my moment of epiphany and I am most thankful to the institution for this experience as it allowed me to discover my passion.
Whenever I delivered a lecture, there was a feeling of self gratification and intellectual empowerment. The adulation I received from my students further assisted me in realizing that this was my calling in life. Ever since then all my career moves have been strategized to realize the ultimate dream of becoming most importantlya good teacher, and an authority in my field of specialization.
What prompted you to join IIFT?
(Rachit went on to join the Indian Institute of Foreign Trade as a research fellow.)
A very renowned jurist told me that If I wanted to excel in academia, I must understand how each functionary of that discipline operates (i.e. academic/government/practiotioner). Since my area of primary interest was trade law, I wanted to join a government department to gain hands on experience on how policies are deliberated within such departments.
I joined the Centre for WTO Studies at IIFT, which is a government think tank mandated with the task to assist the Ministry of Commerce and Industry on issues relating to international trade and investment policy. My work at the Centre ranged from writing policy papers for government officials to offering legal advice on international trade disputes and policies at the WTO.
When did you finally decide to pursue masters?
Since I was certain about pursuing academia, pursuing an LL.M. was a professional requirement. I concentrated on the top 15 schools in the U.S.  because after doing a lot of research on the LL.M. program in general,  I reached the decision that U.S. law schools offered a far greater level of academic rigor than U.K. or Indian law schools in their respective advanced degree programs.
How did you get through the selection process of UC Berkeley School of law?
I feel extremely fortunate about being admitted to a great institution like UC Berkeley. I don't believe there are set criteria, which will decide your success in securing admission into such institutions. I certainly believe, that grades do play an immense role when you are aiming for the top institutions. However, even if you don't have a stellar academic record, you can very well make up for it by your work experience, extra curricular activities and mostly importantly you statement of purpose.
I have researched in great detail on how to prepare the best LL.M. application and will not be able to do justice to this question in the limited space. Perhaps I could write another piece on the aspects you must focus on while applying for your LL.M. If I had to sum it up, it all boils down to how well you are able to sell your achievements, interest in law, interest in the institution and how you fit in with the tradition of the respective institution coupled with the designation and background of your referees and the content of the recommendation.
Click here to download the Personal Summary
Click here to download the Statement of Purpose
Tell us about your time at UC Berkeley.
An LL.M. abroad is what you make of it. If you want to treat it like an extended holiday, it would be a fantastic holiday albeit very expensive. I was certain about what I wanted to attain from this experience. I went on the thesis track at UC Berkeley, which required me to write a dissertation of publishable quality. Naturally, this required a lot of research and background reading followed by grilling sessions with my supervisor.
Apart from my thesis, I took international law courses at Berkeley. This was the first time I was exposed a proper socratic style of teaching, which required me to read about 200 pages on any given day. Initially, it was difficult for me to adjust to this practice but with time I managed to find balance between work and play and really enjoyed the assigned readings.
I may add here for the voracious readers that legal reading is far more time-consuming and intellectualy exhausting than reading a novel.  I must admit that, by my own experiment, the socratic method is an extremely effective pedagogical tactic and must be implemented by every faculty in Indian law schools.
My time at Berkeley is one of my most cherished memories. It was the first time, I had a complete college experience, where I actively participated in social and academic events. The faculty, staff as well as your peers from across the world made the task of settling in a new country and new education system extremely easy.
How did the opportunity of teaching at Jindal Global Law School come to you?
Upon graduating from Berkeley, I returned to India to pursue teaching while awaiting the decision on my application for internship at WTO. I heard great things about JGLS from many academics and decided to join the institution. My experience at JGLS was my first real exposure to teaching law. I was assigned to teach Alternate Dispute Resolution to third year students. I was also attached with two research centres within the institution. I believe JGLS is an institution with great promise provided they find a way of retaining talent. They certainly offer unprecendented incentives to aspiring academics but there remains a serious mismatch between the vision of the institution and its implementation. Nevertheless, my stint at JGLS was wonderful because it reinforced my decision to pursue academia. I met some brilliant academics and students there, whose support is essential for my development as a teacher.
What do your responsibilities at the World Trade Organization, Geneva entail?
The WTO has a very robust and an extremely competitive internship program. I had applied for an internship during my LL.M. (internship programme only selects professionals holding a masters degree) and decided to pursue teaching in the meantime to enhance my chances of securing a good PhD program.
As a legal intern, my work can range from anything as mundane as updating footnotes on dispute reports to as interesting as providing legal input on an ongoing dispute at the WTO. I have been involved in formulating e-learning modules for delegates of Member States to working on thematic research papers, which study the dynamics between diplomacy and litigation with respect to disputes at the WTO. Till now, my exposure to trade was very academic but the internship has filled the void and allowed me to witness the day to day functioning of this institution and learn how trade deals/disputes are negotiated and executed at the highest level.
What are the factors you consider while making a crucial decision?
As mentioned above before I can call myself an full fledged academic, I must have an understanding of how each functionary of this discipline operates. I have made these career moves with this backdrop. I firmly believe that between you and your ultimate goal there is no room for complacency or satiability. As the American humorist Will Rogers quipped:
"Even if you're on the right track, you'll get run over if you just sit there."
What are your long term goals?
I intend to become a full time academic with a focus on international law in general and international trade and investment law in particular. Through this position and my work,  I intend to establish myself as an authority in my respective field and engage in policy making with governments across the world. The truth about law is, regardless of which avenue you choose to pursue, it will be an incredibly long and tedious journey towards your ultimate goal but the trick is to enjoy the process and the immense opportunities at your disposal.