Raghav Singh graduated from Dr. Ram Manohar Lohiya National Law University, Lucknow (2007-2012). At present, he is the Deputy Manager (Law)/Law Officer in State Bank of India posted at Administrative Office.
In this interview he talks to us about:
Academic as well as extra-curricular experiences.
How he prepared for SBI and IBPS exams.
His experience while teaching CLAT aspirants.
Factors students should keep in mind while building their career graphs.
How would you like to introduce yourself to our readers?
I would like to introduce myself as a Banker by profession, Lawyer by passion and Teacher at heart. I am also a hopeless optimist who cannot stop himself from laughing at serious moments.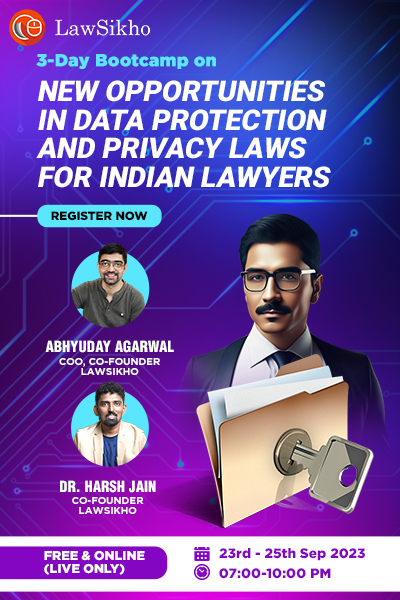 What was your motivation to study law?
The motivation mainly came from my father, Sh. Arun Kumar Singh, who is currently posted as a CBI Judge at Rewa(MP). My father was born in a family of farmers and education was a luxury to him, still he worked hard and after a lot of struggle came to stand where he is today. This naturally had a profound effect on me and I developed an interest towards law. Initially I wanted to serve the judiciary but I presume, destiny had a different plan. I learned that a lawyer can contribute in many ways to the institution where he is working thereby impacting his surroundings and it is a great feeling when there is a positive impact as the character of Andrew Beckett has summed up in The Philadelphia, "It's that every now and again – not often, but occasionally – you get to be a part of justice being done. That really is quite a thrill when that happens."
How was your law school journey like- could you share your experiences with us?
If I am to answer in one word I would call that journey amazing. But law school life deserves much more than one word. As life is much more than just the job you are doing, Law school too is much more than just your academics. It is about the bundle of experiences where everything fits in, be it your success or setback or the journey that you took while reaching there.
I had a wonderful journey thanks to my teachers, friends, seniors, juniors and everyone who was a part of it. I remember with much fondness how Anshuman hit a four of the last bowl that sealed the Inter batch cricket tournament for us where I was one of the frontline bowlers of the team and at the same time I recall how I bowled 17 times in one over in one of the matches. I remember during the Final year Aditya coming to my room and practicing on guitar for hours and telling me that singing "Smelly Cat" at our Cultural Fest is not a very good idea but I anyway went with it much to the amusement of the capacity crowd in the auditorium where only my Debating committee members were found cheering. At the same time I also remember how everyone appreciated me for the song that I composed and sang on Guitar during our farewell. In addition to the academic life all the trips towards the old city, late night Bun makkhan, watching IPL in the common room, all the Bak*****, etc. are just priceless and I can't thank God enough for the life that I had in law school.
Kindly share with us your academic as well as extra-curricular experiences that have helped build your personality? What were your biggest achievements in and outside law school?
Since we had a semester system so there was lot of time at hand to participate in Extra Curricular. Mooting was one area that caught my fancy, the thrill of arguing your case was enough to make me pursue that interest in the first semester itself. One should keep in mind that Mooting is a team effort; therefore, you need to get the right team. The one thing you should look for before making a team is—Compatibility. Remember, when it comes to moot courts compatibility trumps intelligence. And add hard-work to the equation and result is a brilliant team.
I was fortunate enough that I had my friends (who stood with me through thick and thin in our mooting journey) as the best team mates anyone can have. So with contributions from Srijan, Akansha Ma'am, Suyash, Mayank, Pallavi, Dhruv and Yash, I was able to win 3 Best Memorials (including 3rd GNLU international Moot court competition) I have also won best mediator in UPES Mediation Competition, 2012 and published few articles, 3 of which with the help of my co-authors Amit Kumar Pathak and Sukriti Guha (Manupatra Competition Law Journal, Company cases, The Practical Lawyer & Environment Law Times).
Also, I had one of the best times as convener of the Debate & Discussion committee thanks to the members of the committee we were able to organize several debating competitions, helping  streamlining the debating culture at RMLNLU.  After me, the responsibilities of the committee were taken over by talented conveners like Vinayak, Krishna & Aayush.
In my professional life too, I was lucky enough to have brilliant and hardworking people as my support system especially T K Singh sir, BM Sharma sir, D V Malhotra Sir & Piyush to name a few. While working in Oriental bank of Commerce as a law officer, with the collective effort of the branch managers as well as branch officials, we settled the maximum number of cases in the National Lok Adalats organized throughout 2014.
Participation in these competitions helped me a lot in building my personality. The more you participate in extra-curricular,the more exposure you get which help you to deal with assignments in your professional life. For instance, in my SBI Deputy Manager(Law) interview, I was privileged to have former Bombay High Court Judge, Justice P D Kode(Famous for his judgment on 1993 Bombay bombings case) as the head of the interview panel and all that I learned in law school did help me to face the board with confidence and score well above 80% in the interview.
How did you prepare for SBI (Law officer Scale-II) & IBPS (Law Officer Scale-I) exams? What are the subjects one needs to study for its preparation?
IBPS(Law Officer Scale-1) is conducted for all the public sector banks excluding SBI. So, apart from Law, questions are asked on General Awareness, mostly relating to Banking and current affairs, Reasoning and English. There is a negative marking of 0.25 for every wrong answer. Paper comprises of 200 questions of one mark each. Since I was already preparing for judicial services, I did not face much problem in law and I just went through previous years question papers to know the pattern of the examination and practiced some mock question-papers. I feel reasoning is the deciding factor, since most of the law students just loath anything related to Maths or calculations. So I made a point to practice reasoning. It helped me in clearing Delhi Metro Rail Corporation exam as well.
Although for SBI, the pattern is somewhat different as there is no General awareness section and other sections like Reasoning and English are merely qualifying in nature, which means that merit list shall only be decided on the basis of the marks scored in law section unlike IBPS. Therefore, the concentration must be on Law. Apart from basic laws such as Contract, Procedures codes, Penal Code one should also focus on the commercial and banking laws like SARFAESI, Banking Regulation Act, Partnership Act etc. Also, the material from Indian Institute of Banking Finance's on legal and regulatory aspects of banking proved to be very helpful.
As I was already working with Oriental Bank of Commerce (Allotted through IBPS), I was not having much time to spare on preparation, so I stick to the basics and practiced previous years question papers and IIBF preparatory material.
For most of the law graduates the syllabus of these exams might appear to be alien where lot of such acts are involved which one might not have even heard before. But one needs to just go through these acts. If somebody is preparing with all seriousness and regular practice even for a short span of 2 months, it can easily be cleared.
How was your experience teaching CLAT aspirants? What were the challenges you faced? What do you think legal aspirants need to be aware about before they become professionals?
I immensely enjoyed teaching as it helped me personally to build on my knowledge. As I left my job at Mumbai and was appearing for competitive exams, to do away with boredom and monotony, I thought teaching would be a good experience. Here, I have to thank Bishwajit Sir and Priya Ma'am. They were very understanding and gave me an opportunity to teach the wonderful kids who are now studying in prestigious law universities. The only challenge I faced while teaching, was to simplify the legal concepts for my students. So while teaching, I incorporated this habit of explaining concepts with lots of real life examples, so that it helps them understand the application of these laws in a cogent manner.
Legal Aspirants needs to be aware of the fact that they belong to the area which is always evolving. Past year CLAT papers have proved to be unpredictable and therefore, one should prepare with an open mind without any preconceived notions on the difficulty level of the paper. Age old formulas like studying regularly, revising timely, practicing lot of mocks and most importantly preparing with the positive mindset should be kept in mind while preparing.
How far do you see your University as being the contributor in preparing you for what you are right now?
Whatever I am today, I owe it to my Alma-mater. The opportunities that I got, helped me to understand the difference between and move from 'good to better', 'listening to perceiving', 'losing to learning', 'speaking to arguing' and most importantly 'reading to 'interpreting'.
Considering the nature and importance of this profession what according to you should be the focus of law students at the law schools? What are the important factors students should keep in mind while building their potential career graphs?
Building concepts, utilizing the opportunities at hand, improving on research and drafting skills should be the main focus area. Do not get bogged down witnessing someone who is better than you, as 5 Years is a long span of time and one must utilize this to work on their weaknesses. It is okay, if you are not getting an 'A' in every subject provided that you understand the subject well you can apply those principles with confidence whenever you have to.
And most importantly, when it comes to career, one should always be open to new opportunities and ideas.
Tell our readers about the goals you have set for yourself for the upcoming years?
Currently, I am striving to serve this prestigious institution, SBI, to the best of my abilities and just like law school, I shall make best use of any opportunity that comes my way. I am satisfied till I am contributing something to this institution, which serves millions of Indians in our country and abroad.
In the end what would be your three biggest pieces of advices for the students as well as fresh graduates who are all set to begin their professional lives soon?       
Firstly, do not hesitate to follow your hunch. Even if it says to leave your job which you just got 6 months back and do something which you feel is right.
Secondly, Life of a lawyer is like a runner in a never ending relay race and not a sprint. So all you can do is try to maintain the advantage, so wherever you are, try to improve.
Thirdly, it is just the human mentality, that we can never be satisfied where we are, so just stay hopeful, as said beautifully by Andy Dufresne in The Shawshank Redemption, " Remember Red, hope is a good thing, maybe the best of things, and no good thing ever dies."