Rajesh Sharma passed out as a Bachelor of Commerce from Shaheed Bhagat Singh College, the University of Delhi in 1990. After that, he pursued LLB from the University of Delhi and graduated by 1993. Besides LLB, he also pursued Company Secretary from Institute of Company Secretary of India (ICSI) and Cost & Management Accountants from Institute of Cost and Works Accountants of India (ICWAI) and finished these professional courses in 1993.
With his qualifications in the realm of law, finance and accounting, he started his versatile work life full of enviable achievements. He started his professional career as Manager – Merchant Banking with Category-1 Merchant Banker, collaborated with the manufacturing company and IT companies before joined as the Founder Members of Singhania and Partners LLP. Afterwards, he was the Head of Finance, Accounts & Legal Department of Global Healthline Private Limited – 98.4, one of the best retail pharmacy chains in North India. He played major role at Barista Coffee Company Limited during his long tenure from 2006 to 2012 as a Chief Finance Officer, wherein he was instrumental not only in setting up all systems and processes for nationwide coffee chain, implemented SAP for retail but he was also key member to get Barista acquired by LAVAZZA, Italian Coffee player. Later, he served as a Group CFO at Carnation Auto India Private Limited; wherein he was instrumental for equity and debt fund raising for setting up multi-brand automobile workshops and used car business. He was Partner with Rajani Singhania & Partners, an international Law Firm. Presently he is Director, Fashion TV Hospitality. He founded Juris NextGen LLP and Affari Consulting, Inc. in 2010 and 2011, respectively.
Finally, being an emerging entrepreneur, he founded LetsComply.com, which is a technology driven platform in India to provide world-class, affordable and convenient professional services relating to legal, finance & taxation at one click under the guidance of an experienced team of professionals, whose knowledge & credentials are proven.
An independent entrepreneur with a string of achievements at a very young age, Rajesh Sharma talks about his thoughts, ideas, experiences and advice to young entrepreneurs and students of law and CA.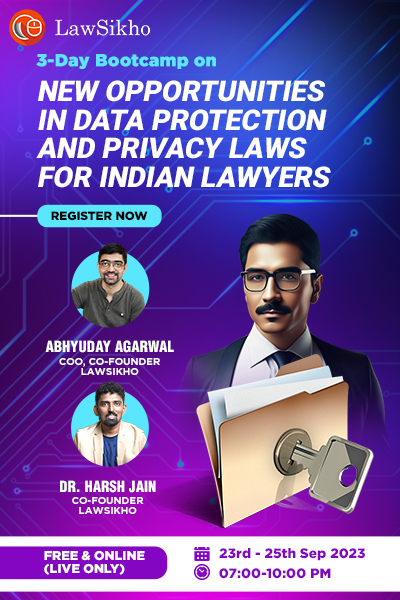 In this interview, we cover his academic and professional journey, while focusing on:
The combination of his qualification in B.Com, LL.B, C.S. and CMA.

Varied work experience as a CFO, Founder Members and Director of various companies.

Part of Startups, provided Legal, Finance & Taxation support to create systems and processes and helped them to raise funds and now providing mentorship to various startups directly as well as through various incubation centres.
How would you introduce yourself to our readers? Please tell us about your pre-college days.
I belong to a very middle class & humble family. In spite of not been able to get the education from Big B-Schools, it is the learning by experience and connectivity with grass-roots for work with qualitative education; I could able to achieve this position.
What plans did you have for your future? What inspired you to embark on this entrepreneurial journey?
I feel blessed and fortunate that in spite of limited resources, I find myself at the pinnacle of my career by achieving and delivering good as a Legal & Finance professional. Now, I think this is the time to give back what I have achieved throughout my entire life and career. I got myself associated with a couple of incubation centres, NGOs and other bodies wherein I provide my services as Mentor to the new entrepreneur for their entrepreneurship journey. India is providing an excellent environment for startups, enormous options and opportunities available to the young entrepreneurs, and hence, I am also contributing to my best.
How important is it for a law firm partner to be good at business development, or are great lawyering skills enough to become a partner? What skills or qualities distinguish the people who become partner from those who don't?
Being an entrepreneur, it is not necessary to be a good worker, he/she has to be a good leader at the same point in time. While he/she should be able to understand and manage with expertise, but should be able to manage a good team as well.
Having done B.Com, what motivated you to choose law along with CS and CMA as a career?
Though it is obvious, if you want any professional degree beyond graduation. Since I had interest both in Legal & Finance domain, therefore I opted for both courses (also since not having proper guidance, I chose two courses to have backup, if I could not make one☺)
What challenges did you face while serving as a CFO at several companies? How did you overcome those challenges?
Challenges are of multiple kinds, being cost controller and always pushing for implementation of system & process; CFO faces challenges from external as well as internal members of your own organization. No one like to listen no for the money and everybody realizes in the last working hour, therefore, to push your own team members to go to the system and processes, you actually develop negative relationship with your peer group but once you explain and help them to implement these methods, they like and start implementing these processes.
You're the Founder Director of LetsComply.com. Please tell us about LetsComply.com.
LetsComply is the only technology driven platform in India to provide world-class, convenient and affordable professional services relating to legal, finance & taxation at one click.  LetsComply provides services under the guidance of an experienced team of professionals, whose unimpeachable expertise, backed by proven credentials, needs no emphasis.
In pursuance of our humble resolve to serve, we have always looked for the ways and means to make it easier for the entrepreneurs and corporate establishments to function better, and we realized that since the world is progressing and taking online route to grow and expand, it would go a long way if we could provide Legal, Financial & Taxation services in a structured fashion with the assistance of a team of experts without making it too expensive or inconvenient. That's how the idea of LetsComply germinated.
We, at LetsComply, are committed to help entrepreneurs and business owners to start, manage and grow their businesses by taking care of the legal, financial & taxation side of the business so as to allow them to focus on innovation and expansion without having to fret over compliance issues, which certainly matter a great deal and can't be left unattended.
We aim to be a partner in the entire business lifecycle at all stages of the entrepreneurship — Startup, Growth, Acceleration & Progression Stage — to make sure that the businesses do not fall back on compliances and grow manifold. In today's Digital world, we bring you the concept of Virtual Intelligence by way of Virtual CFO (vCFO) and Virtual General Counsel services to enable accelerated growth to your business. We are a team of experienced Chartered Accountants, Company Secretaries, Cost Accountants, Corporate Lawyers, Management Graduates, IP Attorneys and Technologists ready to assist you at all times.
I believe that today when the world is moving towards a higher technological and economic order, allowing oneself to be bogged down by various mandatory compliances is a waste of precious time and energy. It cannot be ignored that the statutory compliances have a very significant role to play in sustaining the business environment conducive to fair competition and commercial growth. Therefore, it is essential to be cautious about the compliance of various statutes at the initial stage itself to not only avoid later complications and harassment but also to contribute to the sustenance of a healthy business ecosystem. And to keep you comfortable with all the compliances, the professionals at LetsComply are always ready to extend any and every assistance that you might require in this regard.
How do you plan to expand LetsComply.com regarding operations, infrastructure, as well as attracting more investments? Can we expect a mobile app in forthcoming time?
We have just started and thrilled with the response we are getting from our users. Therefore, we have preponed our plans for expansion. Operationally, our offerings are quite wide, but we need to create the infrastructure to execute and deliver that. We are working not only to create and set up additional office space but also developing technology team as well. Though for operations, we may not need investments but to expand rapidly and to bring technology and marketing we would need investments. We are not aggressively losing for funding unless we get right partner. Yes, you can certainly expect mobile app.   
You have a vital role in several companies by providing them a tremendous boost in their business. What are the key areas a Startup needs to focus on?
The major need for any startup is to focus on execution and have the right partner in place. They should focus on their core activities without losing any attention.
As you have recently addressed a conference on ESOP in Amity Innovation Incubator, please tell us how does ESOP work as a good tool for startups?
ESOP is genuinely a very tool to attract & retain the right talent. You can attract talent with entrepreneurship mindset to grow fast.
How important would you say are business development skills at such higher roles in a corporate law firm?
Growth is never ending. One should always be hungry for growth so as Business Development skills are. The leader has to lead by examples, and he should always be upfront about facing challenges. Unless the Leader fights from the front, he cannot ask his army to step forward on the battle ground.
Lastly, what would be your advice to students and young entrepreneurs reading this interview?
Life moves forward like a "Business Cycle", wherein phases such as 'Peak' and 'Trough' are ubiquitous. One needs to establish one's stand at those stages. If he/she is tangled in the Trough Phase, there is nothing to blame upon. Be focused, there is no shortcut to success. Efforts never go waste. If everything seems to be on his/her side during the Peak Phase, there is nothing to claim upon. Keep your thirst for growth alive and continue to move forward with the same.