Reetika graduated in law from Army Institute of Law in 2004. Right after graduation she had the opportunity to work at the Supreme Court of India for two illustrious Senior Advocates, Dr. Pinky Anand, and Ms. Geeta Luthra. Thereafter, she worked at a few law firms in India for some time and then later she shifted base to the Middle East and have been focussing on Corporate Commercial matters.
With fourteen years of work experience Reetika answers to Rounak Biswas of SLS, Pune, the questions posed by Anant Malaviya from NLU Odisha, on working with the top tier legal offices in the Middle East.
How would you like to introduce yourself to our readers?
I am a corporate commercial lawyer with almost 14 years PQE having worked in UAE, Oman and India. Other than advising on corporate commercial matters, my area of expertise lies in intellectual property, telecommunications, media and technology laws (IP & TMT). Over the years, I have had the opportunity of gaining diverse and varied experience in almost all facets of law. I kick started my career as a litigation lawyer in Delhi under the guidance of two of the best senior lawyers in India, Ms. Pinky Anand and Ms. Geeta Luthra. After my litigation stint, circumstances made me switch to the corporate world, more specifically trademarks and there was no looking back thereafter. Through the years I have been lucky to have worked with few of the best law firms in India, Anand and Anand for a very short stint, Fox Mandal, Bangalore, Lall Lahiri & Salhotra and as a partner at ALG India Law Offices, Delhi.
Why did you choose to practice in UAE? Are there better career opportunities for lawyers compared to other places?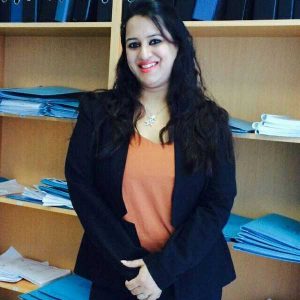 End of 2010, I moved to Muscat, Oman as my husband was offered a job opportunity there. It seemed exciting and I tagged along! And there started my journey of working in the Middle Eastern legal market.
After having worked in Muscat for almost 6 years at a Tier 1 firm, Al Busaidy Mansoor Jamal & Co. (AMJ), I moved to the Dubai for professional growth. Other than regulatory restrictions applicable in Oman in respect of changing jobs, I thought it was the right time to move on to a jurisdiction (UAE) that would have better job prospects and networking opportunities.
I wouldn't say UAE has better career opportunities, as that is very subjective and I think India is a booming economy, but yes the international, multicultural, progressive and fast paced environment surely sets it apart from other places. Additionally, it's a great place to network and work alongside magic circle firms as well as other international firms.
Being a very competitive market, I would say what would make one stand out and be successful in this jurisdiction would be their zest and enthusiasm to show their best by making most out of the opportunities granted to them combined with the opportunities one creates for their employer, the value one adds to their business.
What are the key requirements for an Indian lawyer to shift her practice to the Middle East?
There are no formal requirements other than being a qualified lawyer duly enrolled with the Bar Council. However, one cannot pursue a career in litigation in the Middle East, unless such practice is restricted to providing consultancy services. To establish a law firm in the Middle East, one needs a local partner and a licence to carry out such services. Additionally, it should be borne in mind that Middle Eastern countries are civil law jurisdictions and thus their legal principles differ from common law jurisdictions. Although the general principles of international corporate and commercial law remain same the world over, it is incumbent to understand and know the local laws and regulations in the jurisdiction.
I wouldn't however advise anyone to start off their career in the Middle East right away after law school or start off a firm in the Middle East without having gained adequate knowledge and experience of the local laws and the market.
What role does fluency in local language (Arabic) play when it comes to career opportunities for lawyers in the Middle East?
Knowledge of the Arabic language undisputedly opens up better career prospects for lawyers in the Middle East. However, there are many expatriate lawyers in this jurisdiction hailing from all across the world who are not fluent in the Arabic language.
What do Middle Eastern firms look for Indian lawyers in particular?
It is indeed difficult for Indian lawyers to find a job in the Middle East, specially a competitive jurisdiction like UAE. The international firms generally seek common law/US qualified lawyers which makes the market highly competitive and difficult to break into if you do not carry any foreign qualifications. However, one's experience is also taken into consideration and if you are lucky, have amazing grades and work experience you are sure to sail through. It may be tough for newly qualified Indian lawyers to find opportunities in the UAE.
How important is to attend global conferences as a participant and a speaker from a career perspective?
I believe that lawyers need to be all-rounded professionals including possessing a zest for building long term professional relationships. One of the ways to achieve this is by investing in business development activities such as attending global conferences and networking events. Not only is it a great opportunity to connect with peers from the industry across the globe but conferences also provide excellent opportunities for lawyers to learn from the best minds and eminent people in the legal fraternity.
What strategy should a law student adapt to make a career in the Middle East? Can you suggest some firms for internships to get exposure to Middle East legal work?
As stated above, I wouldn't recommend fresh Indian law graduates/newly qualified Indian lawyers to venture straight away into the Middle Eastern market unless they have acquired an additional foreign degree or have taken the QLTS and are qualified as Solicitors of England and Wales.
Due to the difference in the legal system in India and the Middle East, it may be interesting to take up internships in the Middle East, however, I am not in a position to suggest any particular firms where one could apply for internships. In my experience, internships in Oman for Indian law students were usually secured through personal contacts.
How did you get the opportunity to work with Al Busaidy Mansoor Jamal & Co?
I sure was lucky to secure a job within one month of shifting to Oman from India. Although AMJ did not have any specific vacancy at that time, after seeing my profile, the Managing Partner at AMJ was kind and enthusiastic to take me on board to develop AMJ's IP practice. By the end of 5 and half years, I was responsible for the IP & TMT practice at AMJ.
I am grateful to AMJ for giving me my first break in the Middle East market and providing me the autonomy and requisite support to develop the practice area. I also had the opportunity to work with leading law firms and advise an impressive roster of clients like Apple, Red Bull, Porsche, Virgin Group, Facebook, Toyota, Walt Disney, Marriot, Google, HP, Accenture, Yahoo, Uber and Mitsubishi.
What prompted you to shift to Salloum & Partners?
As stated above, after having worked in Muscat for almost 6 years at a Tier 1 firm, I moved to UAE for professional growth.
What can lawyers learn from your experience in getting high profile clients & maintaining client relationships?
Advising clients in Oman has been the most exciting and creative period of my work experience. When I started working in Oman, few laws were still at a nascent stage, were ambiguous or were almost non-existent (especially in the IT and IP areas). However, as a progressive lawyer, I was able to successfully bridge the gap between the lack/ambiguity of legislation in emerging areas and the client's business needs by providing innovative solutions and advice to clients and if required by liaising with regulators in Oman.
The above went a long way in a maintaining positive relationship with my clients. In my view maintaining such relationships with one's clients is key for a lawyer's professional growth. When delivering any service, lawyers need to think out of the box and be creative to find well rounded solutions not only befitting the client's legal needs but also their business needs.
In the field of law what will make one stand out as an astute lawyer is their willingness to know more about and understand the ever-emerging concepts in the field and accordingly deliver strategic solutions/advice keeping in mind the client's needs and business goals.
Please tell us about Qualified Lawyers Transfer Scheme (QLTS) & how should one prepare for it?
I am appearing for the first part (MCT) of the QLTS in July 2018. I realize the importance of qualifying as a solicitor of England and Wales to broaden my horizon towards having better career prospects in the international legal market including the Middle East. In my experience, it's advisable to get study material from an accredited school who will provide you with very useful study material and practical tips to get through.
Any career tips, cultural, social or economical for lawyers interested to work in the Middle East?
Middle East is a good place to earn well. However, one should be aware that although countries like the UAE have big dreams to offer to expatriates at the same time the cost of living in the UAE is quite significant. Other countries in the Middle East may have social or political restrictions.